The other day my kids asked me if I could maybe bake them something. Like in the oven.
Y'all, I think they done lost their minds.
It is summer. It is hot. We have a grill. We will use the grill.
It's possible I've overdone it on the brats and dogs the past few weeks, though. Maybe they're rebelling against tubular shaped meats? Weird.
Anyway, the Fourth of July is coming up and I knew I'd be grilling out for that. I mean, I'm an American, aren't I? Grilled meat and the Fourth of July go hand in hand.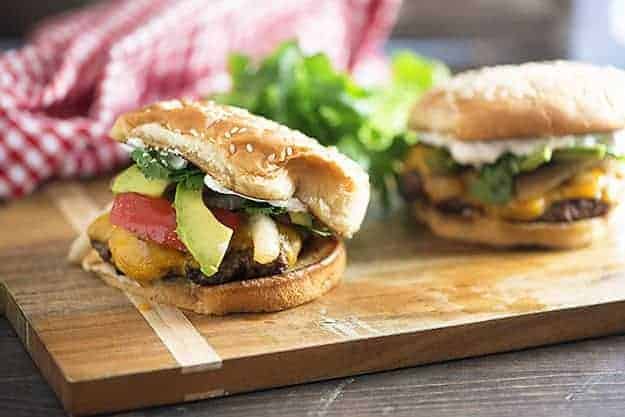 I'd done enough tubular meat, so I knew I was going to focus on a summery burger recipe. Maybe a fajita burger? Topped with some avocado and plenty of grilled veggies? Yes. Sign me up for that.
Y'all are not going to believe how good this is. And yes, I just snuck Mexican food into a burger. I can stop with the Mexican food any time I want. It's not a problem.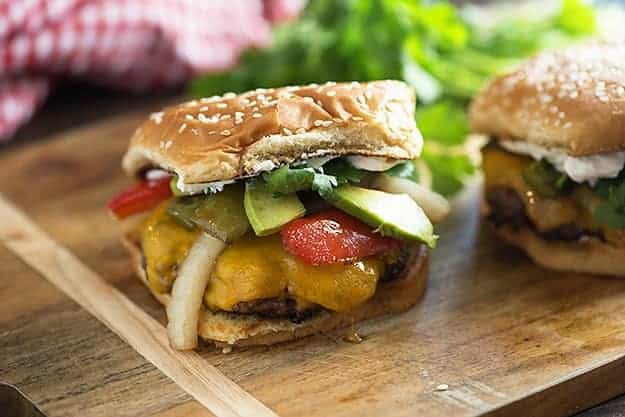 Anyway, I grilled up some burgers, seasoned 'em with taco seasoning, topped 'em with grilled peppers and onions, some cheddar, a bit of avocado, and some fresh cilantro. Then I grilled the buns and spread on some sour cream.
Burger perfection, you guys.
I'm kinda thinking that next time I might drown the whole thing in queso. What do you guys think?
What are you planning on grilling this Fourth of July?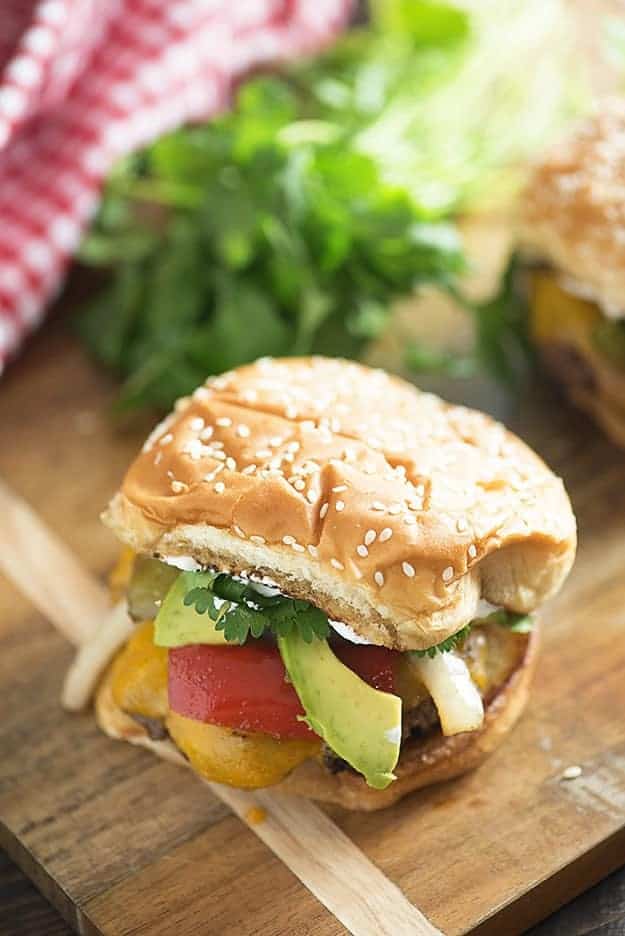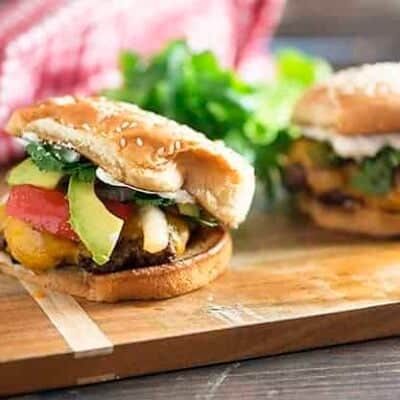 Fajita Burgers
These fajita burgers are a fun twist on traditional fajitas! Extra sour cream and cheese on mine, please!
Prep10 minutes
Cook20 minutes
Total30 minutes
Ingredients
1 pound ground chuck
2 teaspoons taco seasoning
1/4 cup butter
2 bell peppers any color
1/2 sweet onion
4 slices cheddar cheese
1 avocado sliced thin
1/4 cup cilantro
1/4 cup sour cream
4 hamburger buns
Instructions
Preheat grill to medium high heat.

While grill is heating, slice the peppers and onions into thin strips.

Heat a small skillet on the stove or over the grill and add 1 tablespoon butter to the skillet. When melted, add the peppers and onions and cook about 5 minutes, stirring often, until tender crisp.

Shape beef into 4 patties and sprinkle each side with taco seasoning. Place on grill and cook for 15 minutes, or until cooked to your liking, flipping halfway through cooking.

Top burgers with cheddar cheese and cook 2 minutes more to melt.

Remove burgers from grill and let rest 5 minutes.

While burgers are resting, spread remaining butter evenly between the buns and place on grill to toast.

Place burgers on toasted buns and top with peppers, onions, cilantro, and avocado slices.

Squirt sour cream on to the top of each bun and top the burgers. Serve immediately.
Nutrition Information:
Calories: 586kcal (29%)| Carbohydrates: 32g (11%)| Protein: 38g (76%)| Fat: 34g (52%)| Saturated Fat: 17g (106%)| Cholesterol: 140mg (47%)| Sodium: 599mg (26%)| Fiber: 4g (17%)| Sugar: 8g (9%)