Y'all know how I feel about Mexican food, right? I mean, it's been well documented. I make fried tacos as often as possible. My carnitas are requested anytime someone is coming to dinner. This King Ranch casserole is a favorite comfort food.
The thing is, all of those are somewhat…fattening. Which, don't get me wrong, I love a good fattening meal just as much as the next guy, which is also well documented on this blog. But, it's Spring, you guys! It's time to lighten things up just a bit! I have a pool being dug right now. It's time to get serious about swimsuit season.
I teamed up with LouAna Coconut Oil to bring you a new recipe and I knew I wanted to keep it on the lighter side. This Chicken Fajita Pasta is surprisingly light for a pasta dish! I love it and I think you will too.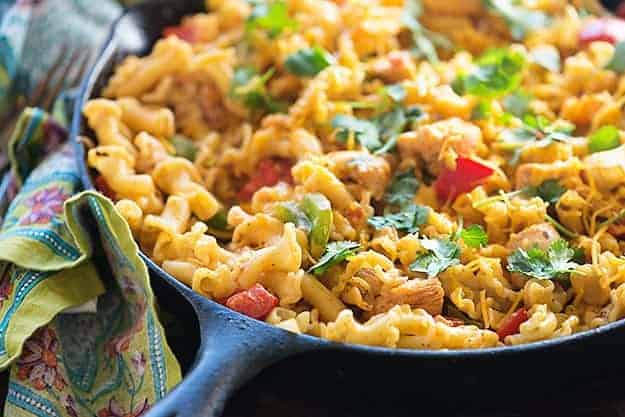 LouAna coconut oil has zero grams of transfat and cholesterol, which makes it a great switch from traditional oils or butter. And no. Your food won't taste like coconut if you cook or bake with coconut oil! It just makes things a bit healthier.
For this recipe, I kept things light with chicken breast. I added tons of bell peppers and onions to add flavor and freshness. The chicken and veggie are cooked in coconut oil. The sauce is just a smidge of sour cream (use light, if you prefer!) combined with salsa and then everything is topped with a handful of cheddar. This is an easy dinner that my whole family gobbled up. Of course, the 11 year old picked around the onions, but that's fine. More for me!
I used regular pasta here, because I'm not the biggest fan of whole wheat. If you are, go ahead and use whole wheat here.
So, I dare ya…make the switch! See if you miss the butter or vegetable oil the next time you're cooking up a batch of veggies on the stove or baking a batch of muffins. Coconut oil is a great swap and making the switch is as easy as can be!
Chicken Fajita Pasta
This Chicken Fajita Pasta is surprisingly light for a pasta dish! I love it and I think you will too.

Prep10 minutes
Cook15 minutes
Total25 minutes
Ingredients
1 pound campanelle pasta or any small shape
1 pound chicken breasts
3 bell peppers any color
1 small onion
2 tablespoons LouAna coconut oil divided
2 tablespoons fajita seasoning
1/4 cup sour cream
1/4 cup prepared salsa
1/2 cup shredded cheddar
2 tablespoons diced cilantro
Instructions
Bring a large pot of water to a boil and cook pasta according to package directions.

While cooking pasta, dice the chicken, peppers, and onion into bite-sized pieces.

Heat a large skillet over medium heat. Add 1 tablespoon of coconut oil to the skillet and let melt.

Add the chicken to skillet and sprinkle with the fajita seasoning. Cook, stirring often, until no longer pink, about 6 minutes. Remove from pan and set aside.

Add remaining tablespoon of coconut oil to skillet and melt. Add peppers and onions to skillet and cook until tender-crisp, stirring often, about 5 minutes.

Return chicken to skillet. Add in the cooked pasta, sour cream, salsa, and cheese and stir well to combine.

Sprinkle with cilantro before serving.
Nutrition Information:
Calories: 493kcal (25%)| Carbohydrates: 63g (21%)| Protein: 29g (58%)| Fat: 12g (18%)| Saturated Fat: 7g (44%)| Cholesterol: 63mg (21%)| Sodium: 305mg (13%)| Potassium: 654mg (19%)| Fiber: 4g (17%)| Sugar: 6g (7%)| Vitamin A: 2180IU (44%)| Vitamin C: 78.8mg (96%)| Calcium: 110mg (11%)| Iron: 1.7mg (9%)