CHICKEN PESTO PASTA makes a great lunch or light dinner during the hot summer months! Use up that fresh basil and make homemade pesto or make dinner extra quick with jarred pesto! Both work great in this simple chicken pasta recipe!
When my kids were younger and we introduced a new food that they didn't like, we'd say they were "learning to like" that food. It gave them some room to try it again next time.
Well, friends, I'm learning to like basil.
Such a weird thing to admit, because it seems like EVERYONE loves basil!
It's in so many good foods and the rest of the world loves it, so I keep trying and I really am learning to like it.
My husband and son love fresh basil, so I decided to really test myself with this chicken pesto pasta and, y'all, this is actually really good. Even for me – someone on the fence about basil. Haha!
And the boys absolutely loved this pesto pasta! Bring on the basil, they say.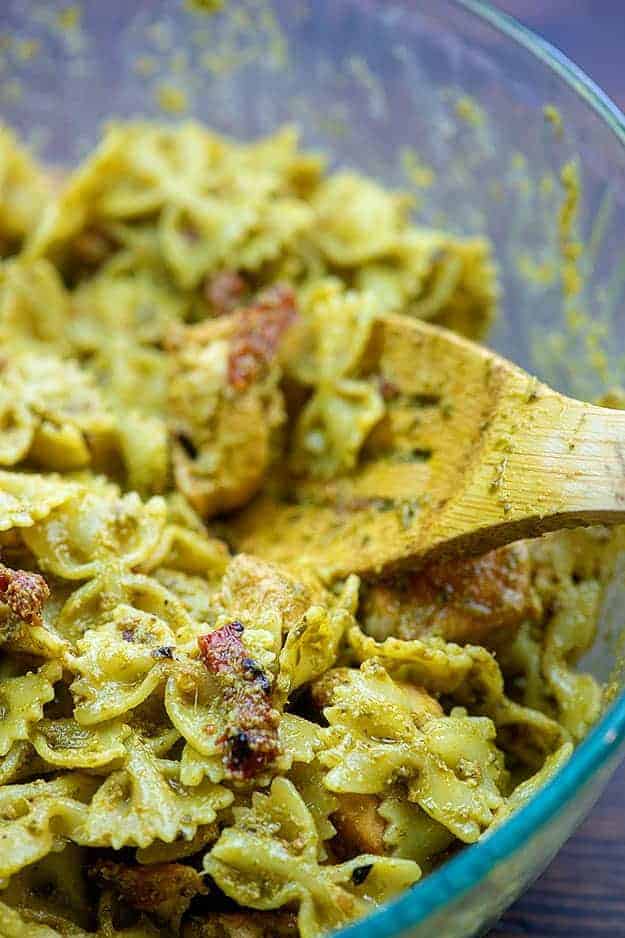 How to make this chicken pesto pasta recipe:
This recipe is quick to toss together with ingredients that you likely already have in your pantry.
You'll start by dicing up some chicken breasts and season it with some red pepper flakes, onion powder, and paprika.
The red pepper flakes will add a bit of heat, but we don't find it overwhelmingly spicy at all. Feel free to adjust to your needs.
Cook this in a bit of oil and then stir in some garlic and sun-dried tomatoes.
I'm fairly obsessed with sun-dried tomatoes because they pack such a big bold flavor.
Once your chicken is cooked through, add it to a bowl with some cooked bowtie pasta.
Pour on some pesto – you can use homemade pesto or jarred pesto. I used a jar, because like I said – I'm still learning to like basil and I haven't perfected a homemade recipe yet.
Toss it all together and then serve with some toasted pine nuts and shaved Parmesan on top.
Simple and delicious!
This is perfect for a spring or summer lunch, especially if you use fresh basil from your garden. Yum!
More summer lunch ideas:
Keto Chicken Salad: If you're watching carbs, this is the way to go!
Homemade Sloppy Joes: Seriously the best!
Cheddar Bacon Egg Salad: My all time favorite egg salad!
Tuna Pasta Salad: Pasta + protein!
Buffalo Chicken Salad: This makes the best sandwich, but it's good as a dip for celery too!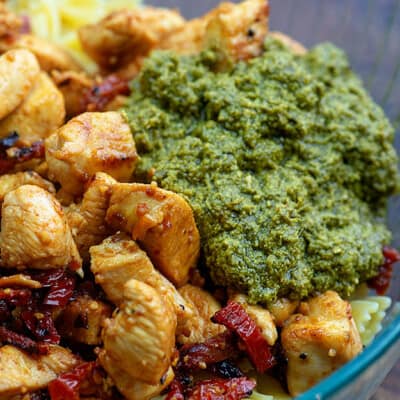 Chicken Pesto Pasta
This chicken pesto pasta is the perfect summer or spring lunch. Make your own pesto with fresh basil from your garden or start with a jar of pesto - both work well!
Prep5 minutes
Cook15 minutes
Total20 minutes
Ingredients
16 ounces bow tie pasta
2 teaspoons olive oil
8 ounces boneless skinless chicken breasts, cut into bite-size pieces
1 teaspoon paprika
1 teaspoon onion powder
½ teaspoon crushed red pepper
1/2 teaspoon salt
1/2 cup oil-packed sun-dried tomatoes, drained and cut into strips
2 cloves garlic, minced
1 cup pesto sauce, fresh or jarred
½ cup toasted pine nuts
¼ cup shaved Parmesan
Instructions
Bring a large pot of salted water to a boil and cook the pasta according to package directions. Drain the pasta and place in a large bowl

While the pasta is cooking, heat the oil in a large heavy bottomed skillet and add the chicken. Sprinkle the chicken with the paprika, onion powder, red pepper flakes, and salt. Stir well to coat the chicken in the seasoning.

Continue cooking, stirring often, until the chicken has cooked through.

Add the sun-dried tomatoes and garlic to the skillet and cook 2 minutes.

Add the chicken to the pasta along with the pesto and pine nuts. Stir well to combine.

Top each serving with Parmesan.
Nutrition Information:
Serving: 1| Calories: 458kcal (23%)| Carbohydrates: 48g (16%)| Protein: 17g (34%)| Fat: 21g (32%)| Saturated Fat: 3g (19%)| Cholesterol: 22mg (7%)| Sodium: 542mg (24%)| Potassium: 394mg (11%)| Fiber: 3g (13%)| Sugar: 2g (2%)| Vitamin A: 905IU (18%)| Vitamin C: 7.6mg (9%)| Calcium: 106mg (11%)| Iron: 1.7mg (9%)