We took pillowy soft gnocchi and baked it up into a saucy, bubbly concoction of hearty meat sauce and piles of melty mozzarella and ricotta cheese. Our Baked Gnocchi is ready in about 40 minutes for a quick, simple, and hearty weeknight meal!
Let's talk about busy nights. I mean, no. Let's actually not talk about those – no one wants to relive the stress of getting off work, rushing home to make dinner, driving the kids in 30 different directions, keeping the house in order, and just generally surviving the night time routine during the busy fall months.
Instead, let's talk about this baked gnocchi with a homemade meat sauce (on a weeknight?! Am I nuts? Maybe, but not for this reason.) and piles and piles of ricotta cheese, fresh mozzarella, and shredded Parmesan.
It's ready in 40 minutes.
You walk in the door, you brown the meat, you toss in the sauce ingredients and go about your evening routine of emptying the dishwasher, tidying the counters, and helping with homework, being sure to stir the sauce every few minutes. Then you stir in the gnocchi, top it will big scoops of cheese, and pop it in a hot oven for 15 minutes.
Heaven on Earth. Happiness in a skillet. Pillowy soft saucy gnocchi in yo' face.
I love weeknight meals like this.
Toss some frozen garlic bread in the air fryer as a side (or go the healthier route and do our Tuscan roasted vegetables).
Ingredient Notes:
This post contains affiliate links. As an Amazon associate and member of other qualifying programs, I earn from qualifying purchases.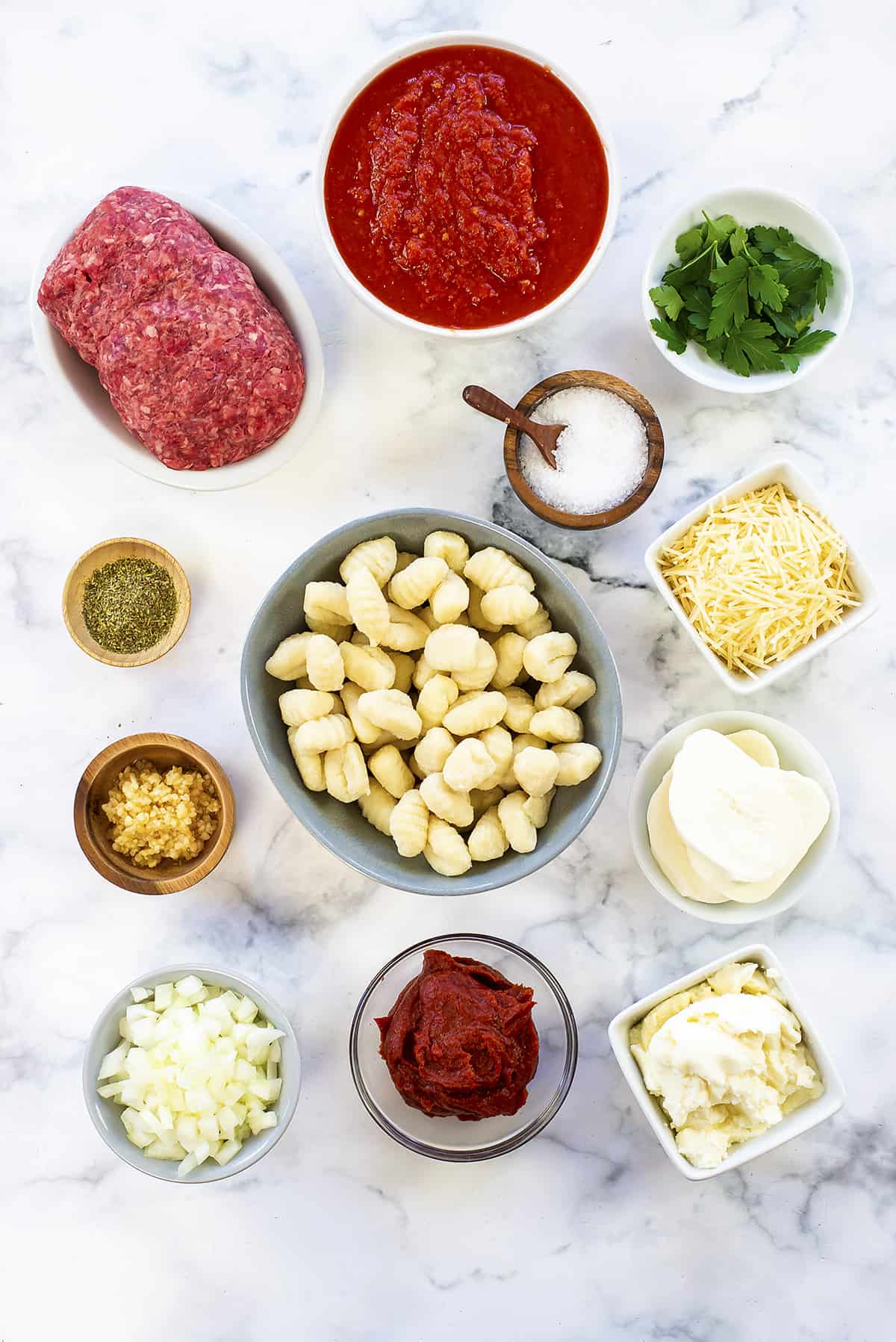 Ground Beef – My family prefers beef in their meat sauce, but you could also use Italian sausage or ground pork, if that's what you prefer.
Garlic & Onion – Obviously. A must.
Italian Seasoning – This seasoning blend is full of oregano, thyme, basil, and more. It's a great blend to keep on hand.
Tomato Paste – Deep, rich tomato flavor. We like to buy it in a tube and just squeeze it in as needed. We add tomato paste to a lot of our recipes, like this Mexican rice.
Crushed Tomatoes – I love San Marzano tomatoes for Italian sauces, but you can use any can of crushed tomatoes you like.
Helpful Tip!
Simplify this recipe…
You can make things a little easier on yourself by using a 24 ounce jar of marinara instead of creating your own with the Italian seasoning, tomato paste, and crushed tomatoes. We really like Rao's marinara!
Potato Gnocchi – I'm using dried, shelf-stable gnocchi for this recipe and you do not need to pre-boil it before adding to the sauce.
Cheese – Bring out the big guns, we're making this one cheesy. You'll need soft, creamy ricotta cheese, shredded Parmesan, and fresh mozzarella cheese.
What We Love About This Recipe:
One Skillet Wonder: One skillet means minimal clean up and we're all about that life. A sink full of dishes? Never heard of her.
Restaurant Worthy Meal: Are you at your favorite Italian joint? Nah, you're at home in your comfy clothes, shoving forkfuls of this cheesy delight in your mouth with no strangers around to judge you. Tastes like a fancy chef made it, but it was all you.
Wholesome Comfort: A homemade meat sauce? Get it, girl. We love the comfort food aspect of this wholesome and hearty dish.
Cheesy Delight: Not one, not two, but three types of cheese? Now you're speaking my love language.
Quick and Satisfying: Ready in 40 minutes and that includes the homemade sauce! You can cut it down to 30 minutes if you start with a jar of sauce instead.
How to Make Baked Gnocchi:
Ground Beef: Crumble the ground beef into an oven-safe skillet and stir in the onion and garlic. Cook the beef through and drain off the grease.

Cast iron skillets are my favorite! They heat so evenly, get piping hot for searing, and nothing is better than bacon fried in a cast iron skillet.
Marinara Sauce: Stir the tomato paste, crushed tomatoes, and Italian seasoning into the skillet with the ground beef. Cook for 15 minutes, stirring often, over medium-low heat.
Gnocchi & Cheese: Add the uncooked gnocchi to the skillet along with the ricotta cheese and salt. Stir well to combine the mixture. Sprinkl the Parmesan over the top and arrange slices of fresh mozzarella on top of all that.
Bake: When you've assembled the dish you can place the skillet into the oven uncovered and bake for 15 to 20 minutes or until the gnocchi is tender and the cheese is melty. Sprinkle it with parsley to garnish and serve it hot!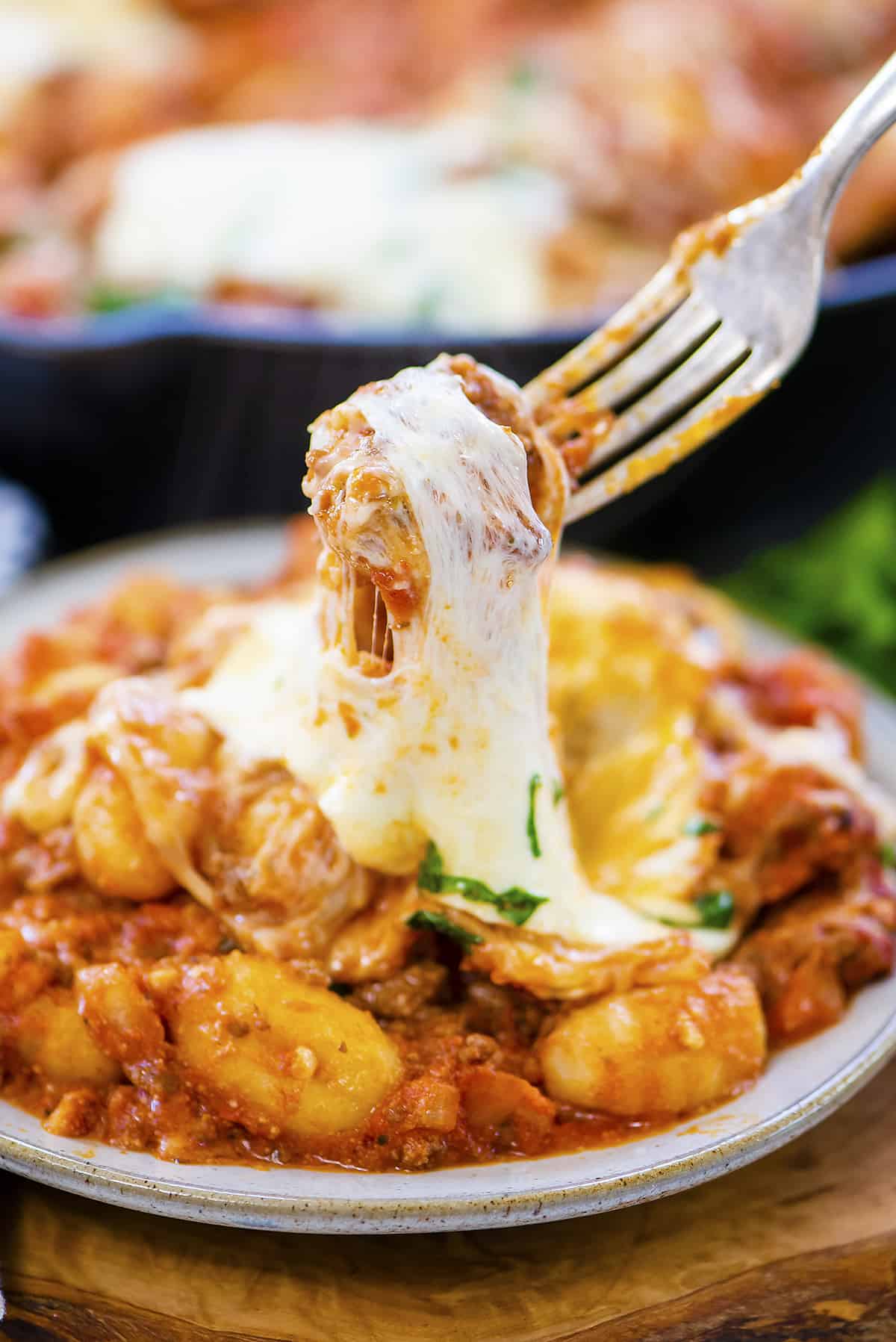 What To Serve With Baked Gnocchi:
This baked gnocchi is perfect as a main dish for dinner and you can serve it up with just about anything you'd also serve with an Italian or pasta dish. Here are some suggestions: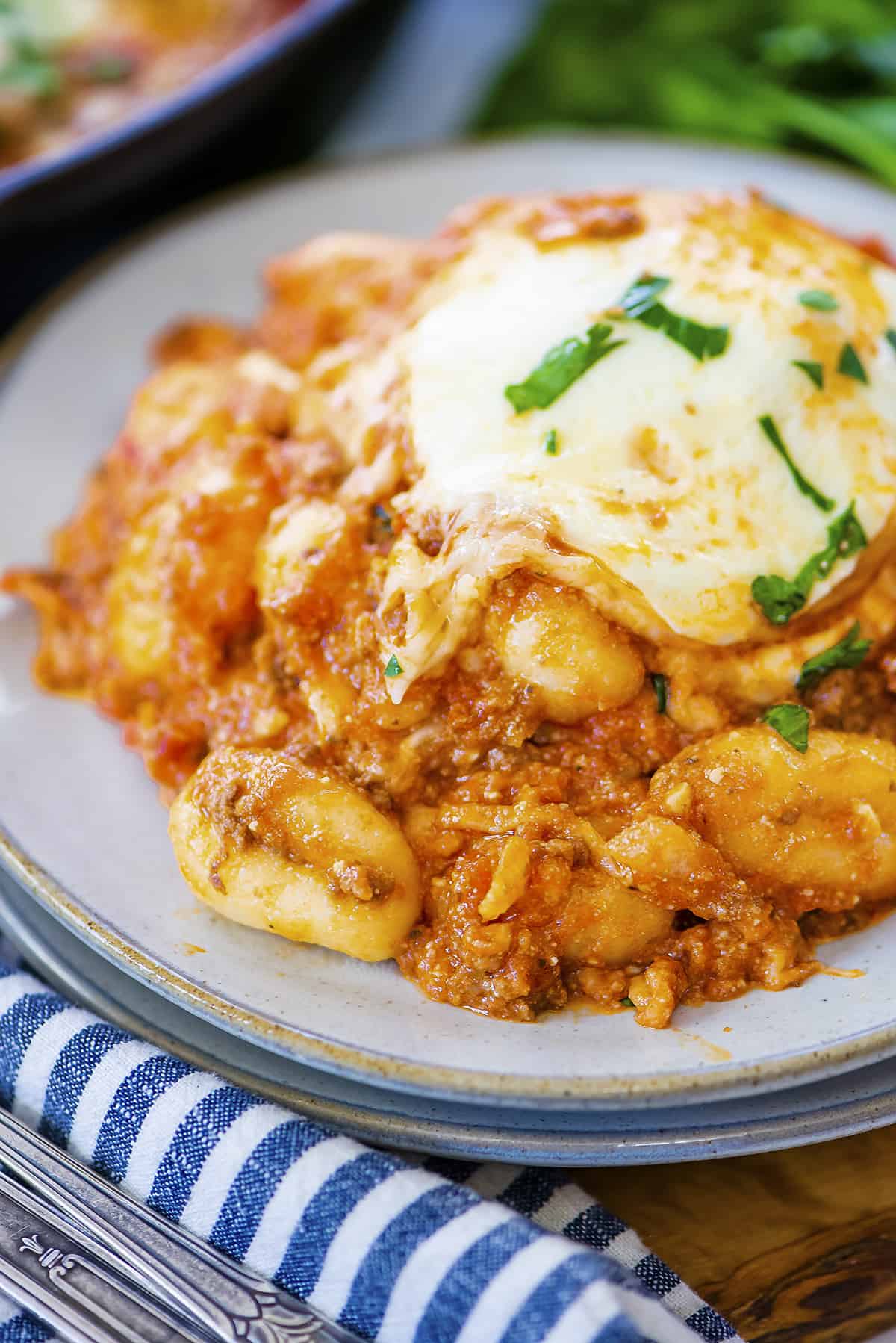 FAQs:
How to store baked gnocchi?
If you have leftovers you can keep them stored in the fridge in an airtight container for about 4-5 days. You could also freeze this recipe but the texture may not be the same after thawing.
What is gnocchi?
Gnocchi is actually a type of Italian dumpling. If you like pasta, you will like gnocchi! It's not actually a type of pasta, but it sure does taste great with marinara sauce!
Is gnocchi gluten free?
The main ingredient in gnocchi is generally potato, but flour is also used as a binder, so generally it would not be gluten free. They do make gluten free varieties you could use.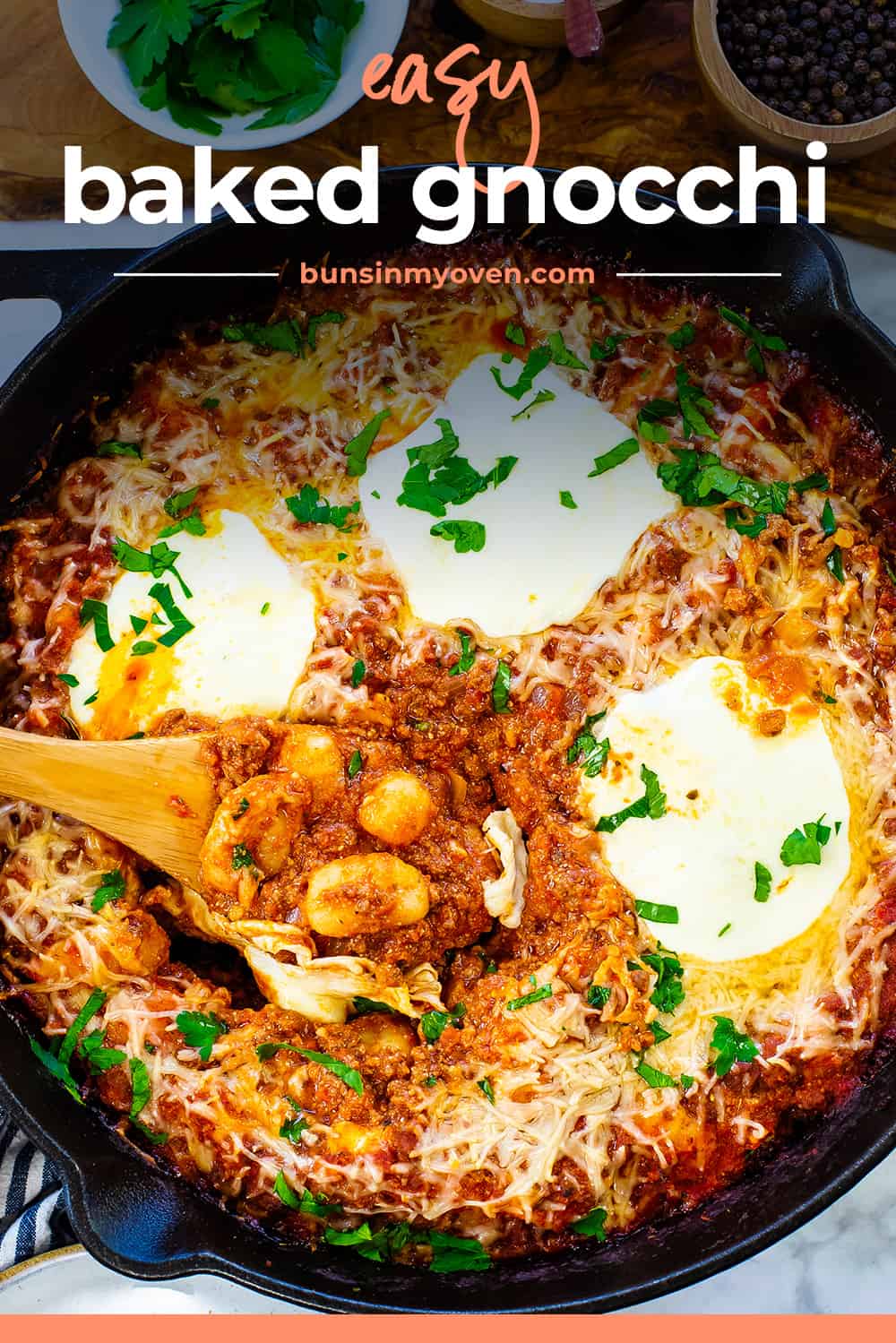 Baked Gnocchi
Our cheesy baked gnocchi cooks in just one skillet it about 40 minutes, for the ultimate cozy weeknight meal. You can keep it even easier by swapping the homemade sauce for a jar of marinara.
Prep5 minutes
Cook35 minutes
Total40 minutes
Ingredients
1 pound ground beef
1 medium onion diced
4 cloves garlic minced
2 tablespoons Italian seasoning
28 ounces canned crushed tomatoes
1 tablespoon tomato paste
1 teaspoon salt
16 ounces potato gnocchi dried, shelf stable
½ cup ricotta cheese
½ cup shredded Parmesan
4 slices fresh mozzarella
Fresh parsley for garnish
Instructions
Preheat oven to 400°F.

Break apart the beef in a deep oven safe skillet over medium heat. When the meat is crumbled, add the onion and garlic to the pan and continue cooking until the beef is cooked through. Drain grease from the skillet.

Stir in the Italian seasoning, crushed tomatoes, tomato paste, and salt. Cook for 15 minutes over medium-low heat, stirring often.

Add the uncooked gnocchi to the pot along with the ricotta. Stir to combine the mixture.

Sprinkle the top with Parmesan cheese and arrange slices of mozzarella over the top.

Bake for 15 minutes or until the gnocchi is tender.

Sprinkle with parsley and serve.
Tips & Notes:
You may use all Italian sausage in place of the beef or a combination of the two, if desired. We're using dried, shelf stable gnocchi. Do not boil before adding to the sauce – it will cook in the oven. To make this even simpler, you can swap the seasoning, tomato paste, and crushed tomatoes for a 24 ounce jar of marinara.
Nutrition Information:
Calories: 499kcal (25%)| Carbohydrates: 42g (14%)| Protein: 28g (56%)| Fat: 25g (38%)| Saturated Fat: 12g (75%)| Polyunsaturated Fat: 1g| Monounsaturated Fat: 9g| Trans Fat: 1g| Cholesterol: 85mg (28%)| Sodium: 1161mg (50%)| Potassium: 718mg (21%)| Fiber: 5g (21%)| Sugar: 7g (8%)| Vitamin A: 639IU (13%)| Vitamin C: 15mg (18%)| Calcium: 346mg (35%)| Iron: 7mg (39%)