This gnocchi casserole takes about 10 minutes of prep time and will be on your dinner table in just 40 minutes! It's a warm and comforting meal that your whole family will love!
You know, I think it's pretty clear that I'm from the Midwest. I mean, based on the number of casseroles I make in a week, it's pretty obvious.
You fancy Californians with your sprouted flours and your steamed girl parts (sorry, had to go there) don't do a whole lot of casseroles, I imagine. I could be wrong, but I don't think I am.
And New Yorkers? I picture you being too busy dining at all the fancy restaurants to bother with cooking. So, probably I am wrong about that one, but in my head you guys eat out every single night and it's always somewhere chic and new and very trendy. I'm jealous.
And you Southern people. I love you best of all. You probably do go for the casserole every now and then, because you're awesome and not at all afraid of butter or cheese. But, mostly it's fried chicken and homemade biscuits and some kind of icky greens. I will totally look past your weird obsession with cooked weeds if you'll just keep on keepin' on with the fried chicken and biscuits, deal? Also, sweet tea. I love your sweet tea.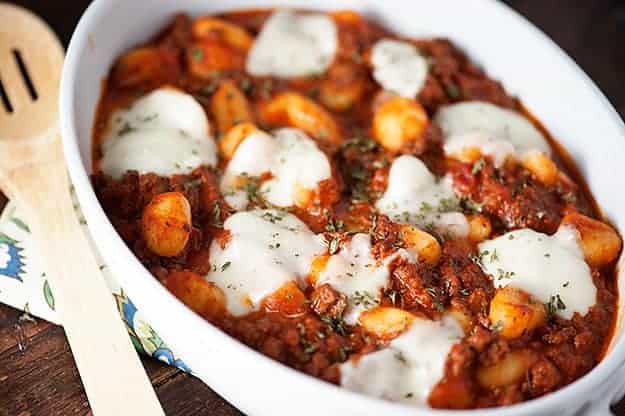 So, anyway, I'm from the midwest and I eat a long of dang casseroles. (And corn. Midwesterners can eat the heck out of some corn.) I thought I'd get all fancy on you guys today with this gnocchi casserole. I mean, okay, gnocchi really isn't that fancy, but it's fancier than my usual box of spaghetti noodles, right?
I cheated and used packaged gnocchi in this recipe. You can totally use homemade if that's your thing! In fact, here's a perfect potato gnocchi recipe for you!
I used my quick and dirty spaghetti sauce for this one, because it's good for a weeknight meal. If you're making this on a day when you have more time, give my homemade spaghetti sauce a try. It cooks for a few hours which lets the flavors meld a little better. Either version is pretty fab, though!
This gnocchi casserole recipe originally appeared on Food Fanatic.