August 27, 2018
Leftover Turkey Casserole
If you're out searching for recipes for leftover turkey, I have you covered with this easy turkey casserole! It makes great use of all your Thanksgiving leftovers! 

So, here we are. Just days before Thanksgiving and I have a confession.
I hated cranberry sauce with a passion right up until the moment I actually tasted cranberry sauce.
Yes. I'm one of those people. If something looks creepy enough, I will pretend like I've tried it and hated it. See —> Eggnog. The name alone is enough for me to declare it evil. I will happily cook with eggnog, but I will not drink it and if you ask, I will tell you that I tried it and hated it.
But, whatevs. I am who I am and that's that.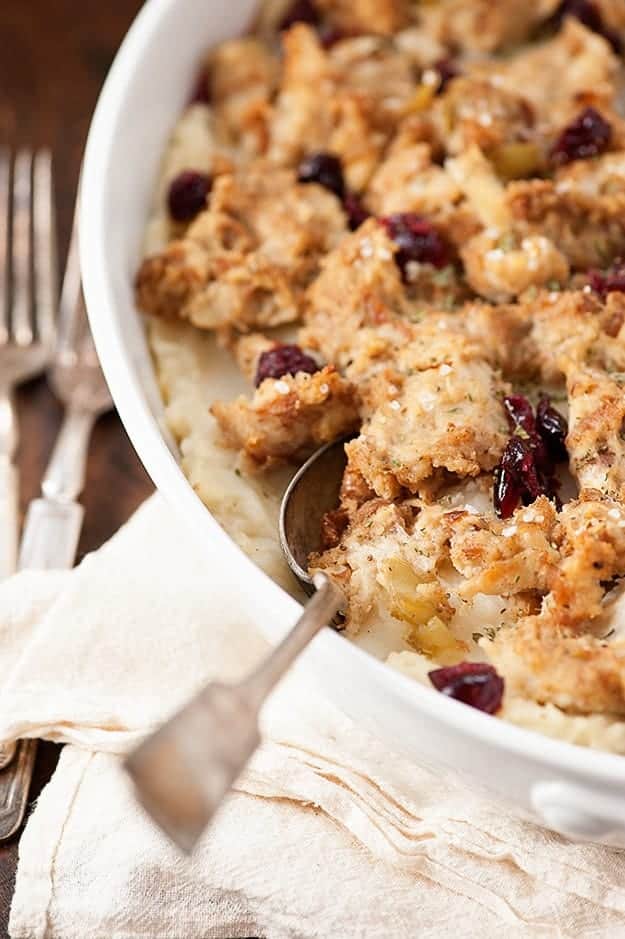 I finally tried homemade cranberry sauce and now I'm a total convert. I can even eat the canned stuff if that's all there is. It's creepily delicious.
That really has nothing to do with this casserole though. I just wanted to tell you all about my weirdo food issues.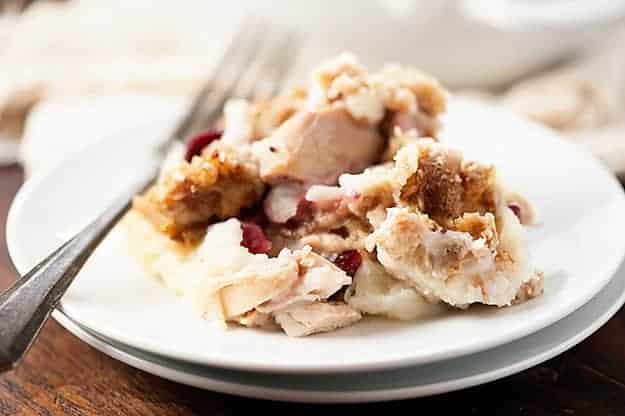 So, I took all the delicious leftovers from Thanksgiving, tossed 'em in a baking dish, and BOOM. This casserole is amazing. I used plenty o' gravy in there to keep things all moist and not leftover-y tasting. I mean, no one likes dried out leftovers. If you don't have leftover gravy or it just doesn't reheat well, the kind in the jar will work just fine.
Since I'm making this before Thanksgiving so that you're prepared with a recipe when you need, I didn't have my bacon green bean casserole (no canned soup in that recipe!) to add to this. Please add that in, because YUM. Just ignore the fact that it's not in the photos. A layer of corn would be good too!
Also, if you're not going to be eating a traditional Thanksgiving dinner, you can totally just grab most of these items from the store, chop up a rotisserie chicken, and you'll have a Thanksgiving feast in no time, without all of the work!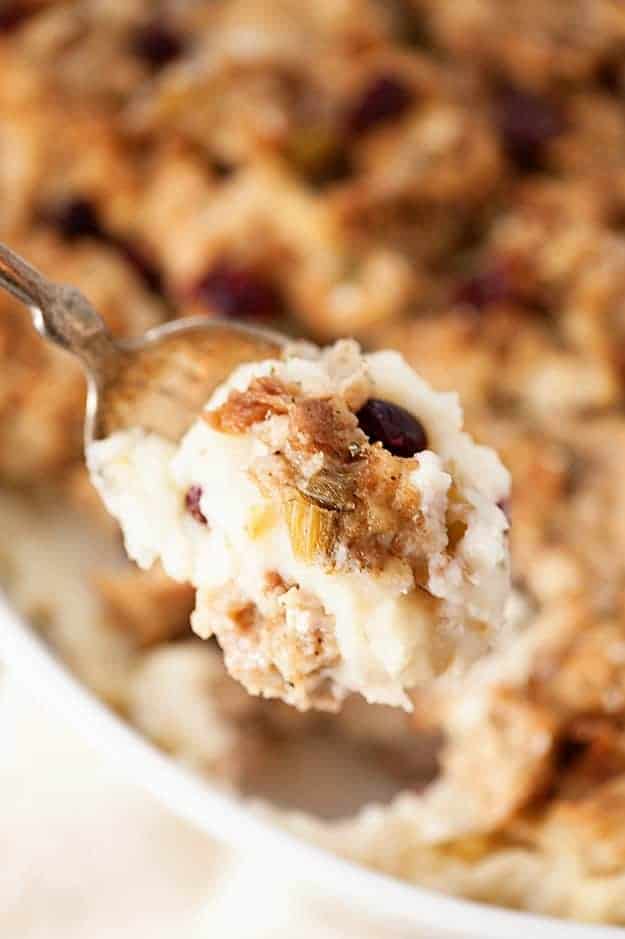 Leftover Turkey Casserole
Servings: 6 servings
Course: Main Course
Cuisine: American
Keyword: easy dinner recipes, easy Thanksgiving recipes, weeknight dinner recipes
Calories: 756 kcal
If you're out searching for recipes for leftover turkey, I have you covered with this easy turkey casserole! It makes great use of all your Thanksgiving leftovers!

Instructions
Preheat oven to 375 degrees. Spray a 9x9 baking dish with non-stick cooking spray.

Spread half of the stuffing in the bottom of the baking dish. Top with the turkey.

Top with 1/4 cup of the gravy.

Spread the cranberry sauce and green bean casserole over the turkey.

In a larger bowl, stir together the remaining gravy and mashed potatoes. Spread in the casserole.

Spread the rest of the stuffing over the mashed potatoes.

Bake for 40 minutes or until heated through. Top with dried cranberries before serving.
Nutrition Facts
Leftover Turkey Casserole
Amount Per Serving
Calories 756 Calories from Fat 162
% Daily Value*
Fat 18g28%
Saturated Fat 3g19%
Cholesterol 210mg70%
Sodium 1647mg72%
Potassium 1300mg37%
Carbohydrates 57g19%
Fiber 6g25%
Sugar 12g13%
Protein 90g180%
Vitamin A 620IU12%
Vitamin C 18.6mg23%
Calcium 109mg11%
Iron 4mg22%
* Percent Daily Values are based on a 2000 calorie diet.
Nutrition Disclaimer: All information presented on this site is intended for informational purposes only. I am not a certified nutritionist and any nutritional information shared on bunsinmyoven.com should only be used as a general guideline.