Not sure what to do with those Thanksgiving leftovers? This hot turkey sandwich with gravy and mashed potatoes is simple to make but full of flavor!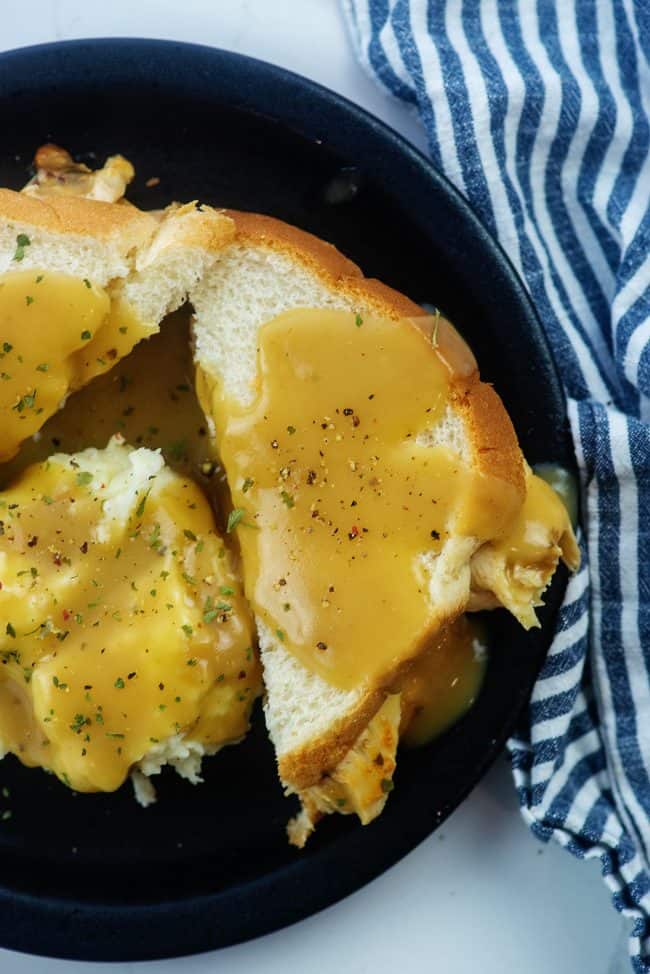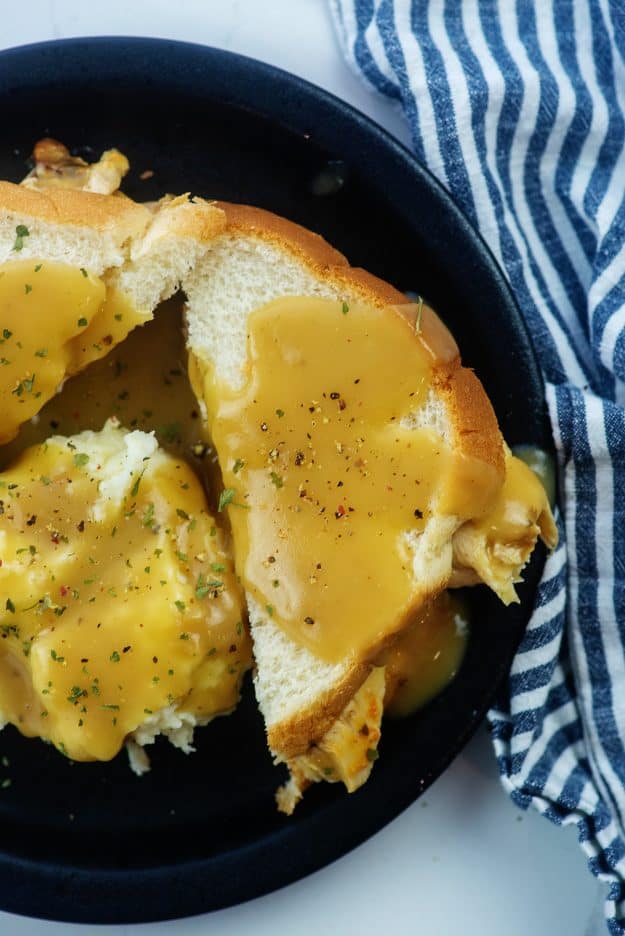 My first job was at a local restaurant just up the road from where I grew up.
(Not to do the thing where bloggers tell their whole life story based off a recipe, but that restaurant is where I met my husband – I was 15, he was 16, we started dating within a year and now we've been married for 20 years! – and we just recently bought and renovated the house of the owners of the restaurant. The circle of life!)
Their Tuesday night special was a hot turkey sandwich and woo boy, did I love working on Tuesday nights.
A couple pieces of soft white bread piled high with roasted turkey on a plate with a giant scoop of mashed potatoes. That was all fine and good, but the best part was that they drowned it in gravy, sandwich and all.
This is definitely a knife and fork type of sandwich. Don't even try picking it up with your hands!
We make this with leftover turkey every year. It's simple and delicious and every loves it! But, it's also delicious with roasted chicken breast!
How to Make:
Gravy: Who doesn't have leftovers from Thanksgiving? We usually make extra gravy and refrigerate it for later, and it's really simple to pour in a skillet and reheat. If it needs to be thinned, just add some chicken stock while heating.
Turkey: This step is just as simple as the first. Take your leftover turkey ( we made this air fryer turkey breast this year!) and add it to the gravy in the skillet, cooking until the turkey and gravy are hot. Make sure all the slices of turkey are thoroughly coated in the gravy!
Once heated, top a slice of bread with the turkey and cover with another slice of bread and cut the sandwich in half.
Mashed Potatoes: It's pretty rare that we don't also have a bunch of leftover mashed potatoes, and they are the perfect side dish to go with the hot turkey and gravy!
You can either re-heat the potatoes in the microwave or just scoop onto the plate cold from the fridge and pour the hot gravy over to warm it up. Don't forget to save some to pour over the turkey sandwich!
Helpful TipS!
Low on bread? Use leftover dinner rolls!
Want fresh gravy? Whisk together 2 tablespoons of butter and flour over medium heat until combined and bubbly. Slowly whisk in 2 cups of chicken broth until thickened. Season as desired and you've got gravy!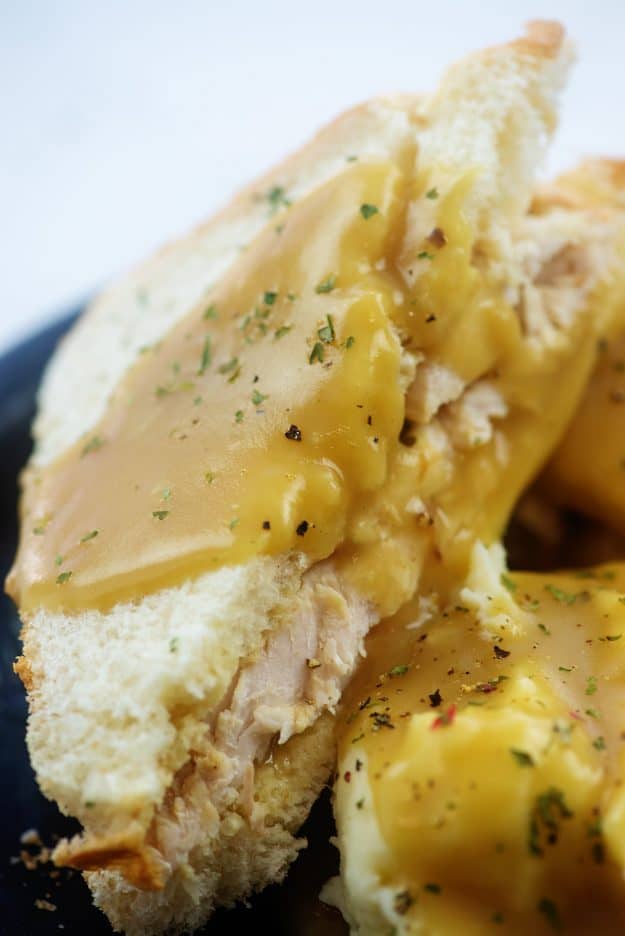 More leftover thanksgiving recipes!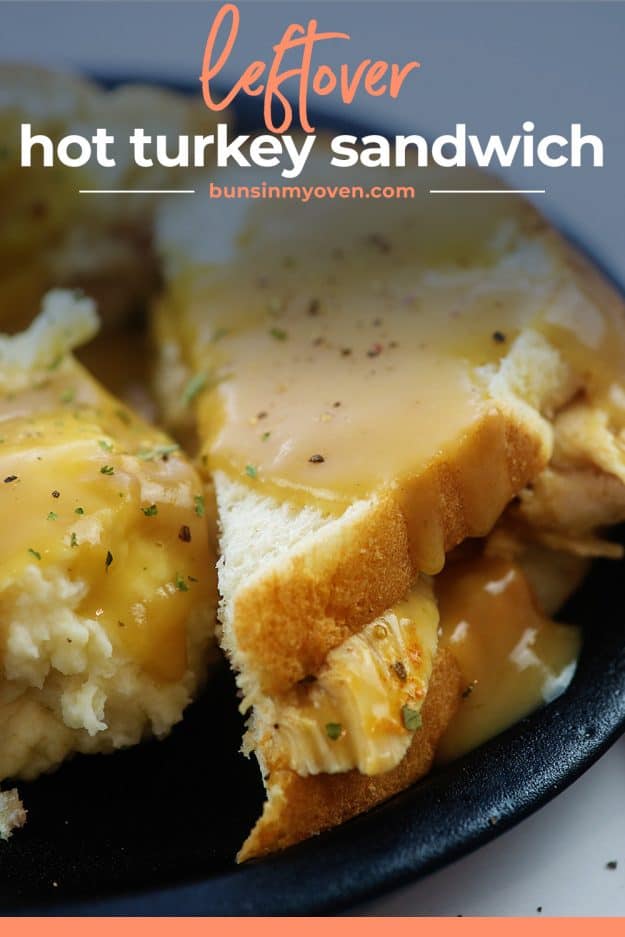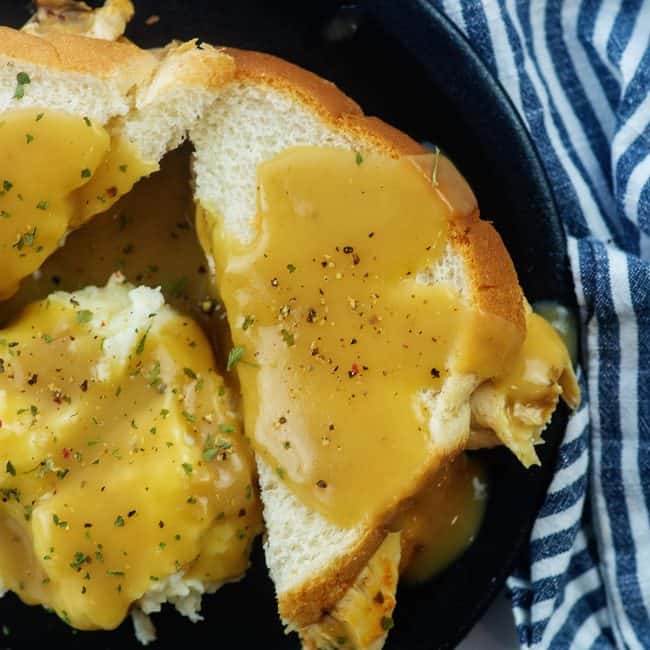 Hot Turkey Sandwich
Roasted turkey, soft white bread, and a pile of mashed potatoes make the perfect use for those leftovers! Be sure to drown the whole thing with gravy and grab a fork and knife before digging in.
Prep5 minutes
Cook5 minutes
Total10 minutes
Ingredients
½ cup leftover turkey gravy
2 tablespoons chicken stock more as needed
2-3 slices leftover turkey
2 slices white bread
1/2 cup mashed potatoes for serving
Instructions
Add the gravy to a skillet over medium heat and cook until warm. Thin with extra stock, if needed.

Add the sliced turkey to the gravy and cook over medium heat until the turkey is hot.

Place the turkey on a slice of bread on a plate. Top with the remaining slice of bread. Cut the sandwich in half.

Place a scoop of mashed potatoes on the plate and cover the sandwich and potatoes with the warmed gravy.

Serve hot and eat with a fork.
Tips & Notes:
This sandwich is also good with a bit of cranberry sauce, stuffing, or green bean casserole in with the turkey. Pile in whatever sounds good. To make gravy from scratch, melt 2 tablespoons of butter in a sauce pan over medium heat. Whisk in flour and cook 1 minute. Slowly whisk in 2 cups of chicken broth and continue cooking, whisking constantly, over medium heat until thickened. Season to taste.
Nutrition Information:
Serving: 1| Calories: 405kcal (20%)| Carbohydrates: 56g (19%)| Protein: 26g (52%)| Fat: 8g (12%)| Saturated Fat: 3g (19%)| Cholesterol: 62mg (21%)| Sodium: 918mg (40%)| Potassium: 521mg (15%)| Fiber: 3g (13%)| Sugar: 6g (7%)| Vitamin C: 24mg (29%)| Calcium: 130mg (13%)| Iron: 3mg (17%)