August 23, 2018
Green Bean Casserole with Bacon and Cheddar
Green bean casserole with bacon is just what you need for the holidays! You'll love how easy it is and that it doesn't have any cans of soup in there!
Okay, friends, I don't necessarily want to call this a healthy green bean casserole because it definitely does have bacon (and cheese!) in there and maybe bacon isn't the healthiest. But there are ZERO cans of soup and I call that a win. This is a from scratch version that everyone just loves!
Growing up, my family never really made green bean casserole. Most of my family is on Team No Mushrooms Ever, so the classic green bean casserole recipe that everyone serves is a no for my house. Sorry about it.
Homemade green bean casserole with bacon for the holidays!
This easy green bean casserole recipe is something I decided to throw together after realizing sometime in my thirties that I had never even tasted a green bean casserole. I mean, casseroles are my life. Clearly I had to remedy this.

Also, I have a fool proof substitute for cream of chicken soup that I knew I could doctor up a bit for this recipe. That's where the bacon came in. 😉
So, I whipped up this recipe for you and you'll be happy to hear that is canned soup free. I know how a lot of you feel about canned soups.
Personally, I'm fine with them. They're not an every day food for us, but they do make life easier and some recipes just really need that can of cream soup. Not this recipe, though.
Green bean casserole recipe from scratch!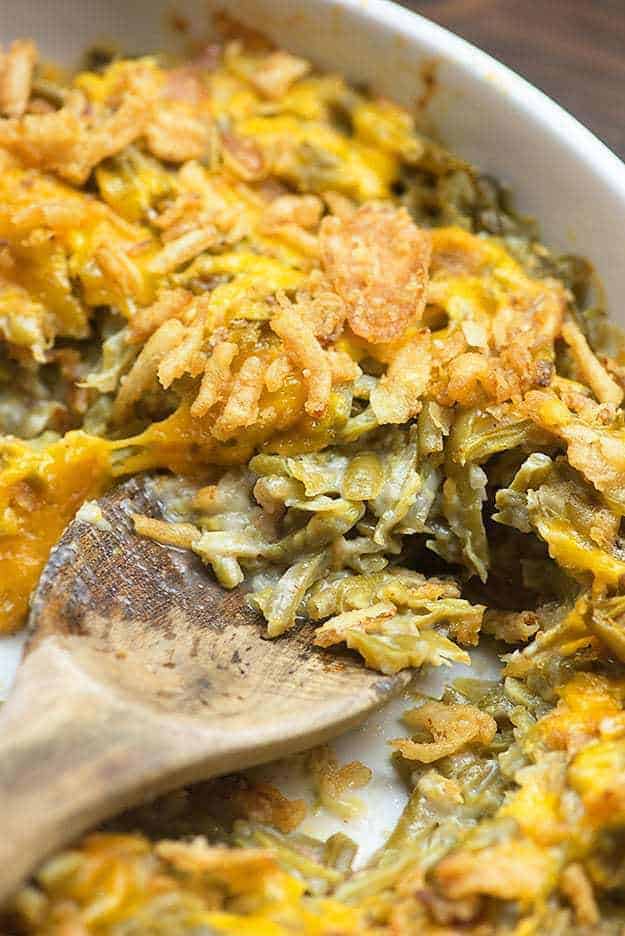 I also sprinkled some cheddar on top because green bean casserole with cheese just seemed like a winning combination. It did not disappoint. If you're more of a purist, though, you can absolutely leave the cheese off. No worries at all.
I considered making some of my onion strings to top this recipe with, but then decided that I was being ridiculous and taking "homemade" way too far. I mean, those little cans of fried onions are divine. Why mess with perfection?
This green bean casserole recipe is for sure getting served for Thanksgiving this year, alongside my sausage dressing and pumpkin crunch cake! I hope you all try it too. You could add it to my leftover turkey casserole, too!
Green Bean Casserole with Bacon
Servings: 8 servings
Course: Side Dish
Cuisine: American
Keyword: casserole, holidays, thanksgiving
Calories: 236 kcal
Green Bean Casserole is a staple at holiday dinners! This homemade version can't be beat.
Ingredients
4 slices bacon diced
2 cloves garlic minced
3 tablespoons flour
1 1/4 cups whole milk
4 14.5 ounce cans French style green beans drained
1 teaspoon ground pepper
1/2 teaspoon salt
1 cup French fried onions divided
1 cup grated cheddar
Instructions
Preheat oven to 350 degrees.

Add the bacon to a large skillet over medium heat and fry until crisp.

Add the garlic and cook, stirring constanty, for one minute.

Whisk in the flour until smooth and creamy.

Whisk in the milk and continue cooking, whisking constantly, until the mixture has thickened to the consistency of a gravy.

Add the drained green beans to a large mixing bowl and pour the bacon mixture over the top. Add salt, pepper, and half of the fried onions. Stir well to combine.

Spread into a greased 9x9 baking dish. Sprinkle the top with cheddar.

Bake for 35 minutes. Sprinkle the remaining onions over the top of the casserole and continue baking for 5 minutes.

Serve immediately.
Nutrition Facts
Green Bean Casserole with Bacon
Amount Per Serving
Calories 236 Calories from Fat 126
% Daily Value*
Fat 14g22%
Saturated Fat 6g38%
Cholesterol 25mg8%
Sodium 391mg17%
Potassium 459mg13%
Carbohydrates 19g6%
Fiber 4g17%
Sugar 7g8%
Protein 9g18%
Vitamin A 1425IU29%
Vitamin C 21.9mg27%
Calcium 212mg21%
Iron 2.1mg12%
* Percent Daily Values are based on a 2000 calorie diet.
Nutrition Disclaimer: All information presented on this site is intended for informational purposes only. I am not a certified nutritionist and any nutritional information shared on bunsinmyoven.com should only be used as a general guideline.