Crockpot Green Bean Casserole is perfect for the holidays – that same classic flavor you love, but you can free up some space in the oven for other things!
My mama has always been in charge of Thanksgiving and I kind of have always wondered how she does it. She has a single oven and yet, she manages to feed all of us a big ol' holiday meal.
Sure, we all pitch in and bring a few dishes too, but still. How do you cook a big ol' turkey plus all the fixings with just one oven? Moms are magic.
This year, I'm hosting my first Thanksgiving and I have to admit…I'm terrified. I've actually never cooked a turkey before. Hold me.
I have a double oven (and a toaster oven and my microwave converts to a regular oven – so 4 ovens going on over here) and I'm still stressed about fitting everything in.
Enter this green bean casserole in a crockpot. It's the perfect way to free up space in your oven for other tasty Thanksgiving foods! Keep on scrolling for a list of some of my favorite Thanksgiving recipes!
How to make slow cooker green bean casserole:
First up, we're skipping the cans of cream soup. I'm all about convenience foods and shortcuts, but not on Thanksgiving. Let's make this guy from scratch and marvel in the deliciousness.
First up, you'll want to melt some butter in a skillet and then toss in your mushrooms. Things are about to smell real good.
Saute those mushrooms and then sprinkle in some flour and stir to coat the mushrooms.
Stir in some chicken broth and milk and you've got a perfect swap for cream of mushroom soup! Genius, right?
Now, add your frozen French cut green beans to your slow cooker and dump that cream of mushroom soup right on top, along with some grated cheddar and fried onions.
Am I the only who could eat those little fried onions like potato chips? They're addicting!
Cover your slow cooker and cook on high for about 3 hours or low for about 6 hours. You just want everything hot and creamy.
Sprinkle on some extra fried onions before serving!
That's it! Your homemade green bean casserole is ready to go!
Isn't this just the easiest recipe for green bean casserole ever? So simple, but man, it's a total hit!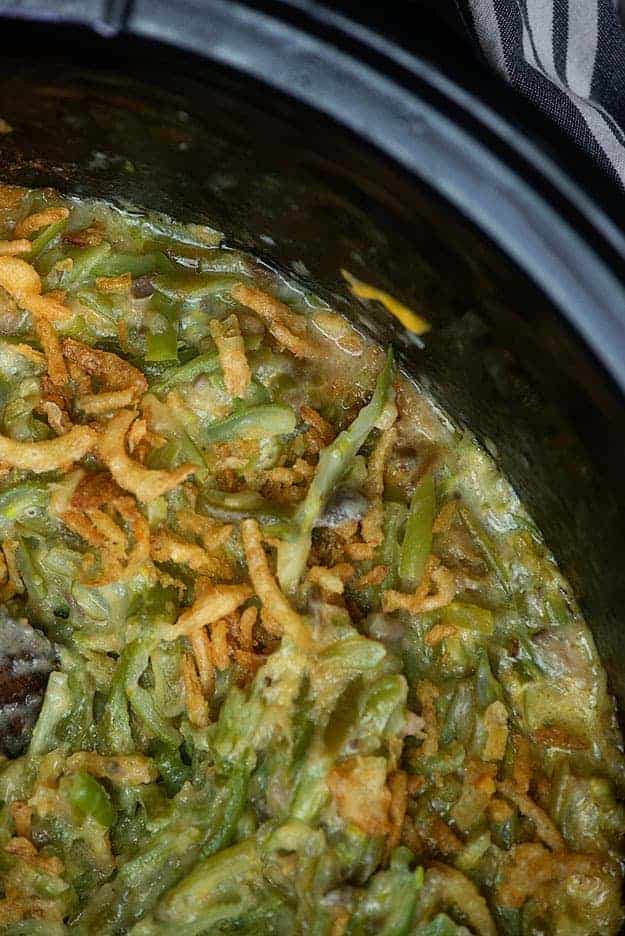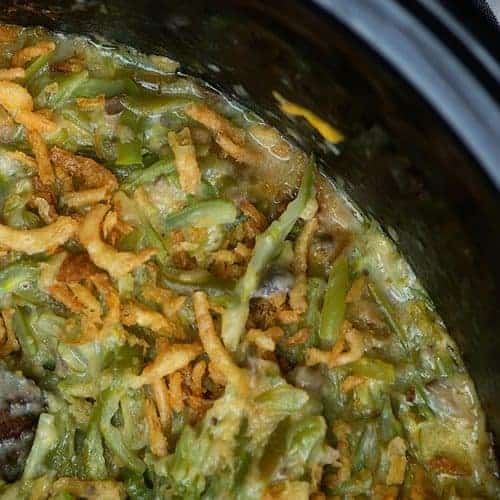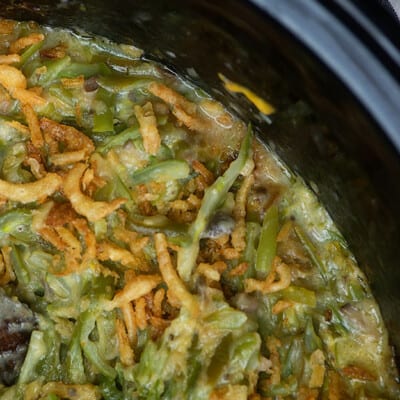 Crockpot Green Bean Casserole
Free up some oven space with this slow cooker version of the classic green bean casserole. No canned soups here either!
Prep10 minutes
Cook3 hours
Total3 hours 10 minutes
Ingredients
3 tablespoons butter
8 ounces diced mushrooms
2 tablespoons flour
1 cup chicken broth
1 cup milk
1/2 teaspoon salt
32 ounces frozen green beans
1 cup grated cheddar
6 ounces French's fried onions
salt and pepper to taste
Instructions
Add the butter to a large skillet over medium heat and melt.

Once butter has melted, add the mushrooms and cook, stirring often, about 5 minutes.

Sprinkle the flour over the mushrooms and stir to coat.

Stir in the chicken broth, milk, and salt, cooking over medium heat and stirring constantly, until the mixture has thickened, about 3 minutes.

Add the frozen green beans to a 5-6 quart slow cooker and top with the mushroom mixture.

Add the grated cheddar and half of the fried onions. Stir well to combine.

Cover and cook on low for 6 hours or on high for 3 hours, until cheese is melted and mixture is hot and bubbly.

Taste and add salt and pepper as desired.

Sprinkle with remaining fried onions before serving.

Nutrition Information:
Calories: 237kcal (12%)| Carbohydrates: 17g (6%)| Protein: 6g (12%)| Fat: 17g (26%)| Saturated Fat: 9g (56%)| Cholesterol: 23mg (8%)| Sodium: 461mg (20%)| Potassium: 326mg (9%)| Fiber: 3g (13%)| Sugar: 5g (6%)| Vitamin A: 884IU (18%)| Vitamin C: 13mg (16%)| Calcium: 145mg (15%)| Iron: 1mg (6%)