Our BAKED MASHED POTATOES are rich, creamy, and so decadent! These aren't your usual weeknight mashed potatoes, but they're perfect for special occasions! Loaded with butter and cream cheese plus a special ingredient that makes these velvety smooth, so creamy, and absolutely unforgettable!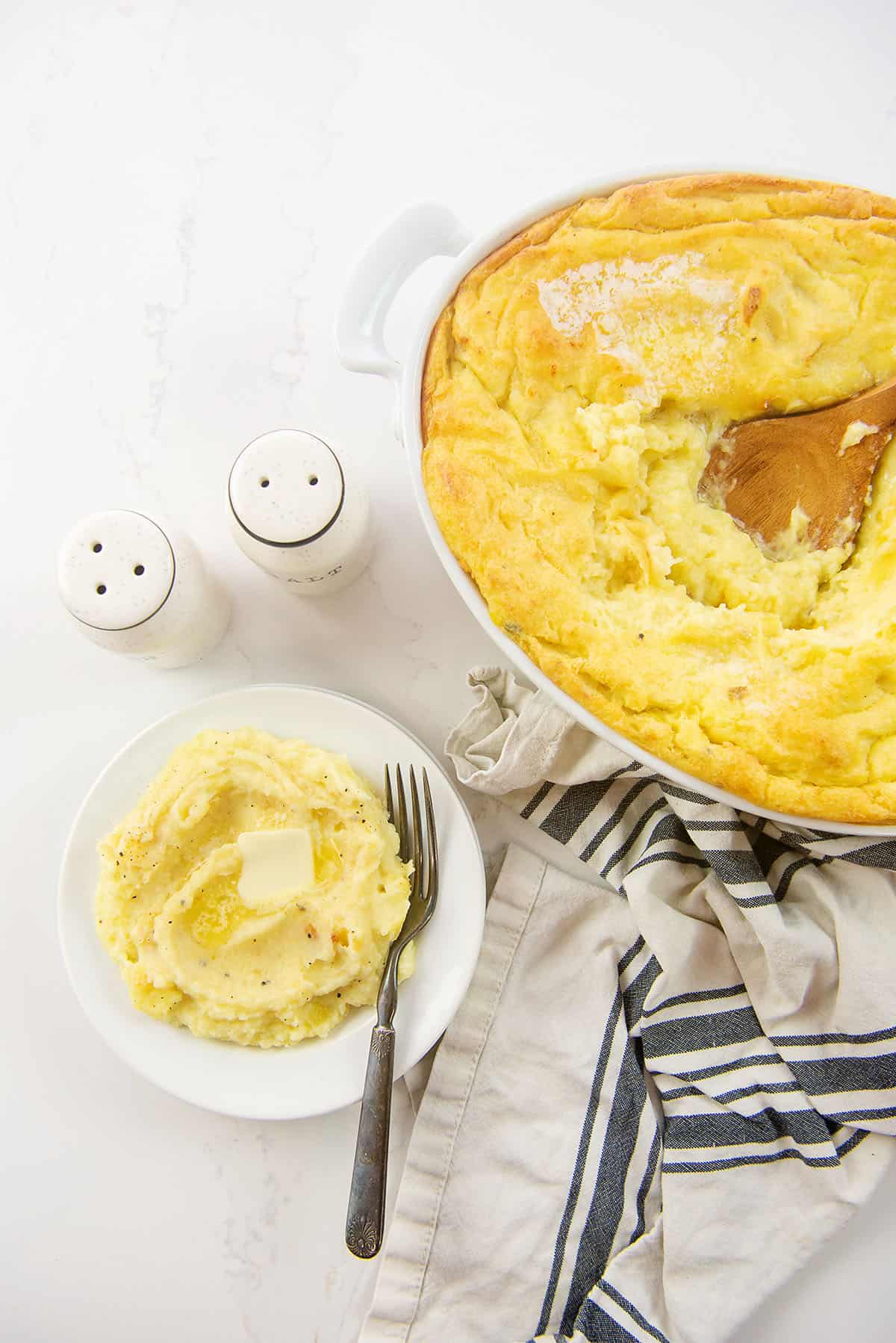 Mashed potatoes are one of those foods that everyone seems to love and if you know how to make a really good batch of mashed potatoes, well, you're practically a hero.
I mean, all mashed potatoes are good enough to eat, but some are definitely better than others and if people are still talking about something as simple as your baked mashed potatoes days after eating dinner with you…you know you've done something right. 😉
These are those potatoes, my friend.
Honestly, they're so decadent, so rich, so buttery, that we reserve these for holiday dinners or fancy dinner parties.
These are almost too much goodness for the average weeknight dinner, if that's possible, so we reserve them for special occasions when we want to wow our friends and family.
Speaking of decadent holiday recipes, try our mac and cheese casserole too!
Try our crockpot mashed potatoes too!
Ingredients:
Potatoes – Yukon Gold are the perfect potatoes for mashing. Creamy, not too starchy, and they turn out so smooth and buttery.
Egg – Not the usual addition to mashed potatoes, but it adds to the creaminess and richness in these potatoes.
Dairy – We have butter, cream cheese, sour cream, and milk going in these potatoes. They are very rich and decadent – don't skimp!
How to make:
Boil the Potatoes: Peel, chop, and boil your potatoes until they're nice and tender. You'll start with cold water and it'll take about 15-20 minutes for the potatoes to come to a boil and then they'll boil for 15-20 more minutes. Drain away the liquid.
Mash the Potatoes: Add a stick of butter to the potatoes and mash it by hand until the butter has melted in a bit and the mixture is mashed, but still quite chunky.
Whip the Potatoes: Drop in your cream cheese, sour cream, and milk and use an electric mixer to whip together the potatoes until it's nice and smooth.
Stir in an egg and seasonings as well.
Helpful Tip!
The potatoes are going to look very creamy, but also super loose and like they have too much liquid in them. This is what we want! As the potatoes bake, that liquid will thicken up and create the perfect buttery mashed potatoes! If we don't add enough liquid now, we'll end up with dry potatoes after they go in the oven.
Bake: Spoon the potatoes into a baking dish and dot the top with butter. Pop this in a hot oven for one hour. The potatoes will get golden brown on top and will puff up as they bake, almost like a soufflé.
Serve: We usually dot a few pieces of butter over the top just before serving, but at this point it's pretty unnecessary. These potatoes are loaded with flavor, so creamy, and so decadent!
FAQ's:
Should I peel the potatoes for mashed potatoes?
Some mashed potato recipes will work well with the skin left on the potato, but this one is meant to be velvety smooth and creamy. Peeling the potatoes is necessary in this recipe.
What type of potatoes are best for mashed potatoes?
Yukon Gold potatoes are the perfect potato for mashing! They're very creamy, not at all mealy or grainy, and have a light butter flavor. They're also much less starchy than other varieties, which leads to a creamier mashed potato.
Why add an egg to mashed potatoes?
The egg adds an extra layer of creaminess to these baked mashed potatoes. It also adds a bit of richness.
More favorite holiday side dish recipes: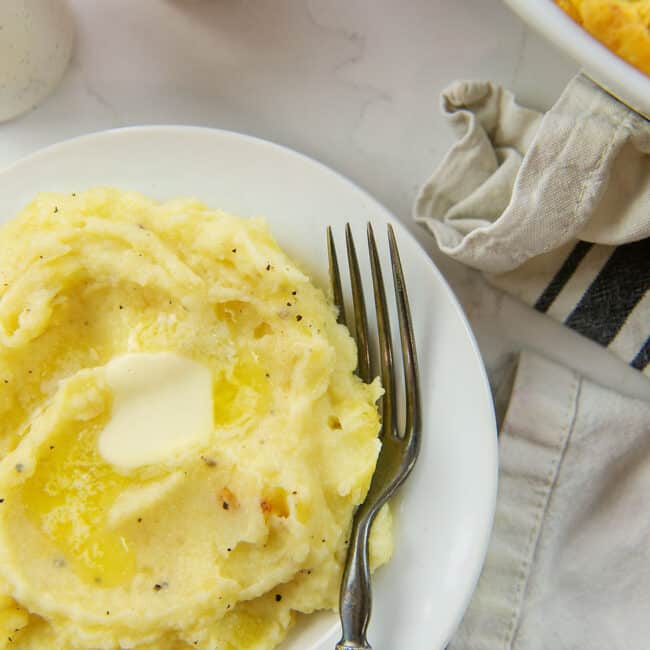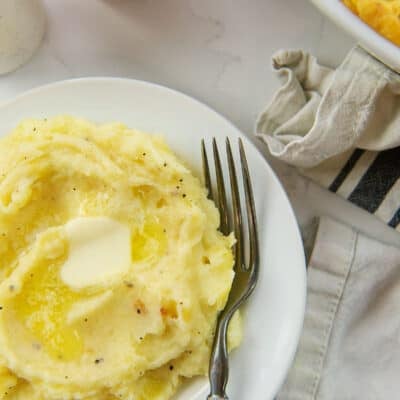 Baked Mashed Potatoes
These baked mashed potatoes are truly decadent – so rich, buttery, and creamy! No gravy needed and perfect for a special occasion. We don't often make these for the average weeknight dinner, because they're almost over the top in terms of being decadent and rich, but every guest we serve them to raves about these potatoes! Save these for special occasions when you really want to wow your family!
Prep15 minutes
Cook1 hour 20 minutes
Total1 hour 35 minutes
Ingredients
5 pounds Yukon Gold potatoes
3/4 cup butter divided
8 ounces cream cheese softened
½ cup sour cream
¼ cup milk
2 teaspoons salt more as needed
2 teaspoons pepper
1 teaspoon garlic powder
1 teaspoon onion powder
1 large egg
Instructions
Peel and cut the potatoes into quarters. Place in a large pot and cover with cold water.

Bring to a boil, reduce to a simmer, and cook for 15-20 minutes or until potatoes are fork tender. Drain the liquid and add the potatoes to a large mixing bowl or back into the pan.

Preheat oven to 350 degrees while the potatoes are cooking.

Add ½ cup of the butter to the potatoes and mash by hand.

Add the cream cheese, sour cream, milk, salt, pepper, garlic powder, and onion powder to the potatoes and beat with an electric mixer until smooth and creamy. Taste and add additional salt, if needed.

Whisk the egg in a small bowl and add to the potatoes. Mix until just combined.

Spoon the potatoes into a 2 quart baking dish. Cut the remaining 1/4 cup of butter into cubes and place over the top of the potatoes.

Bake for 1 hour or until golden on top and potatoes look puffy.

Let sit for 10 minutes before serving. Top with more butter, if desired.
Tips & Notes:
To make ahead, prepare the potatoes as directed and place in the baking dish. Dot with butter and then cover tightly with plastic wrap. Refrigerate for up to 3 days. To bake, remove from the refrigerator and uncover one hour before cooking and then bake as directed.
Nutrition Information:
Calories: 342kcal (17%)| Carbohydrates: 35g (12%)| Protein: 6g (12%)| Fat: 21g (32%)| Saturated Fat: 12g (75%)| Polyunsaturated Fat: 1g| Monounsaturated Fat: 5g| Trans Fat: 1g| Cholesterol: 72mg (24%)| Sodium: 577mg (25%)| Potassium: 860mg (25%)| Fiber: 4g (17%)| Sugar: 3g (3%)| Vitamin A: 704IU (14%)| Vitamin C: 37mg (45%)| Calcium: 66mg (7%)| Iron: 2mg (11%)