Our Mashed Potato Stuffing is an Amish classic that combines two recipes in one. Perfect for holiday dinners!
There's an awful lot of ways to make stuffing (or dressing, depending on whether or not you actually stuff the bird and what you grew up calling this dish), and I'm pretty sure that everyone thinks their family recipe is the best.
Personally, I think our family's sausage dressing recipe is the one true way to make dressing for Thanksgiving, but that doesn't mean I'm above playing around with other versions when the mood strikes.
And, when it comes to stuffing, the mood strikes often. I LOVE stuffing and would happily eat it all year long, multiple times a week.
We came across a version of Pennsylvania Dutch Mashed Potato Stuffing in an old cookbook and gave it a try. We put our own spin on it, adding in extra seasonings and fresh herbs, and here we are with this creamy, dreamy potato stuffing that is a definite must try!
Ingredient Notes:
This post contains affiliate links. As an Amazon associate and member of other qualifying programs, I earn from qualifying purchases.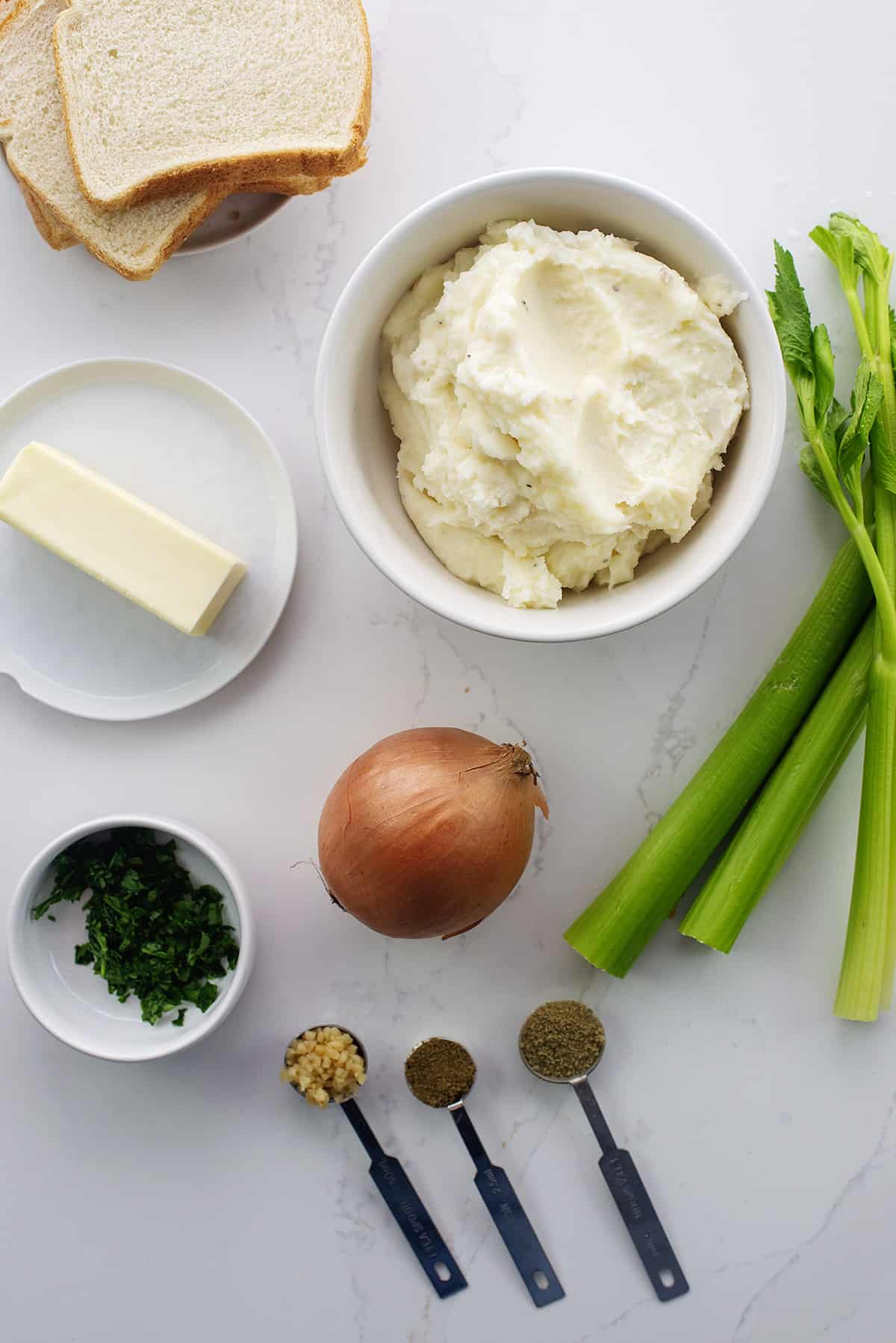 Mashed Potatoes – You'll need to have some mashed potatoes ready to go for this potato stuffing recipe. This is a great way to use up any leftover mashed potatoes that you have, or just buy a package of refrigerated mashed potatoes from the grocery store. Easy peasy!
Stale Bread – You can use just about any type of stale bread for this. It will get torn up into small pieces and mixed with the mashed potatoes!
Karly's Tip:
Don't have stale bread on hand? Open up a package of fresh bread, tear it into bite-sized pieces, and place it on a baking sheet. Bake at 250 degrees for 20-30 minutes, stirring halfway through, until the bread is a bit dry.
Celery & Onion – These are pretty traditional stuffing ingredients. You'll dice these up to go into the mix. We've been using this veggie chopper to make dicing so easy!
Garlic – Fresh minced garlic will add plenty of extra flavor to the stuffing.
Butter – For cooking the veggies.
Seasoning – You'll need some fresh parsley, dried sage, poultry seasoning, and salt/pepper to taste. This will add some extra savory flavor to the dish!
What We Love About This Recipe:
This is a great recipe for using up leftovers if you've got leftover mashed potatoes or bread that's still good but nearing expiration.
This mashed potato stuffing is perfect for serving on Thanksgiving day or for using up Thanksgiving leftovers!
This is a classic Amish/Pennsylvania Dutch recipe, so you know it's going to be good!
How to Make Mashed Potato Stuffing:
Veggies: Melt the butter in a large skillet over medium heat and then stir in the onion and celery. Let the veggies cook for about 5 minutes before stirring in the minced garlic and cooking for another minute to finish them off.
Potatoes: Add the already cooked mashed potatoes to a large mixing bowl and then add in the cooked celery, onion, and garlic from the skillet. Add the stale bread and seasoning.
Combine: Stir this altogether. The bread will disappear into the potatoes a bit and the mixture will become pretty uniform.
Bake: When you've finished combining the stuffing mix you can add it to a prepared 9×9 baking dish. Spread the mixture out into an even layer and then bake uncovered for 50 to 60 minutes.
The top should be a nice golden color and slightly crisp when the potato stuffing has finished baking! Serve this stuffing while it is good and hot. This is a great side dish to go with your Thanksgiving meal!
Serving Suggestions:
This dish is perfect at your holiday table. Serve with turkey gravy over the top!
We like this with our maple cranberry sauce!
FAQs:
What is mashed potato stuffing?
This dish is also known as Amish potato stuffing! It's a popular Pennsylvania Dutch recipe that's pretty much just a combination of mashed potatoes and traditional stuffing!
How to store stuffing?
You can keep any leftover stuffing stored in the fridge in an airtight container for 3-4 days.
Can you freeze stuffing?
You can freeze this mashed potato stuffing in a freezer safe container. It's best to reheat it from frozen without thawing it first or the bread will get soggy!
Seasoning:
You'll want to taste and adjust the seasoning before baking this recipe.
If you're using leftover mashed potatoes, you may need less salt and pepper as they're probably already well seasoned.
If you're using freshly made mashed potatoes, you may need more seasoning to really get the flavor to pop.
While you can use any brand of poultry seasoning, Bell's Seasoning is a great choice, packing in lots of classic Thanksgiving flavor.
MORE THANKSGIVING RECIPES!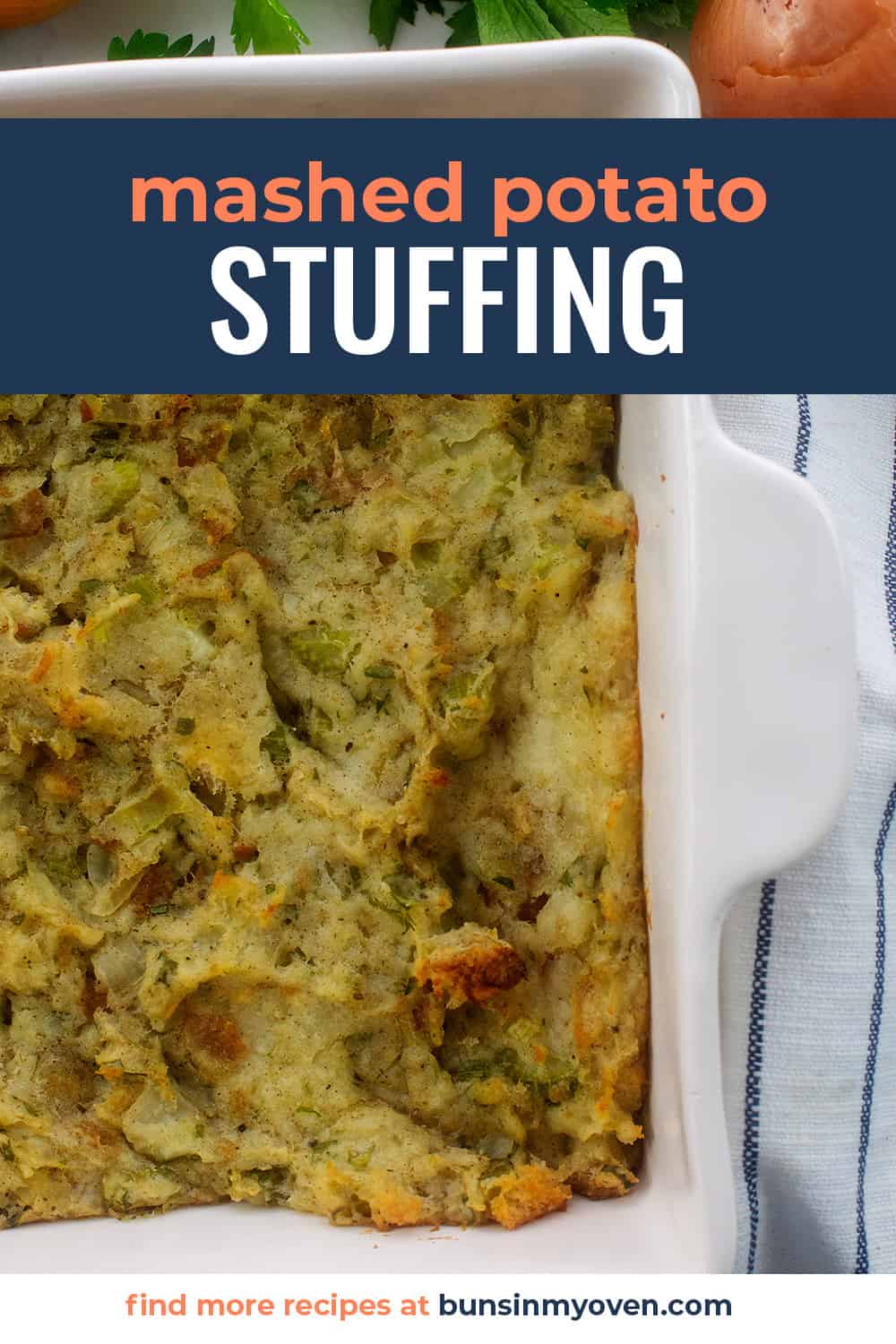 Mashed Potato Stuffing
We found a version of mashed potato stuffing in an old Amish cookbook and had to put our spin on it. It's total comfort food and makes a great side dish for Thanksgiving dinner.
Prep15 minutes
Cook1 hour
Total1 hour 15 minutes
Ingredients
1 medium onion
3 ribs celery
1 clove garlic
6 tablespoons butter
3 cups mashed potatoes
4 pieces stale bread
2 tablespoons fresh parsley
1 teaspoon dried sage
1 teaspoon poultry seasoning
Salt and pepper to taste
Instructions
Preheat oven to 350 degrees. Spray a 9×9 baking dish with non-stick spray.

Dice the onion and celery and mince the garlic.

Add the butter to a large skillet over medium heat and let melt. Once melted, stir in the onion and celery and cook for 5 minutes. Stir in the garlic and cook for 1 minute more.

Add the vegetables to a large mixing bowl along with the mashed potatoes.

Tear the bread into small pieces and add to the mashed potatoes.

Add the seasonings and stir well to combine. Taste and season with additional salt and pepper, as needed.

Spread mixture into the prepared pan and bake, uncovered, for 50-60 minutes. The top will be golden and slightly crisp when finished baking.

Serve hot.
Tips & Notes:
Stale Bread: We use regular white sandwich bread for this recipe, but any type of bread should work fine. If your bread isn't stale, tear it into small pieces and bake for 20-30 minutes at 250 degrees to dry it out. Potatoes: If using leftover mashed potatoes, you may need less salt and pepper as they're likely already well seasoning. If you make mashed potatoes specifically for this recipe, be sure to season to taste. Store-bought refrigerated mashed potatoes work well here, too.
Nutrition Information:
Calories: 221kcal (11%)| Carbohydrates: 27g (9%)| Protein: 3g (6%)| Fat: 12g (18%)| Saturated Fat: 7g (44%)| Polyunsaturated Fat: 1g| Monounsaturated Fat: 3g| Trans Fat: 0.5g| Cholesterol: 30mg (10%)| Sodium: 142mg (6%)| Potassium: 424mg (12%)| Fiber: 3g (13%)| Sugar: 2g (2%)| Vitamin A: 565IU (11%)| Vitamin C: 28mg (34%)| Calcium: 31mg (3%)| Iron: 1mg (6%)