This TRADITIONAL STUFFING RECIPE is loaded with crispy fried bacon, plenty of veggies, and loads of herbs. It's sure to be a favorite at Thanksgiving with the crispy top, moist center, and classic flavor.
I have a confession, guys.
I'm a lying liar who lies.
This recipe is actually for dressing, but every single person I know calls dressing stuffing. Do you know the difference?
Stuffing is actually stuffed inside of a turkey. Dressing is baked in a casserole dish alongside the turkey (or alongside whatever you want).

See? I called this recipe stuffing, but actually it's dressing and that makes me a liar.
Forgive me?
The good news is that it really doesn't matter what you call it, this is goooooood stuff. I have a favorite sausage dressing recipe that I make every single year for Thanksgiving and Christmas, but my mama doesn't like sausage and so she never eats it. It makes me all sad, because it is seriously amazing stuff and she's missing out.
I was dreaming about my sausage dressing the other day when I had an epiphany. A bacon epiphany. They're both pork, they're both delicious and fatty, I could totally swap one for the other.
And I did and it was glorious.
I ended up changing the recipe quite a bit from our grandpa's sausage version – this is more of a traditional stuffing recipe with loads of herbs, crusty French bread, and plenty of bacon.
So tell me…what does your family make every year? Dressing or stuffing? Inquiring minds want to know!
How to make bacon stuffing:
Chop up about a pound of French bread and toss it on a baking sheet. You'll want to toast this in a warm oven for about 10 minutes to dry it out. This will help the bread soak up all the delicious liquid and seasonings.
While the bread is toasting, dice your bacon and cook it over medium heat until it's just starting to crisp up around the edges.
Add onion and celery to the pan and cook for five minutes or until they soften up. Be sure to stir this fairly often.
Add your bread to a large mixing bowl and pour the bacon and veggies (and grease – don't you dare drain that grease!) right on top. Sprinkle in your herbs, poultry seasoning, and spices. Top with chicken broth.
Our secret ingredient here is cream of chicken soup. We love the way it makes the stuffing a bit creamy – it gives it a great texture! If you don't want to use the canned stuff, use my substitute for cream of chicken soup.
Stir this up and pour into a 2-3quart dish (we use an oval dish, but a 9×9 would work well, too) pan and cover with foil. Refrigerate for 30 minutes to let the liquid soak into the bread.
Bake for 30 minutes and then remove the foil and bake for 30 minutes more.
Reasons To Love This Recipe:
First of all, it has bacon. That's enough for most of us to love it right there.
Beyond that, we love the use of French bread instead of the bag of stuffing cubes or the white bread that our sausage dressing uses. It feels a little fancier too!
There are loads of herbs and seasonings in here, from fresh parsley to dried sage and rosemary, to poultry seasoning. Big flavors all the way around!
This recipe is very simple and easy to customize. Add in some dried cranberries or chopped apples. Swap the bacon for sausage. Use whatever mix of herbs you like best.
Thanksgiving dinner menu
thanksgiving desserts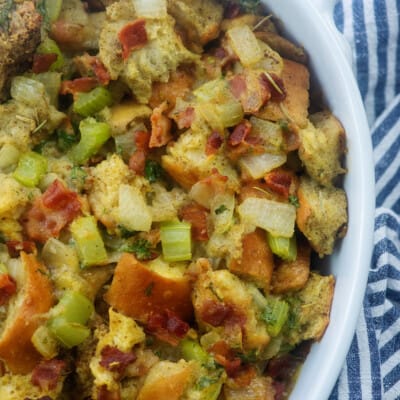 Traditional Stuffing with Bacon
This stuffing recipe starts with crusty French bread, plenty of fried bacon, and loads of celery, onions, herbs, and spices. It's flavorful, easy, and perfect for a holiday dinner.
Prep30 minutes
Cook1 hour
Total1 hour 30 minutes
Ingredients
1 pound French bread
8 slices bacon diced
1 medium sweet onion chopped
2 stalks celery chopped
10 ounces cream of chicken soup
¾ cup chicken broth plus more as needed
¼ cup fresh minced parsley
2 teaspoons dried sage
1 teaspoon dried rosemary
1 teaspoon poultry seasoning
1 teaspoon salt
1 teaspoon pepper
Instructions
Preheat oven to 200 degrees.

Cut bread into small cubes and place on a baking sheet in the oven for 10 minutes to dry out a bit.

While the bread is in the oven, fry the bacon in a large skillet over medium heat.

When bacon is beginning to crisp around the edges, add the onion and celery and continue cooking until bacon is cooked and vegetables have softened.

Place the bread cubes in a large bowl and increase the oven to 350 degrees.

Pour the bacon and vegetables over the bread – do not drain the grease.

Add the cream of chicken soup, chicken broth, and remaining ingredients to the bowl.

Stir well to combine. Add additional chicken broth if needed to reach the level of moistness you prefer in stuffing.

Spread stuffing into a buttered 2-3 quart baking dish and top with foil.

Bake for 30 minutes, and then remove the foil and continue baking for 30 more minutes.
Tips & Notes:
We don't like our stuffing to be overly wet, so we usually stick to around 3/4-1 cup of chicken broth. Add more if you like an extra moist stuffing. You may swap the cream of chicken for cream of mushroom soup, if preferred.
Nutrition Information:
Calories: 306kcal (15%)| Carbohydrates: 39g (13%)| Protein: 11g (22%)| Fat: 12g (18%)| Saturated Fat: 4g (25%)| Cholesterol: 17mg (6%)| Sodium: 1069mg (46%)| Potassium: 237mg (7%)| Fiber: 2g (8%)| Sugar: 4g (4%)| Vitamin A: 282IU (6%)| Vitamin C: 6mg (7%)| Calcium: 49mg (5%)| Iron: 3mg (17%)
This post was originally published in November 2014. It was updated with a new (improved!) recipe and photos in November 2020. Original photo below.