Sweet potato pie is a delicious twist on the classic pumpkin pie! If you haven't tried it yet, you really have to!
You want to know what's not fair?
This whole blog post, that's what.
I am forced to write these words, look at these photos, and remember the taste of this pie. This creamy, custardy, delicious pie that I finished off the day after Thanksgiving. This pie that very nearly made me forget my beloved pumpkin pie.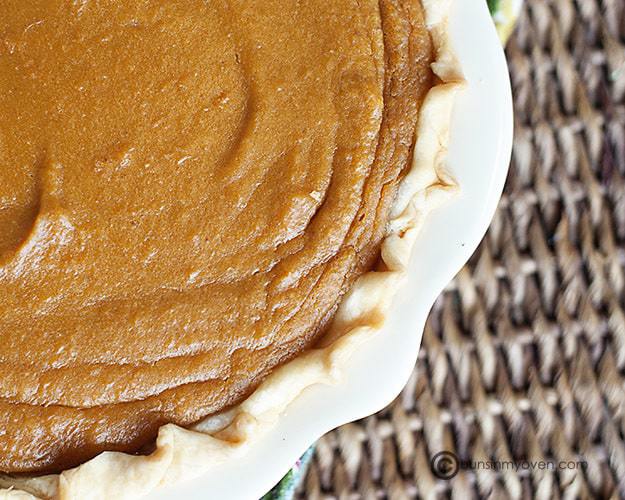 I want more pie, is what I'm saying. What's with December and all the cookies? Why can't we have trays of pie? Who made the rules and where should I lodge my complaint?
Just in case you are feeling cookie-d out or just needing a fabulous dessert for Christmas dinner, you should know this pie is the winner. It probably deserves a trophy or something. Maybe a whipped cream trophy?
If you are thinking, nope I want the cookies still, I got you covered. You can check out these snowball cookies or these lovely brown sugar cookies.
Sweet potato pie recipe
You are going to need some good sweet potatoes for this recipe. Small to medium potatoes are best for this recipe, but large ones will work also. The smaller ones are a little creamier in my opinion. Of course in a pie, the creaminess is an enhancement.
There is about an hour of baking time involved here. Plenty of time to clean up the kitchen after popping the pie in the oven. A clean kitchen always makes everything taste better. Funny how that works.
Mash up your sweet potatoes and mix in the other goodies.
You are going to need a 9″ pie crust for this recipe. I have several recipes with directions for pie crust, or you can go easy and purchase a canned pie crust. The sweet potato pie filling is so good it won't hurt the recipe at all to use a packaged crust.
How to make sweet potato pie
Sweet Potato Pie
Sweet potato pie is a delicious twist on the classic pumpkin pie! If you haven't tried it yet, you really have to!

Prep50 minutes
Cook55 minutes
Total1 hour 45 minutes
Ingredients
1 pound sweet potato
1/2 cup butter softened
1/2 cup white sugar
1/2 cup brown sugar
1/2 cup evaporated milk
2 large eggs
1 teaspoon flour
1/2 teaspoon ground nutmeg
1/2 teaspoon ground cinnamon
1/4 teaspoon ground ginger
1 teaspoon vanilla extract
1 unbaked pie crust 9-inch
Instructions
Boil sweet potatoes whole in skin for 40 to 50 minutes or until cooked through and soft. Run cold water over the sweet potatoes and remove the skin.

Add the potatoes and butter to the bowl of your stand mixer fitted with the whisk and mix on low until potatoes are mashed.

Beat in the sugar, milk, eggs, flour, nutmeg, cinnamon, ginger, and vanilla on medium speed until mixture is smooth.

Pour filling into the prepared pie crust.

Bake at 350 degrees F (175 degrees C) for 55 to 60 minutes, or until knife inserted in center comes out clean. Pie will puff up like a souffle and then will sink down as it cools.
Nutrition Information:
Calories: 391kcal (20%)| Carbohydrates: 49g (16%)| Protein: 5g (10%)| Fat: 19g (29%)| Saturated Fat: 10g (63%)| Cholesterol: 81mg (27%)| Sodium: 258mg (11%)| Potassium: 295mg (8%)| Fiber: 2g (8%)| Sugar: 29g (32%)| Vitamin A: 8505IU (170%)| Vitamin C: 1.7mg (2%)| Calcium: 85mg (9%)| Iron: 1.2mg (7%)
adapted from allrecipes.com