Our EASY SWEET POTATO PIE is made from scratch and perfect for holiday dinners. Mashed sweet potatoes, brown sugar, cinnamon, and vanilla create the perfect pie filling – it almost tastes like pumpkin pie!
You want to know what's not fair?
This whole blog post, that's what.
I am forced to write these words, look at these photos, and remember the taste of this pie. This creamy, custardy, delicious pie that I finished off the minute I was done photographing it.
Me, a fork, and a pie plate – a true love story.
I am counting down the days until I make this pie again and dreaming about it in the meantime!
If you've never had sweet potato pie, you're in for a treat.
This easy sweet potato pie recipe is very similar to pumpkin pie, but a bit lighter and less dense, more buttery, and a bit sweeter. We use a bit less spice in the pie to let the sweet potatoes shine.
That said, my kids don't think they like sweet potatoes, so we tell them this is pumpkin pie and they happily eat it without realizing. 😉
Ingredients for Sweet Potato Pie:
Sweet Potatoes: You can boil fresh sweet potatoes or you can use canned sweet potatoes. Fresh is usually best, but I don't notice a ton of difference in this pie and canned is certainly easier.
Butter: Unlike pumpkin pie, this recipe gets a whole stick of butter melted into the mixture. It makes the pie so creamy and buttery.
Spices: This recipe calls for cinnamon, nutmeg, and ginger, but you can swap it for pumpkin pie spice if you prefer. Use 1 to 1 1/2 teaspoons of pumpkin pie spice, depending on how much spice you like in your fall goodies.
Pie Crust: As always, homemade is best, but store bought works fine in a pinch. I shared lots of pie crust tips and tricks with my chocolate pecan pie.
What We Love About This Recipe!
This is a pretty simple recipe and you can save even more time by using canned yams. It's really not all that different from making a pumpkin pie, and it tastes similar too. Perfect for Fall holidays and a Southern classic.
How to Make Sweet Potato Pie:
Prepare the sweet potatoes: This step depends on whether you choose to boil the sweet potatoes yourself, or use the canned variety if you prefer an easy sweet potato pie recipe.
To prepare fresh sweet potatoes, boil them whole in the skin until cooked through or soft. Rinse with cold water and remove the skins.
For canned sweet potatoes, simply drain off the liquid and heat in the microwave until they are warm enough to mash.
Helpful Tips!
Chop the sweet potatoes before boiling if you'd like them to cook a bit faster.
Mix: You'll want to use an electric mixer for this recipe. Start by beating the potatoes and butter on low until the potatoes are mashed. Beat in the remaining ingredients and mix on medium until smooth and creamy.
Bake: When the filling is mixed together it can be poured onto a prepared pie crust. It's going to start looking (and tasting) a lot like pumpkin pie, but not quite as dense. Bake at 350 degrees for about an hour. It is finished when a knife inserted in the center comes out clean. The pie will puff up a bit and then sink back to normal as it cools.
Chill & Serve: We like our sweet potato pie cold from the fridge! Top it off with a dollop of whipped cream just before serving.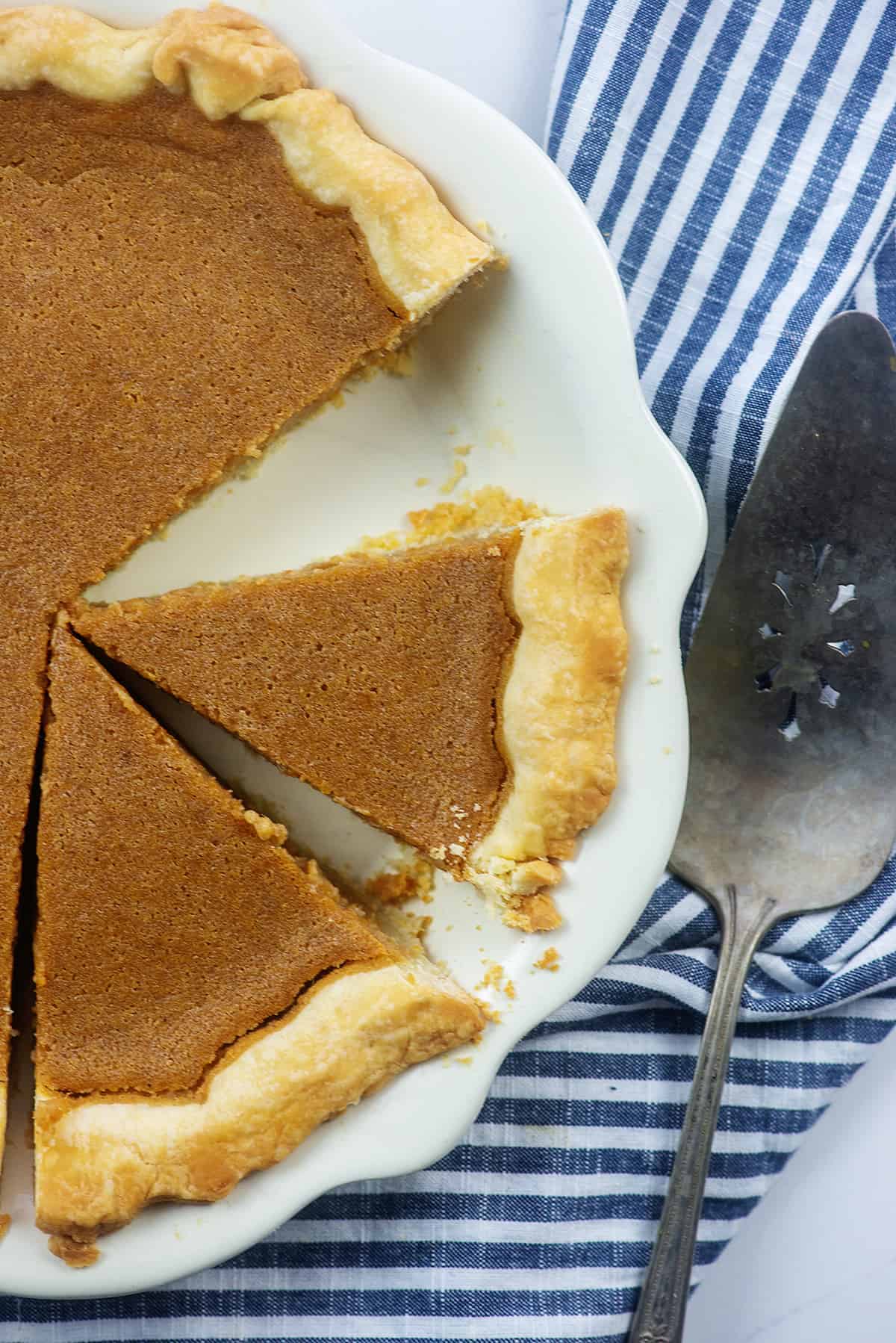 FAQs:
Can you freeze sweet potato pie?
Yes, it'll last up to 3 months in the freezer if it is well sealed in foil.
Can you refrigerate sweet potato pie?
Just like most other pies, this should at least 4 days in the refrigerator. It's pretty similar to a pumpkin pie.
MORE FAVORITE PIE RECIPES!
Sweet Potato Pie
Sweet potato pie is a delicious twist on the classic pumpkin pie! Sweet, creamy, buttery, and perfect for the holidays!
Prep50 minutes
Cook55 minutes
Total1 hour 45 minutes
Ingredients
1 pound sweet potatoes see notes
1/2 cup butter softened
1/2 cup white sugar
1/2 cup brown sugar
1/2 cup evaporated milk
2 large eggs
1 teaspoon flour
1/2 teaspoon ground nutmeg
1/2 teaspoon ground cinnamon
1/4 teaspoon ground ginger
1 teaspoon vanilla extract
1 pie crust
Instructions
Add sweet potatoes to a large pot and cover with 1 inch of water. Bring to a boil and cook for about 45 minutes or until the potatoes are cooked through and soft.

Run the potatoes under cold water remove the skin from the potatoes.

Preheat oven to 350 degrees and arrange a pie crust in a 9-inch pie plate.

Add the hot potatoes and butter to a mixing bowl and beat with a mixer until smooth and creamy.

Beat in the sugars, evaporated milk, eggs, flour, nutmeg, cinnamon, ginger, and vanilla on medium speed until mixture is smooth.

Pour filling into the prepared pie crust.

Bake for 55 to 60 minutes, or until knife inserted in center comes out clean. Pie will puff up like a soufflé and then will sink back down as it cools.

Cool on the counter for one hour and then transfer to the refrigerato for at least 4 hours before serving. Serve with whipped cream, if desired.
Tips & Notes:
Fresh or Canned Sweet Potatoes: This recipe does taste best with fresh sweet potatoes, but when you're in a rush, canned work just as well. Drain the liquid from the can and place the potatoes in a mixing bowl. Microwave for 2-3 minutes or until the potatoes are warm enough to easily mash. Proceed with step 3. Spices: Feel free to increase the amount of cinnamon, nutmeg, and ginger based on your tastes. As is, this is a mildly spiced pie. You may also sub these three spices for 1 to 1 1/2 teaspoons of pumpkin pie spice. Pie Crust: You may use homemade or store bought pie crust for this recipe.
Nutrition Information:
Serving: 1slice| Calories: 391kcal (20%)| Carbohydrates: 49g (16%)| Protein: 5g (10%)| Fat: 19g (29%)| Saturated Fat: 10g (63%)| Cholesterol: 81mg (27%)| Sodium: 258mg (11%)| Potassium: 295mg (8%)| Fiber: 2g (8%)| Sugar: 29g (32%)| Vitamin A: 8505IU (170%)| Vitamin C: 1.7mg (2%)| Calcium: 85mg (9%)| Iron: 1.2mg (7%)
This post was originally published in December 2011. It was updated in November 2020. Original photo below: