This CHOCOLATE PECAN PIE is the perfect mash up of chocolate pie and pecan pie! Perfect for holiday baking and our friends always ask to go home with the recipe.
There is nothing better for Thanksgiving and Christmas dessert than pie. That's a fact.
Sure, the cookies are great, but those are just snacks. They totally don't count as dessert. (Or maybe I just say that so I don't feel bad about eating 843 desserts on Christmas?)
Pie, on the other hand, is the star of the dessert show at the holidays.
Pecan pie is a classic, but spruce it up with some chocolate? Oh. My. Word.
Same goes for my pumpkin pecan pie and chess pie! Also ridiculously, outrageously good!
Especially if you go all crazy and fancy and make your own pie crust.
Seriously. I'm a homemade pie crust convert. I spent years and years buying the box of refrigerated dough from the grocery store and then I decided to just get over my fear and master pie crust.
I'm so glad I did. I'm shocked each and every time I bake a pie by how simple it is and what a huge change it makes.
People tend to go a little crazy for homemade pie crust, which makes me feel like a rockstar.
Homemade Pie Crust Ingredient Notes:
Butter – You'll need some cold, cubed butter. This is an all butter crust that turns out flaky and tasty!
Dry Ingredients – These are your standard pie crust ingredients: flour, salt and sugar. You'll mix those up with the butter to form coarse crumbs before adding in the wet ingredients.
Wet Ingredients – This will require one large beaten egg, some cold water, and distilled white vinegar. Temperature is key in making perfect flaky pie crust, so it's important that the water and the butter are cold.
Pecan Pie Filling Ingredient Notes:
Pecans – This is pretty much our star ingredient here. I love to load this chocolate pie up with lots of pecans. Toast them first for some extra flavor!
Chocolate Filling – You'll need some unsweetened cocoa powder, butter, eggs, sugar, corn syrup, and vanilla extract. See below for more info on the cocoa powder and corn syrup that I used for this chocolate pecan pie filling.
What We Love About This Recipe!
There are so many things to love about this recipe: the perfectly flaky and buttery homemade crust, the rich dark chocolate filling, the pecans… I could go on, but that's good enough for me.
How To Make Homemade Pie Crust:
This post contains affiliate links. As an Amazon associate and member of other qualifying programs, I earn from qualifying purchases.
With a food processor: It's tempting to just buy a crust from the store, but give my homemade pie crust a shot! It's so simple with a food processor. Use the dough attachment (the plastic blade) and mix together the cold butter (or shortening), flour, salt, and sugar until you have coarse crumbs. Pour in the egg, water, and vinegar and mix until the dough just comes together. So quick and simple!
By hand: Making a pie crust by hand is simple, though a bit more work. You'll want to use a pastry cutter to cut the shortening, flour, salt, and sugar together in a mixing bowl until you have coarse crumbs. Add the egg, water, and vinegar, and stir until the dough just comes together.
Chill: Split the dough into two balls, flatten into a disc, and place them into separate freezer bags. This recipe will only use half the dough, so save the other in the freezer for a different pie recipe, or just make TWO of these glorious chocolate pecan pies!
The dough only needs to chill in the freezer for about 20 minutes before it is ready to be rolled into a pie crust.
Roll: After the dough has chilled, roll it on a floured surface into a ten inch circle and place in the pie pan.
Crimp the edges with your fingers like below, or use a fork like I did in these pecan pie photos.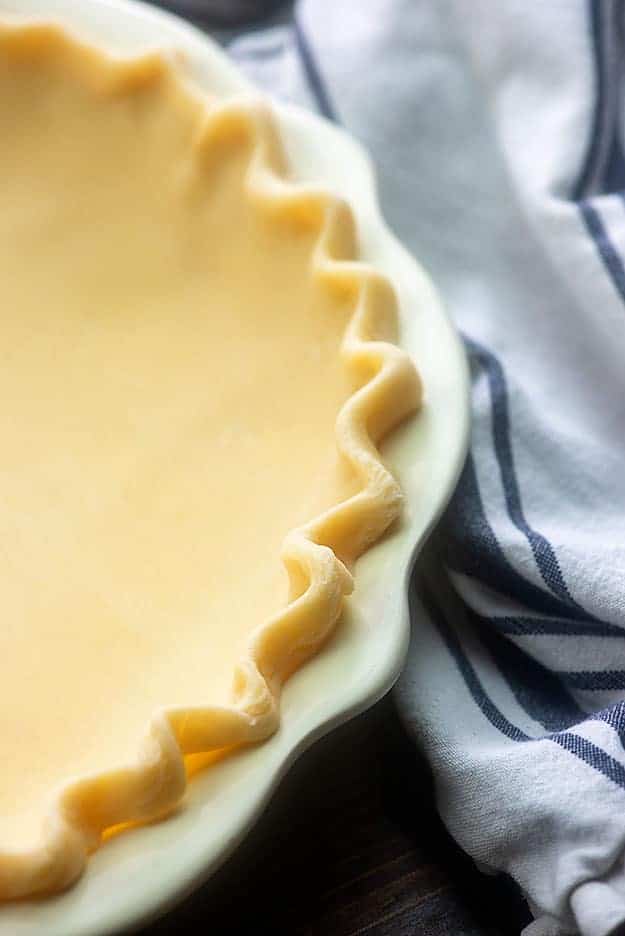 Be sure to refrigerate the crust while you make the chocolate filling. Alternately, whip up the pie filling while the dough is chilling in the freezer.
Helpful TipS!
Vinegar: Don't worry, we're not using enough vinegar to give the pie crust any flavor. It just works to tenderize the crust and help those flaky layers form. You could also use vodka.
Shortening vs. Butter: We generally use butter in our pie crusts, but you can substitute with shortening – or use half of each! Shortening is easier to work with and the crust holds it's shape a bit better, but butter does have a better flavor and mouthfeel, along with those flaky layers.
Food Processor: My food processor gets used daily in my kitchen. The Breville Sous Chef is my FAVORITE kitchen tool. It's a total workhorse. It makes shredding, chopping, and slicing a total breeze. And it's excellent at pie crust.
How To Make Chocolate Pecan Pie Filling:
Mix: This filling is really simple and really tasty! Just whisk together the sugar, cocoa, eggs, corn syrup, butter, and vanilla until well combined.
Pecans: Once the other ingredients have been well combined, stir in the pecans! When everything is well mixed your chocolate pecan pie filling is ready to go. Pour into the prepared pie crust.
FLAVOR BOOST!
If you want to infuse some extra flavor into the pecans, toast them first! Place the pecans on a rimmed baking sheet in a 300 degree oven for 20-25 minutes to toast.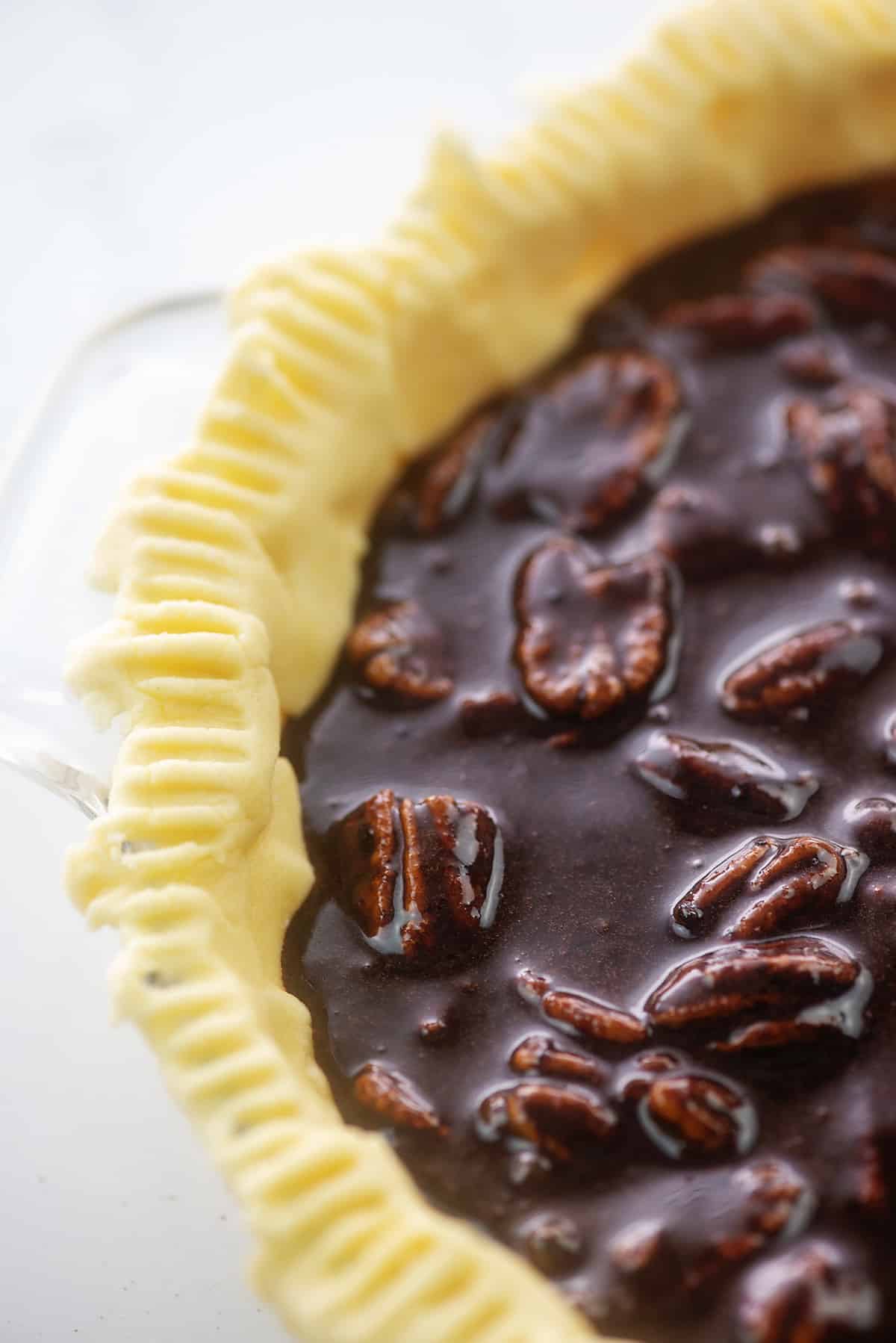 This simple pie recipe is always a hit with friends and family.
Adding chocolate to a classic pie is a bit unexpected and everyone always looks a tiny bit skeptical, but that first bite confirms it: This is a DELICIOUS twist on the original!
Helpful Tips!
Ingredients We Use:
Cocoa Powder: My pie looks deep, dark, and rich and that's because I used Hershey's Special Dark Cocoa Powder. I love to use it, because it looks so decadently rich and chocolaty.
Corn Syrup: We use Karo corn syrup in our chocolate pecan pie. It does NOT contain any high fructose corn syrup, which we do try to avoid. You may use any brand of corn syrup, but others do add HFCS, if that's something you're trying to avoid.
FAQs:
Why should butter be cold in pie crust?
Cold ingredients equals a flaky, tender pie crust! Start with very cold butter and water for the best crust possible!
Can pecan pie be refrigerated?
Of course! This will last at least 3 days in the fridge if you cover it with some aluminum foil or plastic wrap.
Can pecan pie be frozen?
Pecan pie is one of the best types of pies for freezing due to its low water content. So yes, bake ahead and freeze for up to 3 to 4 months.
More holiday desserts!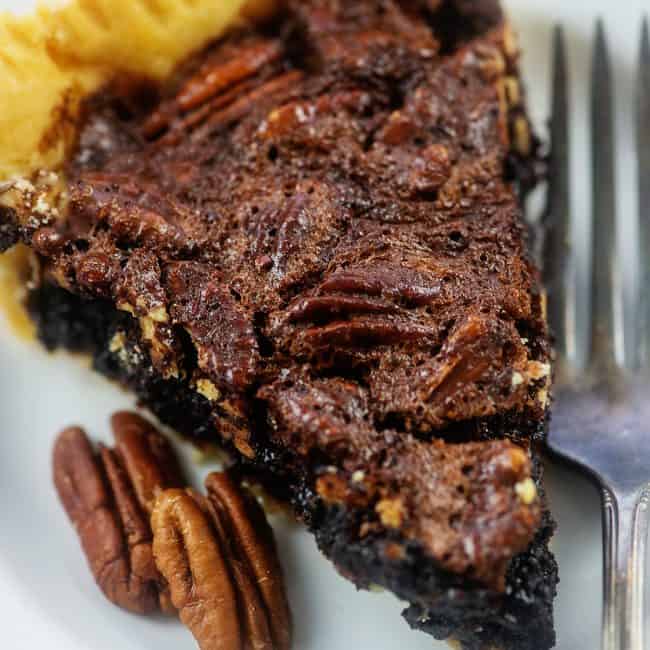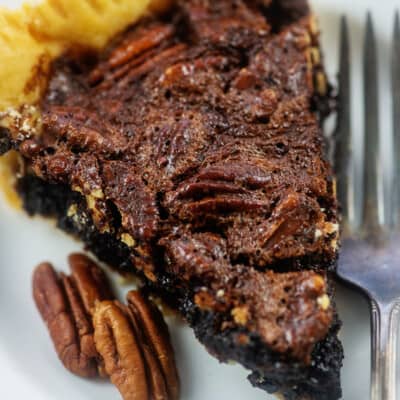 Chocolate Pecan Pie
There is nothing better for Christmas dessert than pie and a pecan pie is the classic choice. We doctored it up a bit with cocoa to make this chocolate pecan pie that gets rave reviews anytime we serve it.
Prep20 minutes
Cook1 hour
Total1 hour 20 minutes
Ingredients
For the crust:
1 1/2 cups cold butter cubed
3 cups flour
1 teaspoon salt
1/8 teaspoon sugar
1 large egg beaten
5 tablespoons cold water
1 tablespoon white distilled vinegar
For the filling:
1 cup sugar
1/3 cup unsweetened cocoa powder
3 large eggs lightly beaten
3/4 cup light corn syrup
1 tablespoon butter melted
2 teaspoons vanilla extract
1 1/2 cup pecan halves
Instructions
For the crust:
To make the crust by hand, add the butter, flour, salt, and sugar into a large bowl and work it together with a pastry cutter until you have coarse crumbs. Pour in the egg, water, and vinegar and stir until just combined and you can bring the dough together into a ball. Avoid overworking the dough.

To make the crust in a food processor, add the butter, flour, salt, and sugar to the food processor and process until you have coarse crumbs. Add the egg and drizzle the water and vinegar into the food processor chute while it is running. Be careful not to overwork the dough. Turn off the food processor as soon as it seems to be holding together and you can press the dough together to make a ball.

Separate into 2 balls of dough, press each into a disc about 2 inches thick, and place in freezer bags.

Place each bag in the freezer. You'll only need one ball of dough for this pie, the second should keep in the freezer for 6 months or more.

Remove one ball of dough after 20 minutes in the freezer and roll it out on a floured surface into a 10 inch circle.

Place the dough in the pie pan and tuck the edges under to make a neat, thick crust around the edges.

Crimp the edges with your fingers or a fork.

Place in the refrigerator until ready to fill.
For the filling:
Preheat oven to 350 degrees.

Combine all ingredients except pecans into a large bowl. Beat with a whisk until well combined. Stir in the pecans.

Pour the filling into the pie crust and bake for 1 hour or until set.

Cool completely before cutting and serving.
Tips & Notes:
We like to use Hershey's Special Dark cocoa powder to give the pie a deep, rich color. Any type of cocoa will work though. For extra flavor, toast the pecans in a 300 degree oven on a rimmed baking sheet for 20-25 minutes before adding to the pie.
Nutrition Information:
Serving: 1slice| Calories: 681kcal (34%)| Carbohydrates: 72g (24%)| Protein: 9g (18%)| Fat: 42g (65%)| Saturated Fat: 20g (125%)| Cholesterol: 151mg (50%)| Sodium: 532mg (23%)| Potassium: 180mg (5%)| Fiber: 3g (13%)| Sugar: 41g (46%)| Vitamin A: 1002IU (20%)| Vitamin C: 1mg (1%)| Calcium: 42mg (4%)| Iron: 3mg (17%)
This recipe was originally published in December 2012. It was updated with new photos and a video in October 2020. Original photo below: