This Christmas Chex Mix recipe features white chocolate and powdered sugar coated Chex with pretzels and lots of holiday candies like M&Ms!
My favorite time of year is here! Yes, Christmas for obvious reasons…but also for reasons like SNACK MIXES!
I'm obsessed with snack mixes, like our sweet Chex Mix recipe and our Snack Mix Bars. So many fun treats all mixed up together? Sign me up for double! 🙂
The holiday season is the perfect reason to whip up a batch of your favorite snack mix, like this Christmas Chex Mix. It lasts nicely stored in an airtight container and is perfect to set out when last minute guests show up to visit.
This Christmas Chex Mix is over the top gorgeous with white chocolate coated Chex cereal, festive pretzels, m&m's, and peppermint candies.
This is pretty simple to whip up, the kids love it, and everyone at your holiday party will ask for the recipe!
Ingredient Notes:
Chex Cereal – I used the rice variety of Chex for this recipe but you can definitely use other types like corn or even flavored kinds like chocolate!
White Chocolate Chips – Some melted white chocolate chips make a perfect topping for the Chex cereal and it goes so well with the Christmas theme!
Almond Bark – It's very similar to real white chocolate but doesn't contain any actual cocoa. But it has great vanilla flavor and it's going to coat the pretzels! You can use all white chocolate chips or all almond bark, if you prefer!
Pretzels – You'll need some mini pretzels for this recipe. The stick shaped pretzels will work but the actual pretzel shaped type have more surface area for coating in the melted almond bark
Candy – I'm using holiday M&M candies along with crushed peppermint candies for this Christmas Chex Mix recipe! They look and taste great along with the white chocolate and powdered sugar coated cereal.
What We Love About This Recipe!
This Christmas Chex Mix is sweet, crunchy, and addictive! Friends and family can never stop munching on this one and they always ask for the recipe to take home. It's such a simple recipe considering how big of a hit it is!
How to Make Christmas Chex Mix:
Coat the Cereal: First up you can add all the cereal to a large bowl and set aside. Next you'll need to melt the white chocolate chips, which you can easily do in the microwave. Melt in 20 second bursts, stirring each time, until just melted. Do not overcook the chocolate. Once melted, start drizzling it over the top of the cereal.
When you've poured in the melted white chocolate start mixing it all together with the Chex until the cereal is coated in the chocolate.
Cool: Pour the chocolate coated cereal onto a parchment lined baking sheet and start spreading the mixture into an even layer. You can now move on to the next step while letting the chocolate and cereal mix cool and harden.
Pretzels: Next up you'll prepare the pretzel and almond bark mixture. Spread the mini pretzels into a layer on a tray or cookie sheet. Melt the two blocks of almond bark and start drizzling it over the pretzels. Top this mixture with the holiday sprinkles and then set it aside to cool and harden.
Helpful TipS!
Melting the almond bark doesn't have to be a challenge! The simplest way is to use the microwave. Heat the blocks in a bowl for 30 seconds, stir, and continue heating and stirring in short 20 second intervals. Just be careful not to burn it!
Instead of drizzling it over the pretzels you could also carefully dip the pretzels entirely into melted almond bark to fully coat them before adding the holiday sprinkles.
Powdered Sugar: When the Chex and white chocolate mix has cooled break the large clumps up into smaller pieces for maximum sugar coverage. Add the cereal to a large resealable bag with the powdered sugar and shake gently to coat.
Combine: Once coated in the powdered sugar pour the Chex into a large bowl and then start mixing in all the goodies!
Start with the sprinkle coated pretzels then mix in your favorite candies! For this Christmas Chex Mix recipe I used holiday M&Ms and crushed peppermint candies but you can totally change it up!
Once mixed, serve it up for your guests however you see fit. It won't last long!
FAQs:
How to store Chex Mix?
This Christmas Chex Mix recipe is best stored in an airtight container at room temperature for up to a week. Store in the freezer for up to 3 months.
Can I make substitutions?
Chex Mix is one of those great recipes that you can add all kinds of things to! You can switch up the candies, toss in some mini marshmallows, or even change the theme to a different holiday or no holiday at all.
Tips for Gifting:
Want to gift this Christmas Chex Mix to friends and family? Make a batch and store it in the freezer if you're not ready to gift it right away.
Add to a cute mason jar or other sealed container, tie with festive ribbon, and attach a cute gift tag. Etsy has loads of cute Chex Mix gift tags for cheap!
MORE CHRISTMAS RECIPES!
MORE CHEX RECIPES!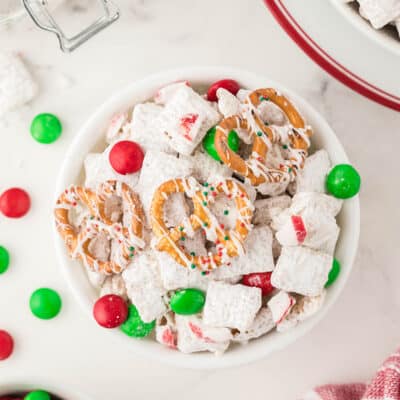 Christmas Chex Mix
This sweet Chex Mix is all dressed up for Christmas with white chocolate, powdered sugar, and holiday candy. This stores nicely in the freezer and is perfect to set out for guests to munch on or to give as gifts.
Prep15 minutes
Chill Time1 hour
Total1 hour 15 minutes
Ingredients
6 cups Rice Chex
11 ounces white chocolate chips
1 ½ cup mini pretzels
4 ounces almond bark
½ cup powdered sugar
1 cup holiday M&M's
1 tablespoon holiday sprinkles
¼ cup crushed peppermint candies or chips optional
Instructions
Place the cereal into a large bowl and set aside.

Add the white chocolate chips to a microwave safe bowl and heat on low for 2-3 minutes, stirring every 30 seconds, until the chocolate has melted fully.

Pour the melted white chocolate over cereal and stir to coat.

Line a large baking sheet with parchment and pour the coated cereal over the parchment. Spread it out into an even layer and let cool until the chocolate has hardened, about 1 hour.

While the chex and chocolate mixture is cooling, spread your mini pretzels on a large tray or cookie sheet.

Add the almond bark to a mcirowave safe bowl and heat on low for 2-3 minutes, stirring every 30 seconds, until the chocolate has melted fully.

Drizzle over the pretzels. Sprinkle immediately with holiday sprinkles. Set aside to cool and harden.

Once the cereal has cooled and harded, break apart into small pieces, and place the mixture into a large resealable bag. Add powdered sugar to the bag and shake gently until the mixture is coated.

Add cereal to a large bowl and mix in the drizzled mini pretzels, holiday m&m's, and crushed peppermints. Stir to combine.

Package in air-tight containers to deliver for holiday gifts or serve immediately.
Tips & Notes:
You can use all white chocolate or all almond bark, if preferred. You'll need 11 ounces of either for coating the cereal and 4 ounces of either for drizzling over the pretzels. Once the white chocolate-covered rice chex mix has cooled, break it up into as small pieces as possible for easier powdered sugar coverage. You can skip the peppermint altogether or swap it for another candy, if preferred. Store in an air-tight container to ensure freshness of the mix. Use your favorite ball jar or festive holiday tin to turn this treat into a great holiday gift!
Nutrition Information:
Calories: 203kcal (10%)| Carbohydrates: 31g (10%)| Protein: 2g (4%)| Fat: 8g (12%)| Saturated Fat: 5g (31%)| Polyunsaturated Fat: 1g| Monounsaturated Fat: 1g| Trans Fat: 1g| Cholesterol: 4mg (1%)| Sodium: 143mg (6%)| Potassium: 55mg (2%)| Fiber: 1g (4%)| Sugar: 21g (23%)| Vitamin A: 148IU (3%)| Vitamin C: 2mg (2%)| Calcium: 62mg (6%)| Iron: 3mg (17%)