This bold Chex Mix recipe will satisfy any snack attack! This savory snack mix is the perfect blend of crunchy cereal, pretzels, and nuts, seasoned with a zesty blend of spices for a bold and satisfying flavor. Simple prep, common ingredients, and big bold flavor!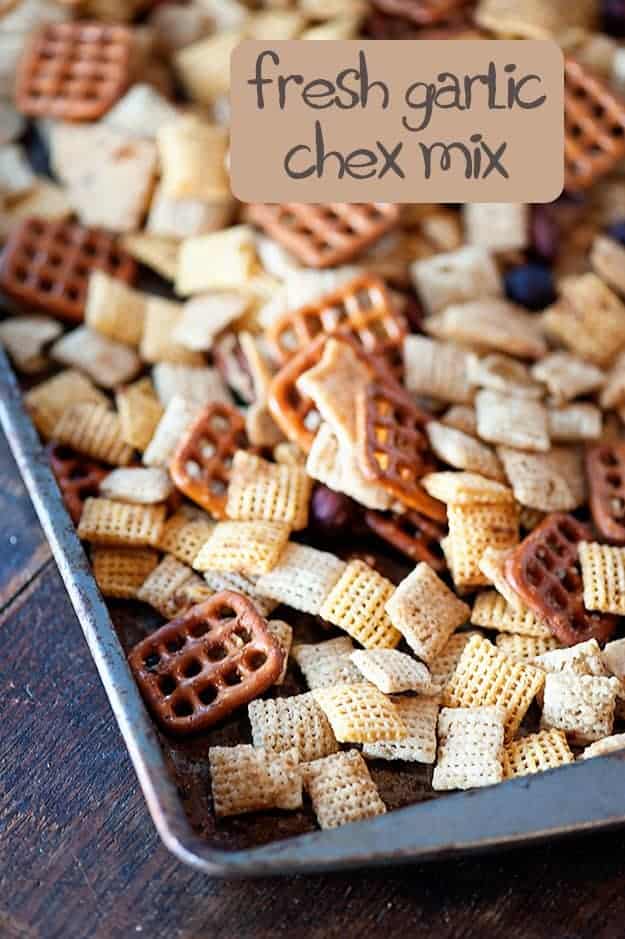 Yes, of course, everyone has made the Chex Mix recipe off the side of the box and I'm here to agree with you – it's absolutely delicious!
But my version? It's bigger and bolder. Made with fresh minced garlic, loads of savory seasonings, and packing in all the crisp cereal and pretzels you could want!
Just please let me tell you right up front that I like big, bold flavors. I like my homemade Chex Mix to pop with saltiness and fresh garlic. I like to take a bite and then knock my husband out with my garlic breath. <— He likes that too, I'm sure of it. 😉
If you are the type of person who inspects each Dorito before popping it in your mouth to find the ones with the most powdery coating, you will like this recipe. If you are the type of person who finds Doritos to be too salty, go away. No, actually, run away.
Make sense? We clear? Awesome.
If you love Bold Chex Mix, my version beats the packaged stuff everytime and it's really quite simple to make!
Ingredient Notes:
This post contains affiliate links. As an Amazon associate and member of other qualifying programs, I earn from qualifying purchases.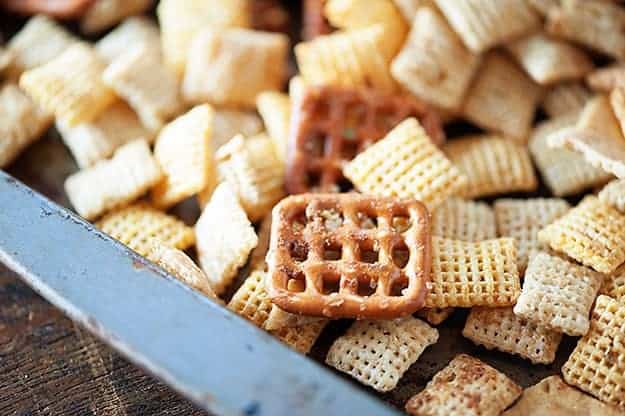 Rice Chex & Corn Chex – You can use any type of Chex cereal in this recipe, but I prefer corn and rice. Throw in some wheat if you want.
Mixed Nuts – Any brand or variety of mixed nuts will work, or just use a single type like peanuts if you don't want a mix.
Mini Pretzels – You can use any variety of small pretzels in this garlic Chex mix recipe.
Plain Pita Chips – Any brand of plain pita chips is fine they'll just need to be broken into small pieces. Some garlic rye chips would also work well.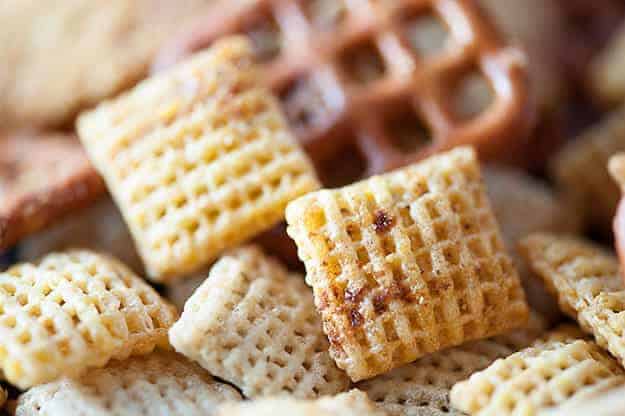 Butter – This will get heated up with a few of the other ingredients like the Worcestershire and Tabasco to make the bold savory sauce for mixing.
Worcestershire Sauce – This is pretty much a key ingredient for making savory bold Chex mix. It'll add a lot of the savory flavor so don't skip it!
Seasoned Salt – We like Lawry's seasoned salt but any brand will work!
Onion Powder – More flavor!
Tabasco Pepper Sauce – You only need a dash of this to add just a hint of spicy flavor!
Fresh Garlic – I think the bold garlic flavor is the best part of this Chex mix recipe. You'll be grating three cloves of garlic! You don't want to skimp on the garlic, it makes the mix so much better!
What We Love About This Recipe:
All that fresh garlic adds a lot of great flavor! If you love garlic, you'll love this bold Chex mix.
You can easily customize this mix with your preferred ingredients like a different variety of Chex cereal or mixed nuts.
Tools Needed:
Microplane Grater – You'll need a microplane to grate the garlic cloves really fine. I use it for zesting citrus fruit, for finely grating Parmesan, and obviously for garlic. It even works for sneaking onion into dishes without my family noticing. It's easy to clean (hello, dishwasher) and works like a charm.
Rimmed Baking Sheet – There is liquid in the mixture so a large rimmed baking sheet lined with some aluminum foil will work best to keep this homemade Chex Mix recipe mess free.
How to Make Chex Mix:
Dry Ingredients: To get started you'll add in the dry mix ingredients (cereal, nuts, pretzels, and pita chips) to a bowl. Stir or toss to mix all that up a bit, then move on to making the savory sauce that'll go over it all.
Sauce: In a small sauce pan heat up the butter over medium heat until it has melted. Remove it from the heat and stir in the Worcestershire sauce, seasoned salt, onion powder, and Tabasco sauce.
Garlic: I think garlic Chex Mix is the best and I love the bold flavors you get from using lots of freshly grated garlic! You'll need a microplane grater (see above) to grate the garlic into the butter mixture in the saucepan.
When you've grated all the garlic in, stir it up until all of the savory sauce ingredients are well combined.
Combine: With the butter mixture ready you can pour it over the dry Chex Mix ingredients in the bowl, stirring as you pour. Stir or toss until it is all well coated in the savory garlic and butter mixture.
Bake: Spread the Chex Mix out onto a rimmed baking sheet in an even layer. It'll take about an hour to bake at 250 degrees. You'll want to carefully give it a stir every 15 minutes so that it cooks evenly.
Once it's finished baking you'll want to let it cool for at least a few minutes before serving. This fresh garlic Chex Mix is good while it's still warm from the oven or at room temp!
If you're as obsessed with snacks as I am, be sure to click over to my recipes for butterfinger fruit dip and deep fried pickles! Both are total favorites in this house and are excellent for game day!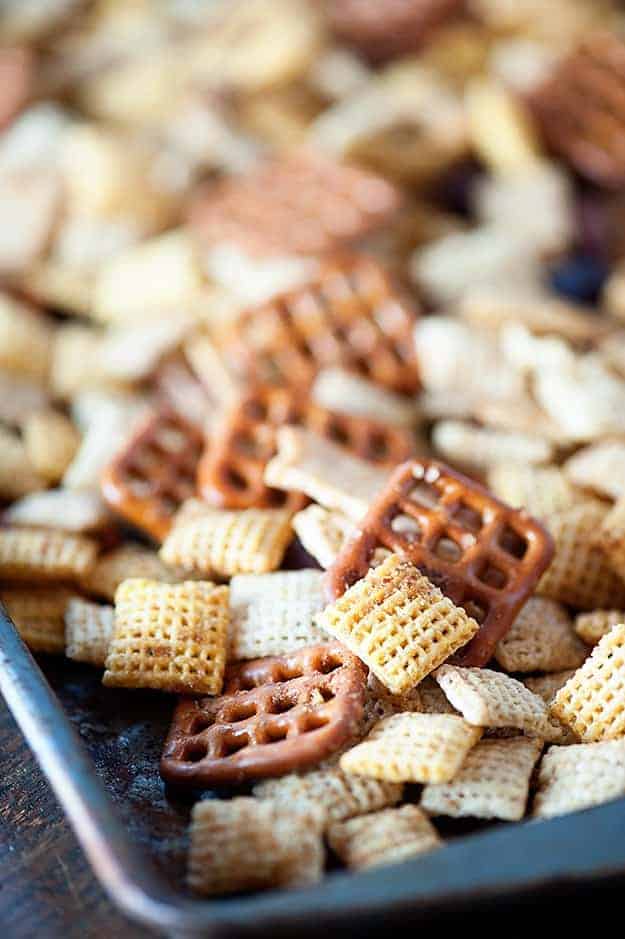 FAQs:
How to store Chex Mix?
You can keep this garlic Chex Mix recipe stored in an airtight container at room temperature for up to one week!
Is Chex Mix gluten free?
The corn and rice Chex cereals are gluten free, but not the pita chips and pretzels. However, they make gluten free pretzels and gluten free pita chips! So it's pretty easy to turn this into a gluten free Chex mix recipe.
MORE SAVORY SNACK RECIPES!
Never miss out on a single recipe! Follow me below:
Facebook | Twitter | Pinterest | Instagram |Google+ | RSS | Email Newsletter
Fresh Garlic Chex Mix
This bold Chex mix recipe will satisfy any snack attack! It's loaded with fresh garlic and tons of flavor!

Prep10 minutes
Cook1 hour
Total1 hour 10 minutes
Ingredients
4 1/2 cups corn chex
4 1/2 cups rice chex
1 cup mixed nuts
1 cup small pretzels
1 cup plain pita chips broken into small pieces
6 tablespoons butter
3 tablespoons Worcestershire sauce
2 tablespoons seasoned salt
2 teaspoons onion powder
Dash Tabasco hot pepper sauce
3 cloves garlic
Instructions
Heat oven to 250 degrees. Line a large rimmed baking sheet with foil.

Add the cereal, nuts, pretzels, and pita chips to a large bowl.

Add the butter to a small sauce pan and heat until melted over medium heat.

Remove from the heat and stir in the Worcestershire sauce, seasoned salt, onion powder, and Tabascol.

Grate the garlic on a microplane grater into the butter mixture. Stir well.

Pour the butter mixture over the cereal, stirring as you pour. Stir well to coat everything.

Spread the mixture out on the baking sheet. Bake for 1 hour, stirring carefully every 15 minutes.

Store in a covered container for up to 1 week.
Tips & Notes:
We like our Chex Mix to have a salty bite, so we're using 2 full tablespoons of seasoned salt. If that's too salty for you, reduce it down to 1 tablespoon and go from there. I've recently found Gardetto's rye chips in the stores again and they make a great swap for the pita chips!
Nutrition Information:
Calories: 297kcal (15%)| Carbohydrates: 36g (12%)| Protein: 5g (10%)| Fat: 15g (23%)| Saturated Fat: 5g (31%)| Cholesterol: 18mg (6%)| Sodium: 1856mg (81%)| Potassium: 197mg (6%)| Fiber: 3g (13%)| Sugar: 3g (3%)| Vitamin A: 885IU (18%)| Vitamin C: 7.8mg (9%)| Calcium: 112mg (11%)| Iron: 9.5mg (53%)