August 27, 2018
Fresh Garlic Chex Mix
This bold chex mix recipe will satisfy any snack attack! It's loaded with fresh garlic and tons of flavor!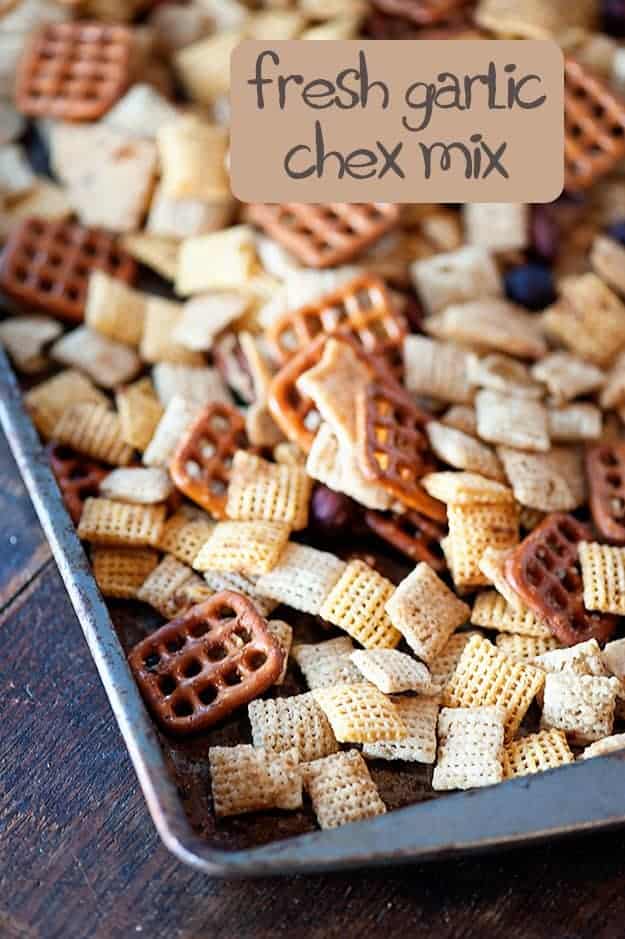 This is maybe a little ridiculous and unnecessary right here.
A recipe for Chex Mix. I can actually feel you rolling your eyes right now.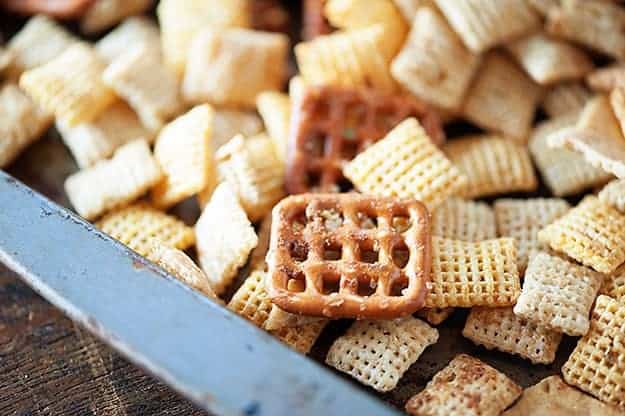 The thing is, this isn't just the Chex Mix recipe off the side of the box. This is MY recipe. The one that is, yes, even better than the one on the side of the box.

Just please let me tell you right up front that I like big, bold flavors. I like my Chex Mix to pop with saltiness and fresh garlic. I like to take a bite and then knock my husband out with my garlic breath.
I'm a freak, is what I'm saying. If you are also a freak who likes the extra flavorful stuff, this recipe is for you.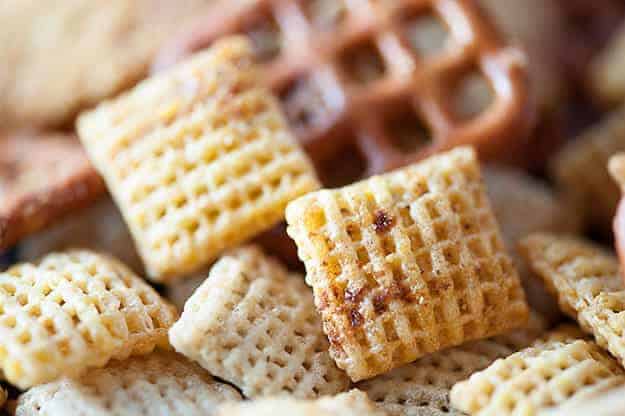 If you are the type of person who inspects each Dorito before popping it in your mouth to find the ones with the most powdery coating, you will like this recipe. If you are the type of person who finds Doritos to be too salty, go away. No, actually, run away.
Make sense? We clear? Awesome.
You can use any type of Chex cereal in this recipe, but I prefer corn and rice. Throw in some wheat if you want.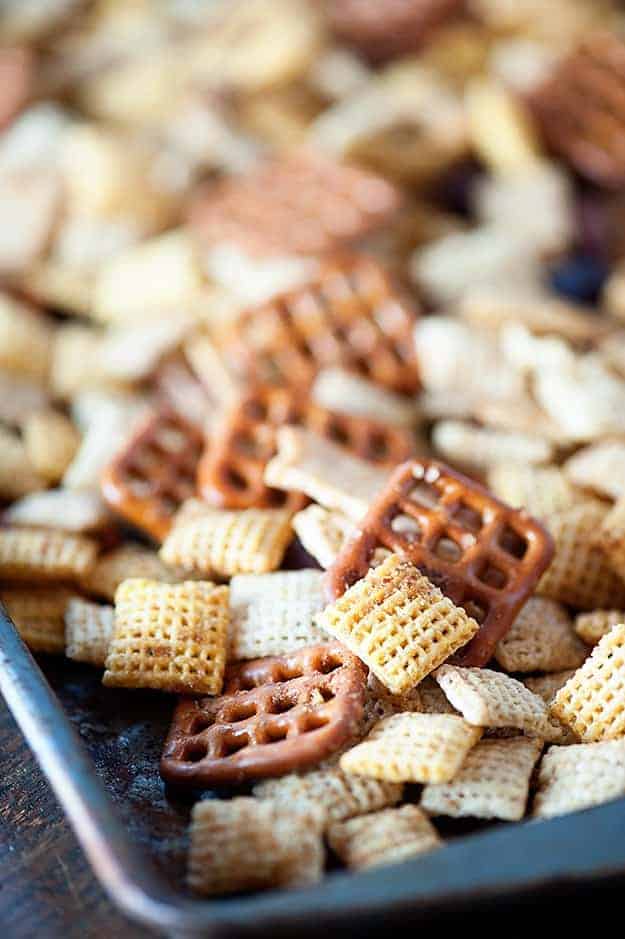 Just, whatever you do, don't skimp on the fresh garlic! It just makes this recipe so much better!
You'll need a microplane to grate the garlic cloves really fine. This is the one I have and I absolutely love it. I use it for zesting citrus fruit, for finely grating Parmesan, and obviously for garlic. It even works for sneaking onion into dishes without my family noticing. It's easy to clean (hello, dishwasher) and works like a charm.
If you're as obsessed with snacks as I am, be sure to click over to my recipes for butterfinger fruit dip and deep fried pickles! Both are total favorites in this house and are excellent for game day!
Never miss out on a single recipe! Follow me below:
Facebook | Twitter | Pinterest | Instagram |Google+ | RSS | Email Newsletter
Fresh Garlic Chex Mix
Servings: 10 servings
Course: Snack
Cuisine: American
Keyword: easy snack recipes, game day recipes, kid-friendly recipes, party recipes
Calories: 297 kcal
This bold Chex mix recipe will satisfy any snack attack! It's loaded with fresh garlic and tons of flavor!

Ingredients
4 1/2 cups corn chex
4 1/2 cups rice chex
1 cup mixed nuts
1 cup small pretzels
1 cup plain pita chips broken into small pieces
6 tablespoons butter
3 tablespoons Worcestershire sauce
2 tablespoons seasoned salt
2 teaspoons onion powder
Dash Tabasco hot pepper sauce
3 cloves garlic
Instructions
Heat oven to 250 degrees. Line a large rimmed baking sheet with foil.

Add the cereal, uts, pretzels, and pita chips to a large bowl.

Add the butter to a small sauce pan and heat until melted over medium heat.

Remove from the heat and stir in the Worcestershire sauce, seasoned salt, onion powder, and Tabascol.

Grate the garlic on a microplane grater into the butter mixture. Stir well.

Pour the butter mixture over the cereal, stirring as you pour. Stir well to coat everything.

Spread the mixture out on the baking sheet. Bake for 1 hour, stirring carefully every 15 minutes.

Store in a covered container for up to 1 week.
Nutrition Facts
Fresh Garlic Chex Mix
Amount Per Serving
Calories 297 Calories from Fat 135
% Daily Value*
Fat 15g23%
Saturated Fat 5g31%
Cholesterol 18mg6%
Sodium 1856mg81%
Potassium 197mg6%
Carbohydrates 36g12%
Fiber 3g13%
Sugar 3g3%
Protein 5g10%
Vitamin A 885IU18%
Vitamin C 7.8mg9%
Calcium 112mg11%
Iron 9.5mg53%
* Percent Daily Values are based on a 2000 calorie diet.
Nutrition Disclaimer: All information presented on this site is intended for informational purposes only. I am not a certified nutritionist and any nutritional information shared on bunsinmyoven.com should only be used as a general guideline.