Grab your favorite movie snacks and load them up onto this fun charcuterie board! Perfect for making movie night a little more fun!
Movie night is always a hit with my family, especially after a hot summer day spent outside. It's nice to get in the air conditioning, curl up in the dark, and watch a fun movie togther.
Of course, movie snacks are an absolute must and it's really not much more difficult to go the extra mile and make a Movie Night Snacks Board like this!
The whole family loves the variety on this snack board and you can easily customize it using your favorite snacks for movie night! Just don't skip the popcorn – that's a requirement in my book! 😉
Love fun charcuterie board ideas? Our Easter charcuterie board and Mother's Day charcuterie board are fun in the Spring and our Yogurt Parfait Board makes breakfast so fun!
Ingredients Used:
This post contains affiliate links. As an Amazon associate and member of other qualifying programs, I earn from qualifying purchases.
We like variety so we packed in loads of goodies. Most of this keeps well for your next movie night, but you can easily cut this down and use less, if you prefer.
Popcorn – You can use any kind of popcorn that you'd like! Buttered popcorn, caramel corn, kettle corn, microwave, stove top, air popped, etc.
Candy Pop – This sweet candy popcorn is made with M&M candies and chocolate! It's a perfect, colorful snack for this movie night board.
Candy – Grab your favorites! We used KitKats, peach rings, skittles, sour gummy worms, Andes mints, Reese's, Starburst, spree candy, Hershey's Kisses, Twizzlers, Nerds Clusters, Airheads, and gummy bears. It's a lot of candy, but you just use a little of each and save the rest for next time!
Peanuts – You can use whatever variety of peanuts you like for this, Virginia or Spanish, salted or unsalted, regular roasted or honey roasted. It's up to you!
Pretzel Nuggets – We like the homemade ones we linked, but you can buy them at the store too!
Queso Dip – You can use store bought, but our homemade queso is legit!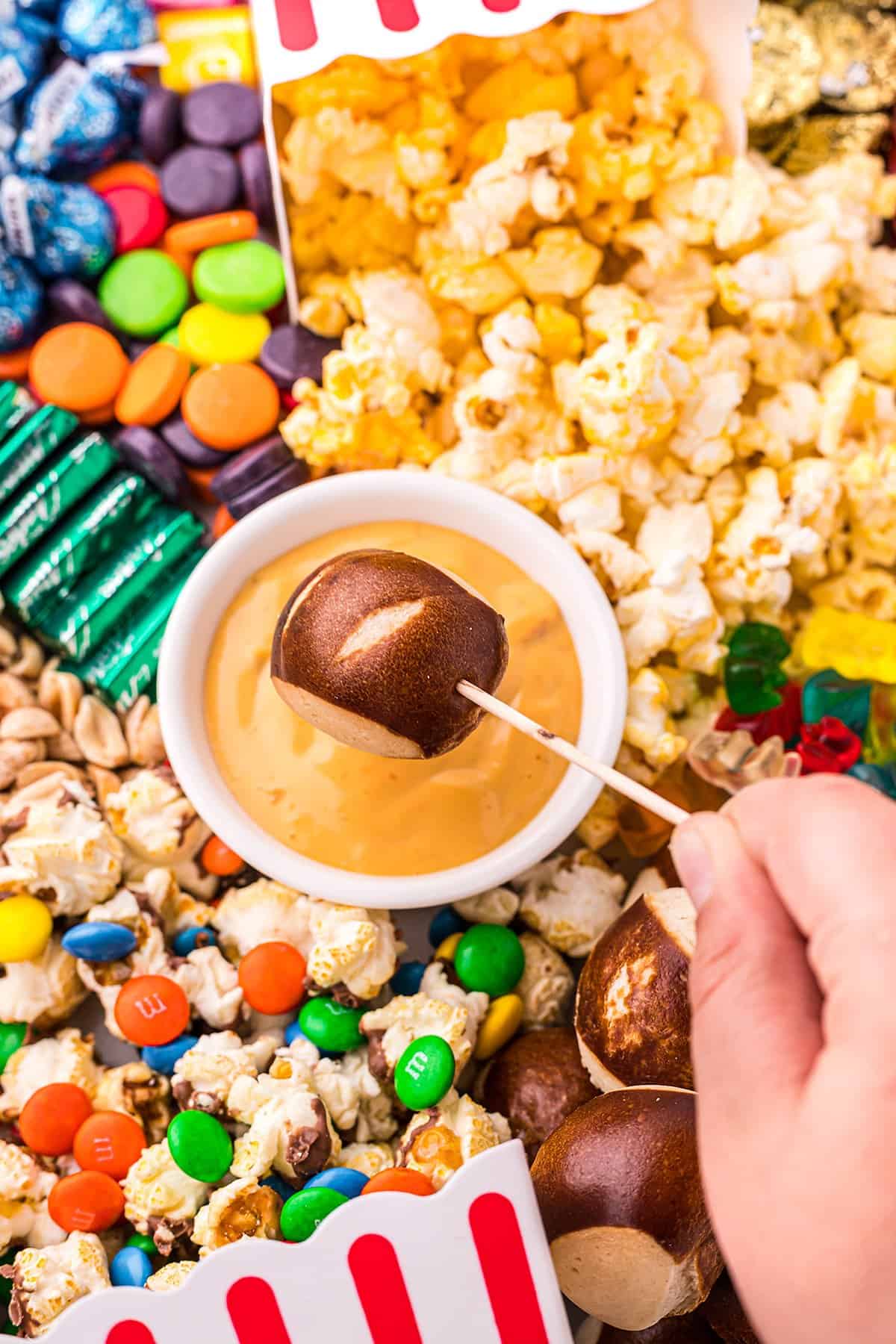 Tools Needed:
Tray – I don't have a link to the exact tray used in the photos, so you'll need to improvise! If you've already got one, no problem. If not, there are all kinds to choose from. A baking sheet works too! Target and HomeGoods often have cute options.
Popcorn Boxes – These classic red and white popcorn containers are perfectly decorative and are just what you need to store the popcorn on this movie night board!
Bowls – I'm adding three small bowls to the tray for loading up with the cheese dip, Skittles, and Nerds Gummy Clusters. You can fill them with whatever you like, but don't skip them! The bowls full of colorful goodies are irresistible!
How to Make:
Bowls: Start by arranging a few bowls on the board. I used three small white bowls, but you can adjust if you're using other ingredients. We find it easiest to start by placing our bowls.
Popcorn: Arrange your popcorn so that it's spilling over the container. So cute!
Fill In: Start filling in around the popcorn. Don't stress too much about placement because it really does all come together easily and turns out cute every time! Pay a little attention to colors so that each bit of the board looks good together and really fill in all the empty spaces. Easy peasy!
Snack Board Tips & Tricks
These tips and tricks apply for just about any type of snack board, dessert board, or charcuterie board recipe. So whether you're piling it up with sugary treats or savory meats keep these tips and tricks in mind!
Board: Whatever type you're making you'll obviously need an appropriate board or platter to go with it. They come in all shapes and sizes; some are simple, some are fancy, and some are even themed for holidays or events! We've even used sheet pans as the base for our snack board!
Size: Before choosing a charcuterie board you'll want to keep in mind just how much food you plan to put on it. The bigger the board, the more you'll need to add to fill in all the spaces to keep it looking as appealing as possible.
Shape: There is no rule for what shape of board to use. They are usually either rectangular or circular. Just pick whichever you feel is going to look the best for the theme you are going for!
Material: Something to keep in mind is what the board/tray is made of. Wooden boards look great and work for just about anything, but you might also find that a metal tray or plastic colorful tray is best for the type of board you are assembling.
No Board: You can't have a snack board, dessert board, or charcuterie board without a board! Or can you? You could lay down some parchment paper (or butcher's paper) over a table and arrange the goodies on it if you don't have a board or platter. This would be so fun on the coffee table for movie night!
Appeal: A lot of the appeal of a snack board is visual! When you see all those colorful candies, chocolates, and treats (or meats if you're going for charcuterie) it's supposed to look a bit overwhelming. You want guests to be wowed and a little bit unsure of where to start, because there are just so many tasty options.
Color: In a dessert or snack board you're going to want to have as much color as possible, arranged artfully to look as appealing as possible! Try to space out the colors on the board, and add colorful ingredients to decorative bowls.
Space: Nothing is sadder than a snack board with lots of gaps or empty spaces. You want the board to look like it is bursting with snacks! Fill in as many gaps and empty spaces on the board as you can so that it's totally packed. When you think you've added enough, go back and sprinkle in a little more.
Variety: Go for lots of variety! If you've only got a few snacks to choose from you may want to opt for a smaller board and break it up so you have multiple little piles of each ingredient.
Quantity: I prefer variety over quantity on a snack board, so you don't need to have a huge amount of each treat unless you've got room to fill in. If we're having a large party, we often refill the board after guests have gone through the first time. It keeps it looking full when people come back for more.
Budget: Snack boards do cost a bit of money to prepare, because you're just buying such a large variety of goodies. You can keep it more budget friendly by limiting yourself to 4-5 varieties of treats and just create several different piles of each treat rather than keeping them all grouped together. This will make the board look more visually appealing.
Leftovers: One of my favorite parts about this Movie Night Snacks Board is that leftovers are easily managed. Place opened candies (like Twizzlers) in a ziptop bag. Store all of your candies in one spot in your pantry so that you can pull them out for your next movie night!
FAQs:
Where do I put everything?
That's where the artistic or creative part of a charcuterie board comes in. It's really up to you how you want to arrange it so go for appealing as possible. I'd recommend starting with any bowls or containers, filling those up, and then adding in the other items.
How large should it be?
That depends on how many guests you'll be having and how impressive you want your movie night board to look! We don't mind leftovers on a board like this, because all of the candies can be packed away for next time and the pretzel nuggets and popcorn are almost always gone by the end of the movie anyway.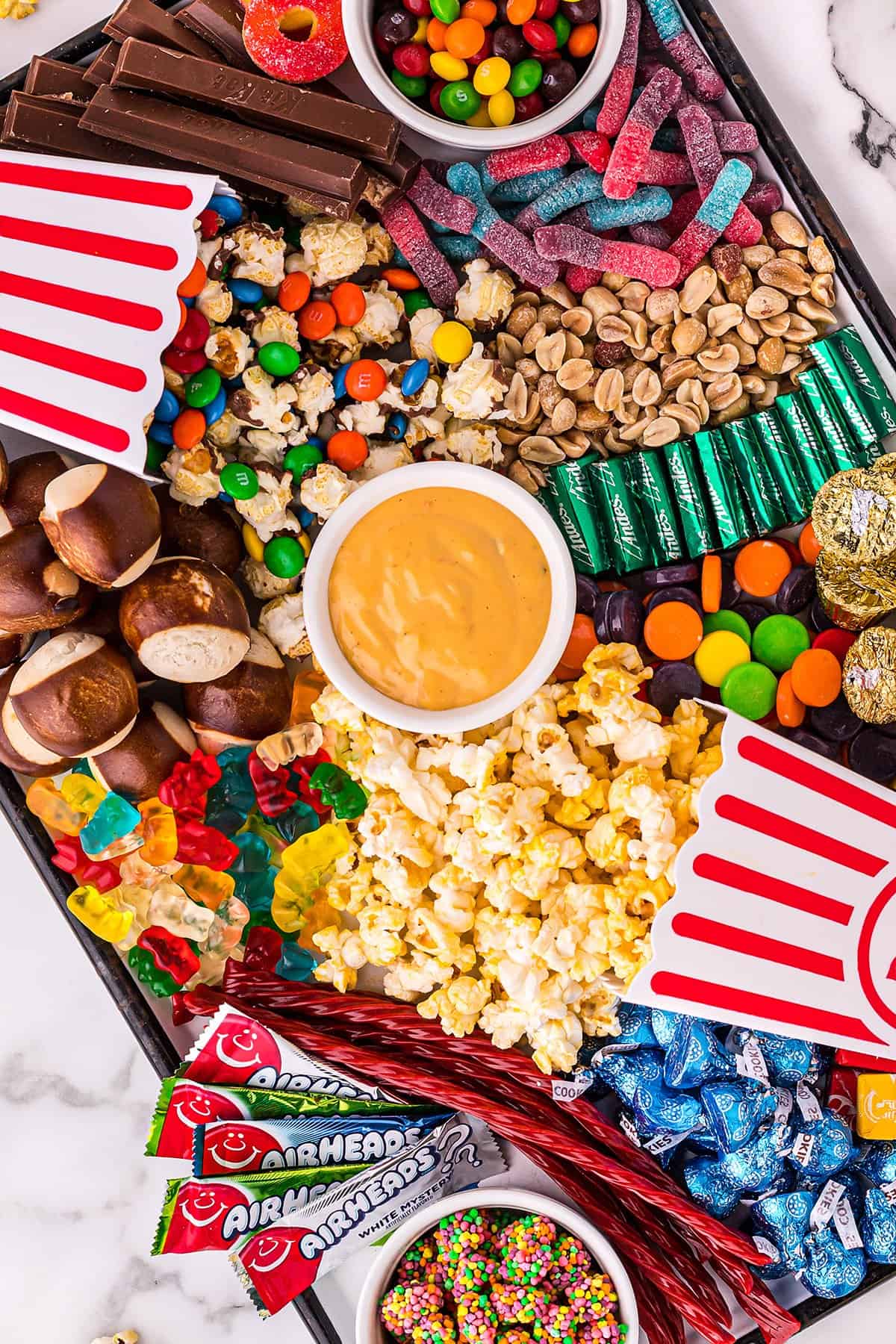 MORE SNACK RECIPES FOR MOVIE NIGHT!
Movie Night Snacks Board
This snack board is perfect for movie night. We loaded it with all of our favorite candies, plus popcorn and pretzels! Feel free to customize this board with whatever treats you like best. You really can't go wrong!
Prep20 minutes
Total20 minutes
Ingredients
Popcorn
Nerd Clusters
Skittles
Kit- Kat bars
Twizzlers
Peach Rings
Sour Worms
Peanuts
Andy Mints
Reese's Peanut Butter Cups
Starburst
Chewy Spree's
Hershey Kisses
Airheads
Gummy Bears
Instructions
Grab a large platter or large baking sheet.

Add large popcorn containers or medium-size bowls to put popcorn and candy pop in.

Add smaller bowls to the board and fill with the Nerd Clusters, Skittles, and queso.

Add larger items such as pretzel bites, Kit-Kats, and Twizzlers to the platter.

Fill in with the remaining items until the platter is completely full.
Tips & Notes:
I did not add measurements for ingredients, because it will vary based on the size of board you will be using and how many people you're making this board for. When creating a movie night board, you first need to decide on all your favorite movie snacks. Once you have that decided you then can gather all the fun treats and start creating your board. You can usually find small boxes of movie theater candy at your local grocery store for around a dollar, which makes this board very affordable to create. There is no right or wrong way to create a charcuterie board. Have fun with it! The kids can even help. The items here are just some of our favorites. Feel free to swap them out for your favorite treats! Leftovers are easily stored, separated by type, in ziptop bags in the pantry. Use leftovers for your next movie night!
Nutrition Information:
Calories: 250kcal (13%)