August 8, 2018
Homemade Butterfinger Candy Bars
Three ingredient homemade Butterfinger for all my candy bar loving friends!

I haven't been feeling very festive this Halloween. Our pumpkins aren't carved, my kids don't have costumes yet, and honest to God, I've only eaten three bags of fun size candy bars. THREE. I usually eat double that by now!
It's like I'm the Grinch of Halloween or something.
Sad. Very sad.
So, I set out to remedy things. Sure, I could have carved pumpkins or bought Halloween costumes (what? you didn't think I sewed my children's costumes, did you?), but I thought I'd take care of the candy problem. Only I decided to make my own candy. You know, to make up for my failures in the homemade costume department.
These homemade Butterfinger candy bars could not be simpler and they totally taste like the real thing. Oh, and did I mention that you only need three ingredients to make these? And a microwave? You don't even have to turn your stove on, y'all.
So, what three magical ingredients can mimic a Butterfinger? Oh, you know…chocolate. Peanut butter. Candy corn. Wait, what?
Candy corn?
For reals.
I liked these homemade Butterfingers as much as the real thing!
The texture of these was a bit softer and chewier than a regular Butterfinger, but if you keep them in the fridge they take on that crispness of the original.
Happy Halloween. Have some candy.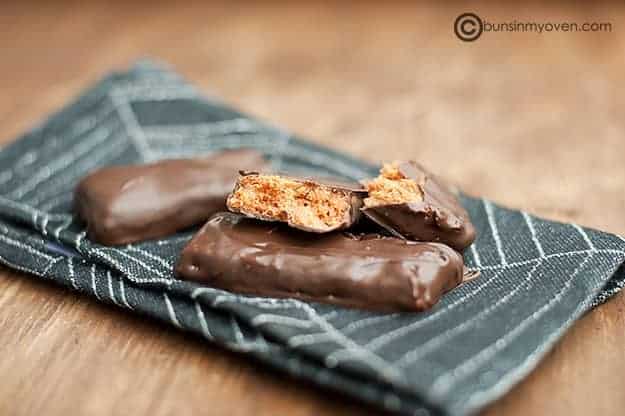 Homemade Butterfinger Candy Bars
Servings: 16 bars
Calories: 302 kcal
You won't believe how much these really taste like a Butterfinger!
Ingredients
3 cups candy corn
1 1/2 cups smooth peanut butter
2 cups milk chocolate chips or candy melts for dipping
Instructions
Place the candy corn in a large bowl and microwave for 1 minute. Stir and return to microwave. Continue heating for 30 seconds and then stirring until it is completely melted.

Stir in the peanut butter. The heat from the candy corn should melt the peanut butter, but if not return to the microwave for 15 seconds. Stir to combine.

Spread the mixture into an 8x8 baking dish lined with parchment paper. Smooth it out evenly in the pan. Let cool for one hour and then use a pizza cutter to slice into bars.

Melt the chocolate chips or candy melts in the microwave.

Carefully dip the candy bars into the melted chocolate and turn to coat.

Place on a parchment lined baking sheet and wait for the chocolate to set.

Store at room temperature for a chewy texture or in the fridge for a more crisp texture.
Nutrition Facts
Homemade Butterfinger Candy Bars
Amount Per Serving (1 bar)
Calories 302 Calories from Fat 90
% Daily Value*
Fat 10g15%
Saturated Fat 3g19%
Cholesterol 1mg0%
Sodium 226mg10%
Potassium 161mg5%
Carbohydrates 45g15%
Fiber 1g4%
Sugar 36g40%
Protein 6g12%
Vitamin A 25IU1%
Vitamin C 0.1mg0%
Calcium 22mg2%
Iron 0.6mg3%
* Percent Daily Values are based on a 2000 calorie diet.
Nutrition Disclaimer: All information presented on this site is intended for informational purposes only. I am not a certified nutritionist and any nutritional information shared on bunsinmyoven.com should only be used as a general guideline.
adapted from In Katrina's Kitchen