Spider cookies are just about the creepiest and cutest little cookies and they're so easy to make too! Dunk 'em in a glass of chocolate milk for a sweet Halloween treat. Big thanks to The National Milk Life Campaign for sponsoring this post.
I am not one of those crafty moms that you find on Pinterest.
I have tried to live that life and I failed about 2 minutes in. It's just not me.
I don't do crafty. I don't do complicated. I don't have the brain power or the willpower or the hot glue guns to make that work.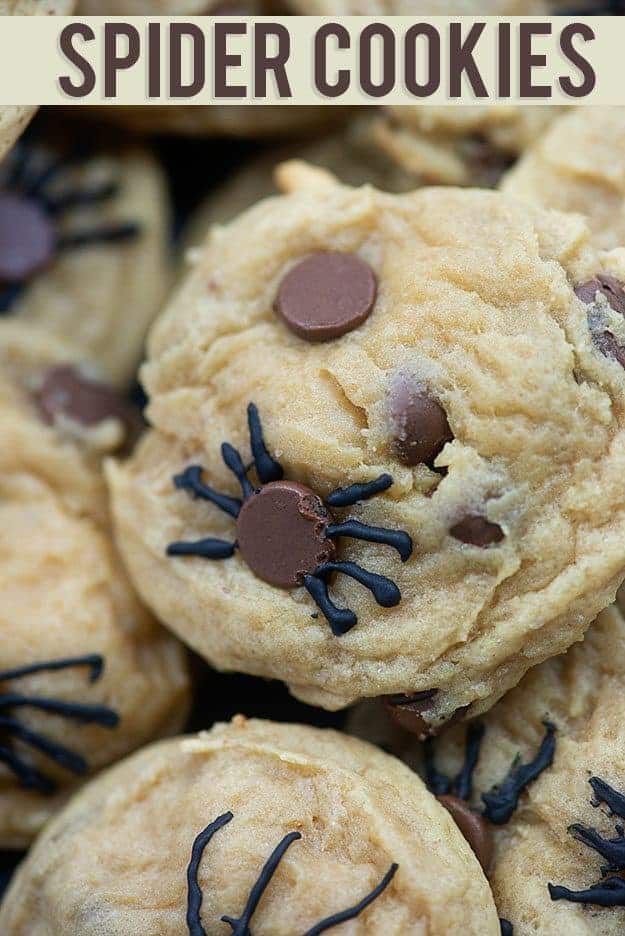 But, I can sure decorate a cookie the easiest way possible and impress the heck outta my kids with it.
These little spider cookies are beyond simple, but they really are so fun and creepy! Sometimes simple is best, right? That's what I keep telling myself anyway. 😉
This Halloween I've teamed up with The National Milk Life Campaign to bring you these spooky spider cookies. They're perfect to pair with the official drink of Halloween – chocolate milk!
Milk is a nutritious and fun choice for Halloween or any time of year. My daughter has long been a fan of chocolate milk – she used to call it 'ploplet milk' back when she was a tiny little thing. I still call it that to this day, if we're being honest.
Chocolate milk has all the same essential nutrients that white milk has, so I feel good about serving it up as a treat to my kiddos. Plus, every 8 ounce glass is a good source of protein.
So, about these cookies – I took my perfect chocolate chip cookies recipe and I tweaked it just a teensy bit.
I love this recipe because it starts with melted butter (no need to wait for it to soften all day on the counter!) and there is no chilling needed! These cookies turn out thick, chewy, and basically perfect in just 20 minutes.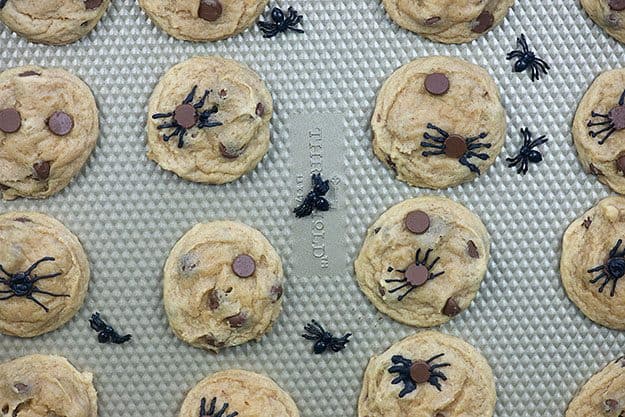 To make these spider cookies, you're going to strategically place a few chocolate chips on each cookie, point side down, to create the body of your spider. <— Sounds weird talking about spider parts on a food blog. Forgive me.
Next, bake your cookies as usual and let them cool.
Grab a little tube of black or brown icing. I got a little tube that was meant for writing words and it worked perfectly.
Pipe some legs on those cookies!
You can add multiple spiders to each cookie or just one. I even made one cookie have a BIG spider on it. So funny!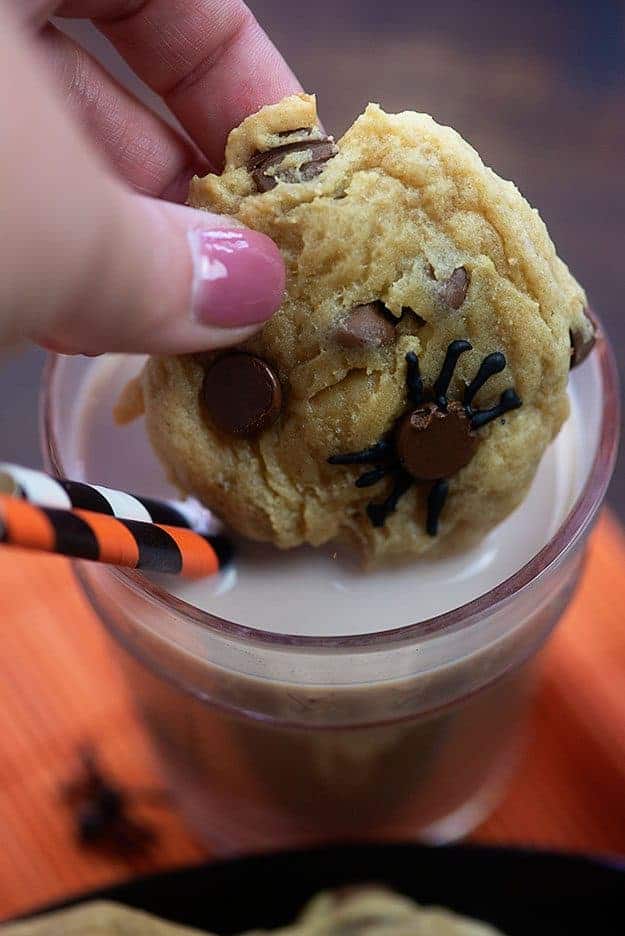 Be sure to dunk that cookie in your glass of chocolate milk.
The Dietary Guidelines for Americans recommend that kids should get between two and three cups of milk and milk products a day, depending on their age. Flavored milk, including chocolate milk, counts as a serving of dairy! It provides the same 9 essential nutrients in each 8-ounce glass, including 8 grams of high-quality protein, to help fuel your ghoulish gatherings.
For more milk facts, content, and recipes , visit PourMoreMilk.com or MilkLife.com!
Follow Milk Life on Facebook, Twitter, Pinterest, and Instagram!
Spider Cookies
Creepy little spider cookies that are ready in just about 30 minutes!
Prep10 minutes
Cook9 minutes
Cooling Time10 minutes
Total29 minutes
Ingredients
1/2 cup butter melted
3/4 cup brown sugar
1/4 cup white sugar
1 large egg
2 teaspoons vanilla extract
1 2/3 cup all-purpose flour
1 teaspoons baking soda
1/2 teaspoon salt
1/2 cup chocolate chips plus more for decorating
1 tube black writing icing
Instructions
Preheat oven to 350 degrees. Line a baking sheet with parchment paper.

Add the butter, brown sugar, and white sugar to a large bowl and beat well with a mixer until well combined.

Beat in the egg and vanilla until just combined.

Add the flour, baking soda, and salt to the bowl and mix until combined.

Stir the chocolate chips in by hand.

Use a medium cookie scoop to scoop out 12 balls of dough and place on the prepared baking sheet.

Stick a couple of chocolate chips into the tops of each cookie upside down.

Bake for 9 minutes exactly. Cookies will look slightly underdone, but will set up as they cool.

Once cookies are cool, use the icing to pipe legs around the chocolate chips.

Serve immediately or store in an airtight container for up to 5 days.
Tips & Notes:
Use any variety of chocolate chip you prefer - darker chocolate will match the spider legs best, but we use milk chocolate because that's what my kids prefer.
Nutrition Information:
Serving: 1cookie| Calories: 244kcal (12%)| Carbohydrates: 36g (12%)| Protein: 2g (4%)| Fat: 9g (14%)| Saturated Fat: 6g (38%)| Cholesterol: 36mg (12%)| Sodium: 270mg (12%)| Potassium: 42mg (1%)| Sugar: 22g (24%)| Vitamin A: 275IU (6%)| Calcium: 27mg (3%)| Iron: 1.1mg (6%)
Visit AmazonFresh to get chocolate milk delivered today for a terrifyingly tasty snack!