This Biscoff cookie recipe takes the standard chocolate chip cookie recipe to a whole new level of awesome!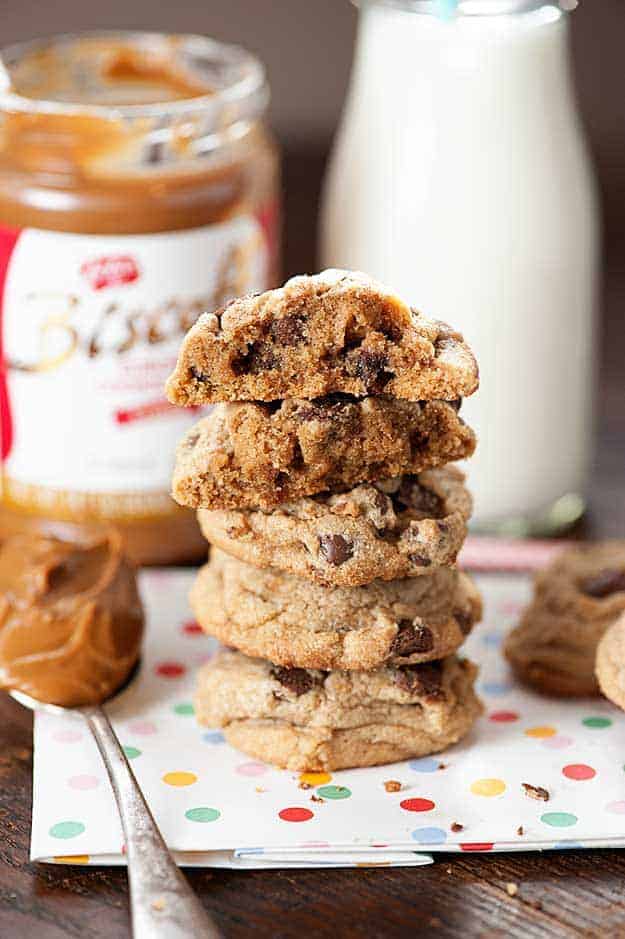 Can we talk for just a second about my friend? Her name is Katrina.
You probably know her. I mean, I hope you know her.
She's the blogger behind In Katrina's Kitchen and she's amazing.
If you haven't heard already, she just wrote her first cookbook and you guys. It's killer.

The Biscoff Cookie and Spread Cookbook.
That's right. An entire book devoted to Biscoff! Every single recipe is drool worthy. Every single photo is gorgeous. Every single jar of Biscoff spread must be consumed while reading the book.
I'm so proud of Katrina. Writing a book is so hard. It has it's ups and downs and moments of "omg, am I really so lucky to be writing a book?!" mixed with moments of "omg, why did I agree to write a book?" It's rough and amazing and terrible and incredible and truly, it's a lot like birthing a child. Katrina was writing her Biscoff book at the same time I was writing Stack Happy and it was so helpful to have her to text and freak out with!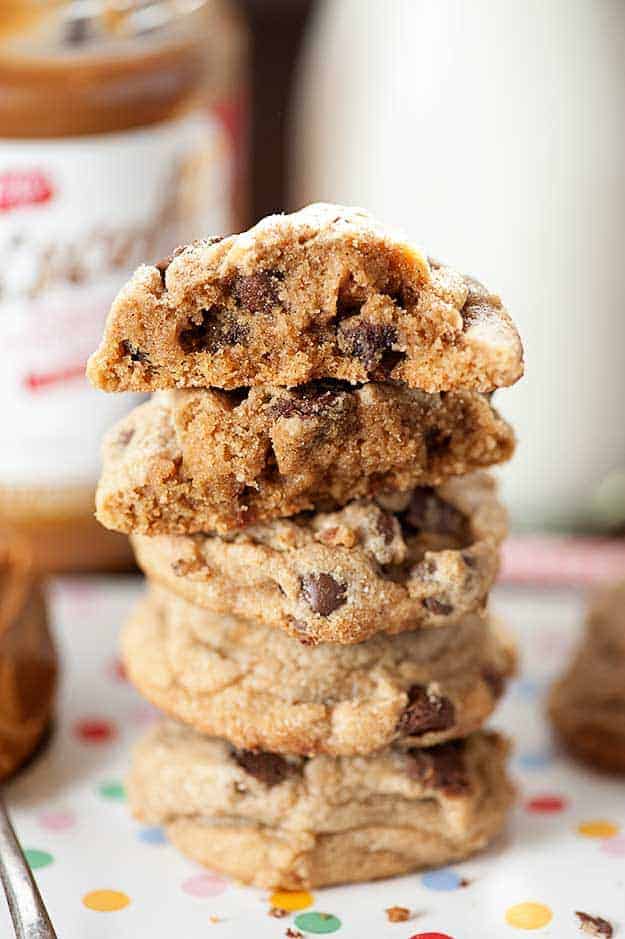 Anyway, I wanted to share a recipe from her book and urge you to head over to Amazon right now and place an order! This would make a great Christmas gift for the Biscoff lover in your life. My kids flip through this book alllllll the time and constantly request recipes! It's just a winner all around.
So, here's her perfectly chewy, perfeclty Biscoff-y take on chocolate chip cookies. The recipe is chewy, loaded with chocolate chips, and has the great flavor of Biscoff (all warm and cinnamon-spiced).
Biscoff Chocolate Chip Cookies
This Biscoff cookie recipe takes the standard chocolate chip cookie recipe to a whole new level of awesome!

Prep30 minutes
Cook10 minutes
Total40 minutes
Ingredients
1/2 cup butter softened
1/2 cup Biscoff spread
1/2 cup brown sugar
1/4 cup granulated sugar
1 large egg
1 teaspoon vanilla
1 1/2 cups flour
1/4 teaspoon baking soda
1/4 teaspoon baking powder
1/4 teaspoon salt
1/4 teaspoon cinnamon
1 cup milk chocolate chips
Instructions
In a large bowl cream together the butter, Biscoff spread, and sugars until light and fluffy. Beat in the egg and vanilla until well combined.

In a small bowl, combine the flour, baking soda, baking powder, salt, and cinnamon. Whisk to combine.

Slowly add the dry ingredients to the flour mixture until combined. Stir in the chocolate chips.

Use a cookie scoop to drop balls of dough onto a parchment lined baking sheet. Place the cookie sheets in the fridge to chill for 30 minutes.

Preheat oven to 350 degrees. Bake cookies for 8-10 minutes or until golden brown.
Nutrition Information:
Calories: 126kcal (6%)| Carbohydrates: 16g (5%)| Protein: 1g (2%)| Fat: 6g (9%)| Saturated Fat: 3g (19%)| Cholesterol: 15mg (5%)| Sodium: 63mg (3%)| Potassium: 17mg| Sugar: 10g (11%)| Vitamin A: 115IU (2%)| Calcium: 14mg (1%)| Iron: 0.4mg (2%)