Perfect chocolate chip cookies every time and they're ready in just 20 minutes. No chilling or softening butter required! (This post updated in April 2018 to include a video!)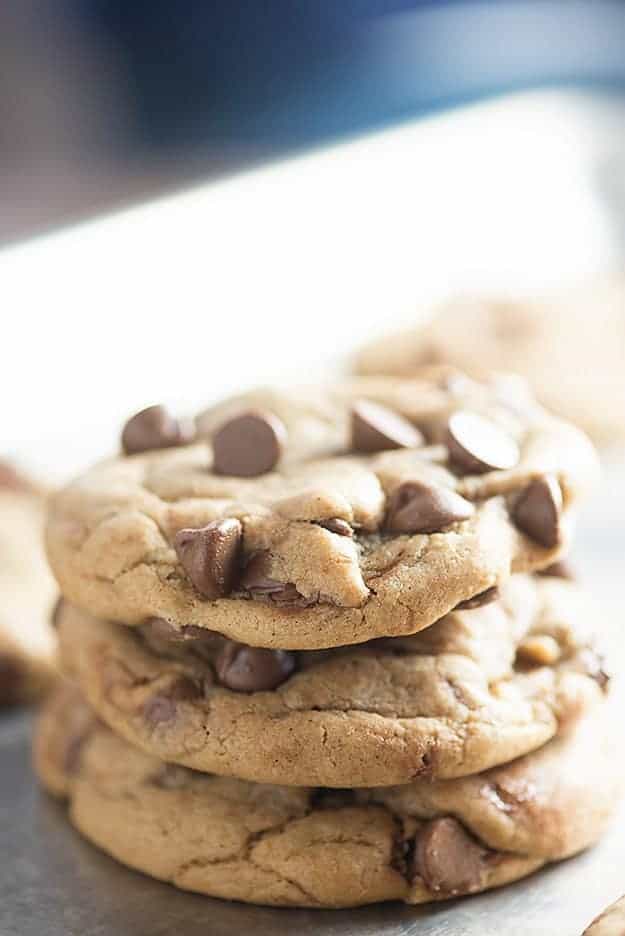 I know. The internet does not need another chocolate chip cookie recipe, right? I mean, who do I think I am showing up here and claiming to have perfected such a simple cookie.
Well, I'm a person who literally has spent years searching for and experimenting with cookie recipes that proclaim to be "the best." I ate a lot of cookies that were good. Many that were great. Not so much on the perfect though.
I mean, some of them were super close, but they required hours of chilling and I'm sorry, when I want a cookie, I want a gosh darn cookie. I don't want a cookie in an hour. I don't want a cookie tomorrow. I want a cookie NOW.
So, I set out to make homemade chocolate chip cookies that didn't need to be chilled. In doing so, I came across a recipe on Allrecipes that calls for melted butter and no chilling. Say what? That's basically the opposite of every good cookie recipe, but what the heck. Doesn't hurt to try.
After all, my dad broke all the rules with his famous homemade biscuits, so maybe breaking the rules is the way to go with cookies too.
I changed the recipe up a bit each time I tried it, writing down what changes made things better and what made things worse. I finally ended up with this recipe.
Why these are perfect:
The cookies are huge. I don't want to eat five small cookies. I want to eat one big cookie. It's just my preference. Mostly because bigger cookies allow for more softer, chewier middles.
These are soft. Like, soft soft. Super soft. The edges don't really get crisp, so if you're looking for crispy edges, keep moving. These things are soft all the way around and all the way through. I love it!
No chilling! You go from cookie craving to cookie making to cookie eating all in just 20 minutes.
No pudding mix in these guys! I like pudding cookies just fine, you guys. They're good! But I don't always have pudding mix on hand and I also think they taste not quite as "classic" as a cookie without pudding.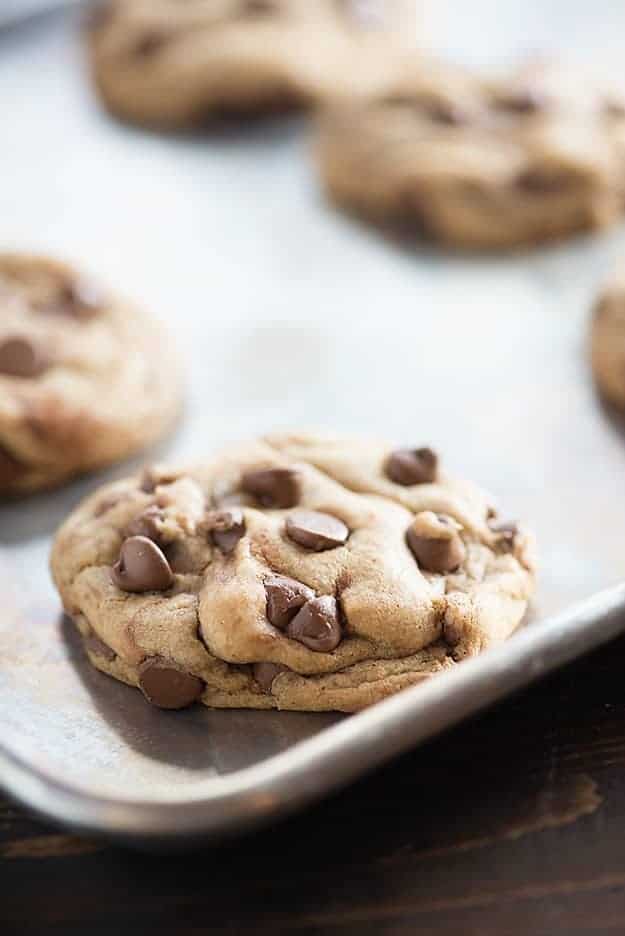 The butter gets melted! What's the big deal about melting the butter? Well, that means you don't have to panic because you forgot to leave butter out on the counter to come to room temperature. You don't have to attempt microwaving it for 8.342 seconds, because any shorter leaves butter that's too hard, but any longer leaves butter that is melted through. Just melt the dang butter and be done with it!
It's a small batch! Okay, okay. This one could go either way. I mean, I like having a cookie jar full of cookies, for sure. But I really like my cookies fresh from the oven! This recipe just makes 9 cookies, so you'll still have a few leftover for tomorrow, but maybe the next day you can make a fresh batch and get them fresh from the oven. It's the best of both worlds.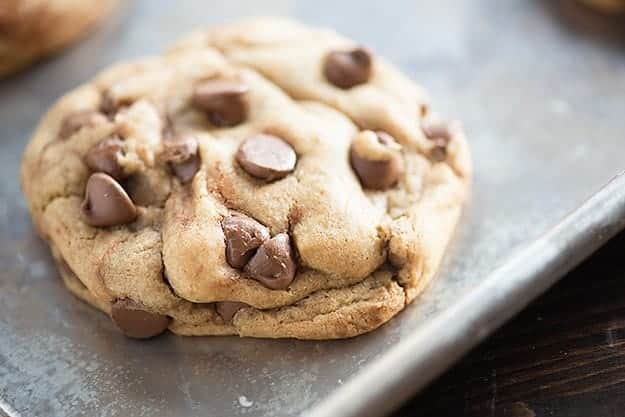 Anyway, I am super curious to know if my homemade chocolate chip cookies are also YOUR perfect chocolate chip cookies! Please oh please, give these a try and report back!
And, in case you're wondering, I also have a recipe for perfect homemade brownies and perfect homemade blondies on the blog! There are some pretty perfect monster cookies, too! Oh, hey, there's brookies too!
Homemade Chocolate Chip Cookies in 20 minutes!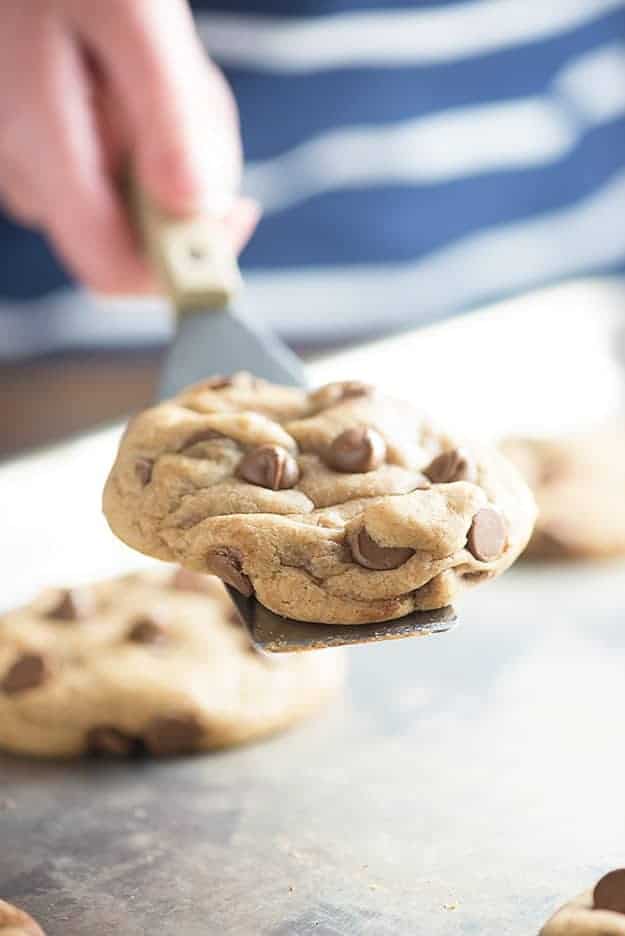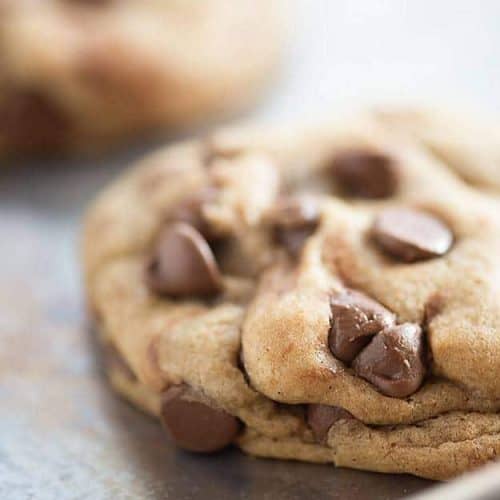 Perfect Chocolate Chip Cookies
When I say that these are the perfect cookies, I truly believe it. Put them to the test and see if you agree!
Prep10 minutes
Cook10 minutes
Total20 minutes
Instructions
Preheat oven to 350 degrees.

Add butter to a small saucepan and cook over medium heat, stirring constantly, until melted. Alternately, melt in the microwave. (Optional step for extra caramel-y flavor: Brown the butter! Keep cooking after the butter has melted. The butter will foam and bubble as it cooks. Once the liquid becomes golden brown remove from the heat and add to the bowl of a stand mixer and let cool for 2 minutes.)

Add the brown sugar, white sugar, and espresso powder to the butter and beat until well combined.

Beat in the vanilla and egg until just combined.

Gradually pour in the flour, baking soda, and salt and mix until just combined.

Stir in the chocolate chips by hand, reserving a few to press onto the tops of the cookie dough, if desired.

Portion into 9 large balls of dough and place on a large baking sheet. Dot the tops with the remaining chocolate chips.

Bake for 11 minutes exactly. Cookies will still be slightly underdone when you remove them from the oven. Do not overbake. Let sit on baking sheet for 5 minutes before removing to a cooling rack or eating.
Tips & Notes:
When I first created this recipe I always browned the butter first. Now I've gotten more lazy and don't bother. I don't notice a huge difference in taste and it saves about 5 minutes to skip the browning step. Either way, these cookies are still our favorite and we still make them every. single. week. Sometimes multiple times. 😉 This recipe doesn't always turn out well when doubling.
Nutrition Information:
Serving: 1cookie| Calories: 361kcal (18%)| Carbohydrates: 48g (16%)| Protein: 4g (8%)| Fat: 17g (26%)| Saturated Fat: 10g (63%)| Cholesterol: 49mg (16%)| Sodium: 187mg (8%)| Fiber: 1g (4%)| Sugar: 29g (32%)