Brookies are a mix of brownies and cookies all baked up in one pan for an easy dessert that everyone loves! You get two favorite desserts in one and we're using our BEST brownie recipe and our BEST cookie dough to make these absolutely irresistible.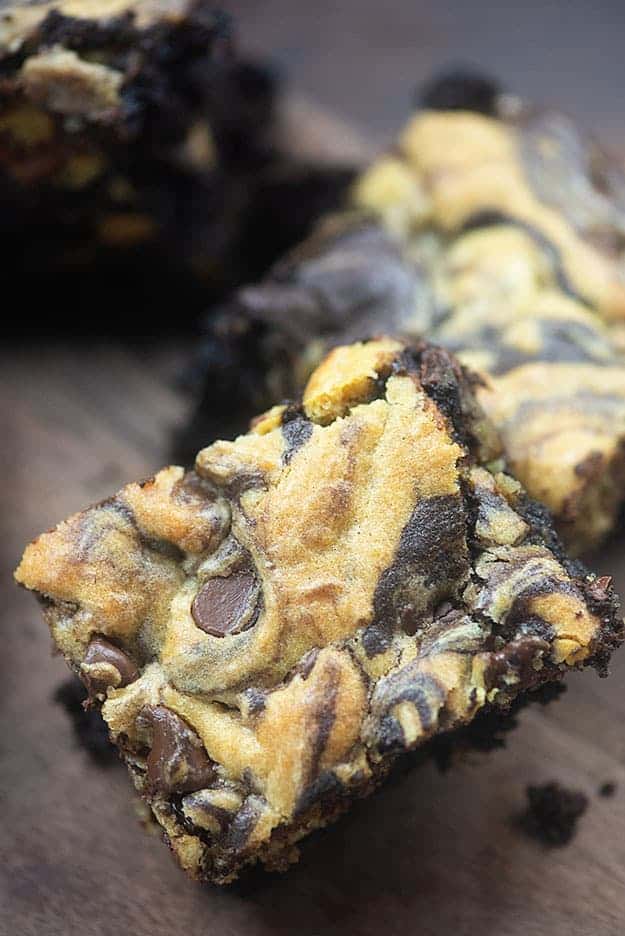 You know how you start a new diet and then all you can think about are sweets?
You're like, if I could have a cookie I would have the best cookie on the planet. (I recommend my perfect chocolate chip cookies.)
But then your brain is like, woah, wait…have you forgotten about brownies? You haven't had dessert in a while because of your stupid diet, which means you need something killer. Like my homemade brownies that are SO thick and SO fudgy they are almost impossible to resist.
BUT THEN, your brain is like girl, why not have both? <– My brain is so great sometimes. Also, this is why I need to diet.
So, that's where brookies come in.
In this brookie recipe, you get my famous chocolate chip cookies and you get my unbelievably fudgy brownies. Plus you're still only eating one dessert which means that you're still totally on your diet, you're just treating yourself a bit and WE ALL DESERVE A TREAT EVERY NOW AND THEN.
Whew. I have feelings about desserts and diets today.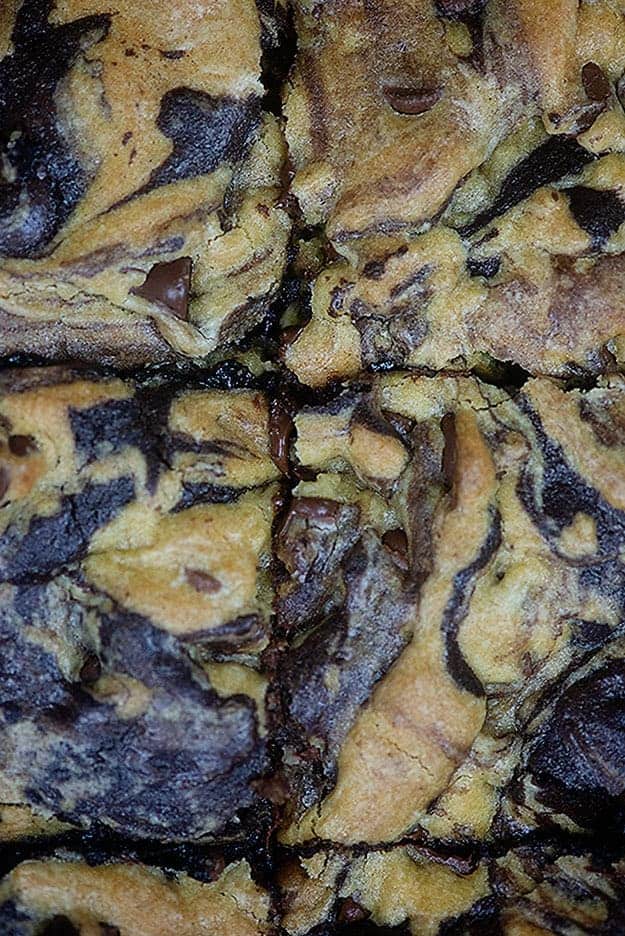 Brookies Ingredient Notes:
This post contains affiliate links. As a member of Amazon and other affiliate programs I earn from qualifying purchases.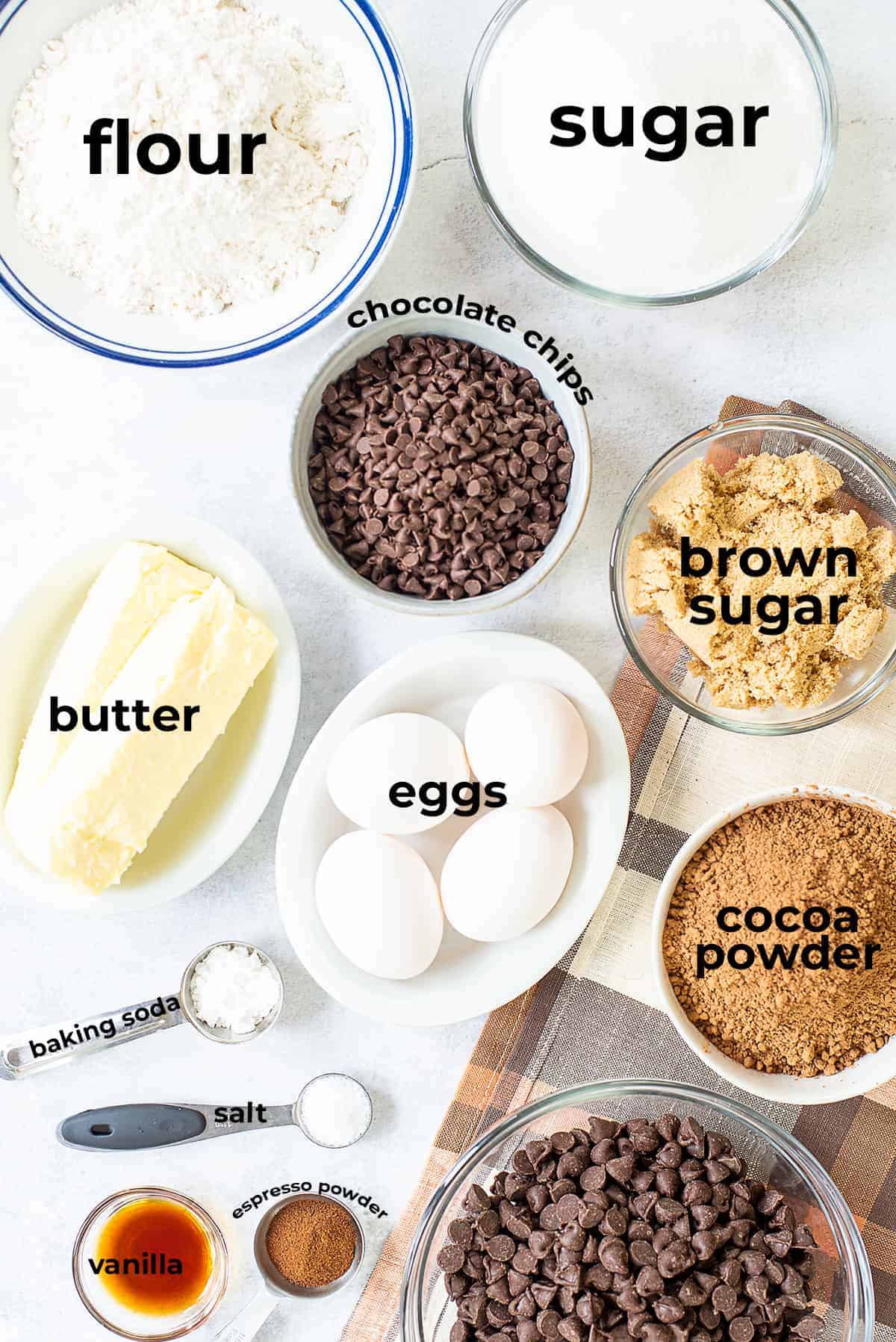 Brownie Batter – You could technically use a boxed mix for the brownies, but that would be cheating and my made from scratch brownies are perfect! You'll need some flour, cocoa powder, eggs, butter, vanilla and a few other ingredients for the best brownie recipe.
Espresso Powder – This is an optional ingredient but I recommend using it. Try out our favorite espresso powder, it really enhances the rich chocolatey flavor of the brownies!
Cookie Dough – Once again we'll be using a made from scratch recipe! You'll need brown sugar, egg, butter, flour and more to make the best cookie dough for this brownie cookie recipe! You could definitely use store bought, refrigerated dough to save yourself some steps.
What Readers are Saying!
"I made these today for a get together. They were… AWESOME!!! Gooey goodness with a scoop of French vanilla ice cream. Couldn't have been more perfect. Thank you for my latest obsession. To anyone else out there who hasn't made any yet: What are you waiting for??!!!" – Michelle
How To Make Brownie Cookies:
Brownies: First up, we're going to whip up a batch of my famous homemade brownies!
This is a pretty standard list of ingredients, but these brownies are magic anyway.
You'll melt some butter and sugar together on the stove, beat in some eggs, and then add in your dry ingredients.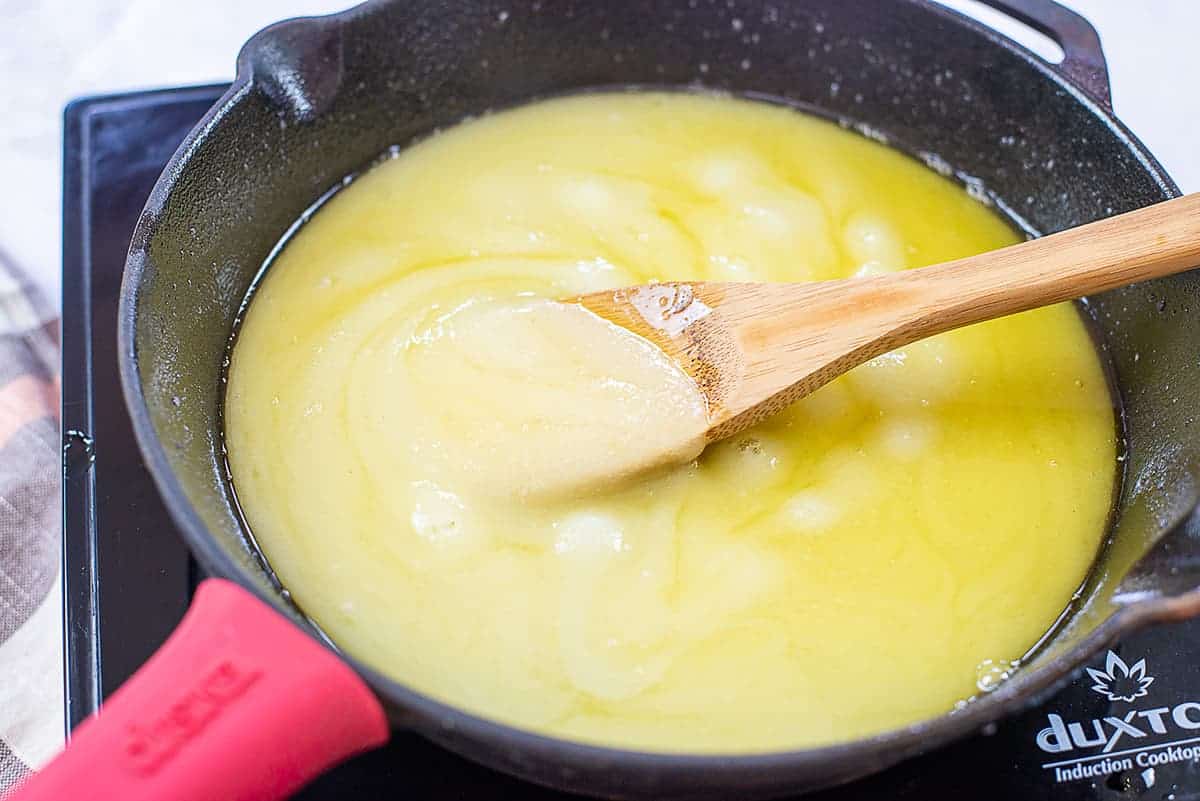 You could skip the espresso powder if you don't have any or if you just don't like incredibly rich, fudgy, decadent brownies. But that is almost criminal.
This brownie recipe creates a really thick brownie batter! Don't be scared of the thickness – it's going to be amazing.
Spread all that brownie mixture into a baking dish and then let's start on the cookie dough.
Cookie Dough: We'll need some cookie dough for these brookies cookies! Start by melting some butter and then stir in some sugar and egg.
Stir in the flour mixture to form a nice soft dough and then fold in some chocolate chips. This chocolate chip cookie dough will be so soft, you'll love it!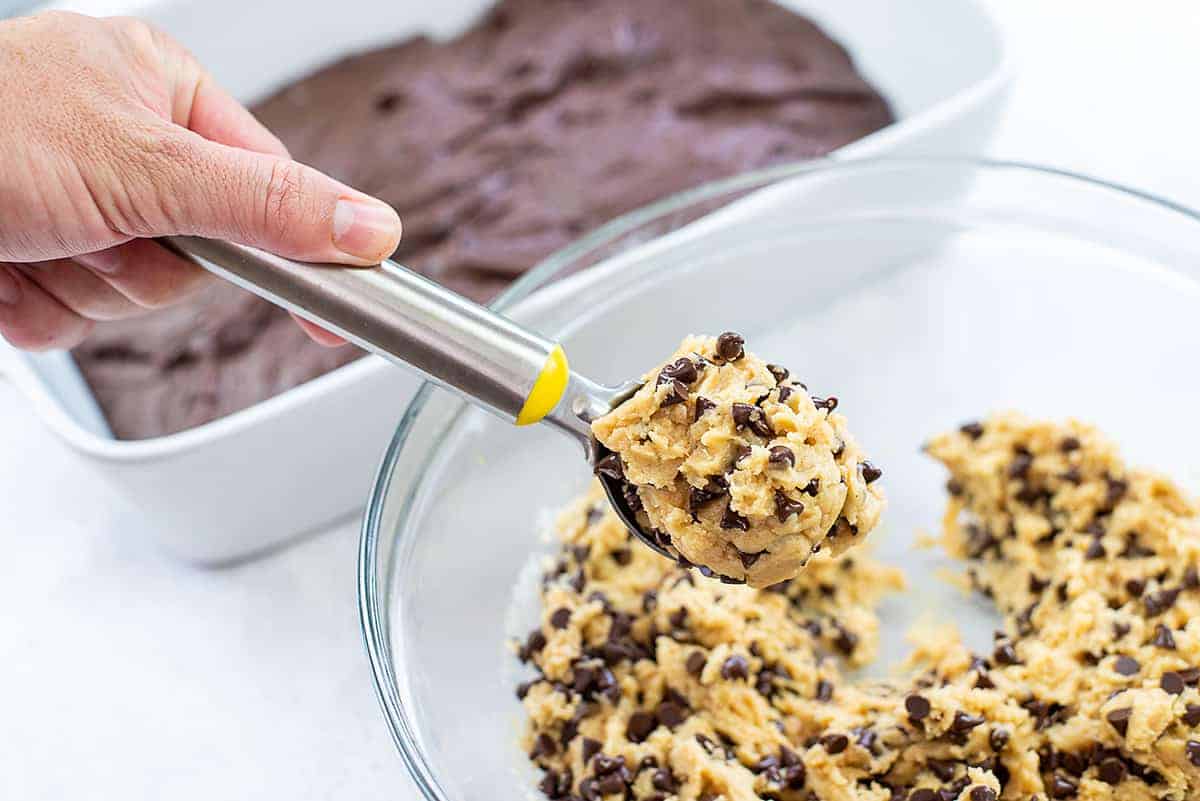 Swirl & Bake: I used a cookie scoop to drop chunks of cookie dough all over the top of the brownie batter. This is the stuff dreams are made of right here.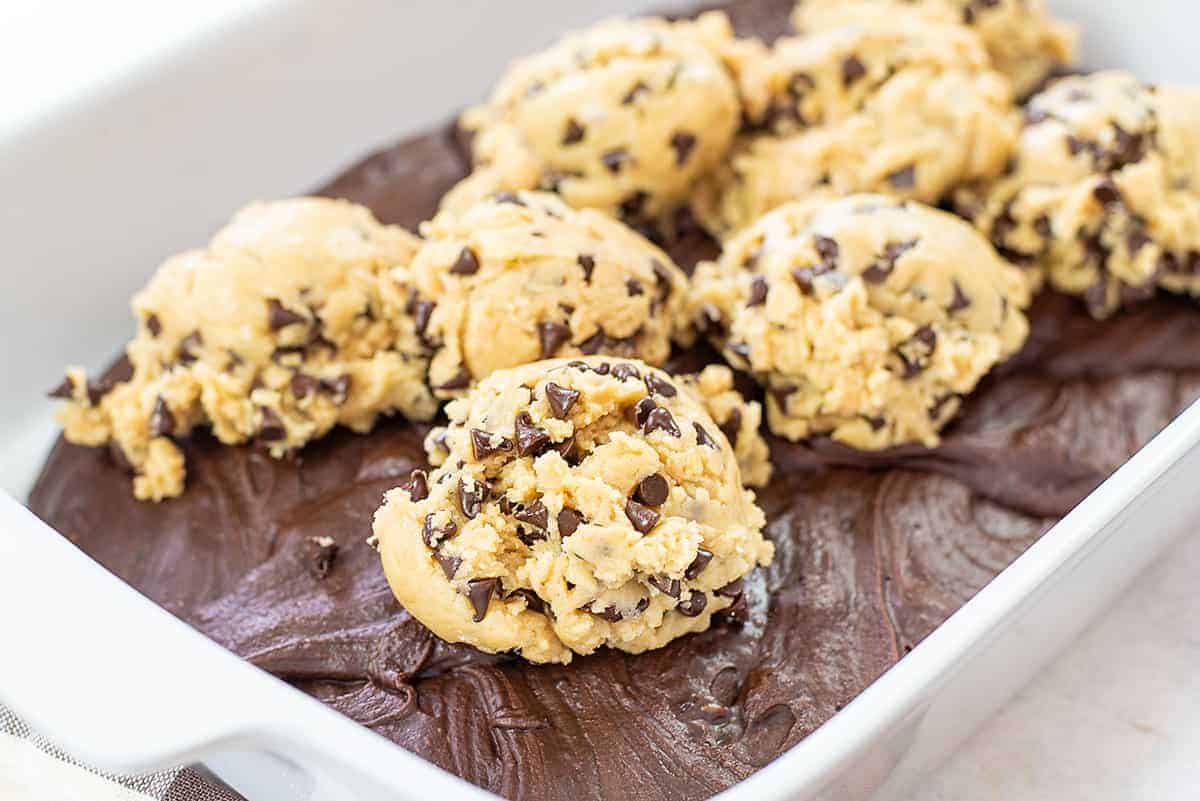 Use a butter knife to swirl the cookie dough and brownie batter all together and then pop the pan in the oven. Be sure to use a well greased baking dish or liner for easy removal.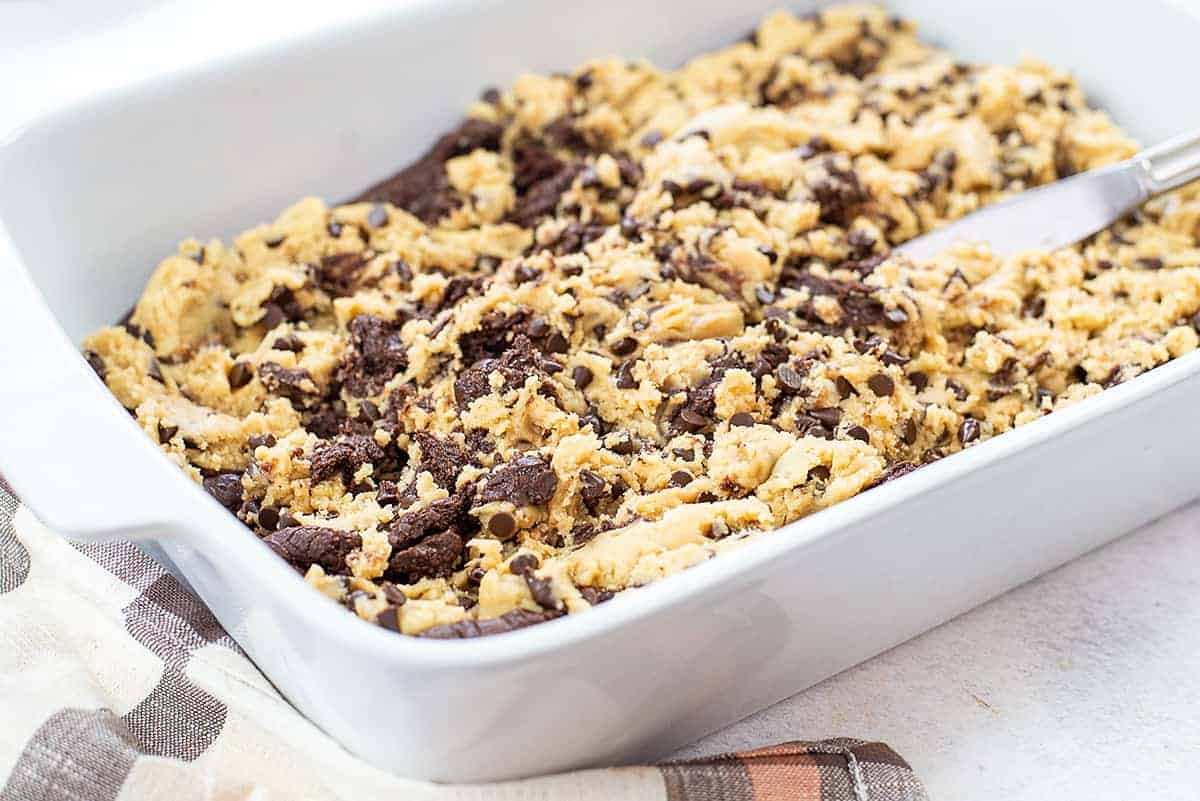 Serve: When the brookies are done, you'll want to let them cool a bit before digging in.
Maybe serve them with a tall glass of cold milk? Milk and brookies are the best! A scoop of ice cream over the top wouldn't hurt either.
These brownie cookies are seriously over the top delicious. If you need a dessert, I vote for these. 😉
FAQs:
What are brookies?
A brookie is the creation of some evil genius who decided to put a brownie and a cookie together. Two heavenly desserts in one delicious bite!
How do you store brookies?
Brookies should be stored in an airtight container for about a week. You can also freeze them and they should remain good for at least a couple of months.
Can I use a boxed brownie mix or store bought cookie dough?
Absolutely! We love our brookies with the homemade recipes listed below, but we understand time is a factor. Box mix brownies and refrigerated dough will work just fine.
MORE AMAZING DESSERT RECIPES TO TRY!
Oatmeal Chocolate Chip Cookies: With peanut butter, because peanut butter makes everything better!
Star-Spangled Brownies: The perfect patriotic themed treat for the 4th of July!
Peach Cobbler: Top this one off with some vanilla ice cream!
Fruity Pebbles Cookies: These are so colorful, chewy, and fruity!
Pound Cake Recipe: So moist and delicious!
Buttermilk Chocolate Cake: Seriously one of the best chocolate cake recipes ever!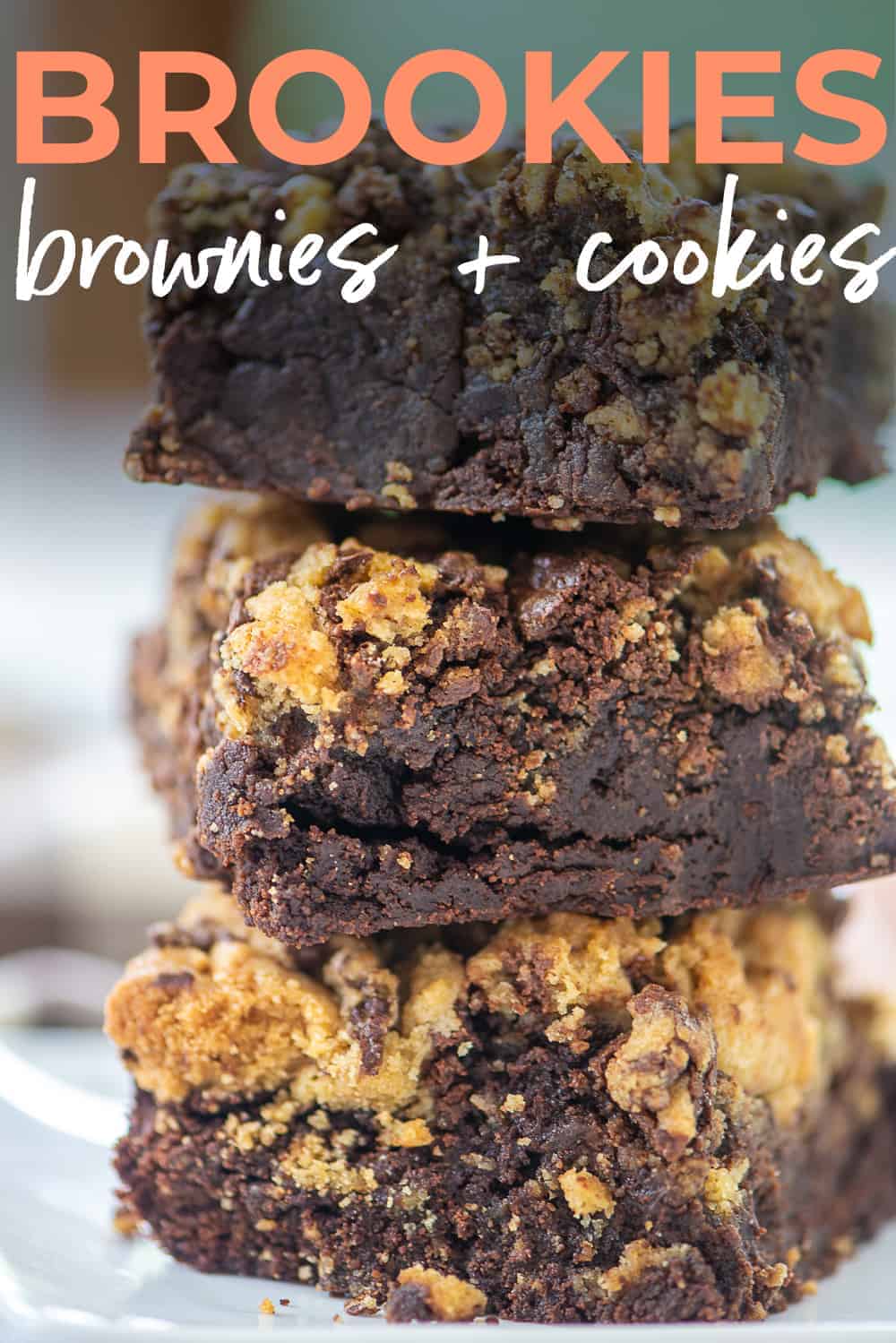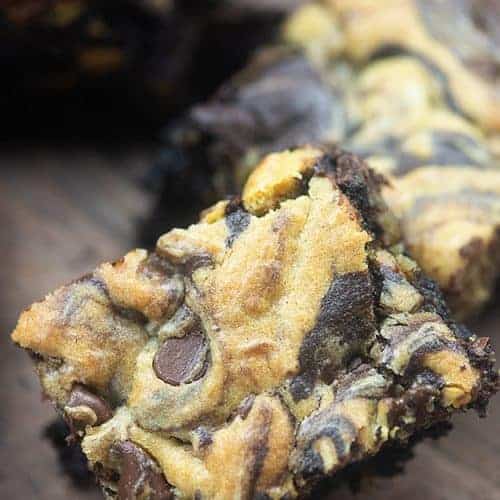 Brookies
Brownies and cookies, all in one! These bake up thick, fudgy, and absolutely irresistible.
Prep20 minutes
Cook30 minutes
Total50 minutes
Ingredients
For the brownies:
1 cup butter
2 1/4 cups sugar
4 large eggs
1 1/4 cups unsweetened cocoa powder
1 teaspoon salt
1 teaspoon baking powder
1 teaspoon espresso powder optional
1 tablespoon vanilla extract
1 1/2 cups all-purpose flour
2 cups semi-sweet chocolate chips
For the cookies:
1/2 cup butter melted
1/2 cup brown sugar
1/4 cup sugar
1 large egg
2 teaspoons vanilla extract
1 2/3 cup all-purpose flour
1 teaspoon baking soda
1/2 teaspoon salt
1 cup mini chocolate chips
Instructions
For the brownies:
Pre-heat the oven to 350 degrees. Butter a 9×13 baking dish.

In small saucepan over low heat, melt butter completely. Stir in sugar and continue cooking for 1-2 minutes, stirring constantly. Do not allow sugar mixture to boil.

Pour butter mixture into a large bowl or stand mixer, beat in cocoa powder, eggs, salt, baking powder, espresso powder, and vanilla extract. Mix until well combined.

Stir in the flour and chocolate chips until well combined.

Spread the brownie batter into a greased 9×13 baking dish and set aside.
For the cookies:
Preheat the oven to 350 degrees.

Add the melted butter, brown sugar, and white sugar to a large mixing bowl and stir well to combine.

Stir in the egg and vanilla until smooth.

Add the flour, baking soda, and salt to the mixing bowl and stir well to combine. Stir in the chocolate chips cookies.

Use a cookie scoop to drop cookie dough over the brownie batter. Use a butter knife to swirl the batter and dough together.

Bake for 25-30 minutes or until a knife inserted an inch from the edge comes out nearly clean.

Cool before cutting into 16 squares and serving.
Tips & Notes:
If you prefer less cookie dough in your brookies, reserve some of the dough to bake as normal cookies. Bake at 350 degrees for about 8 minutes or until they look just slightly underdone. Cool on the hot baking sheet. The espresso powder is optional, but does help deepen the flavor of the chocolate. It will not make your brownies taste like coffee.
Nutrition Information:
Serving: 1piece| Calories: 618kcal (31%)| Carbohydrates: 80g (27%)| Protein: 7g (14%)| Fat: 31g (48%)| Saturated Fat: 18g (113%)| Cholesterol: 106mg (35%)| Sodium: 474mg (21%)| Potassium: 318mg (9%)| Fiber: 5g (21%)| Sugar: 53g (59%)| Vitamin A: 655IU (13%)| Vitamin C: 0.1mg| Calcium: 70mg (7%)| Iron: 4mg (22%)