Fruity Pebbles Cookies are soft, chewy, and loaded with colorful, fruity cereal. They're the perfect excuse to eat cookies for breakfast!
It's no secret that my husband raids the cookie jar for breakfast every morning.
When he sees me baking up cookies, he reminds me to save him a few for breakfast and he grabs them first thing with his cup of coffee.
Now, before you go thinking that we only bake healthy cookies in this house and that's why he eats them for breakfast, let me just assure you that this is not the case. The man just likes cookies a lot. 😉
But, hey…our banana oatmeal cookies, peanut butter banana cookies, and ranger cookies all at least have a few healthy ingredients like oats, bananas, and protein packed peanut butter. They're still not really made for breakfast, but just close your eyes and pretend.
That brings me to our latest cookie recipe…These Fruity Pebbles Cookies! They're packed full of fruity, colorful cereal which gives the cookie a unique fruity flavor.
We started these with a twist on the dough for our perfect chocolate chip cookies, which means that you don't have to wait for butter to come to room temp (we just melt it in the microwave!) and there is no chilling of the dough (which means you get to eat cookies in about 15 minutes)! These bake up thick and soft and oh so delicious every time.
Ingredients Notes:
Butter – Most cookies call for room temperature butter, we created this dough to work with melted butter. The cookies bake up nice and thick every time.
Sugars – Both white sugar and brown sugar.
Fruity Pebbles – These are obviously the 'secret' ingredient here and we don't skimp! I wouldn't recommend adding more than called for or the cookie texture changes. We tested this with different amounts up to 1 1/2 cups of cereal and we can tell you that the sweet spot is just 1 cup.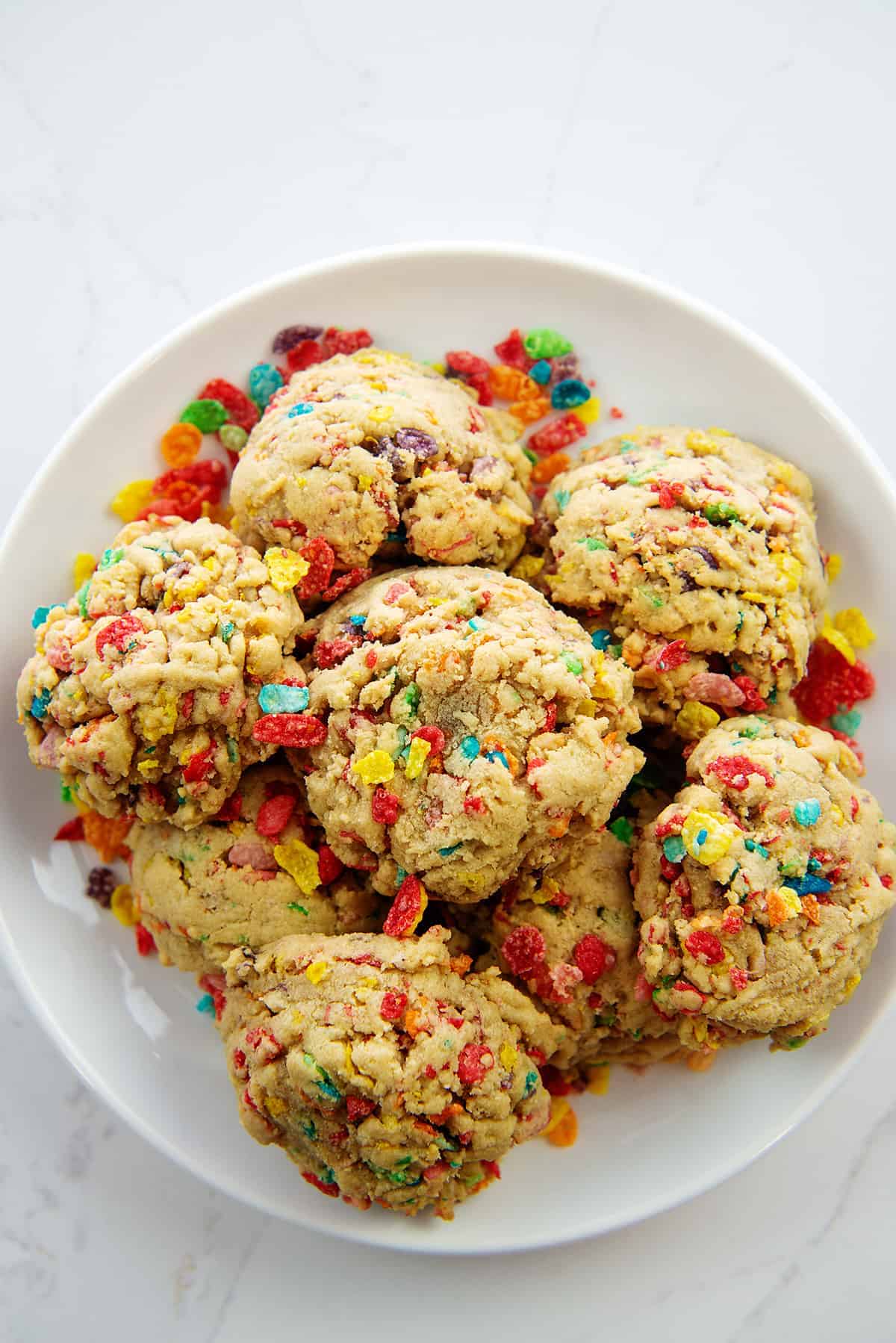 How to Make Cereal Cookies:
Mix: It's always nice to not have to make a huge mess when baking, and these cereal cookies are so easy because everything gets mixed in one bowl!
To start making the cookie dough, combine the melted butter and sugars in the mixing bowl. Beat in the egg and vanilla and finally mix in the flour, baking soda, and salt. We'll finish the dough up in the next step, my favorite part!
Helpful Tip!
No mixer? No problem!
This dough is a dream to work with, thanks to the melted butter and ratio of dry ingredients. It's very soft and pliable and you'll easily be able to stir it together by hand. Of course, if you have a mixer, that works great too!
Fruity Pebbles: With the rest of the ingredients combined, all that's left to add is the cereal! The Fruity Pebbles adds a ton of colorful, fruity, chewy goodness to these cookies.
Go ahead and start mixing the cereal in with the dough, preferably by hand so that it doesn't get all crushed and crumbly.
Scoop: If you have a large cookie scoop now would be the time to use it! Portion the dough into twelve evenly sized balls and place them on a baking sheet. We're nearly there!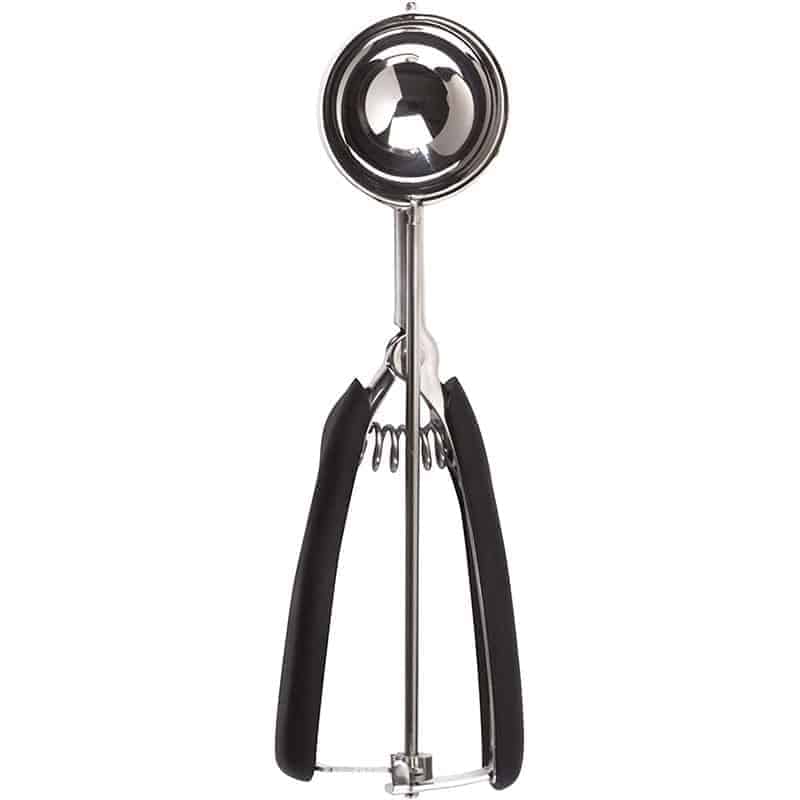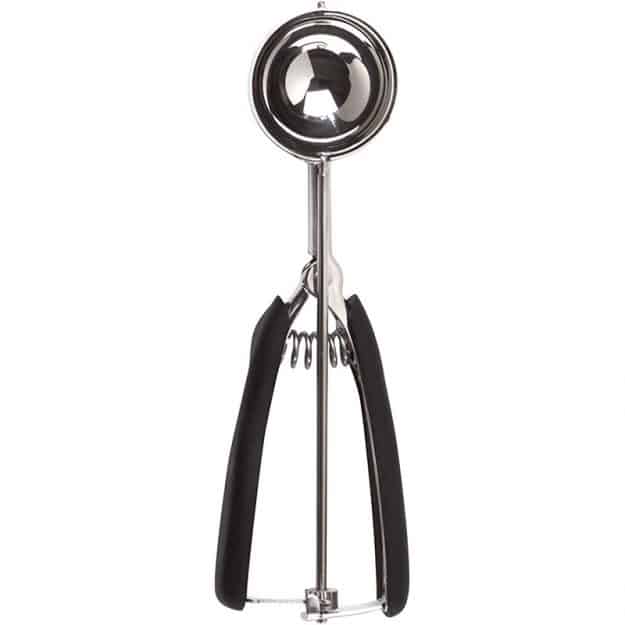 We use cookie scoops for everything from baking cookies to scooping meatballs to easily filling muffin tins.
Bake: All that's left now is to put the baking sheet in the oven and wait! But not for long, these cookies take exactly ten minutes to bake. You really don't want to overbake these either!
Let them cool and serve with a glass of cold milk, the perfect combination for cookies and cereal!
Helpful Tip!
Cookie Baking Tips
Use a cookie scoop so that each cookie is the same size. This will help them bake more evenly.
Do NOT overbake these cookies! They should be just set on top, but still look a bit underdone. They'll firm up as they set on the hot baking sheet to cool.
Speaking of cooling, these will need at least 5 minutes to set up before you try to eat them. If you take them off the cookie sheet too soon, they'll fall apart.
Fruity Pebbles Cookie Glaze:
Love a little extra something on your cookies? You'll want to whip up a simple glaze to drizzle over the top of these!
To make a Fruity Pebbles glaze, just soak a 1/2 cup of Fruity Pebbles in a cup of milk for 10 minutes or so. Strain out the cereal and whisk the milk with powdered sugar to reach the consistency you like.
Drizzle the fruity glaze over your cookies using a spoon or, for more of a frosted look, dip the tops of the cookies directly in the bowl of glaze!
Mix It Up!
Not a fan of Fruity Pebbles? Give these cereal cookies a try with your favorite cereal. Cocoa Pebbles are an obvious choice, but any small shaped cereal should work!
FAQ's:
What's the secret to soft, chewy cookies?
Using melted butter and more brown sugar than granulated sugar creates a cookie that is softer and chewier. The ratio of flour is also important as too much flour will make for a dry cookie.
My cookies still look underdone. Should I really remove them from the oven after 10 minutes?
Yes, go ahead and pull the cookies from the oven at 10 minutes and let them cool on the hot baking sheet for at least 5 minutes before handling them. They'll continue to set up as they cool and will turn into perfectly soft, chewy cookies by the time they're completely cooled.
More cereal favorites!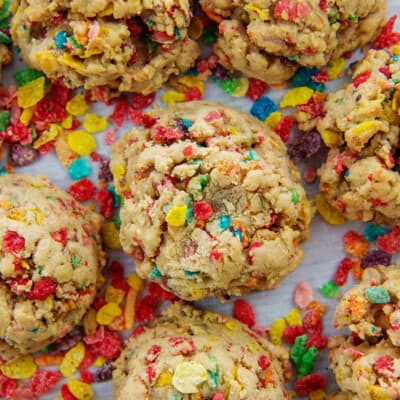 Fruity Pebbles Cookies
These cookies bake up thick and chewy and just bursting with colorful Fruity Pebbles. These are the perfect excuse to eat cookies for breakfast.
Prep10 minutes
Cook10 minutes
Total20 minutes
Ingredients
8 tablespoons butter
1/2 cup brown sugar
1/4 cup white sugar
2 teaspoons vanilla extract
1 large egg
1 1/2 cups flour
1/2 teaspoon baking soda
1/2 teaspoon salt
1 cup Fruity Pebbles cereal
Instructions
Preheat oven to 350 degrees.

Melt the butter in the microwave and place in a large mixing bowl.

Add the brown sugar and white sugar to the butter and stir until well combined.

Mix in the vanilla and egg until just combined.

Add the flour, baking soda, and salt and mix until just combined.

Stir in the Fruity Pebbles by hand, reserving a few to press onto the tops of the cookie dough, if desired.

Portion into 12 balls of dough and place on a large baking sheet.

Bake for 10 minutes exactly. Cookies will still be slightly underdone when you remove them from the oven. Do not overbake.

Let sit on baking sheet for 5 minutes before removing to a cooling rack or eating.
Tips & Notes:
Cookies should still look underdone when you remove them from the oven. They'll finish cookie and set up as they cool on the hot baking sheet. Store cookies in an air tight container for 3-4 days. They will stay nice and soft, so long as you don't overbake them.
Nutrition Information:
Serving: 1cookie| Calories: 196kcal (10%)| Carbohydrates: 28g (9%)| Protein: 2g (4%)| Fat: 8g (12%)| Saturated Fat: 5g (31%)| Polyunsaturated Fat: 1g| Monounsaturated Fat: 2g| Trans Fat: 1g| Cholesterol: 36mg (12%)| Sodium: 239mg (10%)| Potassium: 40mg (1%)| Fiber: 1g (4%)| Sugar: 14g (16%)| Vitamin A: 339IU (7%)| Vitamin C: 1mg (1%)| Calcium: 15mg (2%)| Iron: 1mg (6%)