September 12, 2018
Ranger Cookies
These ranger cookies are loaded with all kinds of good for you things! My husband eats them for breakfast!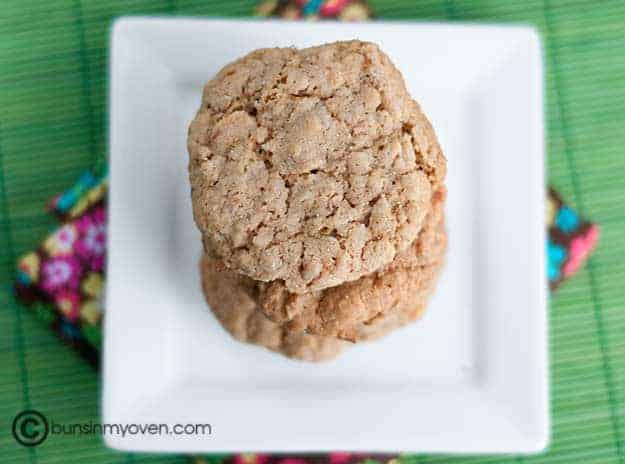 I don't know about y'all, but I think cookies are pretty darn yummy. My kids love them, my husband eats them for breakfast, and I like to eat the cookie dough before it makes it to the oven. Don't tell anyone I said that last part though, okay?
These ranger cookies aren't as good for eating raw because of all the oats, but once they are baked up they are just delicious.
They have a more "grown up" taste…not too sickly sweet like a lot of cookies can be. That being said, my kids were happy to eat a handful of cookies each in one sitting. I didn't mind too much because these really are chock full of good things.
Sure, there's sugar and butter and a sprinkling of chocolate chips, but there are also oats, peanuts, whole wheat flour, and (Have you had your) Wheaties (today?). Healthy cookies! Hallelujah!
You see how my little cookie dough balls are all pretty uniform in size? Well, that's because I use a cookie scoop and let me be honest for one second here: The cookie scoop is one of my most favorite gadgets in the kitchen. True story.
When I was younger my mama used to tell me (repeatedly) to make sure the cookies were all the same size. I hated that rule, because sometimes you just want a couple of extra large cookies mixed in there for you and your little brother to fight over.
Also, it's kinda hard to get all that dough into the same sized ball!
My mama wasn't having it, though. I thought she was just mean, so when I first baked cookies on my own I made them all sorts of different sizes. I was rebelling. I was going to TEACH HER A LESSON.
Turns out my mama knew what she was talking about and I was left with a bunch of undercooked and overcooked cookies.
You don't even want to know the things I shouted when I pulled those cookies out of the oven.
Ranger Cookies
Servings: 36 servings
Course: Dessert
Cuisine: American
Keyword: easy cookie recipes, easy dessert recipes, kid-friendly recipes
Calories: 192 kcal
These ranger cookies are loaded with all kinds of good for you things! My husband eats them for breakfast!

Ingredients
2 cups packed brown sugar
1 cup butter softened
1 teaspoon vanilla
2 large eggs
2 cups whole wheat flour
2 cups rolled oats
1 teaspoon baking powder
1 teaspoon baking soda
1 1/2 cups Wheaties cereal
1 cup salted peanuts
1 cup milk chocolate chips optional
Instructions
Preheat oven to 350 degrees.

Cream together the butter and sugar.

Beat in the eggs and vanilla.

Stir in the flour, oats, baking powder, and baking soda.

When well combined, mix in the Wheaties, peanuts, and chocolate chips.

Place rounded tablespoons full of dough (or be like me and use a cookie scoop!) on an ungreased cookie sheet. Place dough balls about 2 inches apart. Flatten each cookie slightly with a glass bottom dipped in sugar.

Bake 10-12 minutes, cool on cookie sheet for 1 minute and then remove to cooling rack.
Nutrition Facts
Ranger Cookies
Amount Per Serving
Calories 192 Calories from Fat 81
% Daily Value*
Total Fat 9g 14%
Saturated Fat 4g 20%
Cholesterol 24mg 8%
Sodium 114mg 5%
Potassium 118mg 3%
Total Carbohydrates 25g 8%
Dietary Fiber 2g 8%
Sugars 15g
Protein 3g 6%
Vitamin A 4.3%
Calcium 3.4%
Iron 6.6%
* Percent Daily Values are based on a 2000 calorie diet.
Nutrition Disclaimer: All information presented on this site is intended for informational purposes only. I am not a certified nutritionist and any nutritional information shared on bunsinmyoven.com should only be used as a general guideline.