Chocolate Peanut Butter No Bake Cookies – I dressed them up for Christmas but you can use any kind of sprinkles you like for other holidays or skip the sprinkles altogether and eat these year round!
No bake oatmeal cookies were one of my husband's favorite cookies when he was a kid, but I had never had them until he introduced me to that fudgy goodness!
I can't believe I missed out on all those years of easy no bake cookies. Was life even worth living without a good no bake cookie?! Probably not, but here I am anyway. 😉
Anyway, in my house, we add peanut butter to everything so these are obviously chocolate peanut butter no bake cookies.
My friend skips the peanut butter and uses coconut, which…no. I think she's making some poor choices, but whatever. Her house, her cookies.
Let me show you how easy no bake oatmeal cookies are!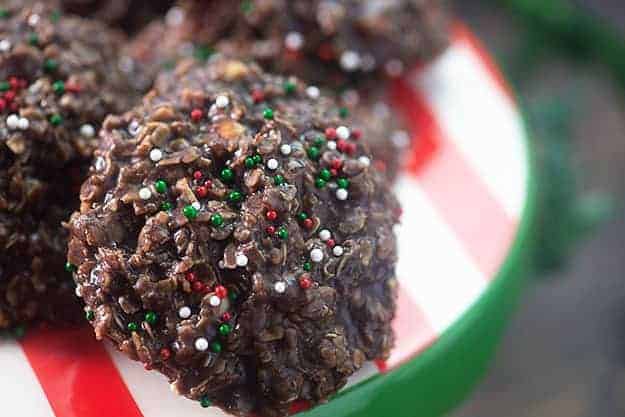 How to make no bake cookies:
You'll gather up your ingredients: butter, sugar, milk, peanut butter, cocoa, oats, vanilla, and salt.
Add the butter, sugar, milk, and cocoa to a sauce pan over medium heat and whisk that all up as the butter melts.
Once the butter is melted, bring it to a boil and let it boil for one minute.
Stir in the peanut butter, oats, vanilla, and a pinch of salt. The mixture should be looking pretty amazing right about now.
I use a small cookie scoop (affiliate link) to drop these onto a parchment lined baking sheet.
The cookies will start to set pretty quickly, so once you've dropped them onto your cookie sheet, grab those sprinkles and go at it.
You could use pastels for Easter, pink and white for Valentine's Day, orange and purple for Halloween…you get the idea. Dress these up for whatever holiday you're celebrating or skip the sprinkles altogether for a more classic looking treat.
Let the cookies set up on the counter for an hour or so. To speed up the process pop them in the fridge or freezer!
These no bake cookies are beyond easy, but here are a few frequently asked questions:
Can no bake cookies be frozen?
Absolutely! These are really easy to freeze – just place your cookie sheet in the freezer for 2 hours and then transfer the cookies from the cookie sheet to a freezer bag.
They should last in the freezer for about 3 months.
Just bring to room temperature before serving.
Can you make no bake cookies with old fashioned oats?
You can! I call for quick oats in this recipe, but old fashioned oats work just as well!
Old fashioned oats are just thicker than quick oats. Either works!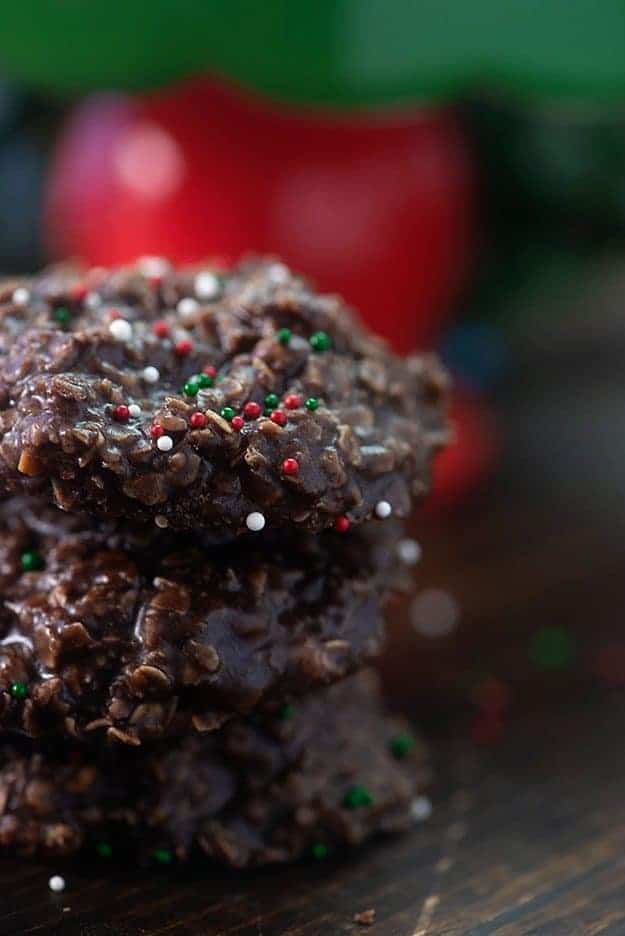 How to store no bake cookies?
Let your cookies set on the baking sheet to fully harden before removing them to an air-tight container.
You can store them in the refrigerator or on the counter for about a week.
Why won't my no bake cookies set?
No bake cookies are so easy, but sometimes they're a bit finicky too.
I call for fully boiling (not just simmering) the sugar mixture for 1 minute and that should be just enough time to let the cookies set up without making them dry and crumbly.
If you boil for too short of a time, the cookies won't set. Too long and you'll get dry crumbly cookies.
I recommend one full minute at a good, hard boil.
Are no bake cookies gluten free?
They can be! You'll just want to be sure you're buying gluten free oats. Check your package!
More cookie recipes you'll love:
White Chocolate Macadamia Nut Cookies: One of my husband's all time favorites!
Peanut Butter Oatmeal Chocolate Chip Cookies: Softest cookies EVER!
Rolo Cookies: Chocolate cookies oozing with caramel!
Graham Cracker Cookies: Graham cracker crumbs are baked right in the cookies!
Oreo Stuffed Chocolate Chip Cookies: A cookie in a cookie!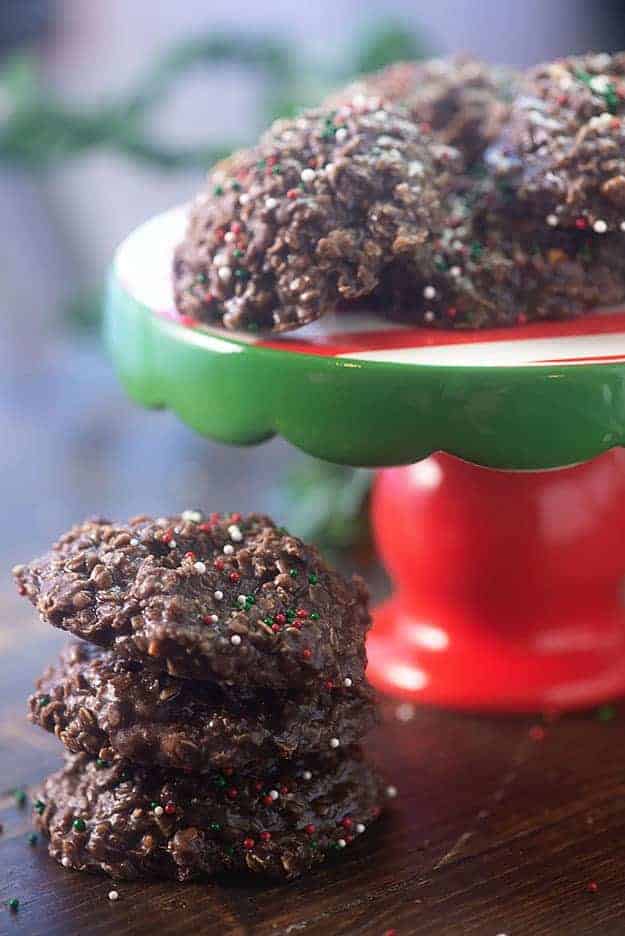 Chocolate Peanut Butter No Bake Cookies
No bake cookies made with cocoa and peanut butter!
Prep5 minutes
Cook5 minutes
Cooling Time1 hour
Total10 minutes
Ingredients
2 cups sugar
1/2 cup milk
1/2 cup butter
1/4 cup cocoa powder
1/2 cup chunky peanut butter
3 cups quick cooking oats
1 teaspoon vanilla extract
1/8 teaspoon salt
sprinkles
Instructions
Add the sugar, milk, butter, and cocoa powder to a large sauce pan over medium heat. Stir occasionally until butter has fully melted and ingredients are combined.

Bring to a full boil, stirring often. Boil for 60 seconds.

Remove from the heat and stir in the oats, peanut butter, vanilla, and salt. Stir well to combine.

Use a small cookie scoop or dinner spoon to drop the cookies onto a parchment lined baking sheet.

Immediately pour the sprinkles over the tops of the cookies.

Let cookies set on the counter for 1 hour or in the fridge for 30 minutes to firm up before transferring to an air-tight container.
Tips & Notes:
You may use creamy peanut butter if you prefer.
Nutrition Information:
Serving: 1cookie| Calories: 138kcal (7%)| Carbohydrates: 20g (7%)| Protein: 2g (4%)| Fat: 6g (9%)| Saturated Fat: 2g (13%)| Cholesterol: 8mg (3%)| Sodium: 58mg (3%)| Potassium: 72mg (2%)| Fiber: 1g (4%)| Sugar: 14g (16%)| Vitamin A: 100IU (2%)| Calcium: 12mg (1%)| Iron: 0.6mg (3%)