These rolo cookies are just 4 ingredients and perfect for holiday baking! The surprise caramel inside each soft and chewy chocolate cookie is absolute perfection!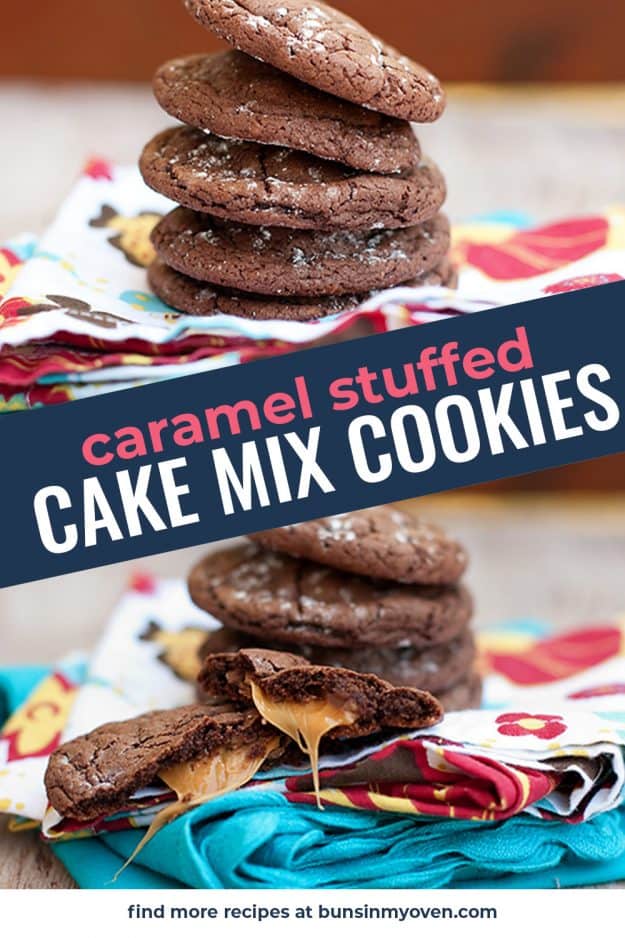 Let me take you back in time about 20-ish years ago.*
I was sitting in the kitchen unwrapping a bunch of caramel candies or Hershey kisses or Rolo candies or Reese's or any number of other individually wrapped pieces of deliciousness. I was planning on putting the candy in some sort of baked good and there I was.
Unwrapping.
And unwrapping.
More and more and more all day long and into the evening I sat there unwrapping those candies.
Finally I yelled out to my husband and said, "Husband! I've just had a brilliant idea!"
My husband came running to hear this idea.
"We'll have children! Many, many children! And they'll think it is SO FUN to help me out in the kitchen and so I'll give them the horrible job of unwrapping the candies!"
My husband's jaw dropped for he was in awe of his brilliant wife. Then we went and made babies. With our clothes on, obviously. (Hi Mom and Dad!)
The moral of that story is this: If you do not have children you should really fix that. They make excellent unwrappers of candy and they even think the job is fun.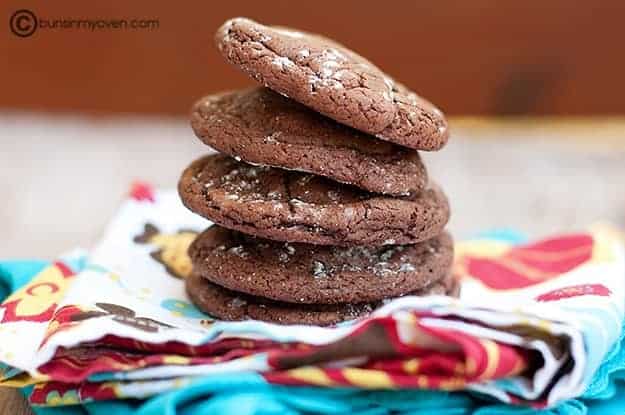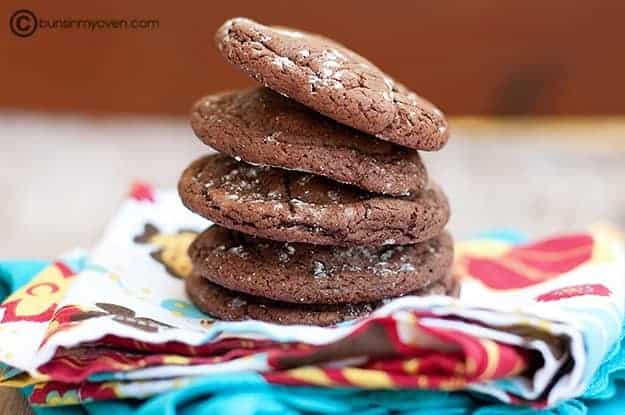 Of course, now they make a lot of candies that are just unwrapped in a bag. What do I even need these kids for now? 😉
*This story is totally false. 20-ish years ago I made only one dessert and that was slice and bake sugar cookies purchased from the grocery store and served raw.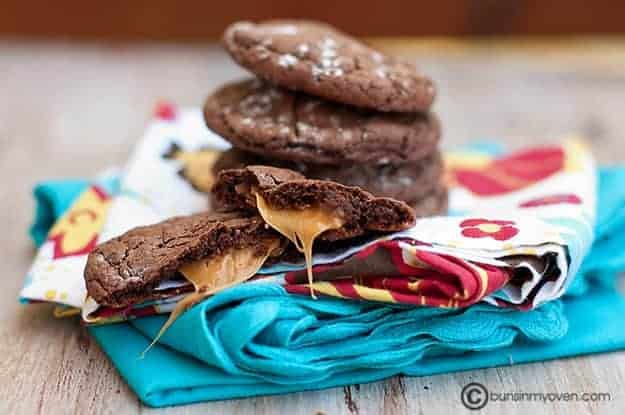 How to Make Rolo Cookies:
Mix: The first step is to mix together the dough that will be filled with the Rolo candies. These cake mix cookies make a perfectly sweet, gooey combination of chocolate and caramel!
While your oven is pre-heating to 350 degrees, mix together the first three ingredients to make the dough.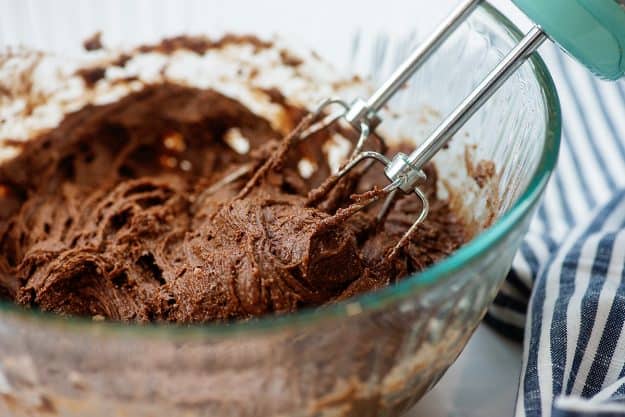 Add the Rolos: These wouldn't be Rolo cookies without the candy! When the dough is ready and your children have finished all the unwrapping work, hopefully without eating all of the candy (the costs of child labor), start adding the Rolos to the dough.
Roll a small piece of dough into a ball (about golf-ball sized), and smash it flat in your hand. Place a Rolo in the center and close the dough around it.
The dough will be sticky. To prevent it from sticking to your hands, spray your hands with non-stick spray. Repeat as needed.
Bake & Serve: After rolling all of the dough and candies together, bake on a parchment lined cookie sheet for about 9 minutes.
Don't forget to add some powdered sugar for a topping!
These are best served warm, with a gooey caramel and chocolate center but are also great at room temperature! The Rolo caramel stays soft regardless!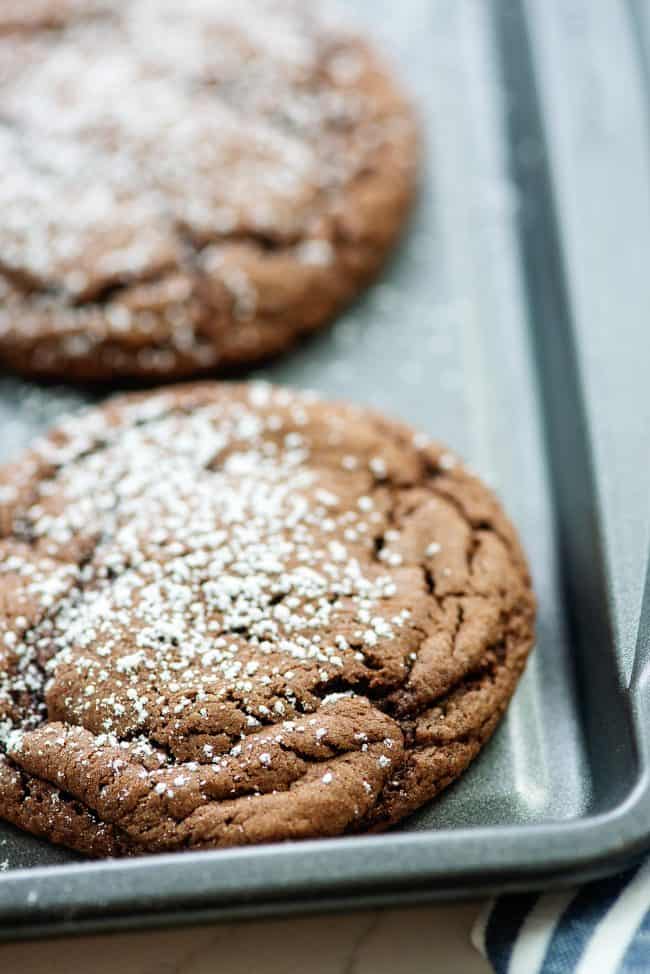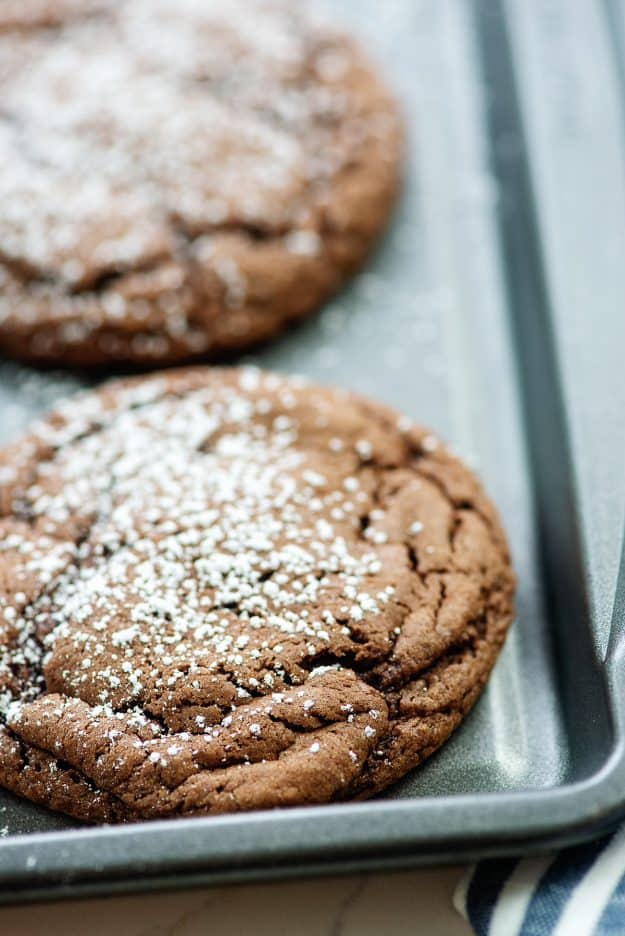 Substitutions:
Maybe you don't have Rolo candies on hand? Or maybe your children ate them all (or you did, and you blamed them. Admit it). Do not panic. You can use many different candies besides Rolos in this recipe. Some options to consider:
Snickers (Either the minis or chopped up bars)
Hershey's Kisses
Mini Reese's
If it has chocolate or caramel and you can fit it inside a cookie, it's probably going to taste good.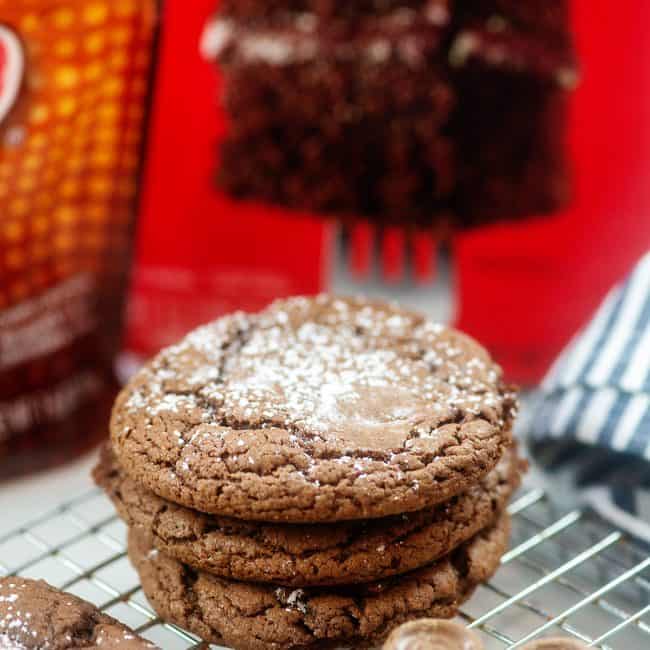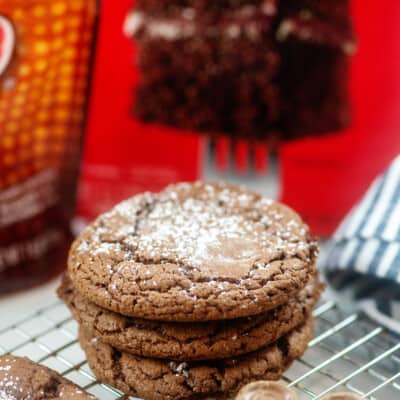 Rolo Cake Mix Cookies
With only 4 simple ingredients, kids will love helping bake these gooey, chocolatey cookies!
Prep15 minutes
Cook9 minutes
Total24 minutes
Ingredients
1 box Devil's Food cake mix
2 large eggs
1/3 cup oil
18 Rolo candies unwrapped
Instructions
Preheat oven to 350 degrees. Line a cookie sheet with parchment.

Mix together the first three ingredients until well combined.

Chill dough for 30 minutes in the refrigerator.

Spray your hands with non-stick cooking spray and then use a medium cookie scoop to scoop out dough. Roll the dough into a ball. Smash it flat in your hand and place a Rolo in the center. Close the dough around the Rolo. Repeat until all of the dough is used.

Bake for about 9 minutes. Sprinkle with powdered sugar.

Serve warm or at room temperature.
Tips & Notes:
Both chilling the dough and spraying your hands with non-stick spray will help keep the cookie dough from sticking to your hands. Add more cooking spray as needed.
Nutrition Information:
Serving: 1cookie| Calories: 176kcal (9%)| Carbohydrates: 22g (7%)| Protein: 2g (4%)| Fat: 10g (15%)| Saturated Fat: 2g (13%)| Cholesterol: 21mg (7%)| Sodium: 217mg (9%)| Potassium: 98mg (3%)| Fiber: 1g (4%)| Sugar: 13g (14%)| Vitamin A: 37IU (1%)| Vitamin C: 1mg (1%)| Calcium: 48mg (5%)| Iron: 1mg (6%)
This post was originally published in 2011. It was updated October 2020 with new photos and more detail for getting perfect Rolo cookies every time.