August 8, 2018
Rolo Cake Mix Cookies
These rolo cookies are just 4 ingredients and perfect for holiday baking! The surprise caramel inside each soft and chewy chocolate cookie is absolute perfection!

Let me take you back in time about 12-ish years ago.*
I was sitting in the kitchen unwrapping a bunch of caramel candies or Hershey kisses or Rolo candies or Reese's or any number of other individually wrapped pieces of deliciousness. I was planning on putting the candy in some sort of baked good and there I was.
Unwrapping.
And unwrapping.
More and more and more all day long and into the evening I sat there unwrapping those candies.
Finally I yelled out to my husband and said, "Husband! I've just had a brilliant idea!"
My husband came running to hear this idea.
"We'll have children! Many, many children! And they'll think it is SO FUN to help me out in the kitchen and so I'll give them the horrible job of unwrapping the candies!"
My husband's jaw dropped for he was in awe of his brilliant wife. Then we went and made babies. With our clothes on, obviously. (Hi Mom and Dad!)
The moral of that story is this: If you do not have children you should really fix that. They make excellent unwrappers of candy and they even think the job is fun.
Rolo cookies are seriously good.
Do not attempt these cookies without children as the most time consuming  and annoying part of making these is the unwrapping of the Rolo candies and I don't want you all to grumble and curse at me under your breath. Just find a child, hand them the bag, and go paint your toes or something.
When you're both done, it's time to mix the other three ingredients together and get these cookies in the oven.
Seriously simple, seriously delicious, and seriously fun.
*This story is totally false. 12-ish years ago I made only one dessert and that was slice and bake sugar cookies purchased from the grocery store on the way to school and served raw to my friends in the hallway before class. It made for  a pretty awesome breakfast/dessert.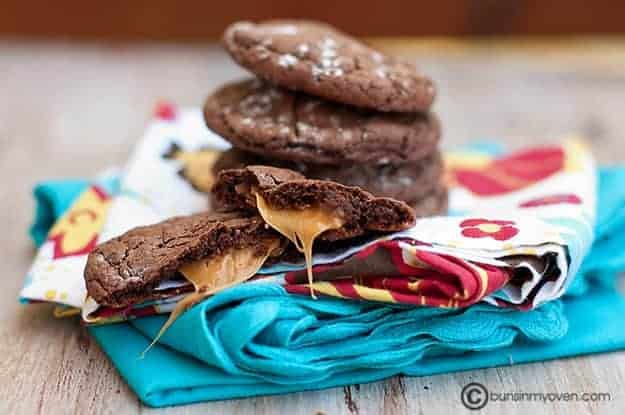 Rolo Cake Mix Cookies
Servings: 24 cookies
Calories: 138 kcal
With only 4 simple ingredients, kids will love helping bake these gooey, chocolatey cookies!
Ingredients
1 box Devil's Food cake mix
2 eggs
1/3 cup oil
Rolo candies unwrapped
Instructions
Preheat oven to 350 degrees. Line a cookie sheet with parchment.

Mix together the first three ingredients until well combined.

Using your hands, take a small piece of dough (about half the size of a golf ball) and roll it into a ball. Smash it flat in your hand and place a Rolo in the center. Close the dough around the Rolo. Repeat until all of the dough is used.


Bake for about 9 minutes. Sprinkle with powdered sugar. Delicious served warm or at room temperature.
Recipe Notes
Using cold, wet hands will help keep the dough from sticking to your hands. You may also spray your hands with non-stick spray.
Nutrition Facts
Rolo Cake Mix Cookies
Amount Per Serving (1 cookie)
Calories 138 Calories from Fat 63
% Daily Value*
Fat 7g11%
Saturated Fat 1g6%
Cholesterol 14mg5%
Sodium 164mg7%
Potassium 75mg2%
Carbohydrates 17g6%
Sugar 10g11%
Protein 1g2%
Vitamin A 25IU1%
Vitamin C 0.1mg0%
Calcium 38mg4%
Iron 0.9mg5%
* Percent Daily Values are based on a 2000 calorie diet.
Nutrition Disclaimer: All information presented on this site is intended for informational purposes only. I am not a certified nutritionist and any nutritional information shared on bunsinmyoven.com should only be used as a general guideline.
Recipe from Six Sister's Stuff.