August 16, 2018
Chocolate Peppermint Cookies
No dessert flavor screams Christmas better than peppermint.  No dessert better than cookies.  Put them together with this chocolate peppermint cookie recipe!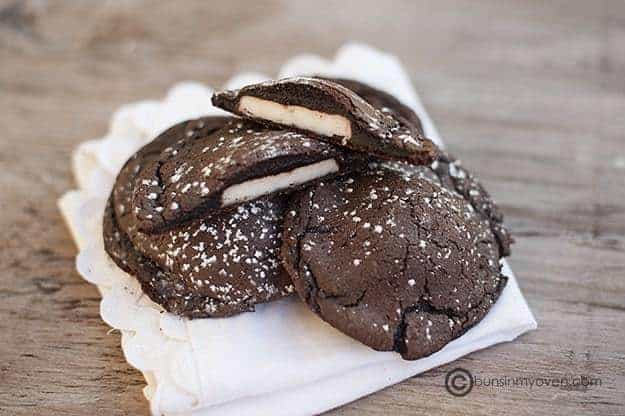 I'm not sure how you all can expect me to bake Christmas cookies when it's 40 degrees outside and thundering. Is this what it's like living in the South during the holidays? I mean, don't get me wrong, snow comes straight from the devil, but really?
40 degrees and rain? In the middle of December?
I can feel all of my holiday spirit just withering up and dying. It burns. It buuuuuuuuurns!
Okay, no, it doesn't.
I might complain about the snow, but it has come to my attention that I sorta need it.
In the meantime, I guess the Christmas cookies will have to do their job and get me feelin' all festive. I'll have to eat double. You know, to make up for the lack of white fluffy stuff happening outside.
These cookies were inspired by the much prettier version found on Taste and Tell. I just made things a bit simpler by using a cake mix for the dough and leaving off the pretty topping. I kind of regret not adding the pretty topping. The pretty topping is pretty. For serious.
Chocolate Peppermint Patty Cookies
Servings: 18 servings
Course: Dessert
Cuisine: American
Keyword: easy cookie recipes, holiday recipes, party recipes
Calories: 312 kcal
No dessert flavor screams Christmas better than peppermint. No dessert better than cookies. Put them together with this chocolate peppermint cookie recipe!

Ingredients
1 box devil's food cake mix
2 large eggs
1/3 cup canola oil
18 peppermint patties the small ones
Powdered sugar for sprinkling
Instructions
Beat together the cake mix, eggs, and oil until well combined and a sticky dough forms.

Place dough in the fridge for 20 minutes to chill. If you skip this step, the dough will be very hard to work with, but if you're in a hurry just make sure your hands are cold by running them under cold water after you shape each cookie.

Grab a golf ball sized ball of dough, roll into a ball, and flatten it into a disc.Place a peppermint patty in the center and bring the excess dough up and around the patty to cover it.

Repeat with remaining dough and place on a parchment lined cookie sheet 2 inches apart from each other.

Bake in a 350 degree oven for 9 minutes.

Remove from oven and sprinkle on powdered sugar.

Cool on a wire rack.
Nutrition Facts
Chocolate Peppermint Patty Cookies
Amount Per Serving
Calories 312 Calories from Fat 99
% Daily Value*
Fat 11g17%
Saturated Fat 3g19%
Cholesterol 21mg7%
Sodium 217mg9%
Potassium 134mg4%
Carbohydrates 52g17%
Fiber 1g4%
Sugar 36g40%
Protein 3g6%
Vitamin A 35IU1%
Calcium 44mg4%
Iron 1.6mg9%
* Percent Daily Values are based on a 2000 calorie diet.
Nutrition Disclaimer: All information presented on this site is intended for informational purposes only. I am not a certified nutritionist and any nutritional information shared on bunsinmyoven.com should only be used as a general guideline.