As most of you know, we recently moved into The Dream House. (I have grand plans to do a home tour very soon! Promise!)
Well, I went a little nuts this year with the Christmas decor. I had a big mid-century modern theme going on at our previous home and I threw that out the window when we moved into our current house.
Naturally, that means that I needed all new Christmas decorations to match the new look, right? I mean, my husband didn't really understand it, but I feel like it's a pretty simple concept. You all feel me on that, don't you?
So, anyway, I went nuts. New tree, new ornaments, new everything. I finally had to stop and say "no more" because we were not going to have enough money left for silly things like, you know, dinner? And presents? Stuff like that.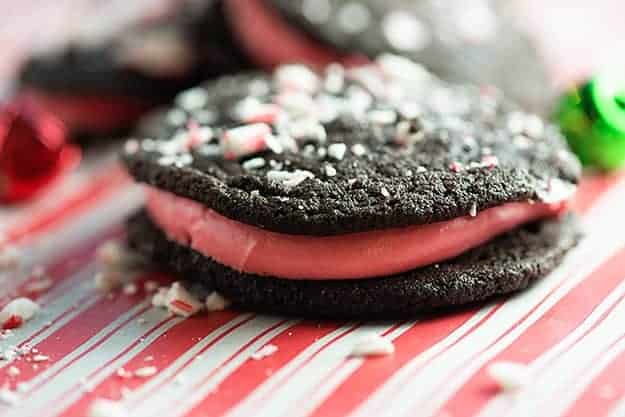 Unfortunately, I depleted the Christmas decor budget before I was able to purchase any outdoor decorations. My ten year old was not pleased. She really wants the outside all done up.
We drove through the neighborhood, admiring the neighbor's houses and planning what we would do next year when I can talk my husband into giving me back my right to use the credit card.
My daughter, who is only ten by the way, said, "Let's just throw simple out the window. Let's decorate BIG."
I just love that kid and her Griswold sense of style. "Throw simple out the window." Where does she come up with stuff like that? She makes me giggle.
Anyway, I am sticking with simple when it comes to holiday treats. I want them to LOOK fancy and hard, but I want them to be simple and quick. I mean, duh.
So, I took my super easy chocolate cookie dough, baked them up, sprinkled on some chopped candy canes, and then turned them into sandwiches with a creamy peppermint marshmallow filling. <— Heaven, I tell you.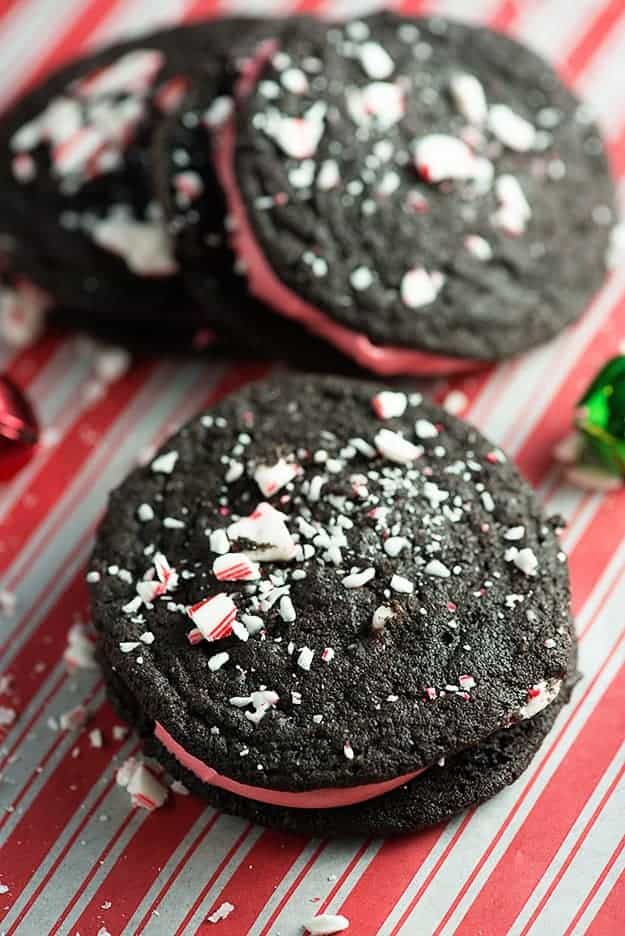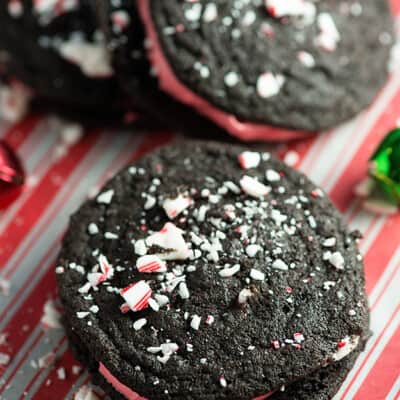 Chocolate Peppermint Cream Pies
I am sticking with simple when it comes to holiday treats. I want them to LOOK fancy and hard, but I want them to be simple and quick. I mean, duh.
Prep15 minutes
Cook10 minutes
Total25 minutes
Serves 16 sandwich cookies
Ingredients
For the cookies:
1 cup butter softened
1 1/2 cups white sugar
2 large eggs
2 teaspoons vanilla extract
2 cups all-purpose flour
2/3 cup cocoa powder
3/4 teaspoon baking soda
1 teaspoon espresso powder
1/4 teaspoon salt
2 crushed candy canes
For the peppermint marshmallow filling:
1/2 cup butter softened
1 1/2 cups marshmallow cream
2 cups powdered sugar
1 teaspoon peppermint extract
1-2 tablespoons milk as needed
Instructions
To make the cookies:
Preheat the oven to 350 degrees.

Beat the butter and sugar together until light and fluffy. Beat in the eggs and vanilla.

In a small bowl, combine the flour, cocoa powder, baking soda, espresso powder, and salt.

Gradually add the dry ingredients to the wet ingredients until well combined.

Drop by heaping tablespoonfuls onto a parchment lined baking sheet.

Bake for 9 minutes or until just set. Immediately sprinkle half of the cookies with the crushed candy canes.

Cool for a few minutes on the cookie sheet and then transfer to a wire rack.
To make the peppermint cream filling:
Cream together the butter and marshmallow cream. Add the powdered sugar and peppermint. Beat well.

Thin with milk until you get the desired consistency. The mixture should be thick and creamy, but easily spreadable.

Tint with red food coloring, if desired.

Spread frosting on the cookies without the candy cane sprinkles. Top with the sprinkled cookies.
Nutrition Information:
Calories: 403kcal (20%)| Carbohydrates: 59g (20%)| Protein: 3g (6%)| Fat: 18g (28%)| Saturated Fat: 11g (69%)| Cholesterol: 69mg (23%)| Sodium: 250mg (11%)| Potassium: 85mg (2%)| Fiber: 1g (4%)| Sugar: 42g (47%)| Vitamin A: 565IU (11%)| Calcium: 17mg (2%)| Iron: 1.3mg (7%)