These cake batter cookies are loaded with chocolate chips and sprinkles for a fun treat with crispy edges and super chewy centers. Big thanks to Pillsbury for sponsoring this post.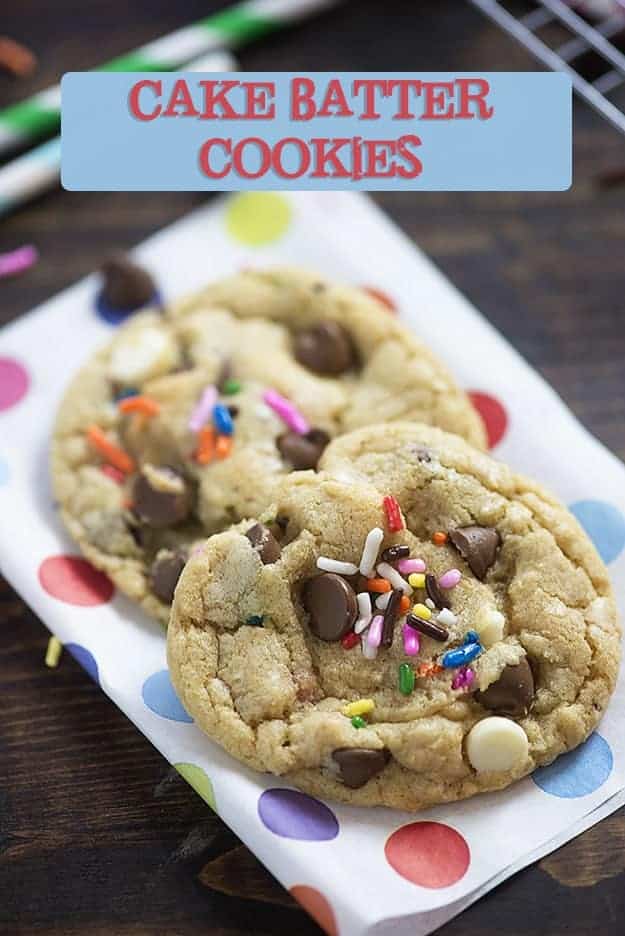 Okay, friends. I have something extra special to share with you guys today! Cake batter cookies. I'm obsessed.
I'd been planning to work on a recipe for these cookies for quite some time now, but then Pillsbury reached out to me with a little baking challenge and it gave me the push I needed to get this recipe perfected!
Let's talk a little more about that challenge real quick, shall we?

Pillsbury challenged my family to a technology free evening full of good old fashioned family fun, baking, and connecting with each other.
Count. Me. In.
We are a major tech-y household. We all have our own computers and tablets and phones and there are multiple televisions and multiple video game systems and, honestly, it works for us! I think technology is pretty fabulous. It helps me to homeschool my kids in an efficient manner, it allows me to work from home, it keeps my husband from having to run into the office because he can handle stuff on his laptop, it allows my kids to keep in touch with their friends easily, on and on the list of technology benefits goes.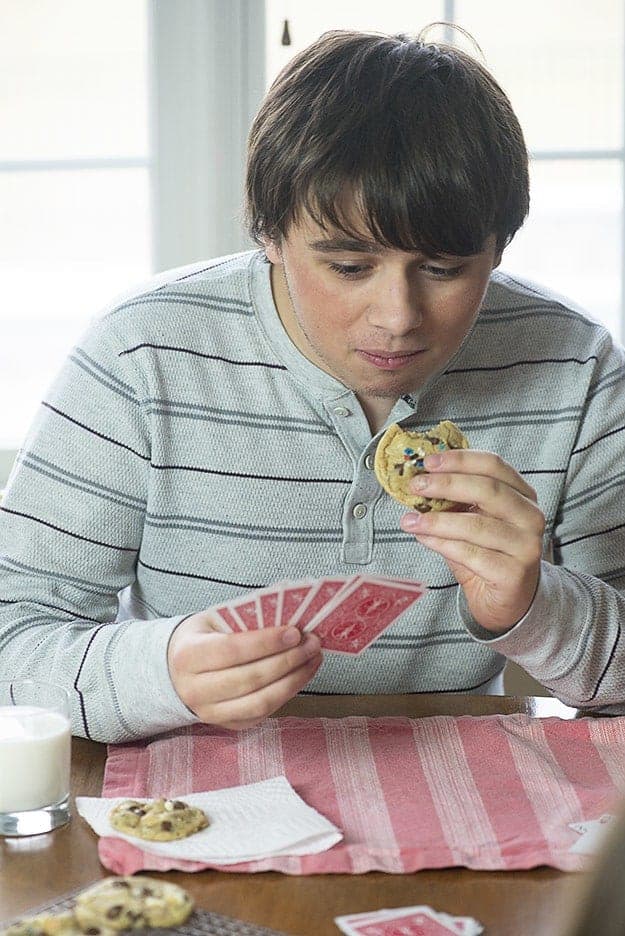 But, sometimes it's just all a bit MUCH. You know? Like, sometimes you just need to turn off the WiFi and step away for a bit. Sometimes you need to interact with humans in a real way.
As soon as we were done with our school and work day, I enlisted my daughter to help bake these cake batter cookies while my son set out to find some board games to keep us entertained. We used my perfect chocolate chip cookies as the base and just swapped a little of the flour for some Pillsbury Funfetti Cake Mix. Perfection. These baked up with perfectly crisp edges, super chewy centers, and all of that cake flavor that we love. Plus, sprinkles are always a win.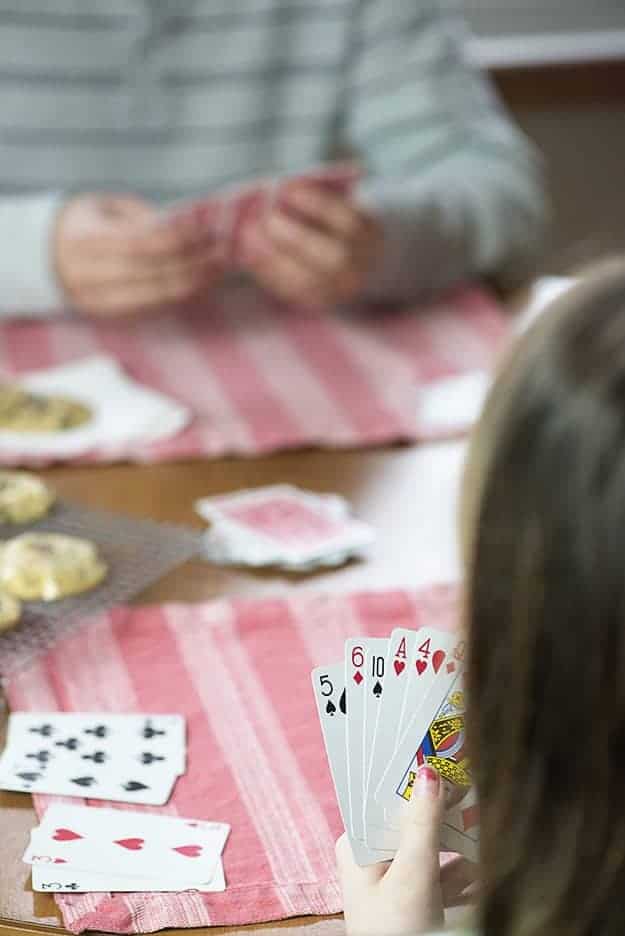 These cookies are easy, too. No need to soften the butter first, because you just melt it in the microwave. No need to chill the dough, because these come out nice and thick and puffy even without that added step. No need to WAIT. These cookies go from mixer to oven to cooling rack in 20 minutes.
As soon as the cookies were out of the oven, I sat down with the kids for an evening of good old fashioned family fun. We started with go fish and crazy eights and finished the night off with Boss Monster and Nefarious. Both of those board games come highly recommend by my entire family. They are so much fun and we all love them.
My husband was out of town for this challenge, so I think we're going to have to try this again when he's home. It'd actually make a really cool weekly tradition, to be honest.
Anyway, I hope you guys take the challenge and go technology free for an evening as well. Both of my kids were a little eyeroll-y at the idea at first, but they quickly got into the spirit and we all enjoyed our evening together, playing games, cooking dinner as a family, and just connecting. Of course, the cake batter cookies didn't hurt either.
Cake Batter Cookies
Cake batter turned into cookies! It doesn't get better than this!
Prep5 minutes
Cook10 minutes
Total15 minutes
Ingredients
1/2 cup butter melted
1/2 cup brown sugar
2 tablespoons granulated sugar
1 egg
1 teaspoon vanilla
1 cup flour
1 cup Pillsbury Funfetti Cake Mix
1/2 teaspoon baking soda
1/4 teaspoon salt
2/3 cup milk chocolate chips
1/3 cup white chocolate chips
1/3 cup sprinkles
Instructions
Preheat oven to 350 degrees. Line a baking sheet with parchment.

Add the butter, brown sugar, and granulated sugar to a mixer and beat until well combined.

Beat in the egg and vanilla.

Add the flour, cake mix, baking soda, and salt to the mixer and mix until just combined.

Stir in the milk and white chocolate chips and sprinkles until combined.

Use a medium cookie scoop to drop spoonfuls of dough on the prepared baking sheet.

Bake for 10 minutes or until edges are set but centers are still soft and slightly underdone.

Cool 5 minutes before serving.
Nutrition Information:
Calories: 191kcal (10%)| Carbohydrates: 26g (9%)| Protein: 2g (4%)| Fat: 9g (14%)| Saturated Fat: 5g (31%)| Cholesterol: 24mg (8%)| Sodium: 99mg (4%)| Fiber: 1g (4%)| Sugar: 13g (14%)