You want twix cookies? Perhaps a snickers cookie? Oh, a reese's cookie? I got you fam! All of them are in these yummy candy bar stuffed peanut butter chocolate chip cookies!

Someone stop me.
I'm addicted.
It's ridiculous.
People are starting to talk. My kids are judging me. My husband has started calling psychiatrists. My parents have disowned me. My in-laws said that I'm not the favorite daughter-in-law anymore.
Why, you ask?
I can't stop stuffing cookies with other foods.
What's wrong with that, you ask?
I'm making people fat. Super duper fat.
This amazing peanut butter chocolate chip cookies are big!
My first stuffed cookie experience was documented here and involved Double Stuft Oreos and they were amazing. I've since moved on to candy bars.
These cookies would be amazing on their own with the peanut butter and chocolate chips, but stuff a candy bar in there and, uh, wow. I used a mixture of fun size Snickers, Milky Ways, Twix bars, and Reese's cups. I made the mistake of using the little mini Reese's cup instead of the full size ones. Definitely not enough candy in those cookies. I'll use the full size Reese's cups next time. All the better to fatten up my relatives.
Oh, and be warned. These cookies turn out to be around 4 to 5 inches big. Bigger is better when it comes to cookies. Giant cookies equals giant smiles. True story.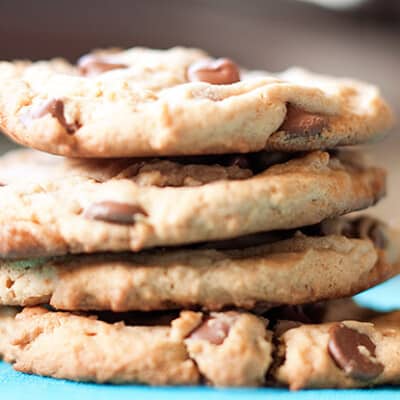 Candy Bar Stuffed Peanut Butter & Chocolate Chip Cookies
Adding candy to cookies is a simple way to make cookies even more fun!
Prep10 minutes
Cook12 minutes
Total22 minutes
Ingredients
1/2 cup butter room temperature
1/2 cup peanut butter
1/2 cup white sugar
1/2 cup packed brown sugar
1 large egg
1 1/4 cups all-purpose flour
1/2 teaspoon baking soda
1/2 teaspoon baking powder
1/4 teaspoon salt
1 cup milk chocolate chips
12 fun size candy bars or full size Reese's cups
Instructions
Preheat oven to 350 degrees. Line a baking sheet with parchment paper.

Cream together the butter, peanut butter, and sugars. Beat in the egg until light and fluffy.

In a medium bowl, whisk together the dry ingredients. Add the dry ingredients to the wet and mix until just combined. Stir in the chocolate chips.

Place two tablespoons of cookie dough on the prepared baking sheet and smash down a bit. Place a candy bar in the center. Drop another tablespoon of dough on top of the candy bar and cover the candy bar with the dough. The cookies will spread quite a bit to be around 4 to 5 inches in diameter, so place them far apart on the baking sheet.

Bake for 10-12 minutes.
Nutrition Information:
Serving: 1cookie| Calories: 414kcal (21%)| Carbohydrates: 49g (16%)| Protein: 7g (14%)| Fat: 22g (34%)| Saturated Fat: 10g (63%)| Cholesterol: 39mg (13%)| Sodium: 290mg (13%)| Potassium: 176mg (5%)| Fiber: 2g (8%)| Sugar: 35g (39%)| Vitamin A: 300IU (6%)| Vitamin C: 0.1mg| Calcium: 57mg (6%)| Iron: 1.3mg (7%)
recipe lightly adapted from Recipe Girl