This Sweet Chex Mix recipe is packed with cinnamon and sugar for a sweet and salty treat that you won't be able to stop munching on! Perfect for gifting this holiday season or for munching on during your favorite movie.
Whew. It's been a long weekend.
A long weekend of devouring this sweet and salty Chex mix every day and every night.
I am obsessed, you guys. There is something so addicting about this sweet Chex Mix, made with all of the standard crispity crunchity cereal bits, but none of the garlic or Worcestershire sauce.
Instead we're tossing it all in a mixture of cinnamon, sugar, and butter.
This is just as simple to make as traditional Chex mix, but it's a fun twist on the classic without being quite as over the top as our Christmas Chex Mix!
What We Love About Sweet and Salty Chex Mix:
Sweet and Salty: This homemade Chex Mix has the perfect combination of sweet and salty, with a bit of warmth from the cinnamon! It's an irresistible combination of flavors.
Easy: This is such a quick and easy recipe! Stir, bake, and eat!
Party Snack: This recipe makes plenty and Chex Mix is the ultimate party snack! This cinnamon sugar Chex Mix will definitely go over well at any gatherings.
Giftable: We love a food gift to share with friends and family and Chex Mix is perfect for gifting. Package it up in a cute tin and make someone's day!
Sweet Chex Mix
This sweet Chex mix is the perfect snack the next time you have the munchies! Loaded with 3 types of cereal, pretzels, nuts, and plenty of cinnamon and sugar!
Prep5 minutes
Cook1 minute
Cooling Time10 hours
Total10 hours 6 minutes
Ingredients
1 1/2 cups Rice Chex Cereal
1 1/2 cups Corn Chex Cereal
1 1/2 cups Wheat Chex Cereal
1 cup mixed nuts
1 cup mini pretzels
1/4 cup butter
3 tablespoons white sugar
3 tablespoons brown sugar
2 teaspoons ground cinnamon
Instructions
Add the cereal, nuts, and pretzels to a large microwave safe bowl.

In a small saucepan, melt the butter.

Sprinkle the white and brown sugar and cinnamon over the cereal mixture and pour the butter over the top. Stir well to coat.

Microwave on high for 1 minute. Stir again to coat.

Spread the mixture on a paper towel lined baking sheet to cool.

Store in an airtight container.
Tips & Notes:
You can use any variety of Chex cereal that you like. Just be sure to use 4 1/2 cups total. Once cooled, you can add chocolate chips, m&m's, or mini marshmallows if you'd like additional sweetness.
Nutrition Information:
Serving: 12servings| Calories: 296kcal (15%)| Carbohydrates: 48g (16%)| Protein: 6g (12%)| Fat: 11g (17%)| Saturated Fat: 3g (19%)| Cholesterol: 10mg (3%)| Sodium: 364mg (16%)| Potassium: 227mg (6%)| Fiber: 6g (25%)| Sugar: 10g (11%)| Vitamin A: 640IU (13%)| Vitamin C: 5.9mg (7%)| Calcium: 108mg (11%)| Iron: 13.4mg (74%)
Sweet Chex Mix Recipe Ingredients:
This post contains affiliate links. As an Amazon associate and member of other qualifying programs, I earn from qualifying purchases.
Chex Cereal – I'm using three types of Chex cereal in this mix. Rice Chex, Corn Chex, and Wheat Chex! Feel free to swap one of these for Cinnamon Chex cereal, if you really love cinnamon!
Mixed Nuts – You can use any variety of mixed nuts that you like. We like salted nuts to contrast the sweetness in this.
Mini Pretzels – Like the nuts some salted mini pretzels will add a bit of contrasting salty flavor to the mix that goes well with the cinnamon sugar.
Butter – You'll use some melted butter to adhere all that cinnamon and sugar goodness to the Chex Mix.
Cinnamon & Sugar – A couple teaspoons of cinnamon will do the trick, and I'm using a mix of white sugar and brown sugar too. The brown sugar will add a nice touch of flavor.
How To Make Cinnamon Sugar Chex Mix:
Combine: This is a pretty quick and easy snack recipe that doesn't take a lot of work. Simply start by adding the Chex cereal, mixed nuts, and pretzels to a large microwave save bowl.
Cinnamon & Sugar: Combine the sugars and cinnamon and sprinkle it over the Chex mix.
Butter: Add the butter to a small saucepan and melt it over medium low heat. Pour that right over the cereal and give it a stir.
Microwave: Place the bowl in the microwave and heat it on high for 1 minute. Be careful not to heat it for too long or it will burn. Stir the mixture again after heating to coat the Chex Mix in the cinnamon and sugar. Spread this on a baking sheet to cool.
Sugar and Cinnamon Chex Mix Variations: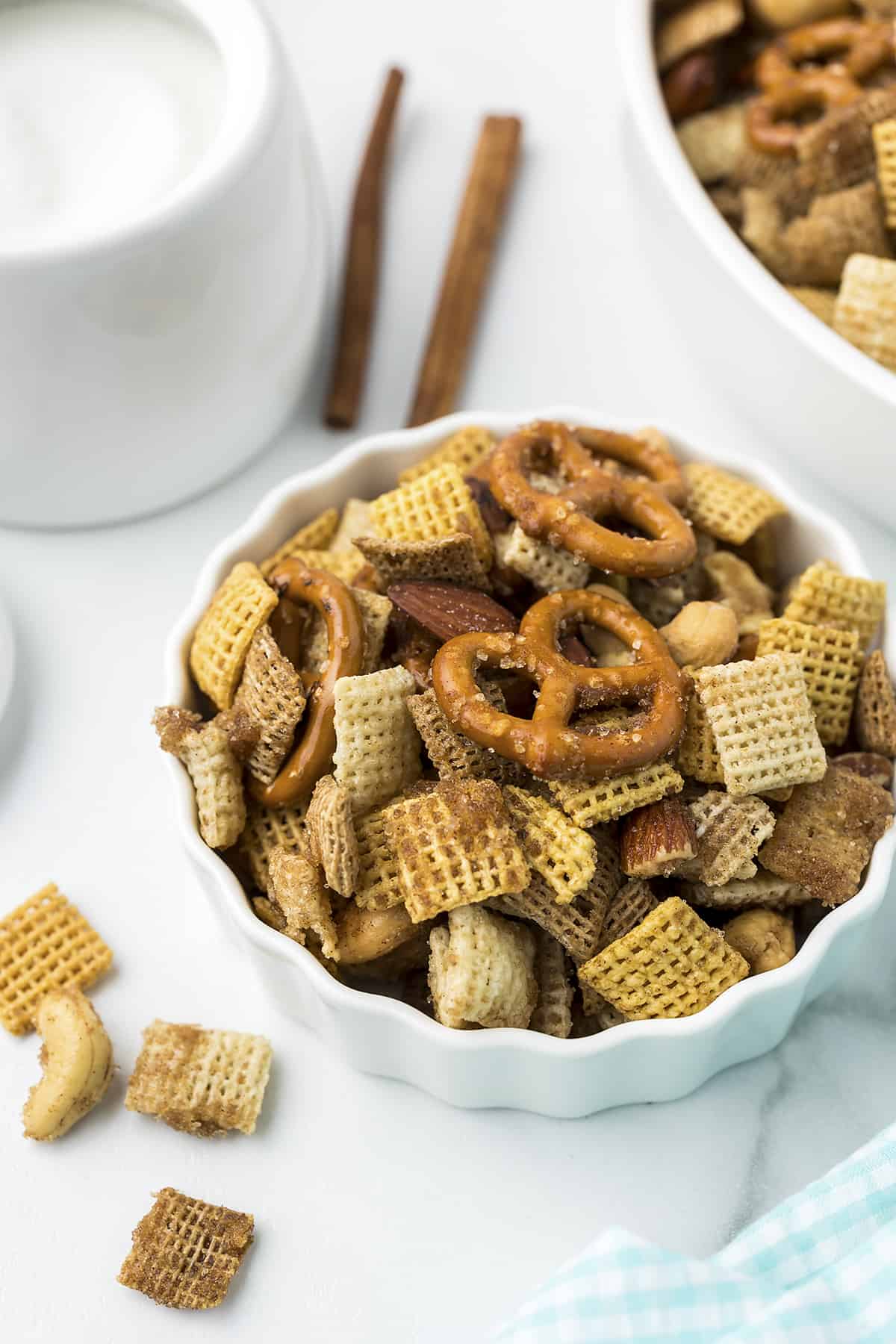 There are lots of ways to change up any Chex Mix recipe with different ingredients or even entirely different cereal.
Nuts: I'm using a mixed nut variety in this recipe but if you have a favorite like pecans, almonds, or walnuts you can use any mix you like.
Dried Fruit: Another good mix in that'll add a bit of chewy texture to the crunchy would be dried raisins, cranberries, or other fruits.
Marshmallow: Some mini marshmallows would also add a bit of chewy texture and more sweet flavor.
Spices: You could add a bit of nutmeg to the mix for more flavor, or even use a pumpkin pie spice for a Fall vibe.
Chocolate Chips: I think white chocolate chips would work best but milk chocolate, dark chocolate, or semisweet chocolate chips are fine too.
Cereal: You can swap out the Chex for another cereal entirely, or use a mix. Other good choices are Crispix, Cheerios, Golden Grahams, and Frosted Flakes.
FAQ's:
How to store Chex Mix?
This sweet Chex Mix recipe can be stored in an airtight container at room temperature for up to a couple of weeks! It lasts a good long while, probably longer than it'll take for you to eat it all.
Is Chex Mix gluten free?
This recipe is not since it contains wheat Chex and pretzels. You could omit those or use different ingredients in their place if you would like to make this into a gluten free Chex Mix.
MORE HOMEMADE CHEX MIX RECIPES!