There's just something about waking up in the morning to find Mama pulling a pan full of cookies out of the oven.
There's just something about it that makes you say, still sweet smelling and sleepy, "Gur-morning, Mom. Can I have cookies for breakfast?"
There's just something that makes Mama say "Of course you can have cookies for breakfast, Baby. Want some milk, too?"
And, then, there's just something about that sweet little rumple haired girl eating cookies that makes the Mama say "Hey, sweetpea, think I could have a bite of that cookie?"
But by that point the sugar is kicking in and the sweetness is wearing off and you'd better just go get your own dang cookie.
Gur-morning, y'all. Have a cookie. It's Monday and you deserve it.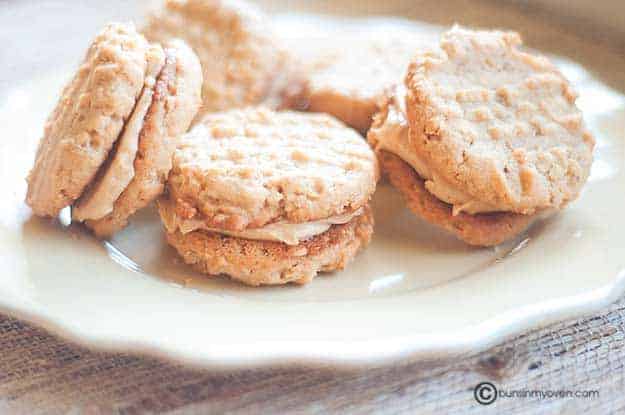 Oatmeal Peanut Butter Sandwich Cookies
Recipe from allrecipes.com; yield about 16 sandwiches
For the cookies:

1/2 cup butter, softened
1/2 cup peanut butter
1/2 cup white sugar
1/2 cup brown sugar
1 egg
1 tsp vanilla extract
3/4 cup all-purpose flour
1/2 tsp salt
1/2 tsp baking soda
1/4 tsp baking powder
1 cup quick cooking oats
For the filling:
1 cup powdered sugar
1/2 cup peanut butter
3 tbsp butter, softened
3 tbsp whipping cream
Pre-heat the oven to 350 degrees. Begin by creaming the butters and sugars for the cookies. Beat in the egg and vanilla. In a small bowl mix together your flour, baking soda, baking powder, and salt. Mix into the creamed butter and sugars. Mix in the oats and stir until combined. Drop teaspoonfuls (or use a small cookie scoop) of dough onto a parchment lined baking sheet. Make a criss cross with a fork to flatten the cookies. Bake for 10 minutes and allow to cool.
To make the filling, beat all ingredients together until well mixed and smooth. Spread the filling on the bottom of one cookie and top with another to form a sandwich. Repeat with all the cookies.