Buttermilk chocolate cake made with my mama's amazing fudgy frosting! This chocolate cake recipe is so simple, so moist, and bursting with chocolate goodness.
I have a confession to make: I'm a terrible cake decorator.
I mean, TERRIBLE.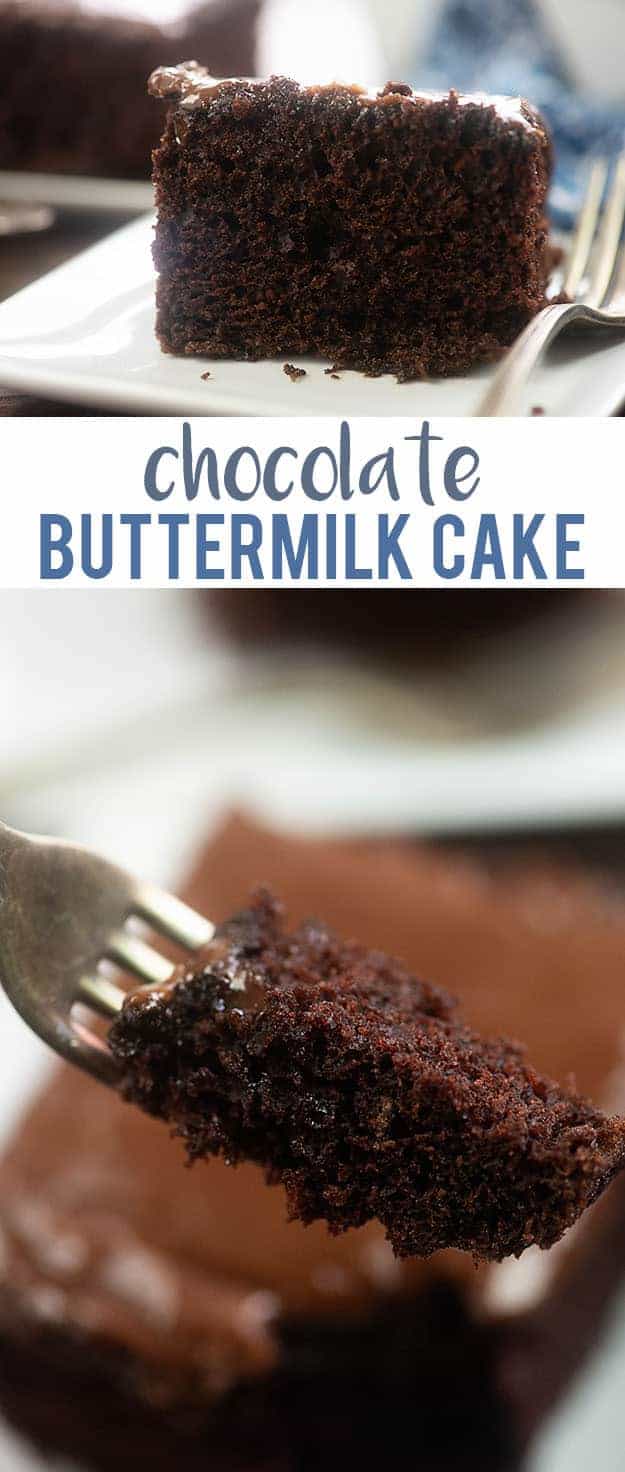 I tend to avoid layer cakes unless my daughter is around to do the decorating for me.
I think it's a lack of patience more than a lack of decorating skill, but either way it's a terrible sight to see.
Which is why you'll generally only see me serving up a cake in a 9×13 pan. This buttermilk chocolate cake is one of those cakes – so easy to prepare, no need to go crazy decorating it, and it's perfect for a birthday cake or any other cake-like situation.
This cake is so moist thanks to the buttermilk! It has a nice depth of flavor thanks to the buttermilk too!
This easy chocolate cake recipe is my go to these days. I think you're going to love it!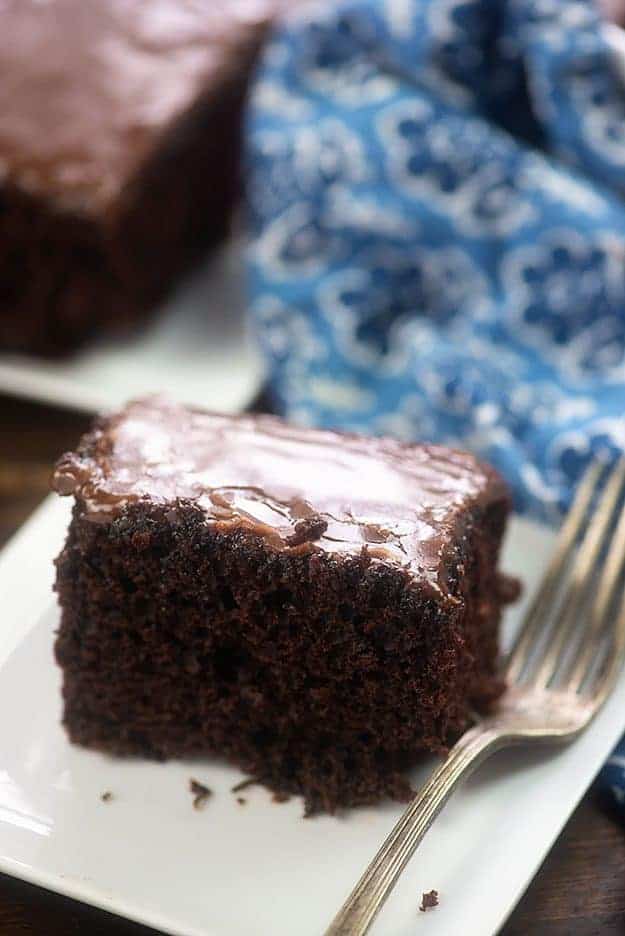 Moist chocolate cake recipe:
This buttermilk chocolate cake recipe actually starts out on the stove top! You'll want to add some butter to a sauce pan and let it melt, along with some cocoa powder, espresso powder, and water.
Don't worry about the espresso powder – it won't give this cake a coffee flavor. It just deepens the chocolate flavor. If you don't have any, I highly recommend grabbing some, but you can also leave it out if you prefer.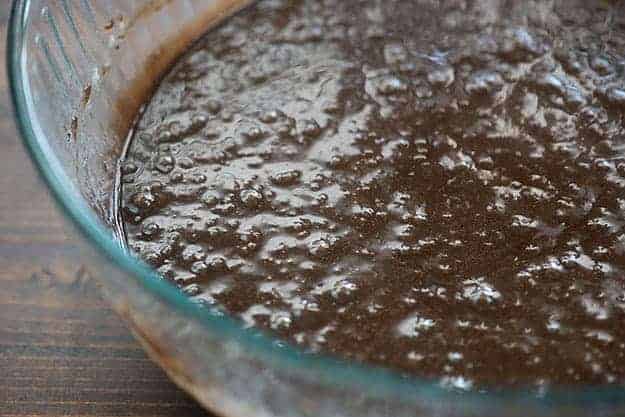 Add all that to a large mixing bowl and then whisk together some eggs, buttermilk, and vanilla until well combined.
Stir the egg mixture into the chocolate mixture and then add in your flour, sugar, baking soda, and salt. Stir together to get your moist chocolate cake batter. So good.
Pop this into a greased 9×13 baking dish and bake for about 30 minutes.
This cake comes out SO moist.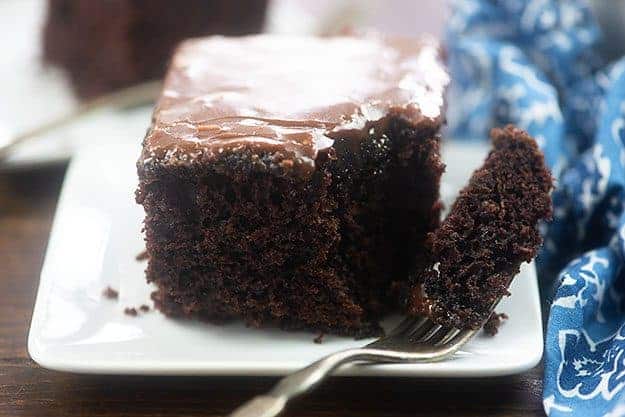 Chocolate Fudge Frosting:
This recipe makes the best chocolate frosting and it's so easy. It'll make a thin layer of frosting that gets a bit crackly on top. The texture and flavor is very much like fudge, but it's just a thin layer so it's not overwhelmingly sweet or rich. It's basically perfect.
This is my mama's recipe and it goes like this:
Add butter, sugar, and milk to a sauce pan and stir until the butter has melted.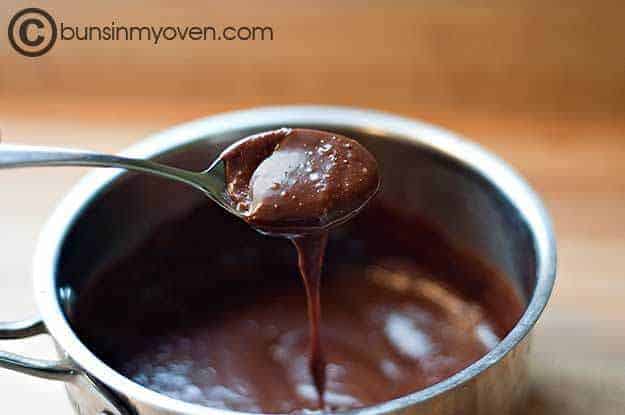 Bring to a boil over medium heat and let boil for 1 minute exactly.
Remove from the heat and stir in chocolate chips. I pretty much always use semi-sweet chips for this, but you can experiment and try this out with milk or dark chocolate too.
The chocolate chips will melt quickly as you stir.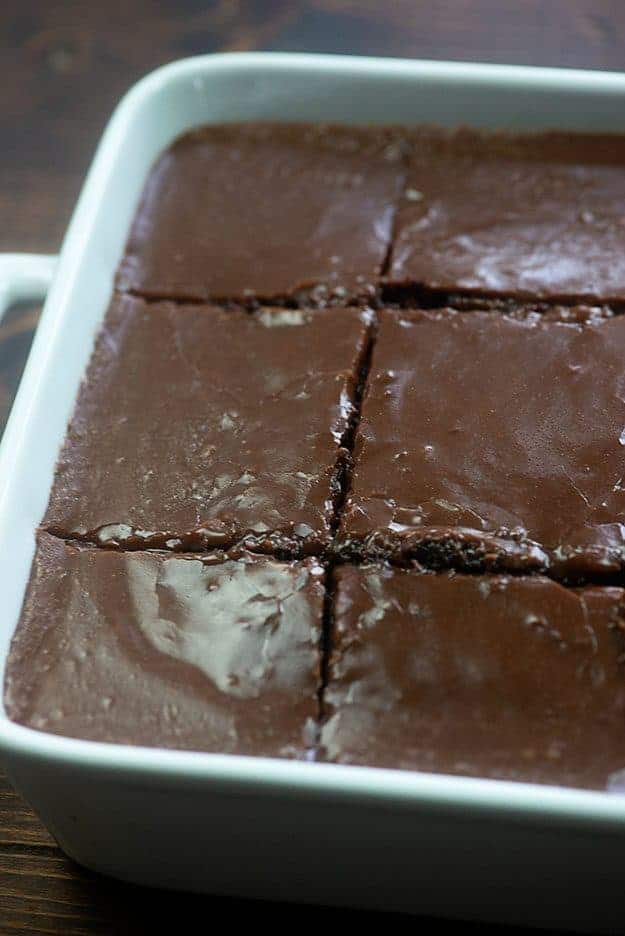 Pour the hot frosting over the cooled cake. The frosting sets fairly quickly in just about 20 minutes.
That's it! Your chocolate fudge frosting and buttermilk chocolate cake are ready to devour! I think you're going to love this easy cake recipe.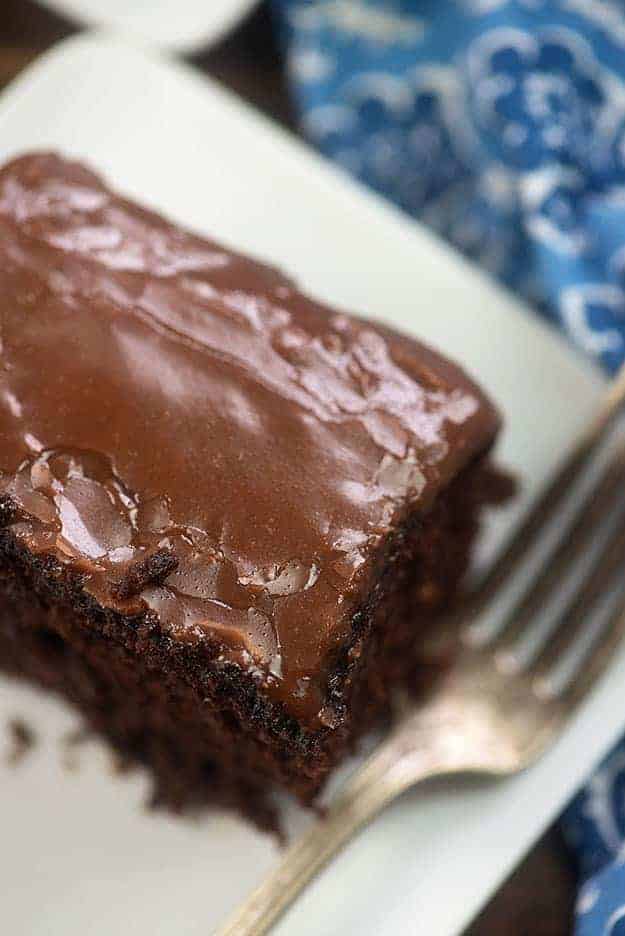 More cake recipes to try:
Pumpkin Crunch Cake: This starts with a cake mix and it couldn't be tastier.
Eclair Cake: Pudding, graham crackers, and chocolate frosting!
Applesauce Cake: I can't get enough of this bundt cake.
Chocolate Dump Cake: There's pudding mix, so you know it's good.
Peanut Butter Sheet Cake: I put peanut butter in everything. 😉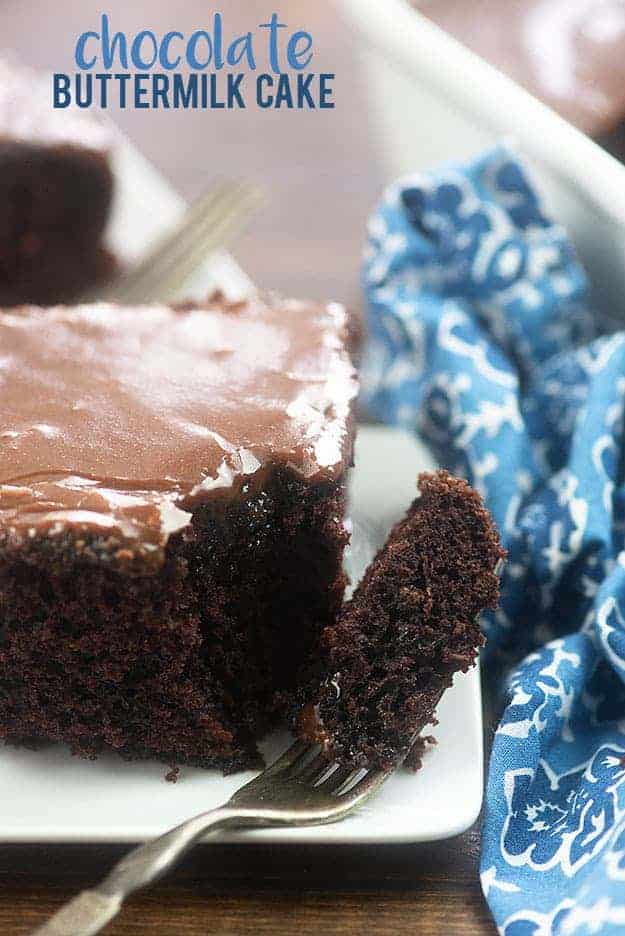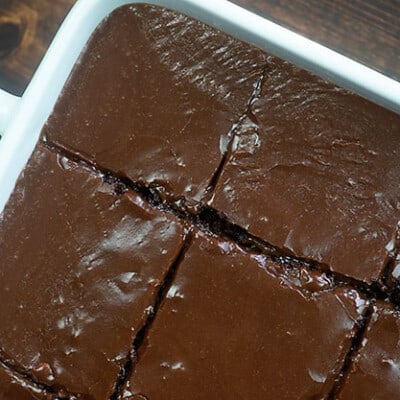 Buttermilk Chocolate Cake
Moist and full of chocolate!! The fudgy frosting on top is oh so good too!
Prep10 minutes
Cook35 minutes
Total45 minutes
Ingredients
For the cake
1 cup butter
¼ cup cocoa powder
1 cup water
1 teaspoon espresso powder
2 cups flour
2 cups granulated sugar
1/2 cup buttermilk
2 large eggs
2 teaspoons vanilla extract
1 1/2 teaspoons baking soda
½ teaspoon salt
For the frosting
1 cup granulated sugar
6 tablespoons butter
6 tablespoons milk
1/2 cup semi-sweet chocolate chips
Instructions
For the cake
Preheat oven to 350 degrees. Spray a 9x13 baking dish with non-stick spray.

Add the butter, cocoa powder, water, and espresso powder to a sauce pan and bring to a boil, stirring often.

Remove from the heat and carefully pour cocoa mixture into a large mixing bowl.

Add the flour, sugar, buttermilk, eggs, vanilla, baking soda, and salt to the bowl. Use an electric mix to beat together the ingredients until well combined.

Pour batter into prepared dish and bake for 30-40 minutes or until a tester comes out clean. Allow cake to cool before frosting.
For the frosting
Add the sugar, butter, and milk to a small sauce pan over medium heat and stir often until the butter has fully melted and the mixture come to a boil.

Boil for 60 seconds exactly and remove from the heat.

Add the chocolate chips to the pan and stir until the chocolate has melted and the frosting is smooth.

Pour the frosting over the chocolate cake evenly and allow to set for at least 20 minutes before slicing and serving.
Nutrition Information:
Serving: 1slice| Calories: 527kcal (26%)| Carbohydrates: 71g (24%)| Protein: 4g (8%)| Fat: 25g (38%)| Saturated Fat: 15g (94%)| Cholesterol: 89mg (30%)| Sodium: 812mg (35%)| Potassium: 134mg (4%)| Fiber: 1g (4%)| Sugar: 53g (59%)| Vitamin A: 720IU (14%)| Calcium: 41mg (4%)| Iron: 1.9mg (11%)