I've been making this no bake eclair cake since I was a kid! It's such an easy recipe, but it's always a big hit! This recipe was originally published in April 2010 and has been updated with new photos and a video. Enjoy!
When I was in high school I decided to learn to speak French. I signed up for French class and I proceeded to learn how to say, well, not a lot.
I can easily say "I don't know" and "Where's the beef?" Other than that, I don't know much French. That probably has something to do with how often I skipped class in favor of a long lunch break.
Even back then, food was important to me. Even cafeteria food.
Our school had the best chicken sandwiches, baked potatoes, and salad bar around. Seriously. I sometimes dream about those chicken sandwiches.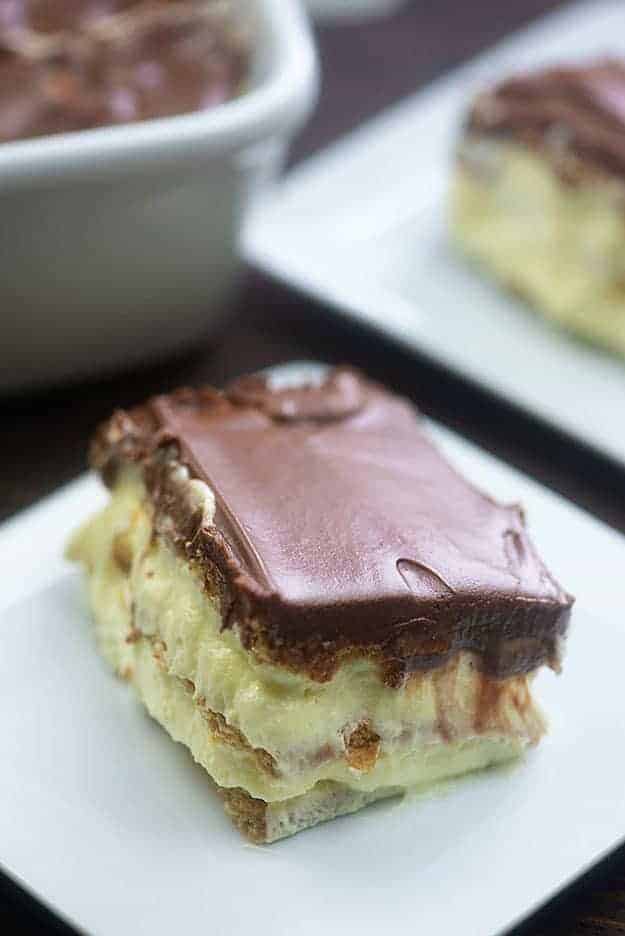 Anyway, French class wasn't high on my list of priorities, except for the one or two times a year when we had a food day.
Each student had to bring in enough food for the rest of the class and the food had to be, you guessed it, French food.
And, no, our teacher wouldn't allow us to bring in French fries from McDonald's. I asked.
Each food day, I made this same chocolate eclair cake. It's sort of an éclair, which is totally French, only this éclair is decidedly not French at all. It's still tasty as all get out, though, and I still make it every now and again and pretend that I'm wandering around Paris asking people where's the beef.
How to make no bake eclair cake:
This starts with a couple boxes of pudding mix and some Cool Whip. I know I'll get some flack from a few of you, but you know what? I don't care. This recipe is perfectly easy and convenient and sometimes Cool Whip is delicious.
Whisk all that goodness together and you'll have a nice thick mixture to spread between layers of graham crackers.
The pudding does magical things to the graham crackers. The crackers soften up so perfectly and take on this amazing cake like texture. It's seriously so good.
I like to soften up a jar of chocolate frosting in the microwave just enough to get it to a pourable consistency. Pour that frosting right over the top of your cake and spread it out.
This needs to chill in the fridge for a bit and then you're ready to dig in!
More easy dessert recipes you might like:
7 Layer Bars: These aren't your traditional bars – they're my chocolate peanut butter version!
Perfect Chocolate Chip Cookies: No chilling the dough, ready in 20 minutes, thick chewy perfection!
Double Chocolate Chip Cookies: If you need a dose of chocolate, this is where to go.
Caramel Ritz Bars: These start with a bunch of Ritz crackers and some caramel sauce. Heaven.
Éclair Cake
I've been making this no bake eclair cake since I was a kid! It's such an easy recipe, but it's always a big hit!

Prep15 minutes
Cook4 hours
Total4 hours 15 minutes
Ingredients
1 package graham crackers
2 packages 3.4 oz instant French Vanilla pudding mix
8 ounces Cool Whip thawed
3 cups milk
16 ounces chocolate frosting
Instructions
In a large bowl, mix together the pudding mix, Cool Whip, and milk. Beat well.

Arrange graham crackers in a single layer on the bottom of a 9x13 baking dish.

Pour half of the pudding mixture over the graham crackers.

Add another layer of graham crackers and pour remaining pudding on top.

Add the final layer of graham crackers and spread with chocolate frosting. You may need to soften the frosting up a bit in the microwave to help it spread easily.

Refrigerate for at least four hours before serving.
Nutrition Information:
Calories: 315kcal (16%)| Carbohydrates: 54g (18%)| Protein: 3g (6%)| Fat: 9g (14%)| Saturated Fat: 3g (19%)| Cholesterol: 6mg (2%)| Sodium: 326mg (14%)| Potassium: 178mg (5%)| Fiber: 1g (4%)| Sugar: 36g (40%)| Vitamin A: 100IU (2%)| Calcium: 89mg (9%)| Iron: 1.5mg (8%)