This no bake PEANUT BUTTER LASAGNA is made with layers of Nutter Butter cookies, chocolate pudding, peanut butter cheesecake, and whipped topping. We went a little crazy topping it off with peanut butter cups, chocolate chips, and a drizzle of chocolate syrup.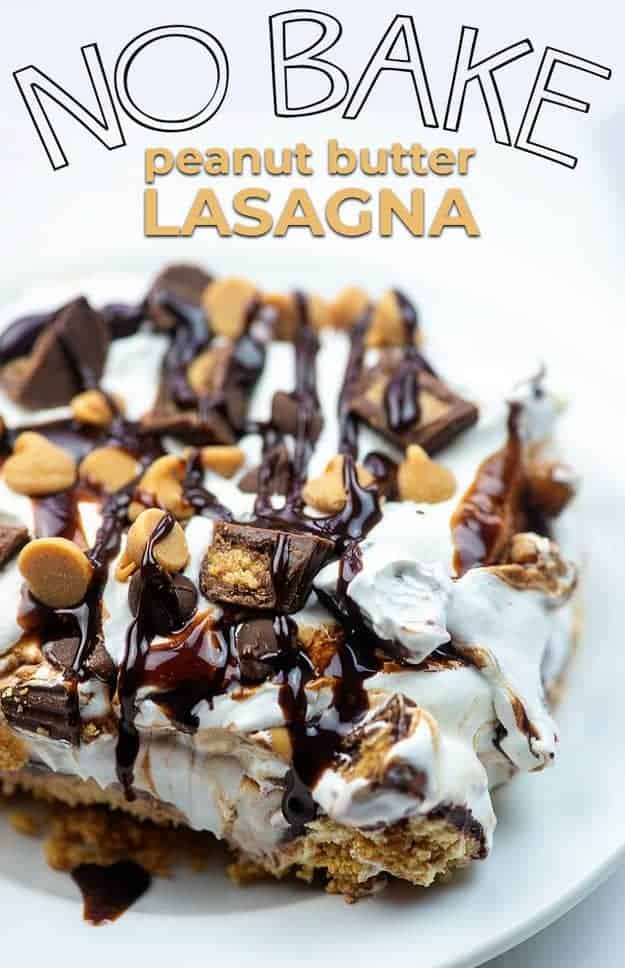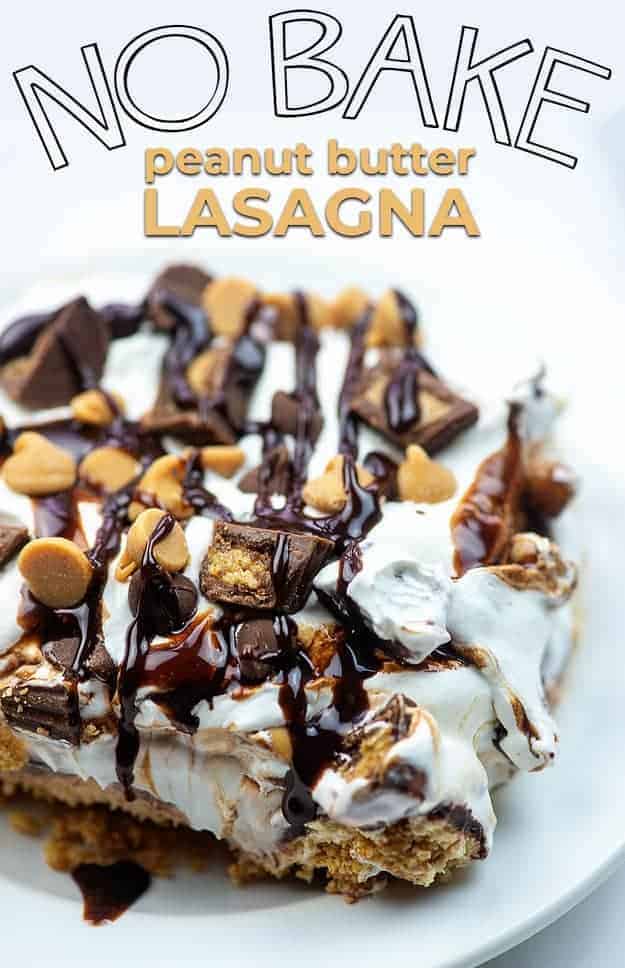 What's your desert island food?
Mine is, for sure, peanut butter.
In fact, when talk of quarantines and social distancing started spreading around, I immediately placed an Amazon order to stock up on some of our pantry essentials. I ordered 4 jars of peanut butter, because honestly, that's about a 30 day supply for my family of 4. <— I'm not exaggerating.

Between sandwiches, snacking on a spoonful (or two) straight from the jar, and all of our baking, we go through a whole lot of peanut butter in a short amount of time in this house.
Keep reading for details on how to make this chocolate lasagna and to find more of our favorite peanut butter recipes. I'll link them down below, just above the recipe card for you.
Chocolate Peanut Butter Lasagna How-To:
This recipe is pretty simple, even though the instructions look a bit long and maybe intimidating. Don't worry though, you really just stir things together and layer in a baking dish.
The crust for this no bake dessert lasagna starts with Nutter Butter cookies.
Not to worry if you don't have Nutter Butter cookies on hand!
Substitutes for the crust:
Oreo Cookies
Graham Crackers
Nilla Wafers
Crush the cookies into crumbs using a food processor or place them in a zip top bag and take out all of your aggression on them. Lately, I've been choosing option 2. 😉
Stir together the cookie crumbs with some melted butter and press flat into a 9×13 dish.
Set the crust aside and get to work on the creamy peanut butter layer.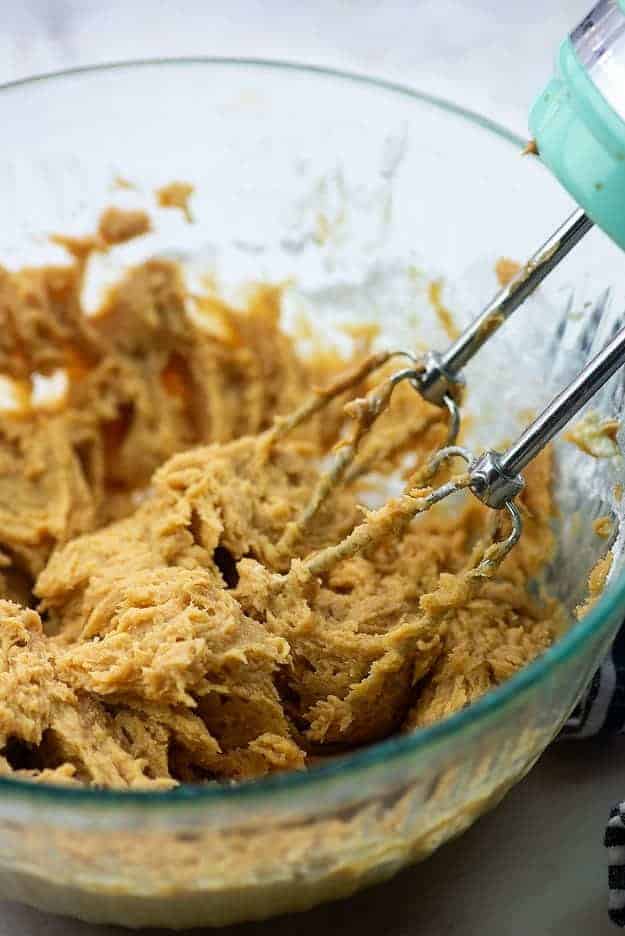 This is a mix of peanut butter, cream cheese, powdered sugar, milk, and whipped topping.
Beat everything but the whipped topping together with a mixer until it's light and fluffy and then fold in the whipped topping by hand.
Spread that creamy goodness over the crust.
Set that aside and then whip up the chocolate pudding.
We're keeping things very simple – you'll just need a couple of boxes of instant chocolate pudding and some milk. Stir together until smooth and just slightly thickened.
Spread that over the peanut butter layer.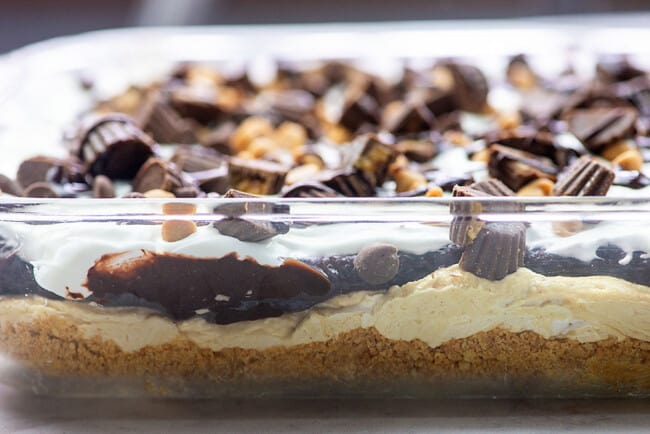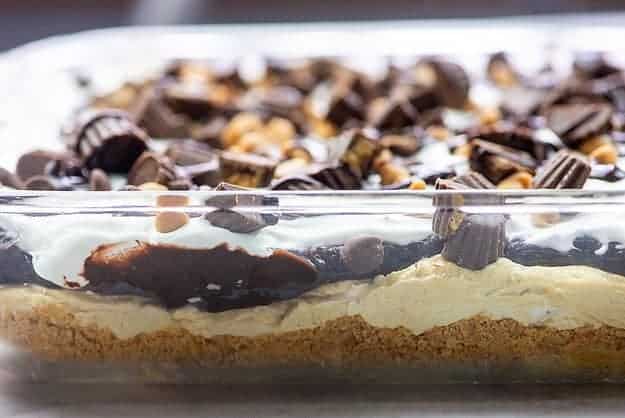 Time for more whipped topping! Yes, I buy stock in Cool Whip around these parts. 😉
After everything is layered together, it's time to have a little fun!
Sprinkle on a few of your favorites:
Chocolate Chips
Peanut Butter Chips
Mini Reese's
Reese's Pieces
Chocolate Sprinkles
Chocolate Sauce
We like to let this set in the fridge for a few hours before cutting into it. It helps things set up and the whole thing just cuts a little cleaner.
If you just can't wait that long, give it at least 20 minutes in the fridge for the pudding to set and then dig right in.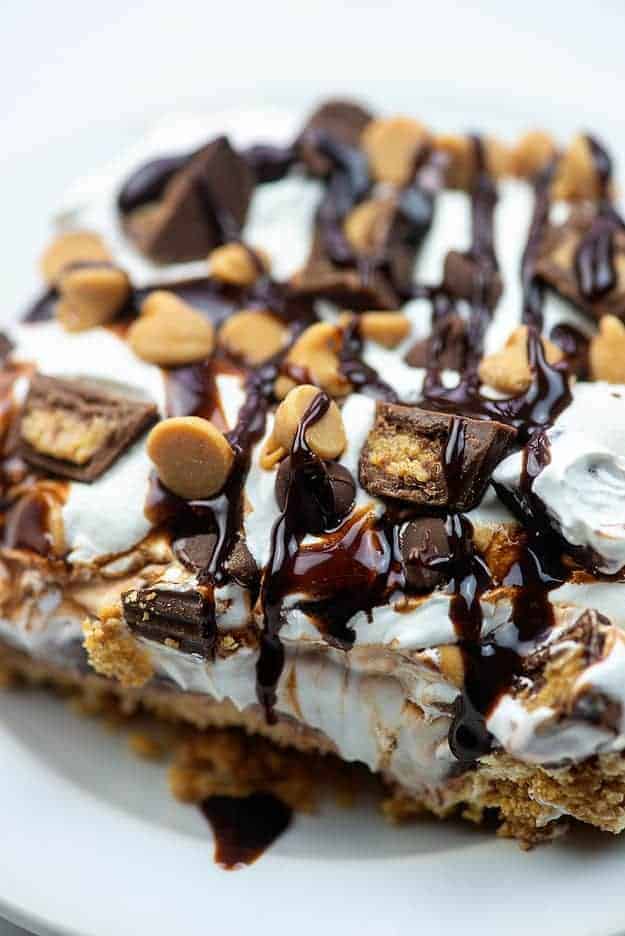 More peanut butter desserts:
Peanut Butter Oatmeal Chocolate Chip Cookies: Soft, chewy, thick, amazing.
Peanut Butter Candy Bars: Skip the packaged candy and make your own!
Peanut Butter Blondies: One of the easiest recipes ever!
Peanut Butter Sheet Cake: This one is a favorite in my house!
Peanut Butter Stuffed Cookies: Giant cookies stuffed with peanut butter balls!
Peanut Butter Banana Dog Treats: Our pups love peanut butter too.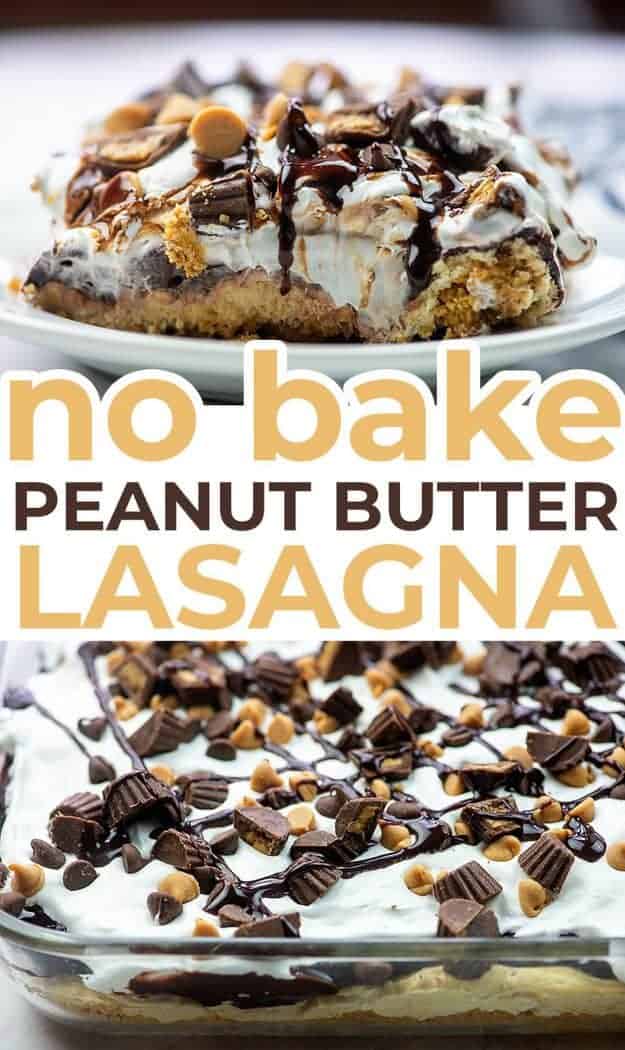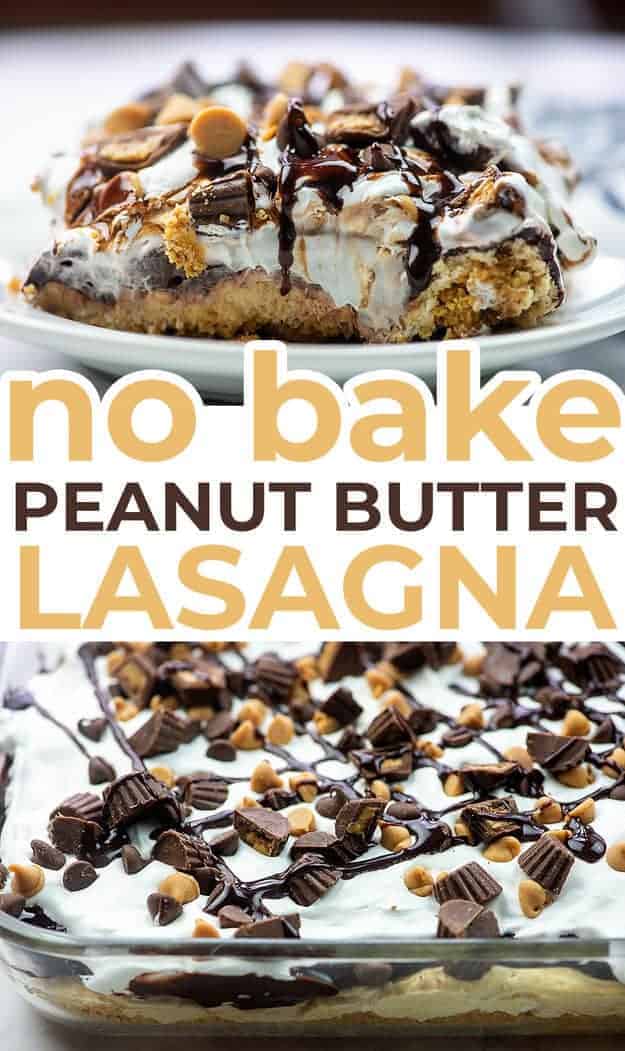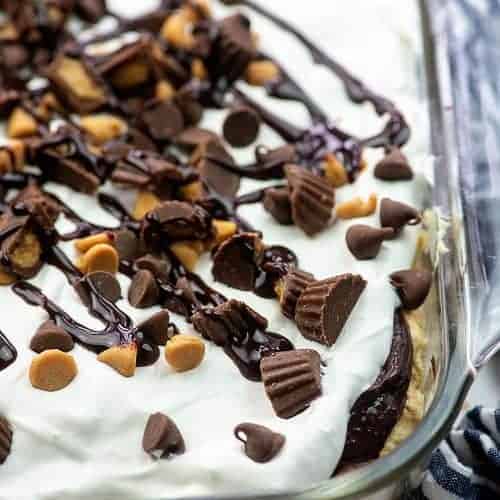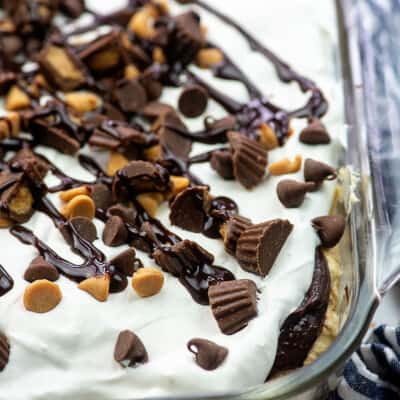 Peanut Butter Lasagna
Layers of cookies, creamy peanut butter, and chocolate pudding! This no bake dessert might look a little intimidating when you see the instructions, but it's so easy! You just mix each layer together and then refrigerate!
Prep20 minutes
Chill Time4 hours
Total4 hours 20 minutes
Ingredients
For the crust:
16 ounces packaged Nutter Butter Cookies
1/3 cup melted butter
For the peanut butter layer:
8 ounces cream cheese, room temperature
1 cup creamy peanut butter
1 cup powdered sugar
2 tablespoons milk
8 ounces whipped topping, thawed
For the chocolate layer:
2 boxes (3.9 ounces each) instant chocolate pudding
2 2/3 cup milk
For assembly:
8 ounces whipped topping, thawed
1 cup Mini Reese's halved
½ cup chocolate chips
½ cup peanut butter chips
¼ cup chopped peanuts
Chocolate syrup for drizzling
Instructions
To make the crust:
Add the cookies to a food processor or blender and process until you have fine crumbs. Alternately, place cookies in a zip top bag, seal, and crush with a mallet or rolling pin.

Mix the cookie crumbs with the melted butter and press into a 9x13 baking dish. Set aside.
To make the peanut butter layer:
Add the cream cheese, peanut butter, powdered sugar, and milk to a mixing bowl and beat with an electric mixer until well combined and smooth.

Fold in the whipped topping by hand.

Spread the peanut butter carefully over the prepared crust.
To make the chocolate layer:
Add the instant pudding and milk to a large bowl and mix well to combine.

When pudding is smooth and has thickened slightly, spread over the peanut butter layer.

Place in the refrigerator for 10 minutes.
To assemble:
Spread the whipped topping over the pudding.

Sprinkle the dish with the Reese's, chocolate chips, peanut butter chips, peanuts, and drizzle with the chocolate syrup.

Refrigerator for 3-4 hours to set before cutting.
Tips & Notes:
You may swap the Nutter Butters for any type of packaged cookie, such as Oreos, graham crackers, or Nilla Wafers. Store tightly covered in the refrigerator for up to 5 days.
Nutrition Information:
Serving: 1slice| Calories: 621kcal (31%)| Carbohydrates: 51g (17%)| Protein: 15g (30%)| Fat: 42g (65%)| Saturated Fat: 20g (125%)| Cholesterol: 45mg (15%)| Sodium: 369mg (16%)| Potassium: 386mg (11%)| Fiber: 3g (13%)| Sugar: 44g (49%)| Vitamin A: 557IU (11%)| Vitamin C: 1mg (1%)| Calcium: 151mg (15%)| Iron: 1mg (6%)