My new puppy dog prefers these homemade peanut butter dog treats over any of those store bought ones! Heck, I didn't even think they tasted bad.
Ya wanna know a fun fact about me?
I think dogs are kinda gross. They sniff and lick and, I'm not sure if you know this or not, but they don't even use toilet paper after they potty. Ew. Gross, right?
But, then again, I've never had a dog growing up and I spent my entire youth avoiding everyone else's dogs, so what do I know?
Fast forward my life 2o years and now I am a momma of TWO dogs!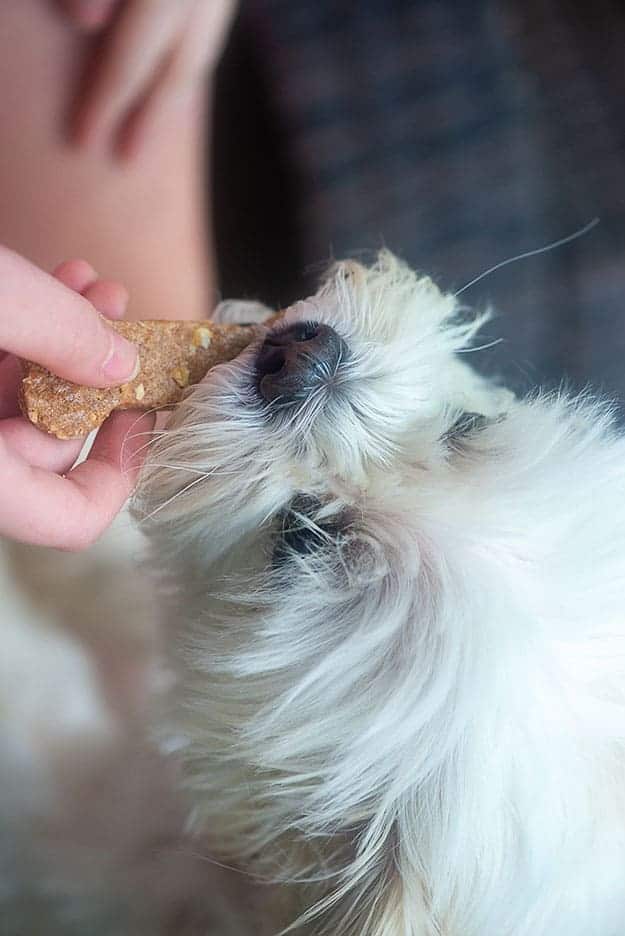 Their sniffs are adorable, their licks are precious, and okay sometimes they are still gross, but it's totally not a deal-breaker.
Oh, also? Both dogs are so fluffy I can barely survive it. We named them Biscuit and Gravy (perfect right?).
I'm in love.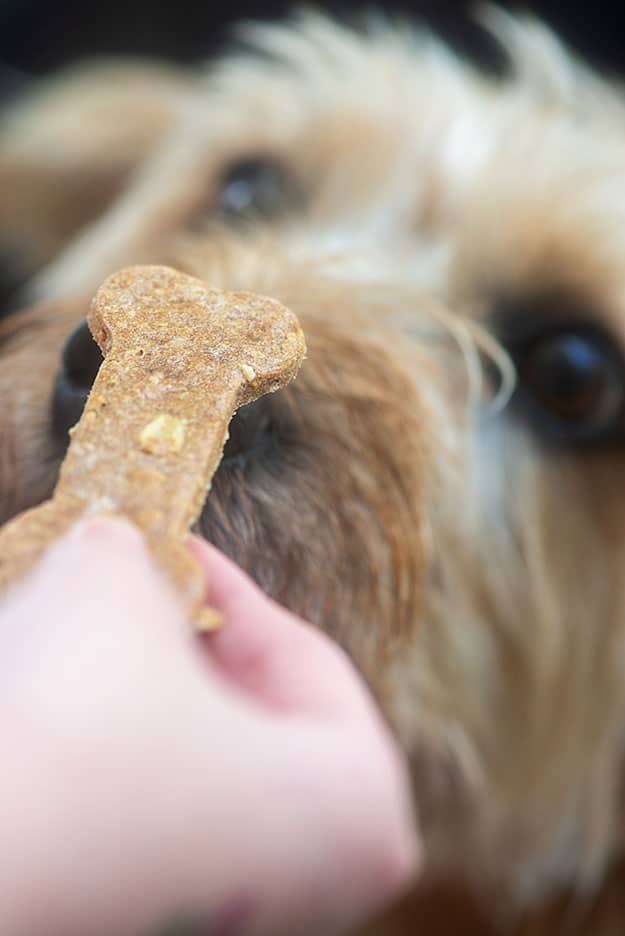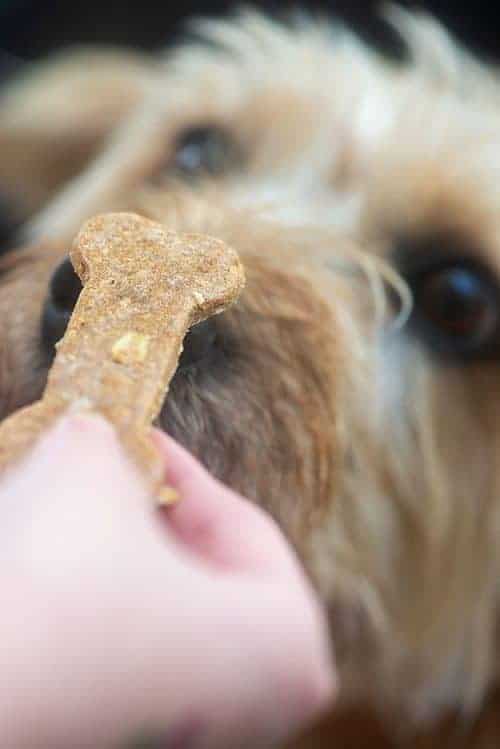 Deeply, madly, irrevocably in love.
I do have a problem though. My little dog, Biscuit, is super picky on treats and some of the store-bought ones make her itchy. What does a loving momma of dogs do???
Bust out the homemade peanut butter dog treat recipe!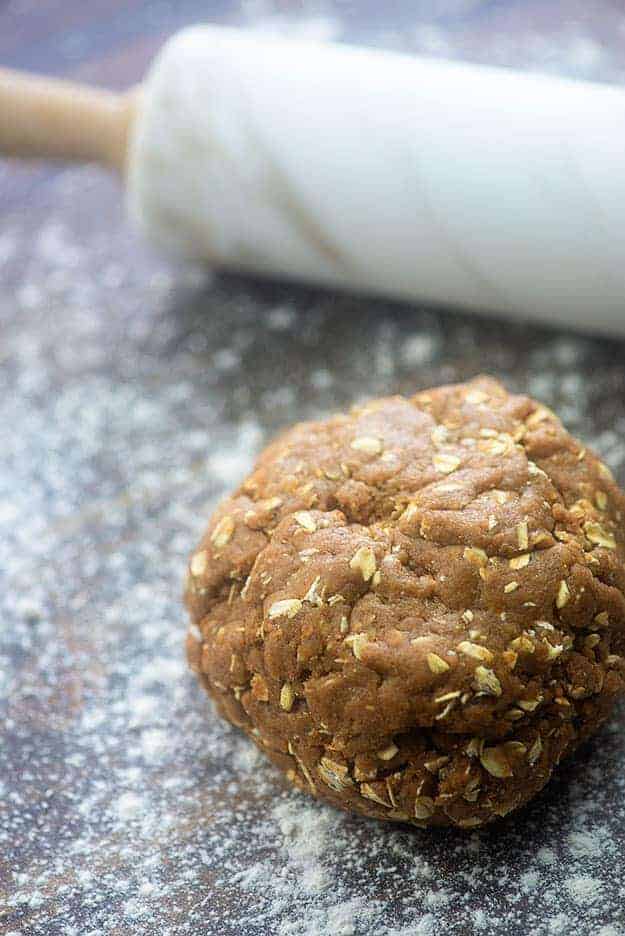 Preheat your oven while you are preparing the dough, as this won't take very long.
The dough for these rolls out very easy so long as you use plenty of flour for your work surface and the top of your dough.
My dogs loved these homemade peanut butter dog treats!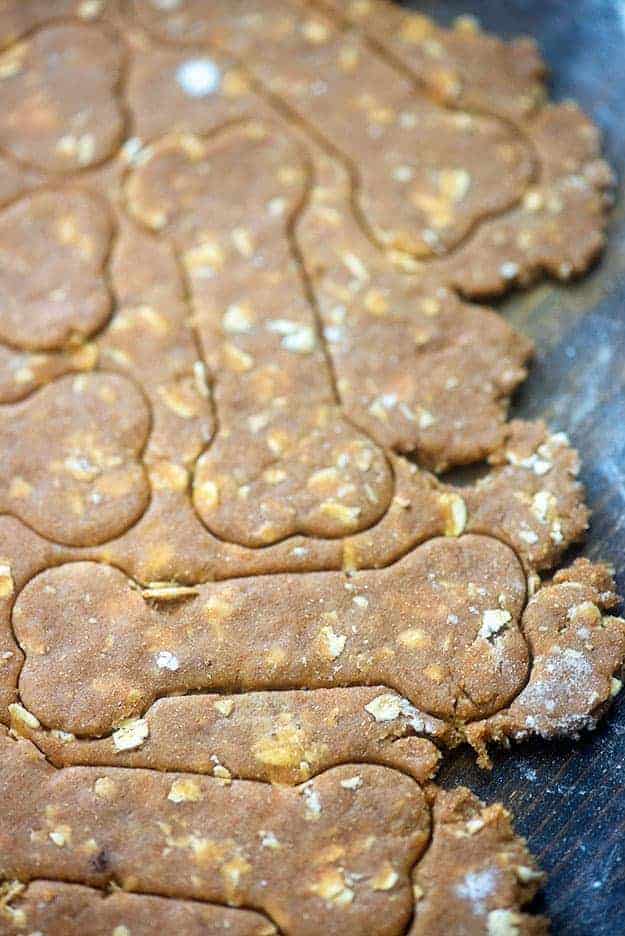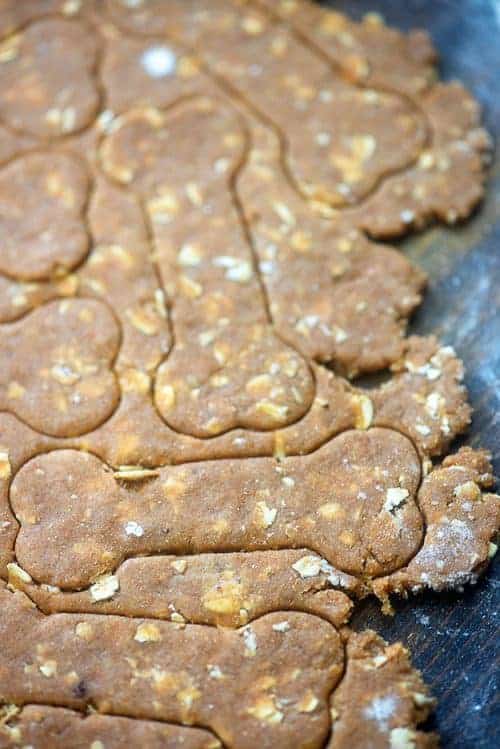 Get that dough rolled out and use the cookie cutter of your choice. I choose a bone shape of course! Buy it on Amazon (affiliate link).
When you are placing them on the cookie sheet you can load the sheet up. The dough really doesn't spread.
These homemade dog treats are a cinch to make and I bet they'll make your pup feel all warm, fuzzy, and loved.
Helpful tip: you can bake them a couple minutes less than the recipe states for the small doggies that don't like softer treats.
Is it safe for my dog to try the raw dog treat recipe while I am preparing it?
It is not recommended to let your dogs taste the dough as it is preparing. Wait until fully cooked before giving them a taste test!
The raw flour in the recipe can be harmful to your fur-baby if they eat it too soon.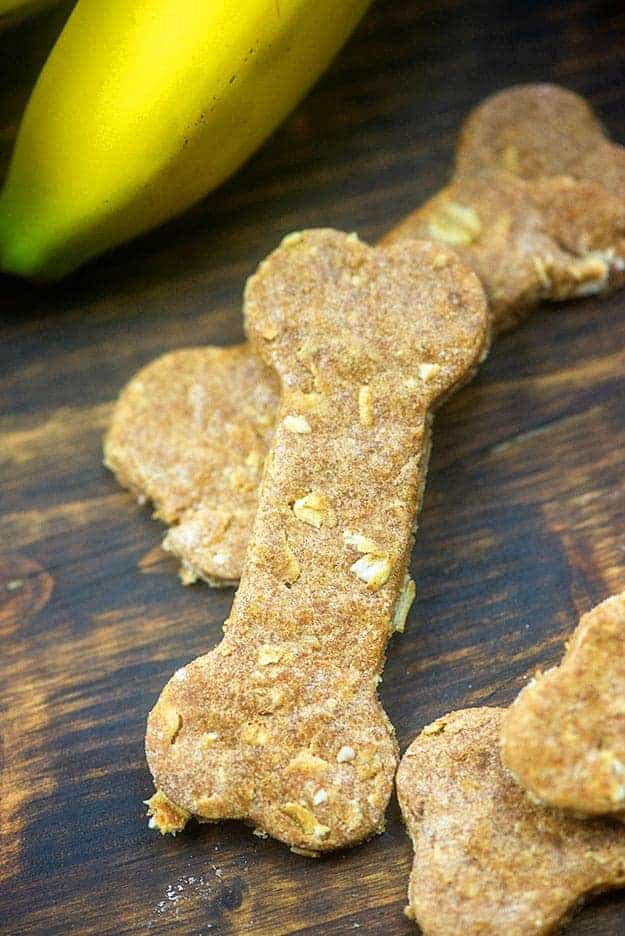 How long are my homemade dog treats good for?
You should keep your pet treats in an airtight container. You can expect them to last two weeks at room temp.
If you want to make a big batch, you can freeze them for up to six months. Just be sure to thaw them out on the counter before serving.
Special Tools Needed:
This post contains affiliate links.
Dog Bone Cookie Cutters: Well made, inexpensive, and adorable!
Rolling Pin: I like a nice heavy rolling pin like this marble one.
Want some human peanut butter treats?
Jif Peanut Butter Cookies: Jif > all the rest!
Peanut Butter Fudge: Bonus! This recipe includes chocolate!
Peanut Butter Oatmeal Chocolate Chip Cookies: I mean, you already have most of the ingredients out if you made these treats.
Chocolate Peanut Butter No Bake Cookies: Everybody loves no-bake cookies.
Peanut Butter Sheet Cake: This recipe is seriously easy.
For those of you who are curious, Biscuit is a Zuchon – a ShihTzu and Bichon Frise mix. Gravy, our bigger dog, is a terrier mix. They're both so sweet and fluffy!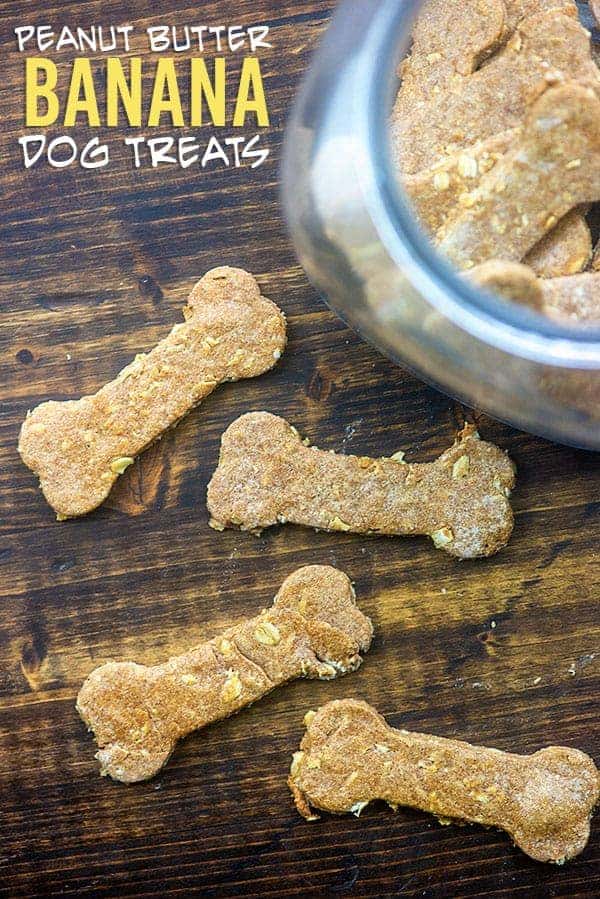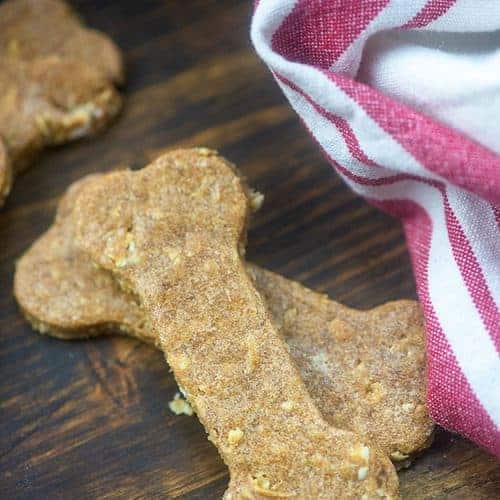 Print Recipe
Peanut Butter and Banana Dog Treats
Sweet treats for your favorite pup!
Servings: 24 treats
Calories: 54kcal
Ingredients
1 large egg
1 large banana, mashed
1/3 cup peanut butter
1 tablespoon pure maple syrup
1 cup whole wheat flour
1/2 cup rolled oats
1 large egg white, lightly beaten, for brushing (optional)
Instructions
Preheat oven to 300 degrees. Line a baking sheet with parchment paper.

Beat together the egg, banana, peanut butter, and maple syrup until well combined. Mix in the flour and oats and stir until combined.

Dump onto a floured work surface and roll to 1/4 inch thick. Cut out with cookie cutter of your choice. Place on baking sheet (they don't spread so you can place them pretty close together). Brush tops with egg whites.

Bake for 25-30 minutes or until crunchy. Store tightly covered.
Nutrition
Serving: 1treat | Calories: 54kcal | Carbohydrates: 7g | Protein: 2g | Fat: 2g | Cholesterol: 6mg | Sodium: 21mg | Potassium: 71mg | Fiber: 1g | Sugar: 1g | Vitamin A: 15IU | Vitamin C: 0.4mg | Calcium: 6mg | Iron: 0.4mg
This post was originally published August 2011. It was updated with new photos September 2019.