August 8, 2018
Peanut Butter Banana Dog Treats
My new puppy dog prefers these homemade peanut butter dog treats over any of those store bought ones!
Ya wanna know a fun fact about me?
I think dogs are kinda gross. They sniff and lick and, I'm not sure if you know this or not, but they don't even use toilet paper after they potty. Ew. Gross, right?
But, then again, I've never had a dog and I've spent my entire life avoiding everyone else's dogs, so what do I know?
I decided I'd had enough.
I bought a dog. And, surprise! She's not gross at all.
Her sniffs are adorable, her licks are precious, and okay, toilet paper would make her even better, but it's totally not a deal breaker.
Oh, also? She's so fluffy I could die.
I'm in love.
Deeply, madly, irrevocably in love.
So, when she refused to eat the 3,011 different treats I purchased for her, I made her some homemade ones. Girlfriend likes them. She likes them a lot.
It's like she is my little doggy soul mate with the disdain for store bought treats.
I even tasted one of the homemade version and they weren't bad! I mean, they're dog food and all, but they aren't gross and there isn't anything weird or creepy in them. Total win.
Dogs love homemade peanut butter dog treats!
The dough for these rolls out very easy so long as you use plenty of flour for your work surface and the top of your dough.
These homemade dog treats are a cinch to make and I bet they'll make your pup feel all warm, fuzzy, and loved. I baked mine for a few minutes less than the recipe called for so they would still be a bit soft as my little Biscuit is only 8 weeks old and doesn't seem to like the crunchy stuff yet.
For those of you who are curious, Biscuit is a Zuchon – a ShihTzu and Bichon Frise mix. She's 8 weeks old as of 8/21/2011 and weighing in at 1.96 pounds. I die a little every time I see her fluffy puppy face.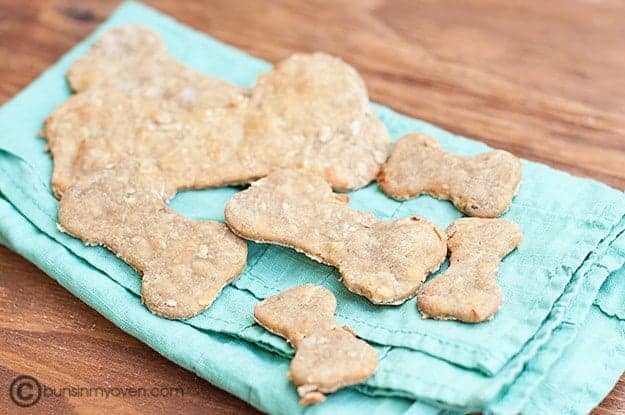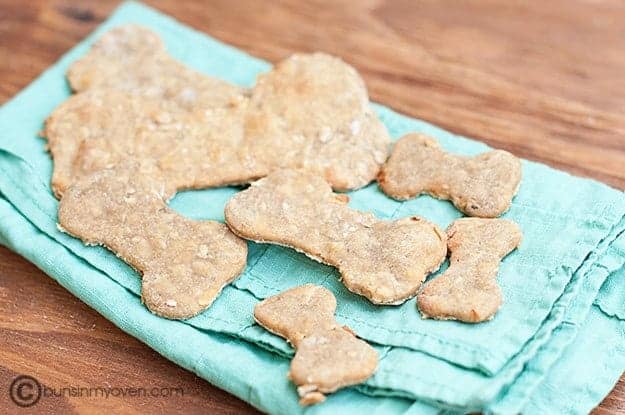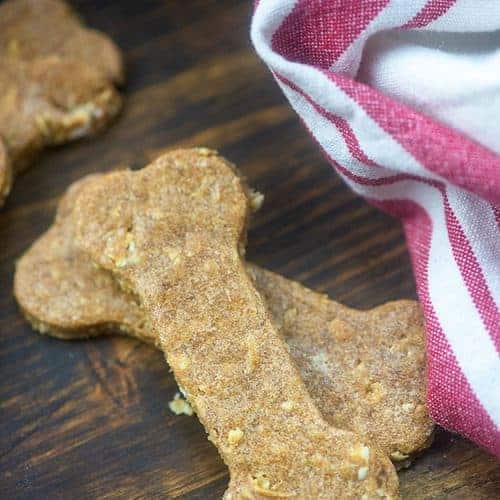 Peanut Butter and Banana Dog Treats
Servings: 24 treats
Calories: 54 kcal
Sweet treats for your favorite pup!
Ingredients
1 large egg
1 large banana mashed
1/3 cup peanut butter
1 tablespoon pure maple syrup
1 cup whole wheat flour
1/2 cup rolled oats
1 large egg white lightly beaten, for brushing (optional)
Instructions
Preheat oven to 300 degrees. Line a baking sheet with parchment paper.

Beat together the egg, banana, peanut butter, and maple syrup until well combined. Mix in the flour and oats and stir until combined.

Dump onto a floured work surface and roll to 1/4 inch thick. Cut out with cookie cutter of your choice. Place on baking sheet (they don't spread so you can place them pretty close together). Brush tops with egg whites.

Bake for 25-30 minutes or until crunchy. Store tightly covered.
Nutrition Facts
Peanut Butter and Banana Dog Treats
Amount Per Serving (1 treat)
Calories 54 Calories from Fat 18
% Daily Value*
Fat 2g3%
Cholesterol 6mg2%
Sodium 21mg1%
Potassium 71mg2%
Carbohydrates 7g2%
Fiber 1g4%
Sugar 1g1%
Protein 2g4%
Vitamin A 15IU0%
Vitamin C 0.4mg0%
Calcium 6mg1%
Iron 0.4mg2%
* Percent Daily Values are based on a 2000 calorie diet.
Nutrition Disclaimer: All information presented on this site is intended for informational purposes only. I am not a certified nutritionist and any nutritional information shared on bunsinmyoven.com should only be used as a general guideline.

adapted from allrecipes