Chocolate peanut butter fudge is my all time favorite fudge of the season! The best flavor combo in creamy fudge form and it's beyond simple to make this buckeye fudge.
Okay, you guys, I am READY.
Bring on the Christmas celebrations.
I'm talking cookies and cakes and candies and twinkly lights and snowy streets and packages all tied up with ribbon.
I have always loved the holiday season but for some reason, this year, I'm just really extra feeling it.
Brace yourselves, because I have a TON of new Christmas recipes heading your way over the next six weeks. I hope you're prepared for all kinds of goodies!
But first, let's talk about this chocolate peanut butter fudge!
When I was a kid my grandma always made chocolate fudge and peanut butter fudge every Christmas, but she never married the two together like I've done today. I love you Grandma, but you really missed an opportunity. 😉
I'm not all about the traditional fudge where you have to boil sugar to a specific stage – give me this easy microwave fudge! It tastes just as good!
This recipe is so simple. Let's start with the easy peanut butter fudge.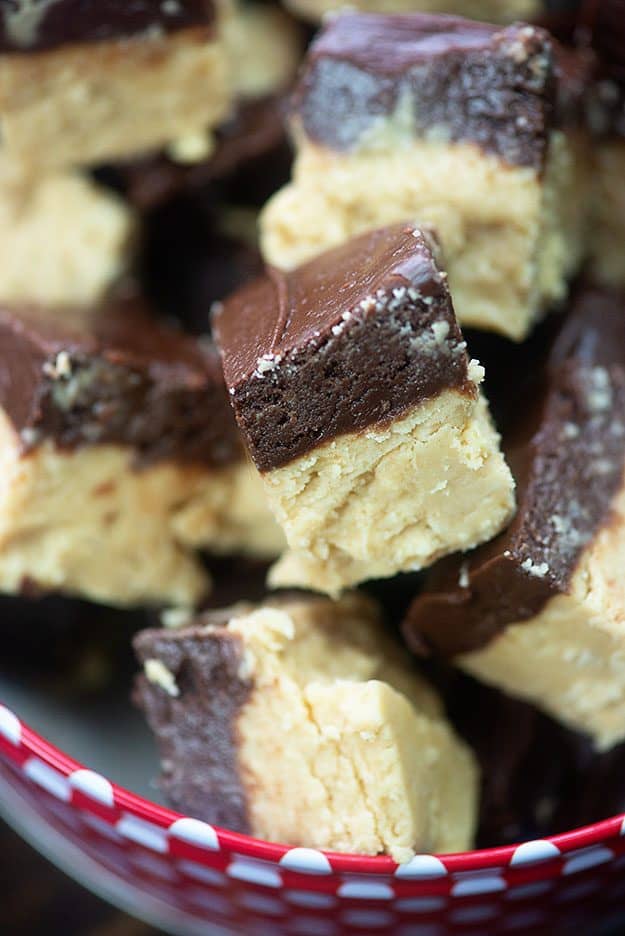 How to make peanut butter fudge:
My easy peanut butter fudge is soooo good and creamy. It's honestly a little dangerous for me to keep around because I just keep grabbing little bites every time I walk by!
You're going to melt together peanut butter and butter in the microwave for 3 minutes, stirring halfway through cooking.
Pour that glorious mixture over some powdered sugar and add a little vanilla and a pinch of salt.
Mix that all up and spread into a lined 8×8 baking dish.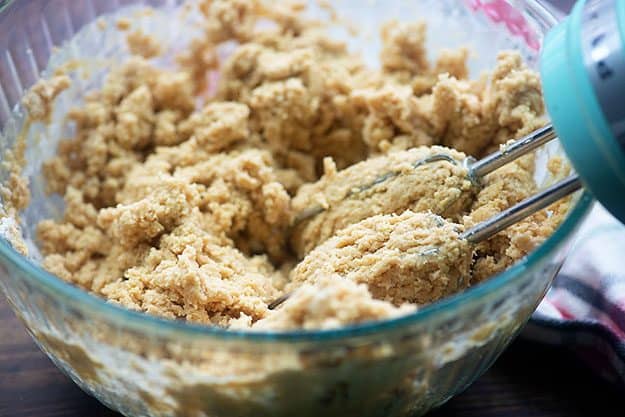 Pop the peanut butter fudge into the fridge to set while we make my easy chocolate fudge!
Easy chocolate fudge:
My chocolate fudge recipe is the same one people all over the internet use and it starts with chocolate chips and sweetened condensed milk. I also add in a splash of vanilla, because yum.
You'll just microwave all of this together and give it a good stir.
Sounds crazy, but it really makes a nice creamy fudge and I love that you can use whatever variety of chocolate chip you prefer!
Plop that mixture right on top of the peanut butter fudge and smooth it out.
This will be ready to devour after just a couple of hours in the fridge.
We prefer the fudge at room temperature so it's a bit softer, but you can eat it straight from the fridge too.
Either way, I hope you enjoy my microwave fudge recipe!
More fudge recipes to try:
Oreo Fudge: If you don't get excited about the thought of Oreo cookies stuffed inside fudge are you even human?
White Chocolate Fudge: Topped of with chunks of pretzels!
Keto Fudge: This maple fudge is actually a fat bomb – it's perfect for the keto diet!
Cookie Dough Fudge: We all love cookie dough and I've stuffed inside some fudge!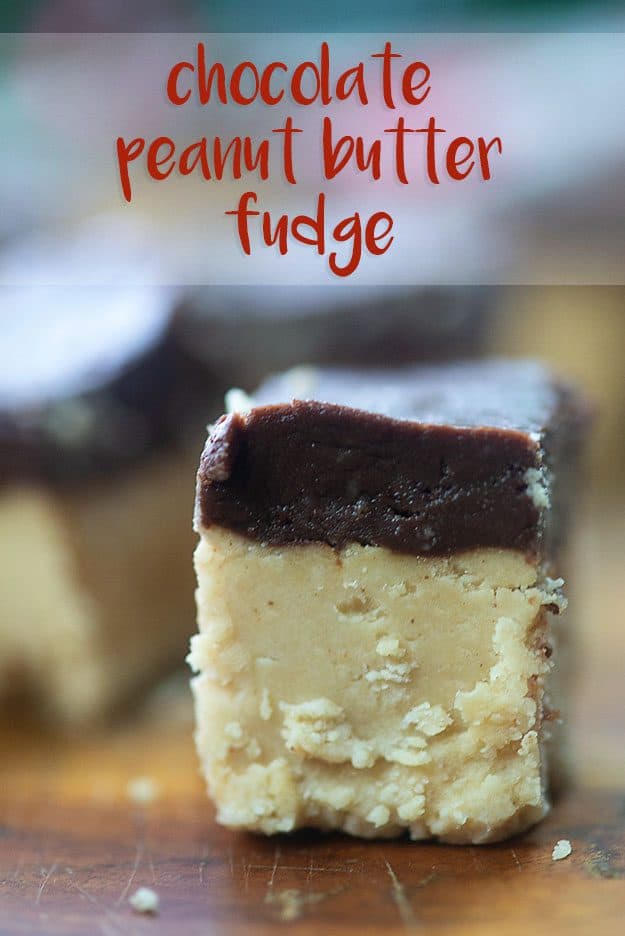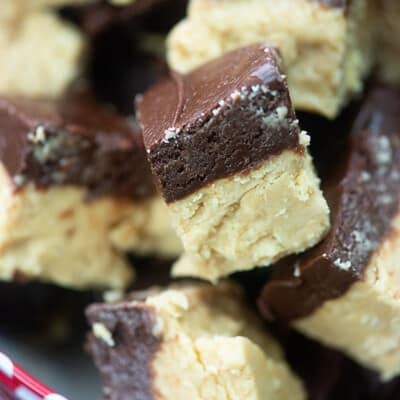 Chocolate Peanut Butter Fudge
Layers of chocolate and peanut butter in a simple easy fudge recipe that's made in the microwave.
Prep10 minutes
Cook5 minutes
Chill Time2 hours 30 minutes
Total2 hours 45 minutes
Ingredients
For the peanut butter fudge
For the chocolate fudge
7 ounces sweetened condensed milk
1 ½ cups semisweet chocolate chips
2 tablespoons butter
Instructions
To make the peanut butter fudge, add the peanut butter and butter to a large microwave safe bowl and microwave for 1 minute and 30 seconds. Stir well and return to the microwave for another 1 minute and 30 seconds.

Add 1 teaspoon of vanilla and a pinch of salt to the peanut butter mixture along with the powdered sugar.

Stir well to combine. Mixture will be thick.

Spread mixture into a lined 8x8 baking dish and place in the refrigerator for 30 minutes.

To make the chocolate fudge, add the sweetened condensed milk, chocolate chips, and butter to a microwave safe bowl and microwave for 1 minute and then stir. Continue microwaving and stirring in 30 second bursts until mixture is completely melted and smooth. Stir in the remaining 1 teaspoon vanilla.

Spread the chocolate fudge over the peanut butter fudge and return to the refrigerator for 2 hours to set.

Cut into 30 small pieces.
Nutrition Information:
Serving: 1piece| Calories: 244kcal (12%)| Carbohydrates: 25g (8%)| Protein: 3g (6%)| Fat: 15g (23%)| Saturated Fat: 7g (44%)| Cholesterol: 21mg (7%)| Sodium: 109mg (5%)| Potassium: 133mg (4%)| Fiber: 1g (4%)| Sugar: 22g (24%)| Vitamin A: 235IU (5%)| Vitamin C: 0.2mg| Calcium: 30mg (3%)| Iron: 0.8mg (4%)