This cookie dough fudge is such a hit with everyone who tries it!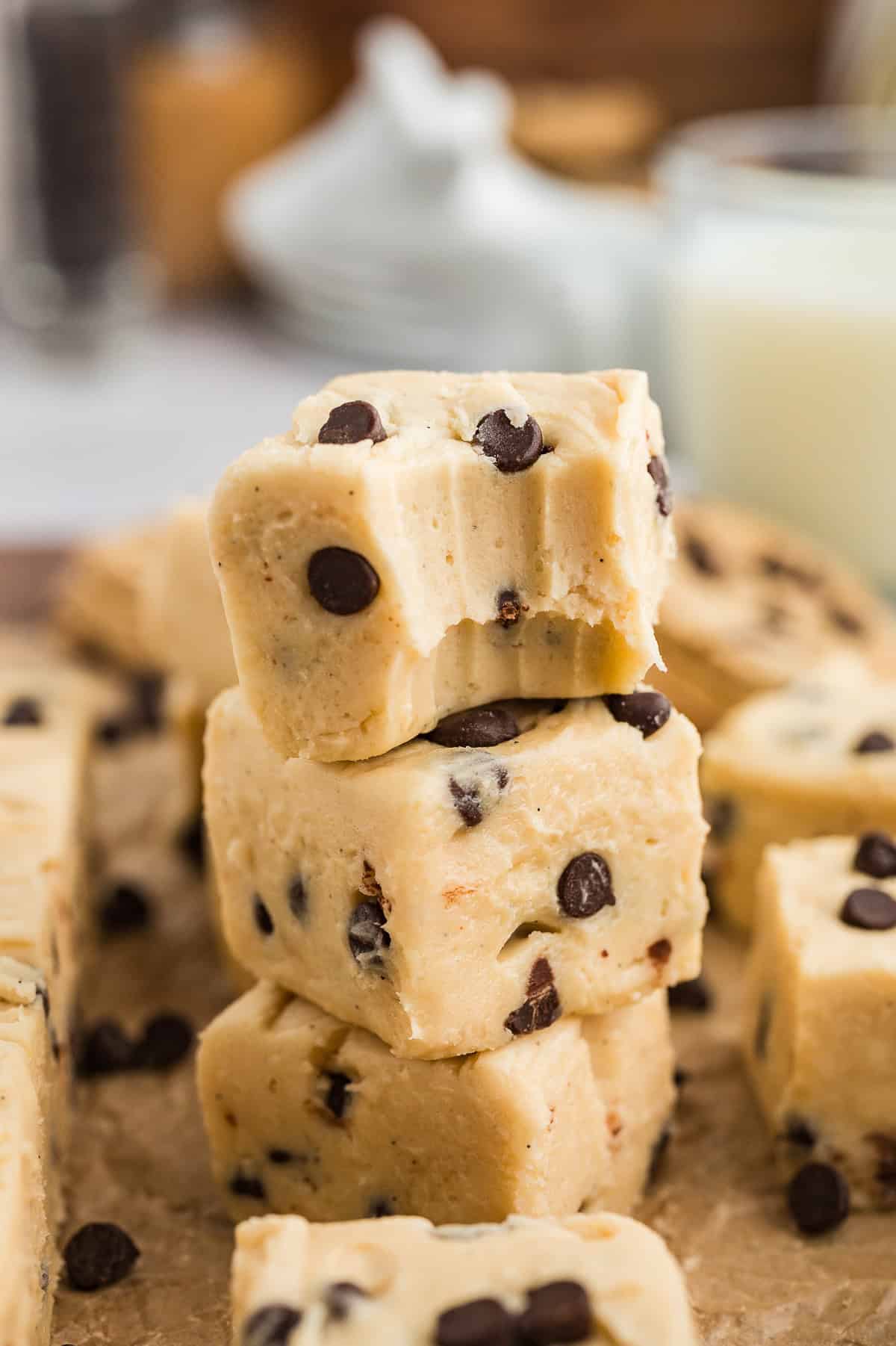 Guys. I know.
You're thinking fudge is a Christmas thing.
Well, I'm here to tell you that isn't true. You can make and eat fudge any time of year. I mean, you're an adult. You make the rules. Isn't that how it works?
We have to pay bills and do adult-y things. We should totally get to eat fudge for breakfast 5 days a week.
I thought this Chocolate Chip Cookie Dough Fudge from The Cookie Dough Lover's Cookbook (love this book!) would be pretty much perfect for Valentine's Day. Or a Tuesday. Or a Sunday. Or a…well, yeah. Any day. I mean, fudge is fudge. Just enjoy it.
Other recipes that you can make at any time of the year, without judgement from me? Cookies and Cream Fudge. White Chocolate Fudge <—It's loaded with pretzels. And of course pretty much anything else ever, because I don't follow the rules. I make the rules. And the rules are that there are no rules. Pumpkin at Easter. Reese's Eggs at Christmas. Whatever. #RebelWithoutACause
This easy fudge recipe tastes like cookie dough!
You'll notice this recipe says to use 4 to 5 cups of powdered sugar. The texture of the fudge will change depending on how much sugar you use. If you'd like a firmer fudge that you can serve at room temperature, use the full 5 cups. If you'd like a softer fudge that isn't quite as sweet, use 4 cups and serve it straight from the fridge.
I prefer this to be less sweet and serve it from the fridge. Either way, this recipe is going to have a lot of sugar, so you'll want to cut these into itty bitty pieces. You can always eat two, right? Like I said, you're the boss.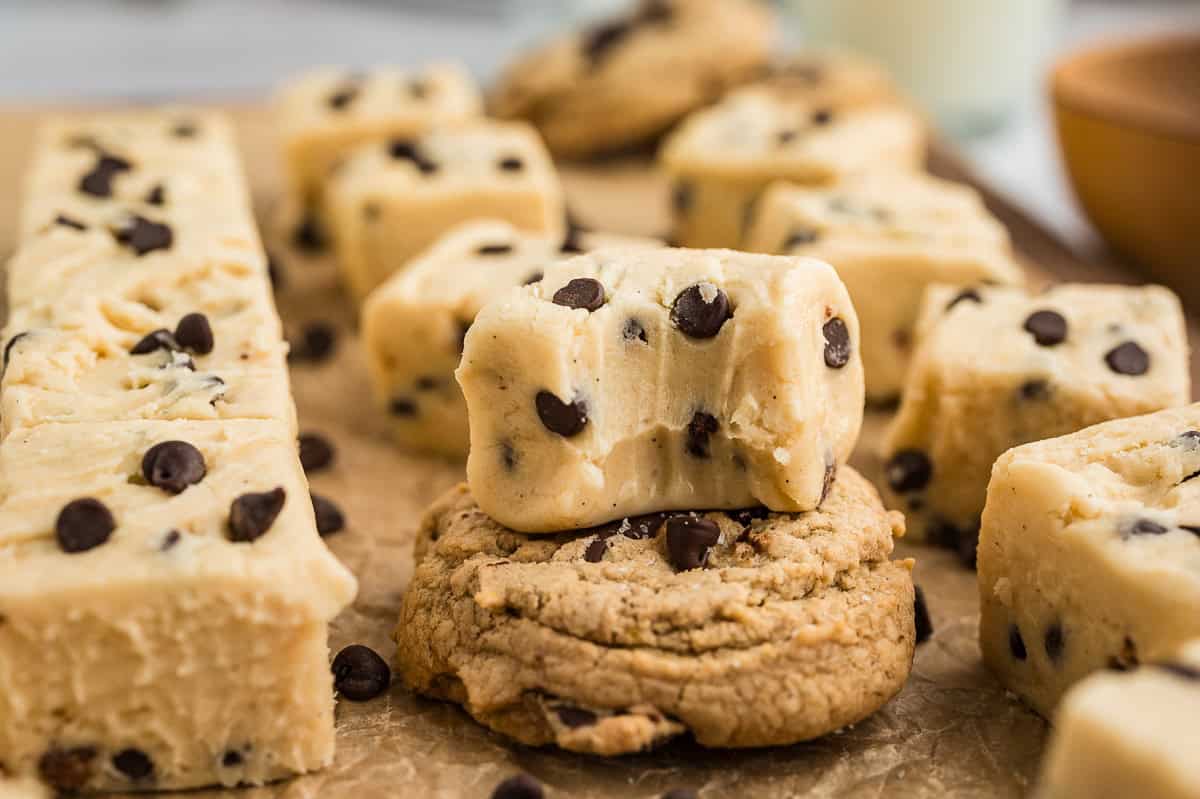 Chocolate Chip Cookie Dough Fudge
This fudge is a cookie dough lover's dream! Be sure to cut the pieces small as they are intensely sweet and rich!
Prep20 minutes
Chill3 hours
Total20 minutes
Ingredients
For the cookie dough:
1/2 cup butter room temperature
1/4 cup granulated sugar
1/4 cup brown sugar packed
1/2 teaspoon vanilla
1/8 teaspoon salt
2 tablespoons half and half
1/2 cup all-purpose flour
For the fudge:
1/3 cup brown sugar packed
1/3 cup butter
Pinch of salt
1/3 cup half and half
4-5 cups powdered sugar
1 teaspoon vanilla
1/2 cup mini chocolate chips
Instructions
Line an 8x8 baking dish with foil, leaving a 1 inch overhang. Spray with non-stick cooking spray.

To prepare the cookie dough, beat together the butter and sugar until light and fluffy, about 3 minutes.

Beat in the vanilla, salt, and half and half.

Stir in the flour until incorporated. Set aside.

To make the fudge base, combine the brown sugar, butter, salt, and half and half in a saucepan. Stir over medium low heat until the butter has melted and the brown sugar is dissolved.

Remove from the heat and slowly stir in the powdered sugar, 1 cup at a time, until the mixture is smooth and well combined. Stir in the vanilla.

Add the cookie dough to the fudge base and stir to combine. Mix in the chocolate chips.

Spread the mixture in the prepared baking dish. Chill until set, at least 3 hours. Keep in refrigerator for up to 1 week.
Nutrition Information:
Calories: 74kcal (4%)| Carbohydrates: 12g (4%)| Fat: 2g (3%)| Saturated Fat: 1g (6%)| Cholesterol: 7mg (2%)| Sodium: 28mg (1%)| Potassium: 5mg| Sugar: 10g (11%)| Vitamin A: 85IU (2%)| Calcium: 6mg (1%)| Iron: 0.1mg (1%)
Need more treats? Lucky for you, I have lots more where this came from!