This CHOCOLATE CHIP COOKIE DOUGH FROSTING is so sweet, creamy, and it tastes just like a giant dollop of cookie dough right on top of your cupcake. This recipe is super fast and easy with ingredients you probably already have on hand!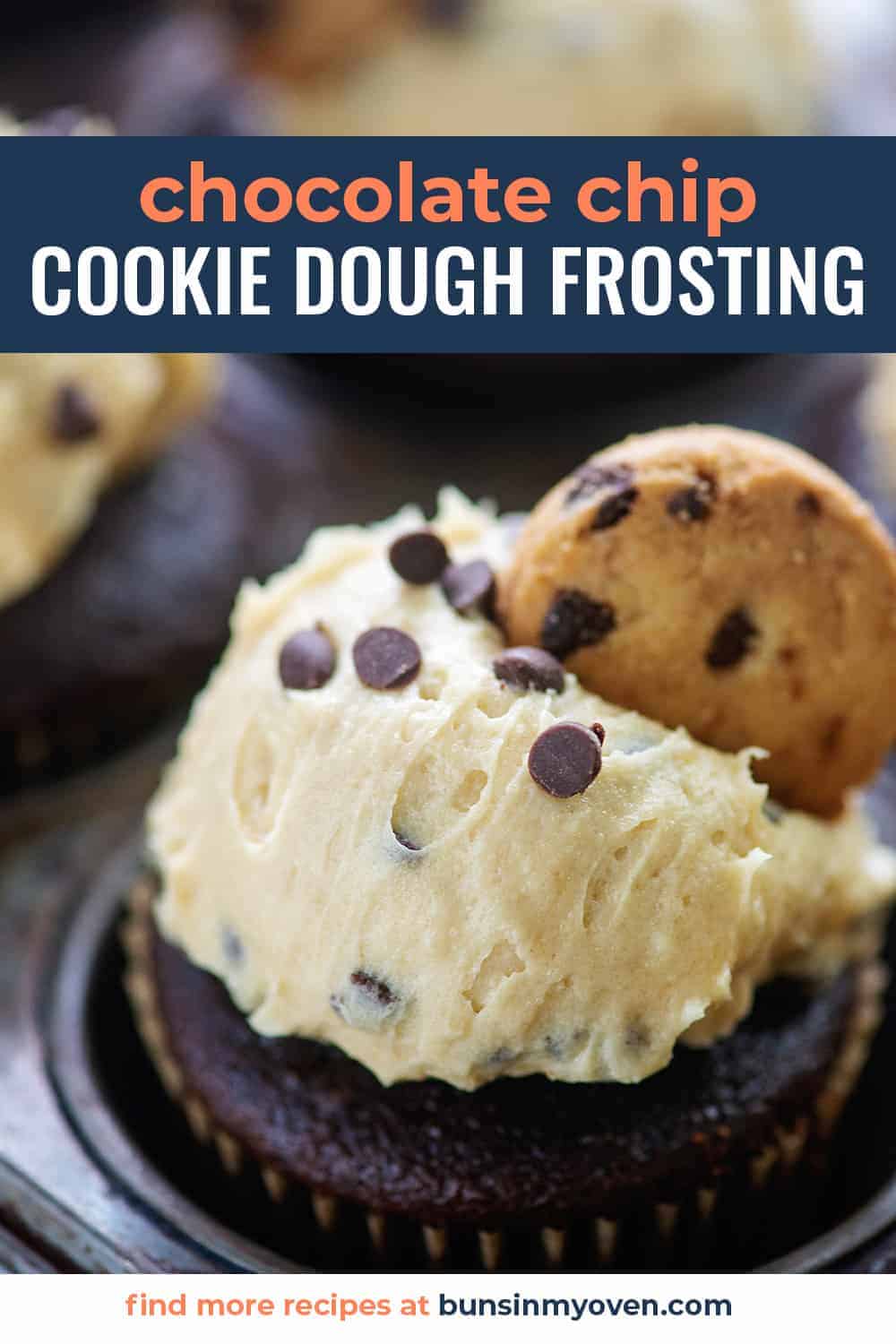 Well, I've gone and done it now.
I've made what is quite likely the BEST frosting in all the land and if you don't spend the next week of your life slowly eating cupcake after cupcake (while hiding in the pantry from the kids, obviously), well, you're living wrong, my friend.
This frosting is irresistible. <— I'm not sure I've ever used that word on this blog before, so please know that I am very serious. You will not be able to resist this cookie dough frosting.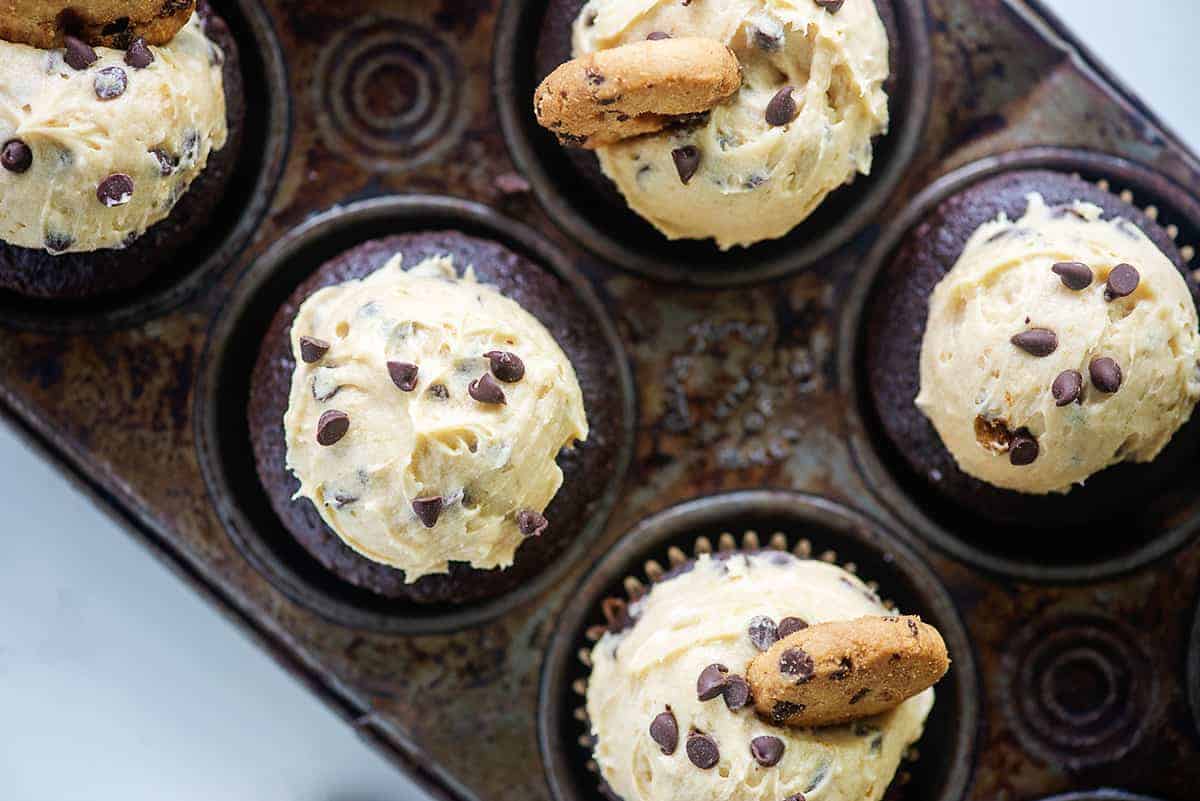 How to Make:
As with most frosting recipes, you'll start by creaming together butter and sugar. We're mixing things up by throwing in some cream cheese to balance all of the sweetness and also mixing in brown sugar and vanilla to give it that cookie dough flavor! Trust me – the brown sugar and vanilla are the key.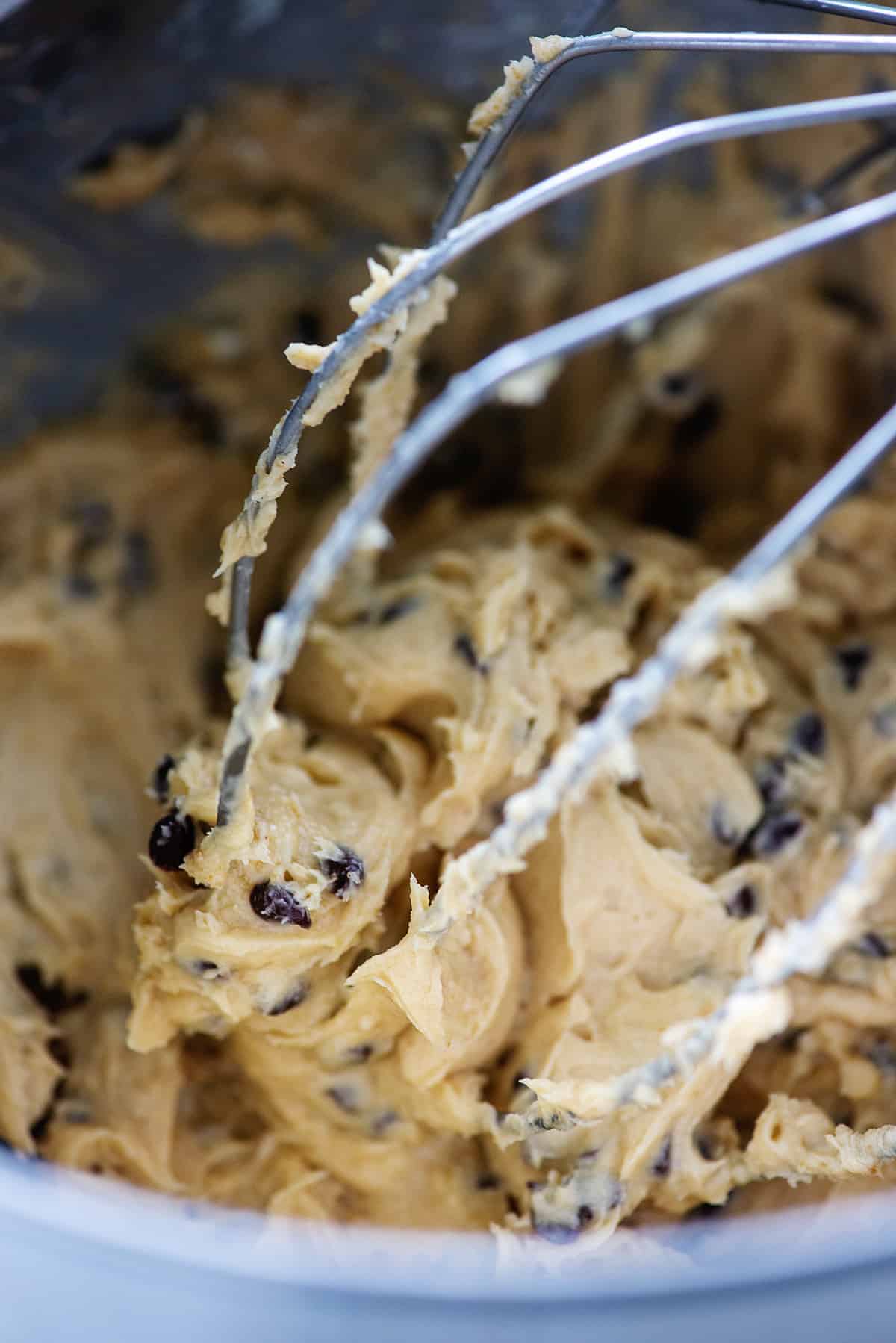 Once your frosting is smooth and creamy, stir in some mini chocolate chips. As many or as few as you like will do nicely.
I'm a big fan of using a cookie scoop here to just dollop a big ol' blob of frosting right on top of a cupcake. You can try to pipe it, but the chocolate chips might give you a bit of trouble. You can also just slather it on with a butter knife.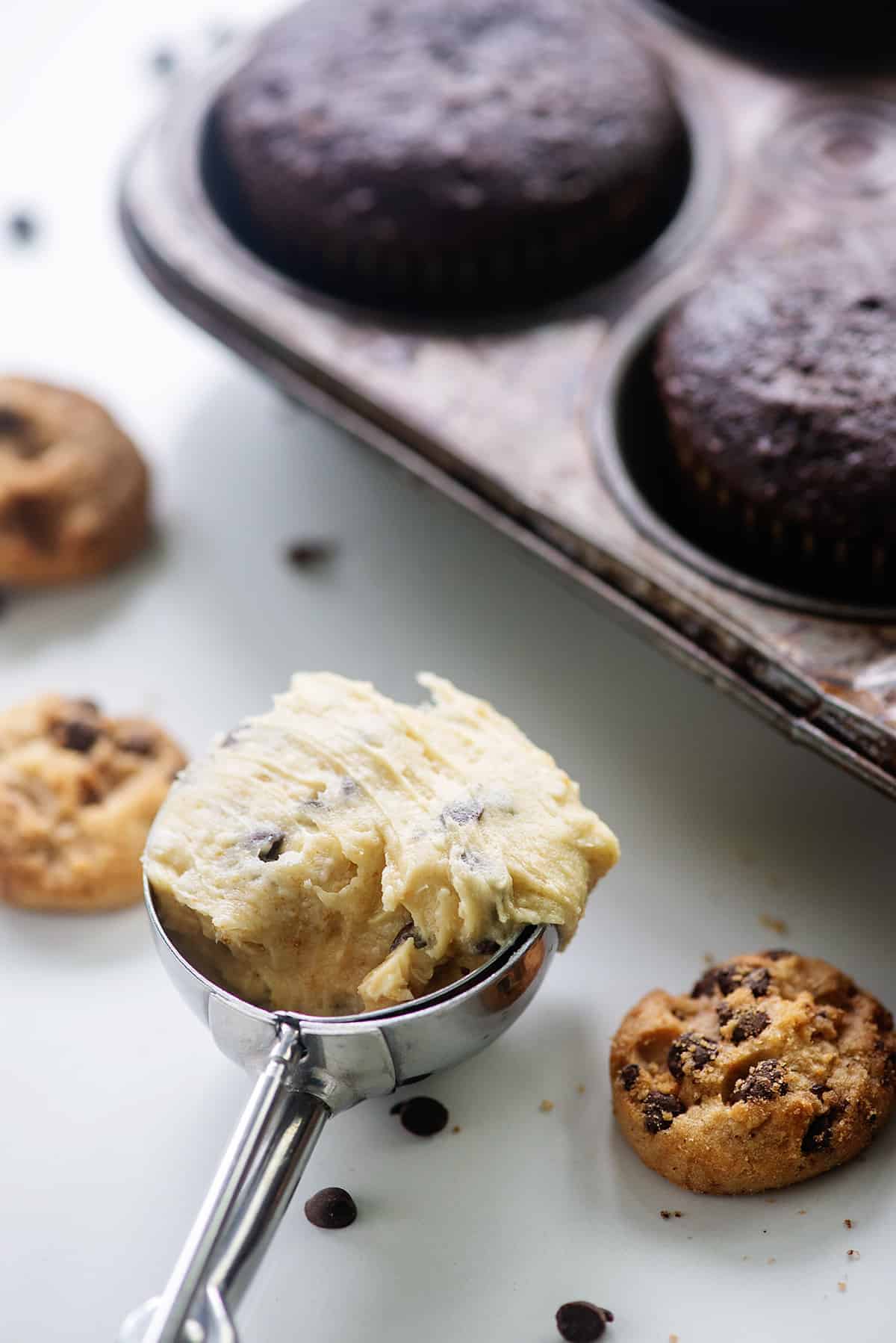 Let the frosting chill in the fridge for an hour or two.
This frosting is going to be REALLY GOOD right out the gate. You're going to love it and want to eat the whole bowl with a spoon.
But give it an hour or two in the fridge and it is HEAVEN. The frosting firms up perfectly so that it not only tastes like biting into cookie dough, it feels like it too!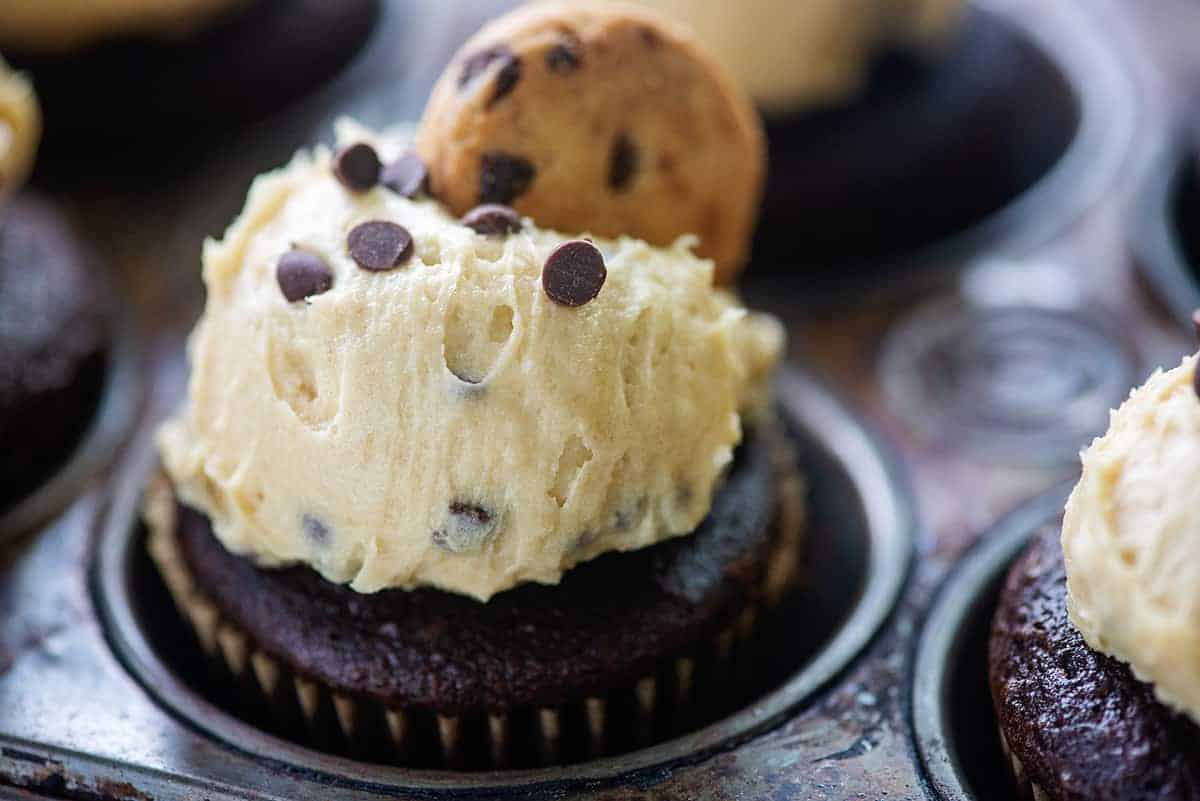 Helpful Tip!
Decorating Your Cupcakes
To stick with the cookie dough vibe, I use a large size cookie scoop to dollop a blob of frosting right on top of the cupcake. This will make for a BIG scoop of frosting. You can also use a medium cookie scoop for a more reasonable amount of frosting, but what fun is that?
Sprinkle additional mini chocolate chips on top of the frosting.
Stick a couple of mini chocolate chip cookies in the frosting. I used Chips Ahoy, but you could also make your own using the recipe for my perfect chocolate chip cookies.
Wondering about those perfectly moist chocolate cupcakes? They came from a box mix. Ain't no shame in my game!
These super moist chocolate cupcakes always turn out perfect though!
Leftover Hack!
Did you end up with more frosting than cupcakes? Lucky you!
Spread the extra frosting between graham crackers and serve as a fun snack. Your kids will love it…if you share! 😉
More cookie dough desserts!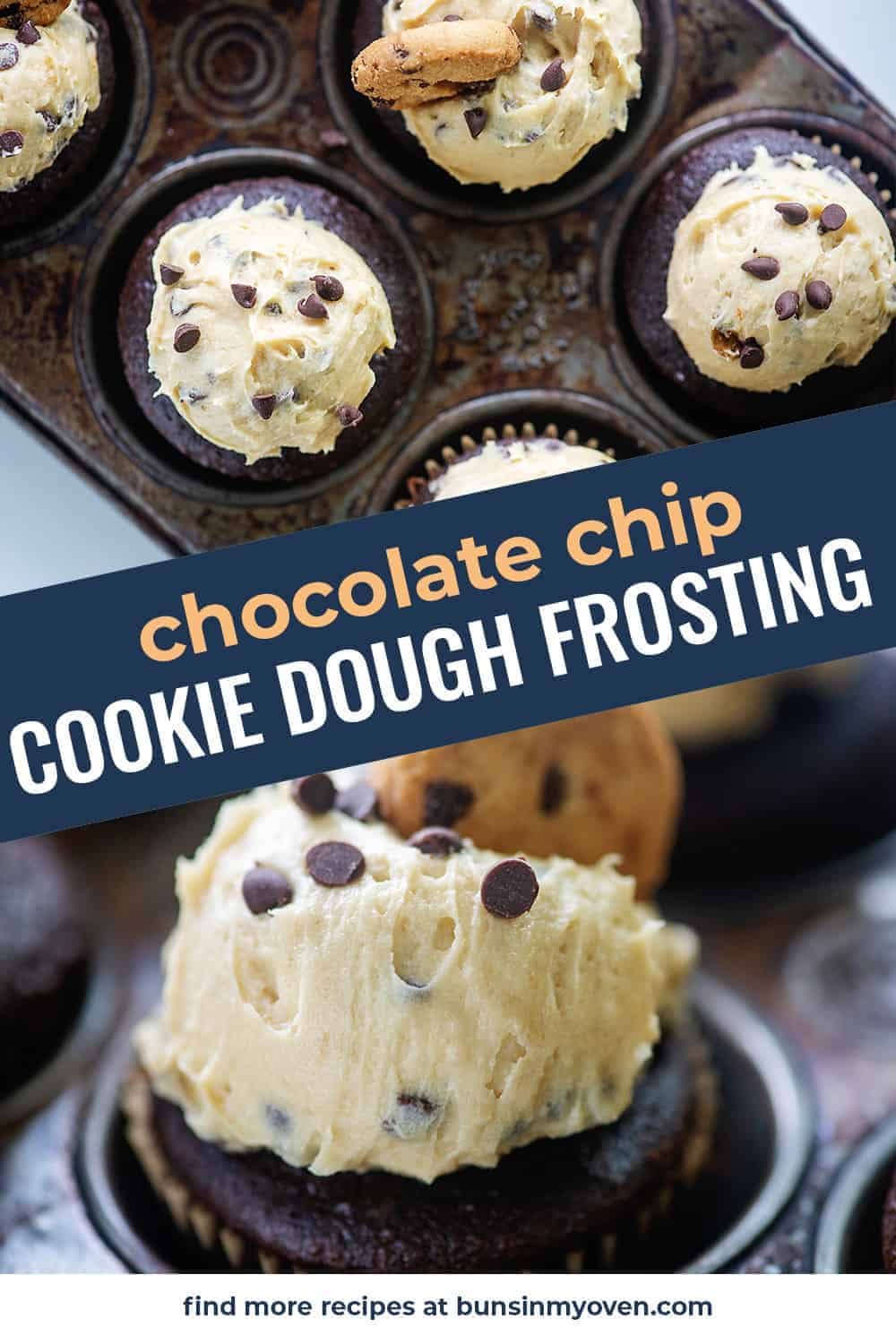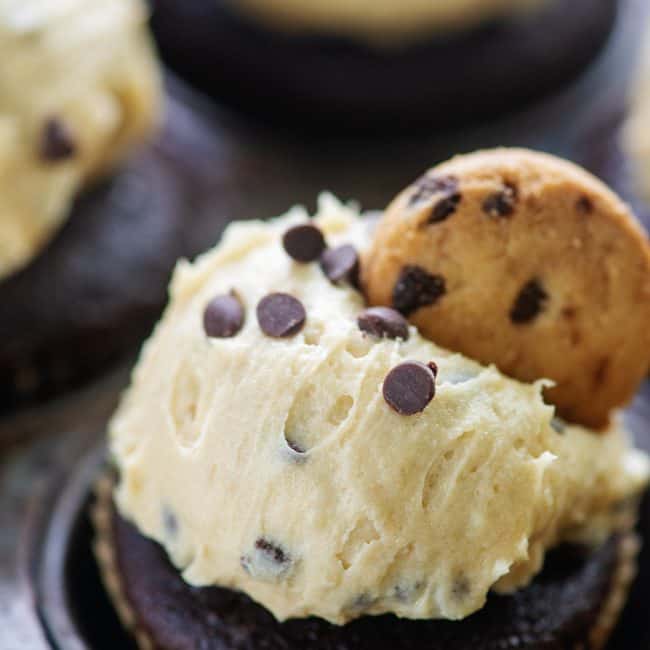 Cookie Dough Frosting
This frosting is thick, creamy, and perfect for dolloping on cupcakes. It tastes just like a giant scoop of cookie dough. Be sure to the let the frosting chill for a bit after decorating your cupcakes so that it can firm up to have more of a cookie dough texture too!
Prep10 minutes
Total10 minutes
Ingredients
1 cup butter room temperature
4 ounces cream cheese room temperature
3 cups powdered sugar
1/2 cup dark brown sugar
2 teaspoons vanilla extract
1/4 teaspoon salt
3/4 cup mini chocolate chips
12 cupcakes any flavor you prefer
Instructions
Add the butter and cream cheese to a mixing bowl and beat with an electric mixer until smooth and creamy.

Add the powdered sugar, brown sugar, vanilla, and salt to the bowl and continue mixing until smooth and creamy.

Stir the mini chocolate chips into the frosting by hand.

Use a large cookie scoop to scoop the dough across the cupcakes for generously frosting cupcakes. For less frosting, use a medium cookie scoop or just spread the frosting over the cupcakes with a butter knife.

Place the cupcakes in the fridge for 1-2 hours to allow the frosting to firm up. This will give the frosting a thicker cookie dough texture.
Tips & Notes:
We like to add mini chocolate chip cookies on top of the frosting just before serving. The cookies will get soft in the fridge if you add them before chilling the frosting.
Nutrition Information:
Serving: 1cupcake| Calories: 531kcal (27%)| Carbohydrates: 72g (24%)| Protein: 4g (8%)| Fat: 27g (42%)| Saturated Fat: 15g (94%)| Cholesterol: 54mg (18%)| Sodium: 317mg (14%)| Potassium: 71mg (2%)| Fiber: 1g (4%)| Sugar: 61g (68%)| Vitamin A: 647IU (13%)| Vitamin C: 1mg (1%)| Calcium: 90mg (9%)| Iron: 1mg (6%)