Chocolate chip cookie dough ice cream is the perfect summer treat! Cookie dough and ice cream are delicious on their own, but when you mix them together, magic happens!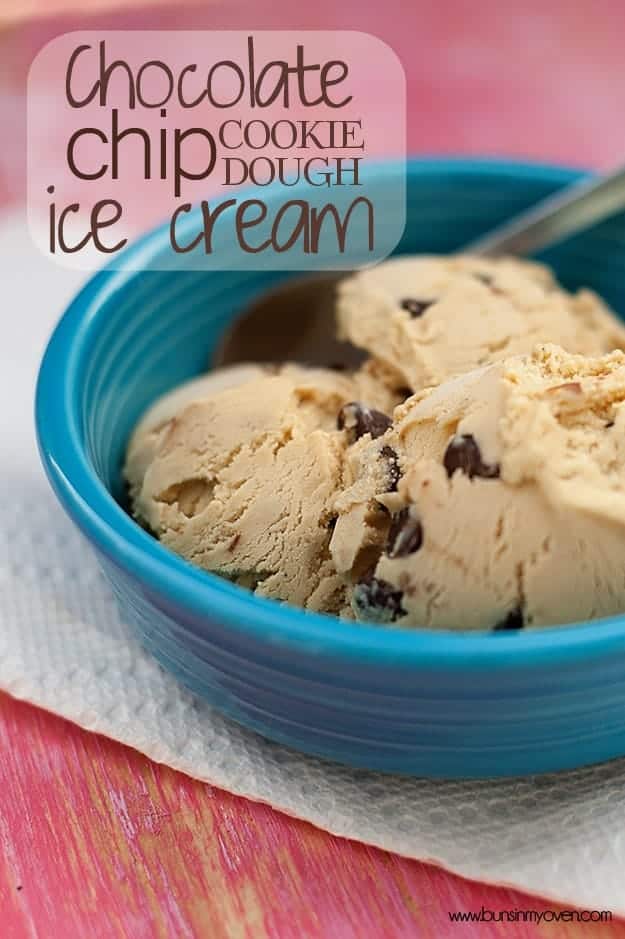 I read a book today.
Yes, the whole thing.
I read a book yesterday, too. All of it.
I'm sort of a freak about books. I don't read for a month or two and then all of a sudden I download every book I can find on my kindle and I spend days and days just laying around reading. It's ridiculous.
Anyway, my most recent book was about a man cheating on his wife. The story was told from both the perspective of the wife and the mistress. It was rough, man. My eyes are all swollen and my teeth feel slimy from crying.
Side note: am I the only one whose teeth feel slimy after crying? I hate that feeling. Haaaaate it.
So, if you need me over the next few weeks, I'll be obsessively checking my husband's collars for lipstick and sniffing him for perfume. He's going to be so excited that I read that book, I just know it.
Lucky him, because of the book I was feeling sad and hormonal so I made ice cream. It's supposed to cure everything, right?
This cookie dough ice cream absolutely does whatever problem you have.
Chocolate chip cookie dough ice cream – double doses of cookie dough flavor here!
It's not vanilla ice cream with chunks of cookie dough throughout like you find in the store.
No.
It's cookie dough flavored ice cream with cookie dough chunks.
Double cookie dough, you guys. Perfect for devouring after reading a sad book.
(Y'all keep asking for the book titles! The first one I read was Emily Giffin's Love the One You're With. I really liked this one. The second book was Emily Giffin's Heart of the Matter. It was a really stressful read and I didn't love the ending. Both of these deal with cheating on a spouse and I don't recommend reading them back to back. I'll be checking my husband's cell phone for the foreseeable future, just in case.)
Chocolate Chip Cookie Dough Ice Cream
Cookie dough and ice cream are two of my favorite things! They're even better together!
Prep20 minutes
Cook5 minutes
Chill Time12 hours
Total25 minutes
Ingredients
For the ice cream:
3 Tbsp salted butter
2/3 cup dark brown sugar
4 egg yolks
1 cup heavy cream
2 cups whole milk divided
pinch of salt
2 tsp vanilla
For the cookie dough:
1/4 cup salted butter room temperature
1/4 cup light brown sugar packed
2 tablespoons white sugar
1 Tablespoon milk
1/2 teaspoons vanilla extract
1/3 cup all-purpose flour
1/3 cup milk chocolate chips
Instructions
To make the ice cream:
In a small sauce pan heat the butter over medium high heat until melted and golden brown, being careful not to burn and stirring often.

Add the cream and 1 cup of milk and heat until scalding (not quite boiling).

In a separate bowl whisk together the brown sugar and egg yolks until light and fluffy.

Slowly pour about half of the butter mixture into the egg mixture, whisking constantly. Pour back into the saucepan and add the pinch of salt. Heat to 170 degrees, or until a custard forms that coats the back of a spoon. Stir in the vanilla.

Transfer the custard to a bowl and cover with plastic wrap. Refrigerate overnight to chill completely.

Remove from the refrigerator and whisk in the remaining cup of milk.

Pour into ice cream maker and freeze according to manufacturers directions. During the last few minutes of freezing add small pieces of cookie dough.
To make the cookie dough:
Beat together the butter and sugars until light and fluffy.

Beat in the milk and vanilla.

Mix in the flour until well combined.

Stir in the chocolate chips.

Break into small pieces with your fingers to add to the ice cream.
Nutrition Information:
Calories: 853kcal (43%)| Carbohydrates: 82g (27%)| Protein: 10g (20%)| Fat: 54g (83%)| Saturated Fat: 32g (200%)| Cholesterol: 345mg (115%)| Sodium: 287mg (12%)| Potassium: 303mg (9%)| Sugar: 71g (79%)| Vitamin A: 1985IU (40%)| Vitamin C: 0.3mg| Calcium: 269mg (27%)| Iron: 1.5mg (8%)
adapted from Baking Junkie