This MICROWAVE PEANUT BUTTER FUDGE could not be simpler or more delicious. It's so creamy and rich with just a handful of ingredients. You won't believe how simple this easy fudge recipe is!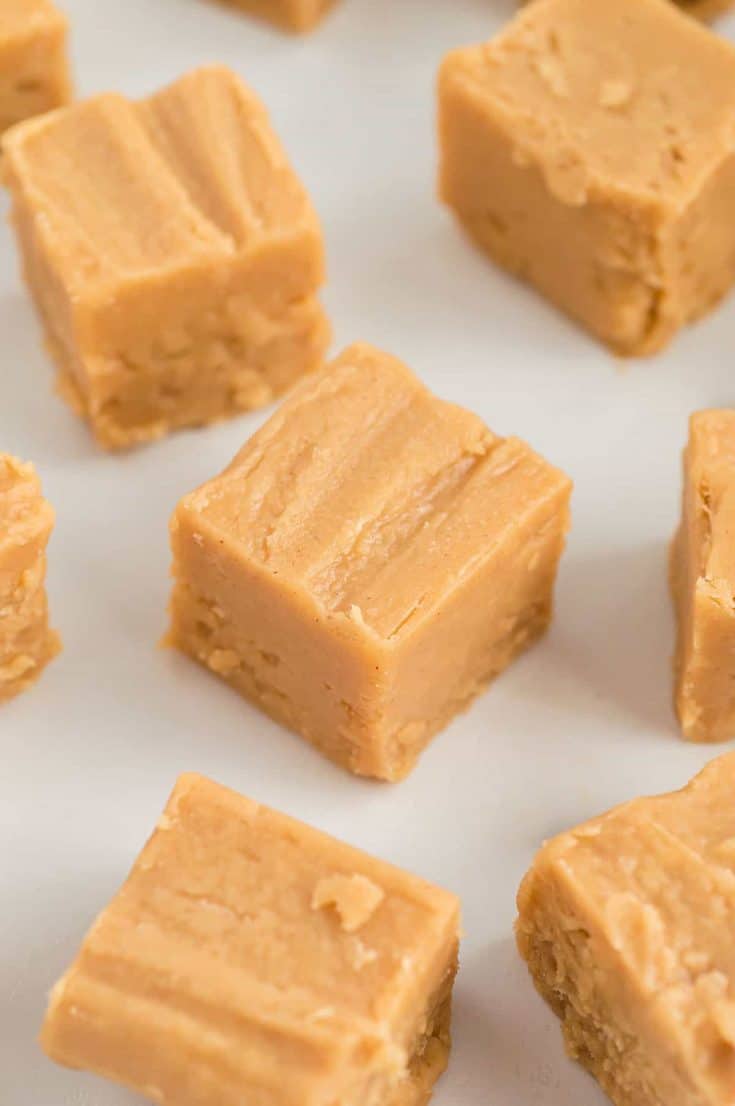 I've lived my entire life as an absolute peanut butter fanatic.
I eat it by the spoonful at least once a day.
I add it into things that the average person would find utterly strange.
I have over 100 recipes featuring peanut butter on this site. (You can find them here!)
Our pups even get in on the action with these peanut butter dog treats.
And this peanut butter fudge? It's a total favorite in our house.
Utterly creamy, not at all dry, loaded with peanut butter, sweet but not overwhelming, and so easy you won't believe!
Ingredients:
This post contains affiliate links. As an Amazon associate and member of other qualifying programs, I earn from qualifying purchases.
Creamy Peanut Butter: We use Jif or Skippy almost exclusively in our house. Whatever brand you use, just make sure it's a no-stir variety.
Butter: Unsalted or salted work fine. We think the extra bit of salt works well with the peanut butter and we never keep unsalted on hand, so we use salted.
Powdered Sugar: You'll need 3 cups, which is a 1/2 cup shy of 1 pound.
Vanilla: We prefer real vanilla extract to the imitation stuff. Better ingredients = better quality!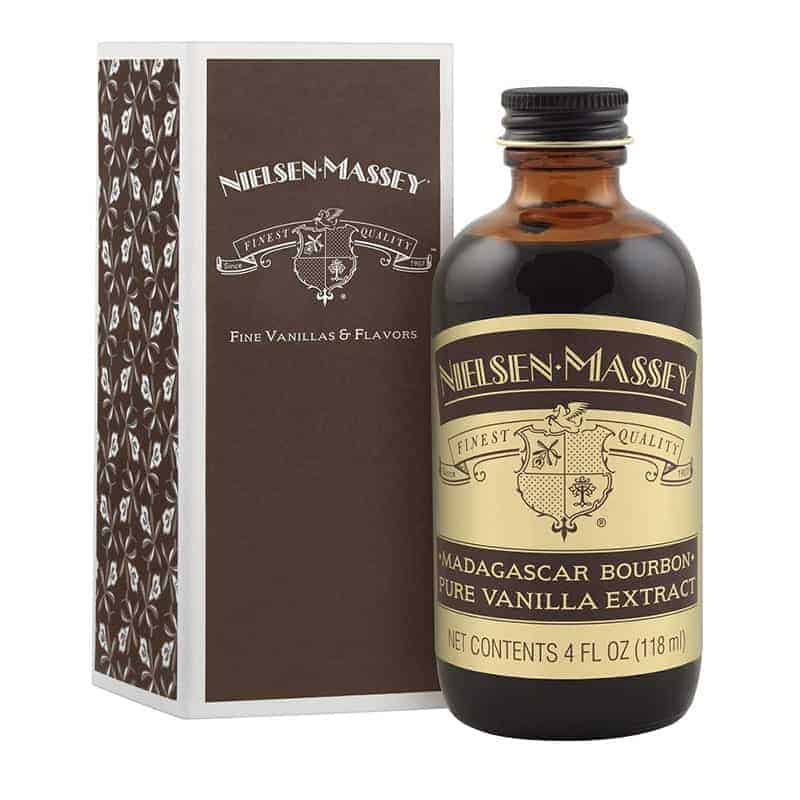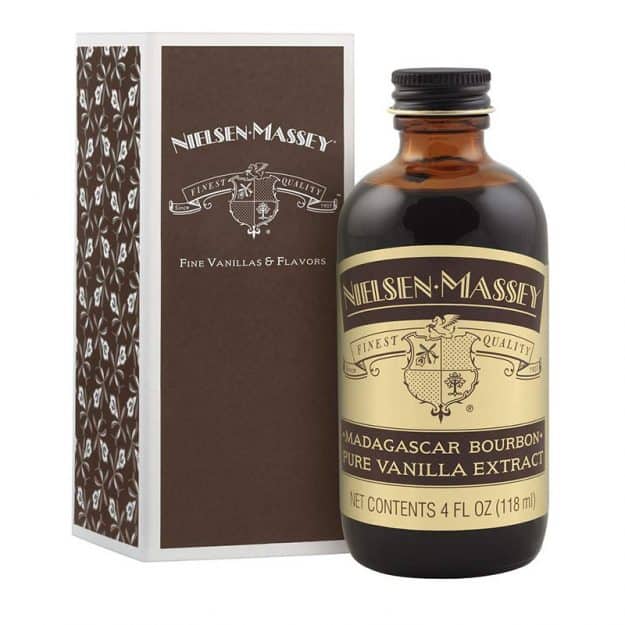 I love using this meat thermometer for making sure the meat is at 165 degrees! Easy for beginners & totally worth the $10 cost!
How to Make Peanut Butter Fudge:
Microwave : This easy peanut butter fudge recipe starts by melting together butter and peanut butter in the microwave.
Mix: Use a hand mixer to beat in the powdered sugar one cup at a time. The mixture will thicken up, a bit like a cookie dough.
Add: Drizzle in the cream, vanilla, and a sprinkle of sea salt and then mix until everything is smooth and creamy.
Cool: Pour the prepared fudge recipe dough into a parchment lined 8×8 baking dish and spread until it is smooth and even. Finally you can cover and place in the refrigerator until is has cooled, about 2 hours or until it is set.
Slice: When the fudge has cooled, lift it from the pan and cut into squares about 1-inch each. We go a teensy bit on the larger side and do 7 rows of 7 for a total of 49 pieces of fudge.
The corner pieces that aren't perfectly square are for the chef to nibble on while cleaning up. 😉
This is a perfect holiday treat for Christmas or any time of the year as a dessert. Simple, sweet, and loaded with peanut butter.
We've made loads of peanut butter fudge and this is the easiest recipe and it turns out so creamy and smooth, perfectly sweet without being overwhelming, and every single person that gets a piece asks for the recipe!
STORAGE:
This fudge will last up to 4 days in an airtight container at room temperature, and up to a week in the refrigerator.
If you freeze it in a freezer-safe container it will last up to 3 months.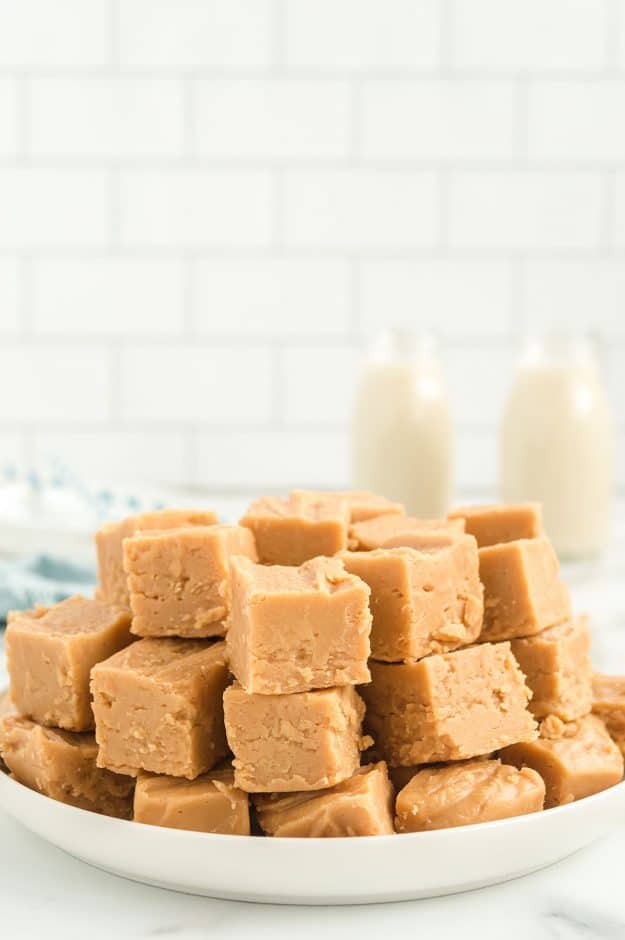 Leftover Hack!
Extra fudge that you don't want to stash away in the freezer? Use my favorite hack for leftover treats – add them to a milkshake! A couple scoops of your favorite ice cream, some milk, and as much fudge as you'd like. It's so rich and decadent!
FAQs:
Can I add chocolate?
Yes. It is best to gently add chocolate chips by pressing into the dough before refrigerating it, or by melting chocolate and drizzling over the top.
Can I use chunky peanut butter?
I've not tested this recipe with chunky peanut butter, it would likely result in the fudge being not as smooth or creamy.
Can I make this in a 9×13 dish instead?
Yes, double the recipe to use a 9×13 dish.
Can I eat these warm or cold?
This fudge is best kept in the fridge. It may be eaten cold (our favorite!) or at room temperature.
More peanut butter treats!
We're peanut butter fanatics in my house. Here are a few of our other favorites: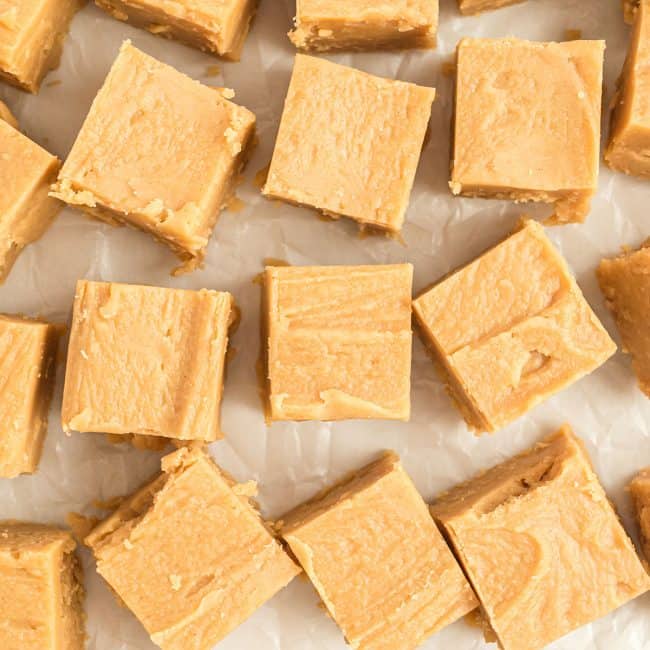 Peanut Butter Fudge
This peanut butter fudge turns out rich and creamy without being overwhelmingly sweet. It's not at all dry or crumbly and it's so easy to make in the microwave!
Prep10 minutes
Cook1 minute
Chill Time2 hours
Total2 hours 11 minutes
Instructions
Add the peanut butter and butter to a large mixing bowl and place in the microwave. Microwave for 1-2 minutes, until melted and smooth, stirring every 30 seconds.

Using an electric mixer, beat in the powdered sugar one cup at a time, until smooth.

Beat in the cream, vanilla, and salt.

Line an 8×8 baking dish with parchment paper or foil, leaving the edges hanging out of the pan to make it easy to remove the fudge later.

Pour the fudge mixture into the prepared pan and refrigerate for 2 hours or until set.

Lift the fudge from the pan and cut into 1-inch squares.

Store in an air-tight container.
Tips & Notes:
Store in an air-tight container at room temperature for 1 week, in the refrigerator for up to 2 weeks, or in the freezer for up to 3 months.
Nutrition Information:
Serving: 1piece| Calories: 94kcal (5%)| Carbohydrates: 9g (3%)| Protein: 2g (4%)| Fat: 6g (9%)| Saturated Fat: 3g (19%)| Cholesterol: 8mg (3%)| Sodium: 67mg (3%)| Potassium: 44mg (1%)| Fiber: 1g (4%)| Sugar: 8g (9%)| Vitamin A: 95IU (2%)| Calcium: 4mg| Iron: 1mg (6%)