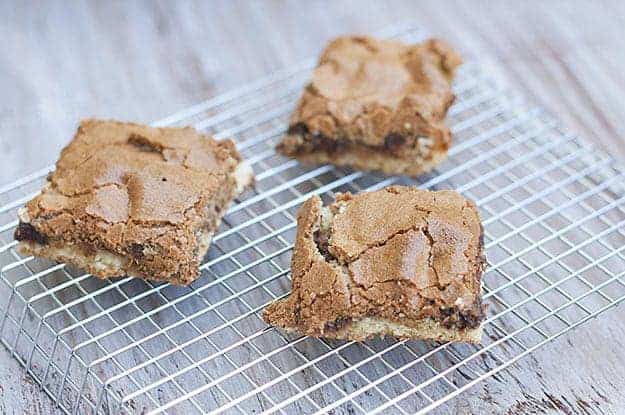 I was feeling grumpy yesterday morning.
Biscuit (the puppy) is turning into a biter and being bit makes me kind of insane. Then I got the brilliant idea to turn off our air conditioning and pretend it was Fall, so I was "sweaty-hot" as my daughter likes to say. And, of course, to top it all off, having a puppy with the bladder the size of a peanut means that I'm waking up in the middle of the night for potty breaks. I don't like that. I don't like that at all.
So, as I was saying, I was a grump.
Baking usually cheers me up, both because it takes my mind off whatever is frustrating me and it generally results in something delicious to shove in my face. I was brave though, yesterday. I decided to experiment in the kitchen. I do this a lot, with mixed results. It was a risk experimenting yesterday. A kitchen failure surely wasn't going to improve my mood, but a success would totally cure me of any grumpiness.
I'm happy to say I was cured! These Hot Fudge Peanut Bars are a total success! A chewy, gooey, hot fudgy success. The meringue top is so sticky and chewy that I can't stop picking little pieces off. The hot fudge is, well, it's hot fudge. Need I say more about that? And the bottom cookie-like crust is perfectly chewy and sweet. The peanut butter just brings everything together.
So, basically what I'm trying to say is, if you have a case of the grumps, you should totally get in the kitchen and bake these guys. Unless you enjoy being grumpy. In which case, you're kind of a freak and you should stay away from treats that ooze hot fudge.
Hot Fudge Peanut Butter Bars
Hot fudge and peanut butter baked up in delicious little cookie bars!
Prep10 minutes
Cook30 minutes
Total40 minutes
Ingredients
1/2 cup butter softened
1 cup sugar
3 eggs
1 1/2 cups all-purpose flour
1 teaspoon baking powder
1/4 teaspoon salt
3/4 cup hot fudge sauce
1/2 cup peanut butter chunky or smooth is fine
1 cup brown sugar
Instructions
Preheat oven to 350 degrees. Line a 9x13 baking dish with parchment.

In the bowl of your stand mixer, cream together the butter and sugar until light and fluffy. Add 1 whole egg and the yolks of 2 eggs. Set aside the egg whites for the topping.

In a small bowl combine the flour, baking powder, and salt. Add to the butter mixture and beat until fully incorporated. Spread the batter in the prepared baking dish. It will be thick, so just use your fingers to smoosh it all around the pan.

In a microwave safe bowl, heat the hot fudge and peanut butter until they are a pourable consistency. Pour over the batter in the baking dish and spread to cover.

Beat the 2 egg whites until stiff peaks form. Fold in the brown sugar gently. Spread this over the hot fudge and peanut butter.

Bake for 30 minutes or until the top is golden brown and the bottom crust is cooked through, but not crunchy.

Cool and then cut into bars and serve.
Nutrition Information:
Calories: 303kcal (15%)| Carbohydrates: 45g (15%)| Protein: 5g (10%)| Fat: 11g (17%)| Saturated Fat: 5g (31%)| Cholesterol: 46mg (15%)| Sodium: 189mg (8%)| Potassium: 160mg (5%)| Fiber: 1g (4%)| Sugar: 31g (34%)| Vitamin A: 220IU (4%)| Calcium: 41mg (4%)| Iron: 1.1mg (6%)