Chocolate peanut butter bars! These are made extra easy with a cake mix and that gooey chocolate center is beyond amazing!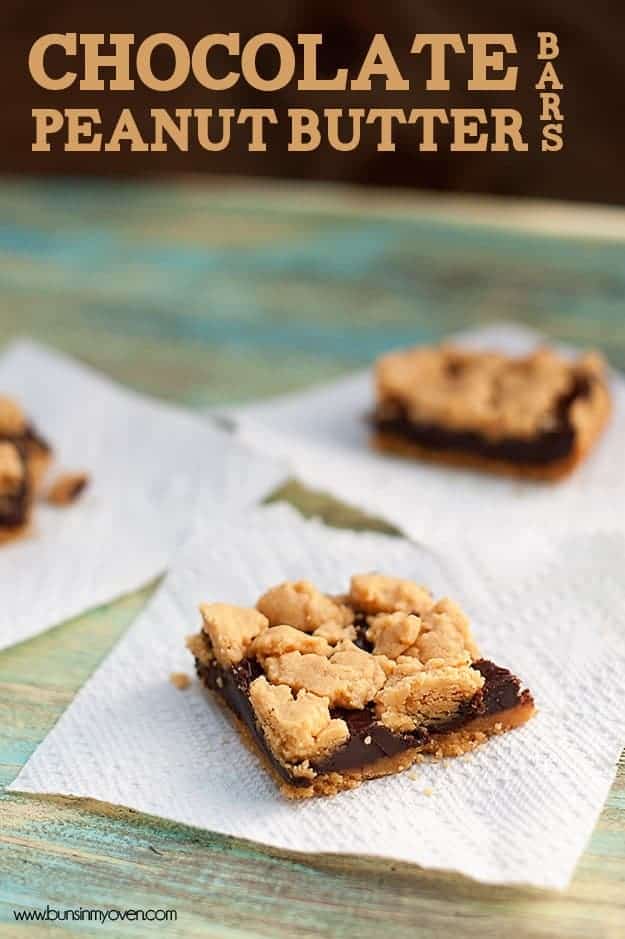 My husband has been whiny lately.
Apparently I haven't been making enough chocolate and peanut butter treats for him? He feels like it's all caramel, all the time around here.
I will admit to a slight obsession with caramel lately, but I'm not out of control or anything.
Seriously. I can stop at any time.
To prove it, I made these insane chocolate peanut butter bars. They are bursting with chocolate and peanut butter. The filling is so gooey and rich. The crust is full of peanut butter. These totally taught my husband a lesson.
And that lesson? If you whine enough, I'll give you what you want just to shut you up.
I maybe didn't plan that so great, but I'm not mad about it. I've got peanut butter chocolate bars sitting around my house, after all.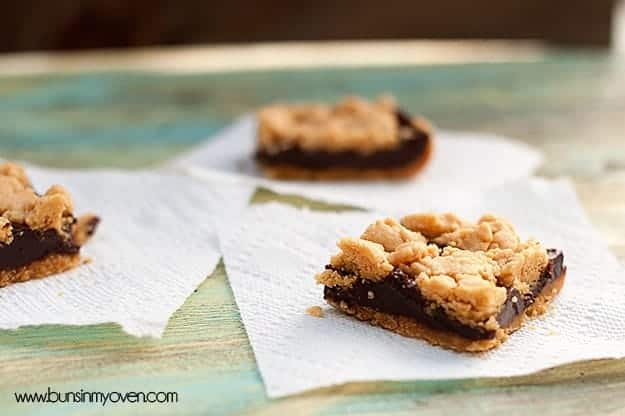 Chocolate Peanut Butter Bars
My two favorite flavors in one easy bar dessert! These start with a cake mix to keep things extra simple.
Prep10 minutes
Cook30 minutes
Total40 minutes
Ingredients
1 box yellow cake mix (18 ounces)
1 cup peanut butter
8 tablespoons butter melted
2 large eggs
2 cups semisweet chocolate chips
14 ounces sweetened condensed milk
2 tablespoons butter
2 teaspoons vanilla
Instructions
Preheat the oven to 325 degrees F. Line a 13x9 baking dish with parchment paper.

Place the cake mix, peanut butter, melted butter and eggs in the bowl of your stand mixer and beat on low speed for 1 minute. Stop the machine and scrape down the sides of the bowl with a rubber spatula. The mixture will be thick.

Reserve 1 1/2 cups for the topping. Transfer the remaining crust mixture to the pan. Using your fingertips, press the crust evenly over the bottom of the pan so that it reaches all sides. Set aside.


For the filling, place the chocolate chips, condensed milk, and 2 tablespoons butter in a medium pot over low heat. Stir and cook until the chocolate is melted and the mixture is well combined, 3 to 4 minutes. Remove the pan from the heat and stir in the vanilla.

Pour the chocolate mixture over the crust, and spread it evenly with the rubber spatula so that it reaches the sides of the pan. Using your fingertips, crumble the reserved crust and scatter it evenly over the chocolate.

Bake until the top crust is light brown, 25 to 30 minutes. Remove the pan from the oven and cool on a wire rack for 30 minutes.

Cut into 16 pieces and serve.

Store at room temperature for 3 days or in the refrigerator for up to one week.
Nutrition Information:
Serving: 1bar| Calories: 496kcal (25%)| Carbohydrates: 55g (18%)| Protein: 9g (18%)| Fat: 27g (42%)| Saturated Fat: 13g (81%)| Cholesterol: 51mg (17%)| Sodium: 414mg (18%)| Potassium: 348mg (10%)| Fiber: 3g (13%)| Sugar: 37g (41%)| Vitamin A: 330IU (7%)| Vitamin C: 0.7mg (1%)| Calcium: 165mg (17%)| Iron: 2.6mg (14%)
adapted from The Cake Mix Doctor