Peanut butter stuffed cookies could not be any more thick, chewy, or decadent! It might look like a big hunk of cookie dough in the center of these cookies, but it's actually a peanut butter ball!
I used to work with a lady that made buckeyes (peanut butter balls dipped in chocolate, for those of you not in the midwest) for Christmas every year.
She'd bring them to work all December and sell them off. I could never resist buying them all month long.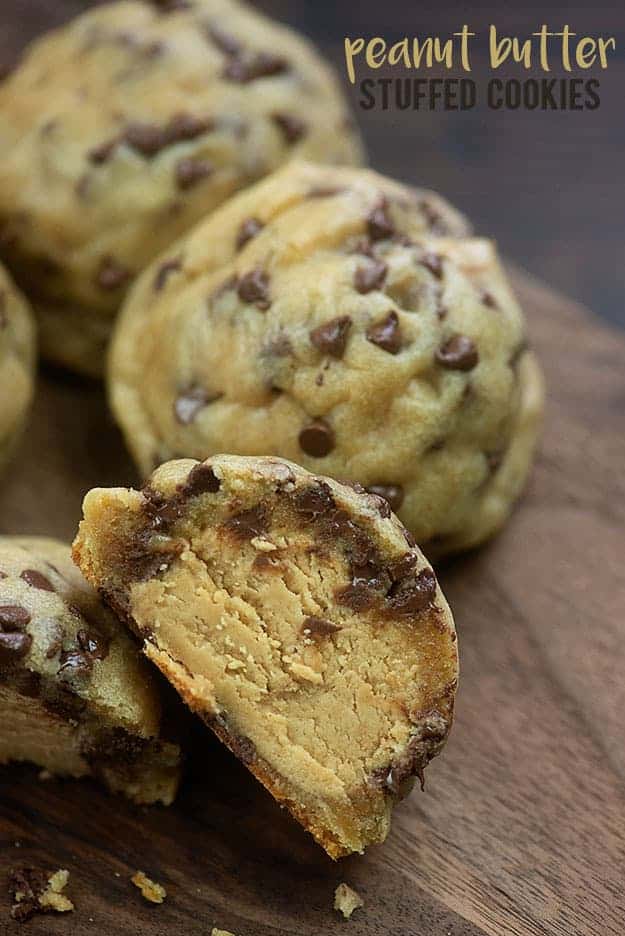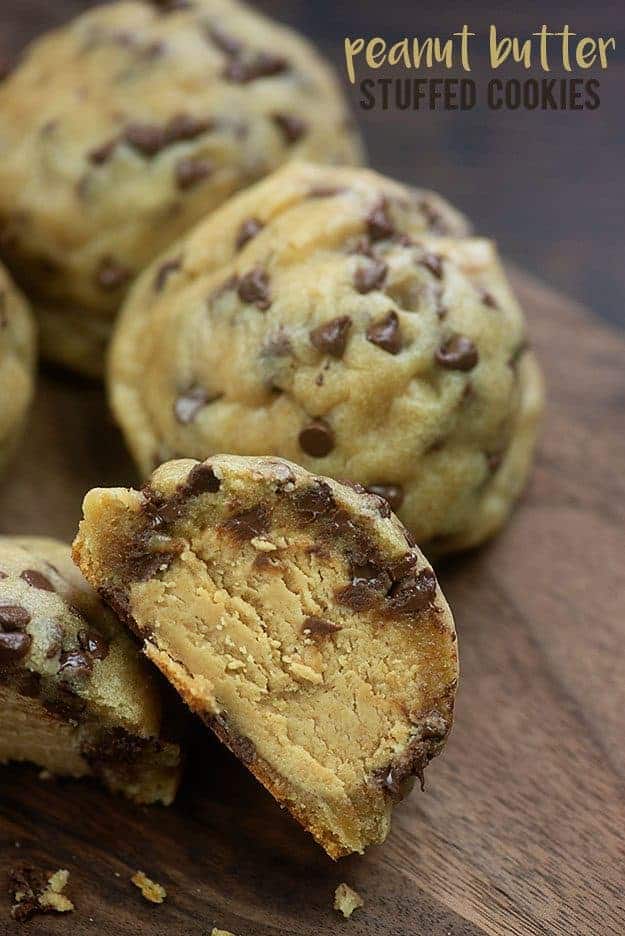 I'm obsessed with peanut butter balls and hers were always fantastic.
She insisted that she used a secret ingredient and would never tell what it was. I get it, since she was selling them, but also it goes against every fiber of my being not to share a recipe.
Anyway, I never got her secret recipe but I make delicious peanut butter balls anyway.
Also, I stuff those peanut butter balls inside my perfect chocolate chip cookies and you guys, life is good over here.
It looks like just plain old cookie through and through, but it TASTES like a freaking dream come true. Pure peanut butter goodness.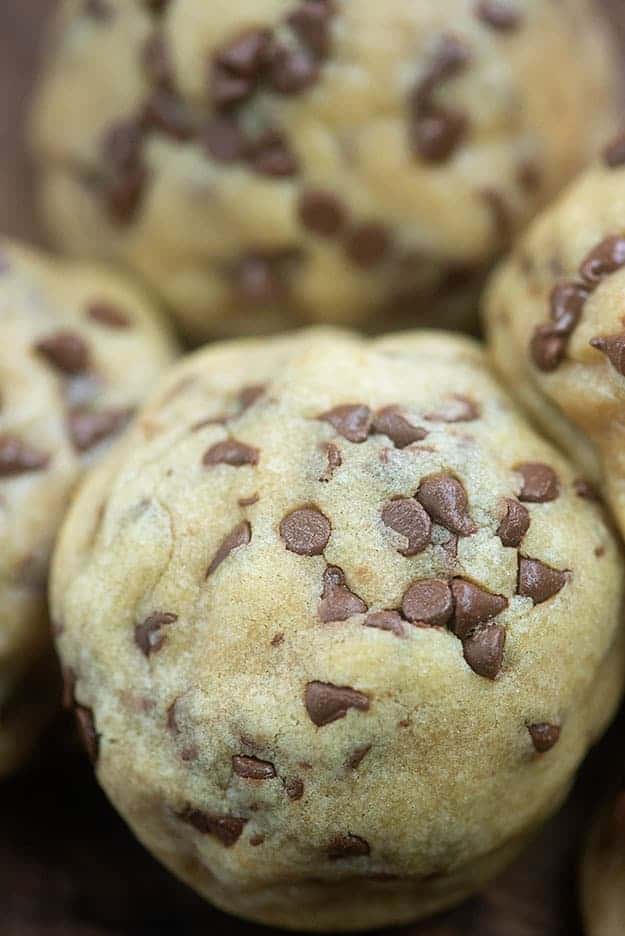 How to make peanut butter balls:
Let's start with the creamy peanut butter ball filling! These are so easy.
You'll mix together a little butter, a lot of peanut butter, cream, and some powdered sugar.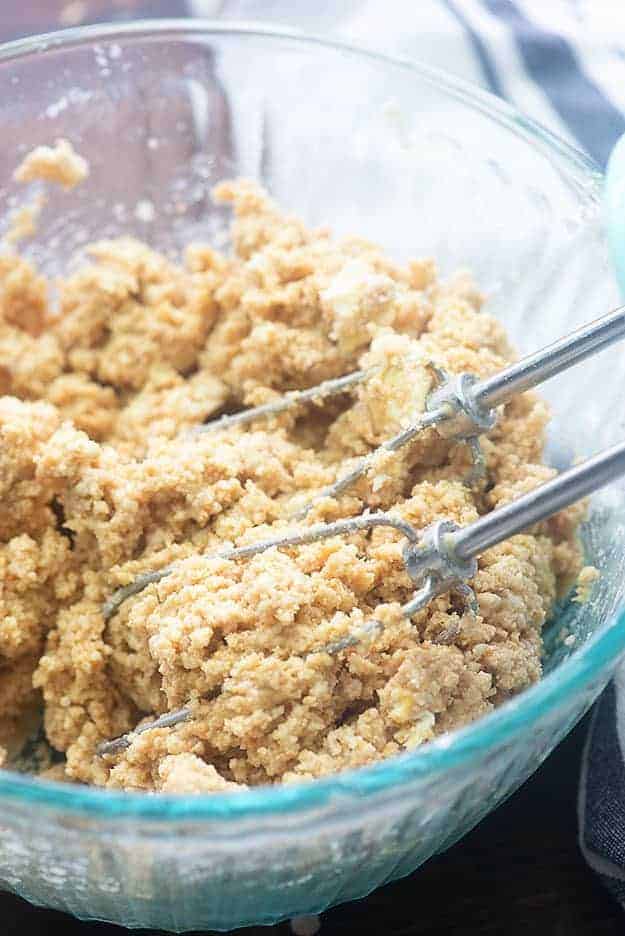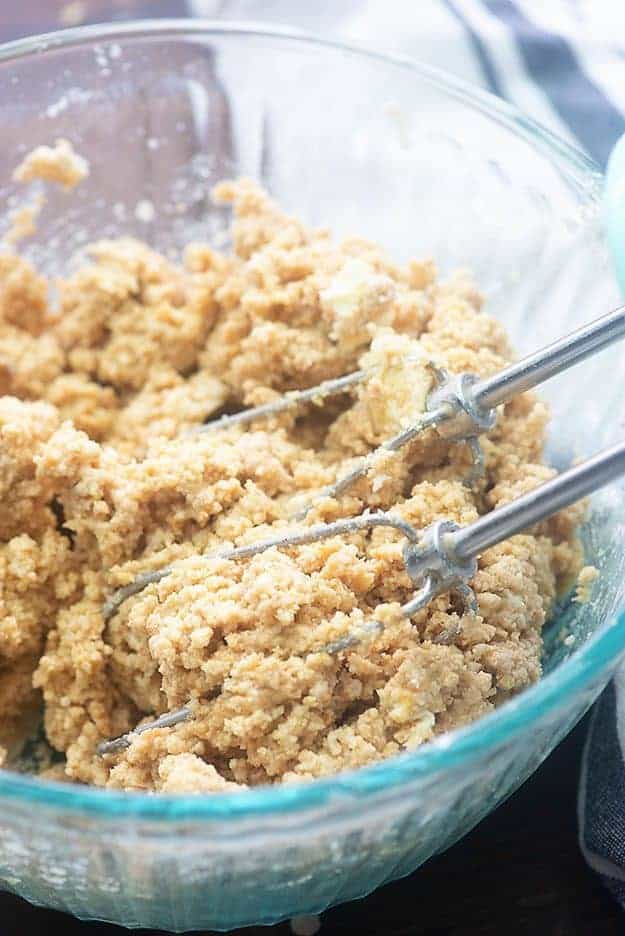 I prefer to use a mixer for this as it's fairly thick.
Roll that mixture into 12 evenly sized balls.
Easy peasy. Pop the peanut butter balls in the fridge while we work on the cookie dough.
How to make peanut butter stuffed cookies:
This is my favorite cookie dough recipe and I think you'll love it!
It's the easiest dough I've ever made and it honestly produces the best soft chocolate chip cookies. I love the flavor and texture of these cookies but I also love that you start with melted butter (no stressing about softening the butter) and that there is no chill time. You can literally go from cookie mixing to baking to eating in just about 20 minutes.
So, to make the dough, you'll combine melted butter, brown sugar, and white sugar.
Stir in some vanilla and egg.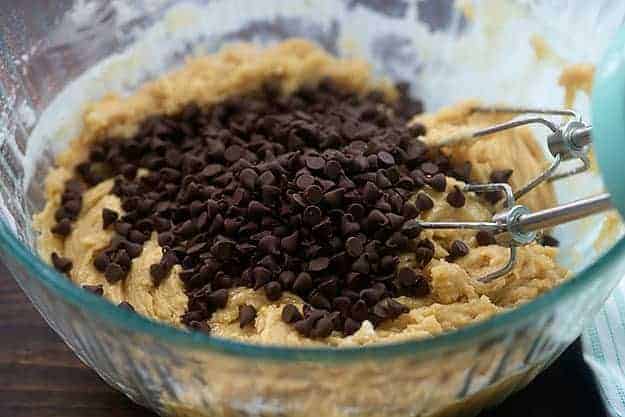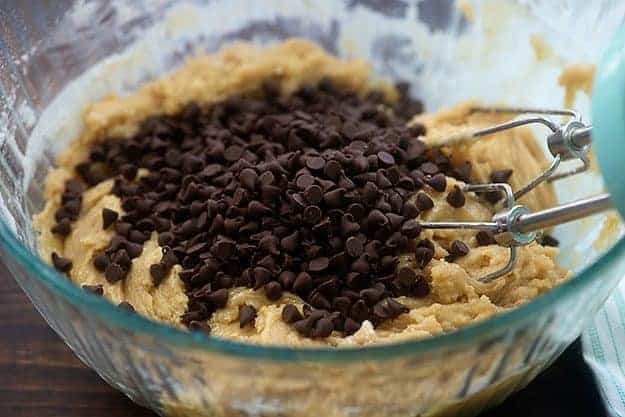 Mix in the flour, baking powder, and salt. You can use a mixer or just stir by hand. The dough is very soft and workable.
Stir in your chocolate chips. Any variety you like works great here. I prefer semi-sweet but the rest of my family likes milk chocolate, so we usually do milk chocolate. #momlife 😉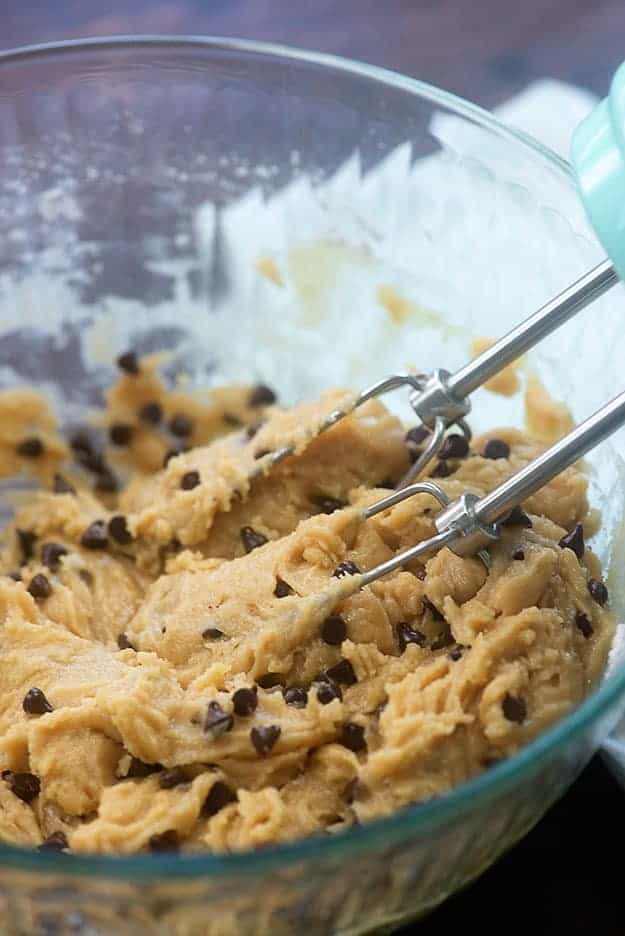 Now grab that cookie dough and portion it out into 12 equal sized pieces.
Get your peanut butter balls ready!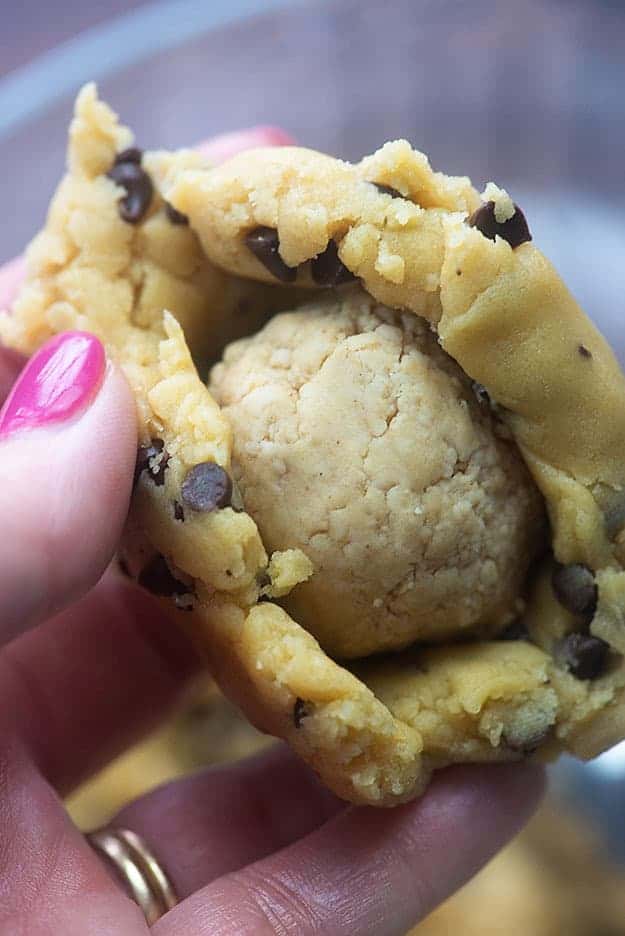 I like to grab a piece of dough, flatten it into a disc, place the peanut butter ball in the center, and then fold the sides of the dough up around it. I think this is the easiest method, but do whatever works for you to get that peanut butter inside your dough.
This is really quite simple.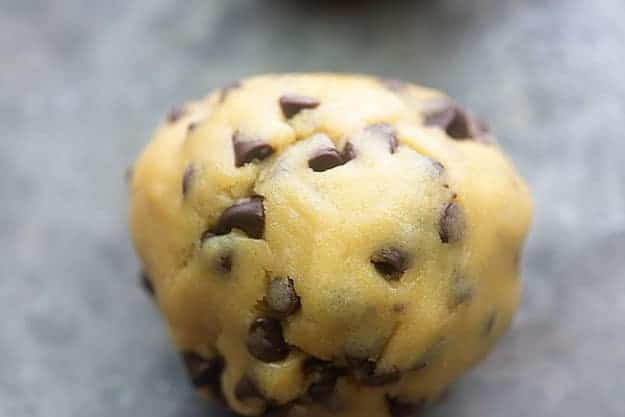 Pop those on a baking sheet and bake 'em up!
Who wouldn't love to bite into one of these giant cookies and find a big ol' ball of peanut buttery goodness lurking inside?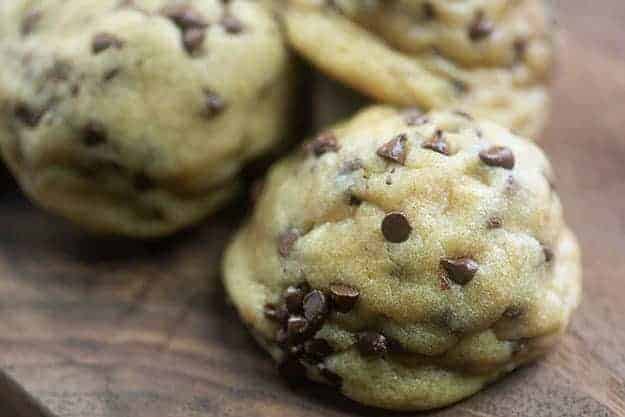 More cookie recipes you'll love:
Peanut Butter Oatmeal Chocolate Chip Cookies: You can't go wrong with all this goodness.
Double Chocolate Chip Cookies: These were my favorite as a kid!
Soft Peanut Butter Cookies: The BEST peanut butter cookie you'll ever make.
Cake Batter Cookies: Because you should have both cake and cookies in one bite!
White Chocolate Macadamia Nut Cookies: A true classic!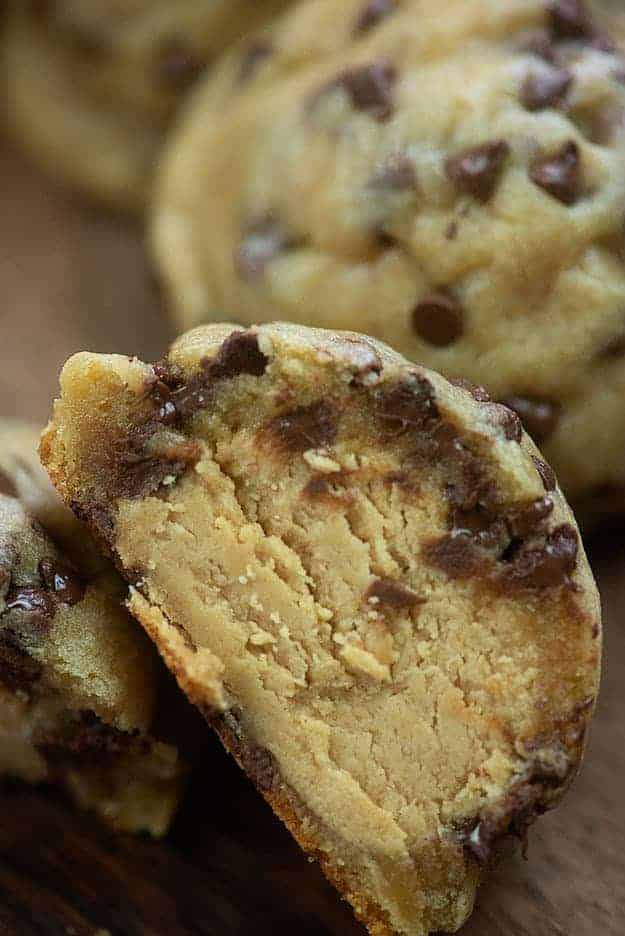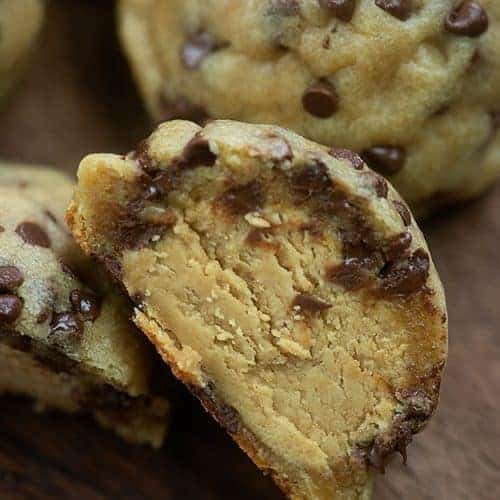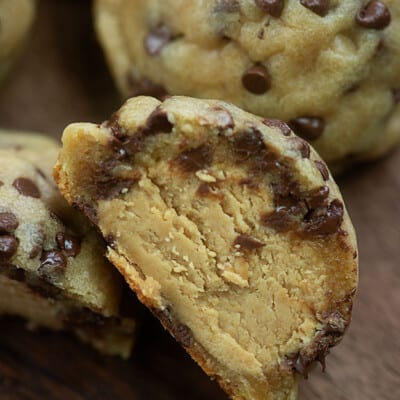 Peanut Butter Ball Stuffed Cookies
Peanut butter balls have long been a favorite treat of mine. So soft and peanut buttery! The only way to make them better is to stuff them inside our favorite cookie dough and bake! These cookies are amazing!
Prep15 minutes
Cook11 minutes
Cooling Time10 minutes
Total26 minutes
Ingredients
For the peanut butter balls
¾ cup peanut butter
2 tablespoons butter room temperature
1 tablespoon heavy cream
2 cups powdered sugar
1 teaspoon vanilla
For the cookies
8 tablespoons butter melted
1/2 cup brown sugar
1/4 cup white sugar
2 teaspoons vanilla extract
1 large egg
1 2/3 cup flour
1/2 teaspoon baking soda
1/2 teaspoon salt
1 cup mini chocolate chips
Instructions
To make the peanut butter balls
Add the peanut butter, butter, cream, powdered sugar, and vanilla to a mixing bowl and beat with a mixer on medium speed until well combined.

Portion the peanut butter mixture into 12 pieces and roll each piece into a ball.

Place in the refrigerator while you make the cookie dough.
For the cookie dough
Preheat oven to 350 degrees.

Add the melted butter, brown sugar, and white sugar to a mixing bowl and mix together until well combined.

Stir in the egg and vanilla until combined.

Add the flour, baking soda, and salt and stir to form a dough.

Stir in the chocolate chips.

Portion the cookie dough into 12 pieces. Roll each piece into a ball and then flatten into a disc.

Place one peanut butter ball into the center of each piece of cookie dough and fold the sides up around, being careful to fully seal the peanut butter ball in dough.

Place the cookie dough on an ungreased baking sheet about 1 1/2 inches apart from each other.

Bake for 11 minutes exactly. Cookies will look slightly underdone when you remove from the oven, but will set up as they cool.

Cool on the pan for at least 5 minutes before removing to a cooling rack.
Tips & Notes:
Store cookies in an airtight container for up to 1 week.
Nutrition Information:
Serving: 1cookie| Calories: 454kcal (23%)| Carbohydrates: 59g (20%)| Protein: 7g (14%)| Fat: 21g (32%)| Saturated Fat: 10g (63%)| Cholesterol: 42mg (14%)| Sodium: 319mg (14%)| Potassium: 141mg (4%)| Fiber: 1g (4%)| Sugar: 43g (48%)| Vitamin A: 350IU (7%)| Vitamin C: 0.1mg| Calcium: 39mg (4%)| Iron: 1.4mg (8%)