Soft peanut butter cookies stuffed with Reese's Pieces! This is my all time favorite peanut butter cookie recipe because it's so thick, chewy, and easy!

Y'all know my husband?
The man who eats all my food?
The one who hasn't cooked anything other than french toast, bacon, and eggs in the past 10 years?
The one who thought whipped cream came from egg whites and not, you know, cream…that had been whipped?
The man who refuses to try anything that might have a hint of an onion in it, probably just on principle or to annoy me or because he's just stubborn and not at all because he dislikes onions. I mean, he probably can't even remember what onions taste like, it's been so long since he's eaten one.
Anyway. That man.
He knows his cookies. He is a true cookie connoisseur. Especially when it comes to homemade peanut butter cookies.
Sure, he is often unable to find the ranch dressing or jelly in our refrigerator (it's in the same spot every time, you guys!), but he knows his way around the cookie jar.
These soft peanut butter cookies that are eyeballing you right now? He made a comment about them being amazing. The best. Perfect.
He used a lot of very nice adjectives, y'all. I think we can all take this to mean that these cookies are winners!
You've got to try this soft peanut butter cookie recipe, like immediately. I bet it moves to the top of your favorites list.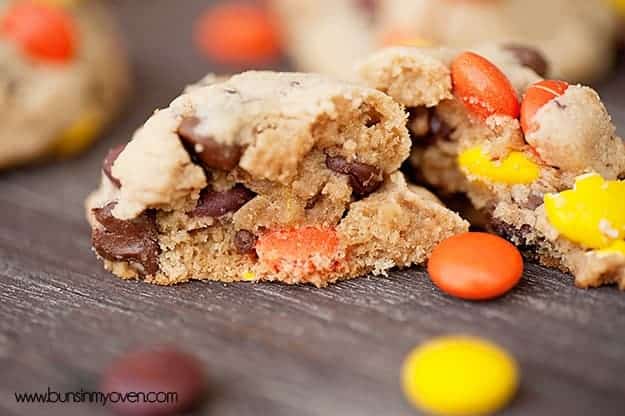 I'm a fan of super soft, not even slightly crunchy peanut butter cookies. These cookies? Fit the bill.
Super soft, super chewy. They're fat and puffy. They're easy. They're amazing.
They're also chock full of Reese's Pieces and chocolate chips.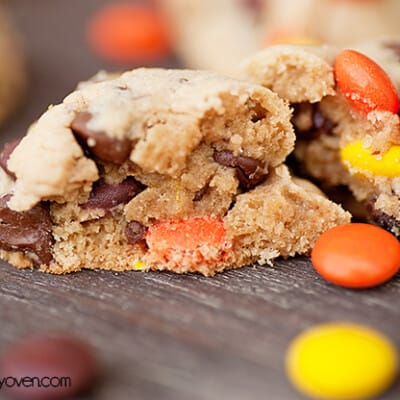 Reese's Pieces Peanut Butter Cookies
Soft homemade peanut butter cookies chock full of Reese's Pieces!
Prep30 minutes
Cook8 minutes
Total38 minutes
Ingredients
1/2 cup butter softened
1/2 cup peanut butter
3/4 cup brown sugar
1/4 cup white sugar
1 large egg
1 teaspoon vanilla
1 3/4 cups flour
1 teaspoon baking soda
1/2 teaspoon salt
1 cup Reese's Pieces
1 cup milk chocolate chips
Instructions
In the bowl of a stand mixer, cream together the butter, peanut butter, and sugars until light and fluffy. Beat in the egg. Stir in the vanilla.

In a medium bowl, combine the flour, baking soda, and salt. Gradually add to the creamed mixture and beat until well combined.

Stir in the Reese's Pieces and chocolate chips.

Chill the dough for at least 30 minutes.

Preheat oven to 350 degrees and line a cookie sheet with parchment paper.

Drop spoonfuls of dough onto baking sheet 2 inches apart and bake for 8 minutes exactly.

Let the cookies set on the baking sheet for 5 minutes to set up before transferring to a wire cooling rack.
Nutrition Information:
Calories: 141kcal (7%)| Carbohydrates: 17g (6%)| Protein: 2g (4%)| Fat: 7g (11%)| Saturated Fat: 3g (19%)| Cholesterol: 12mg (4%)| Sodium: 118mg (5%)| Potassium: 56mg (2%)| Sugar: 12g (13%)| Vitamin A: 95IU (2%)| Calcium: 17mg (2%)| Iron: 0.5mg (3%)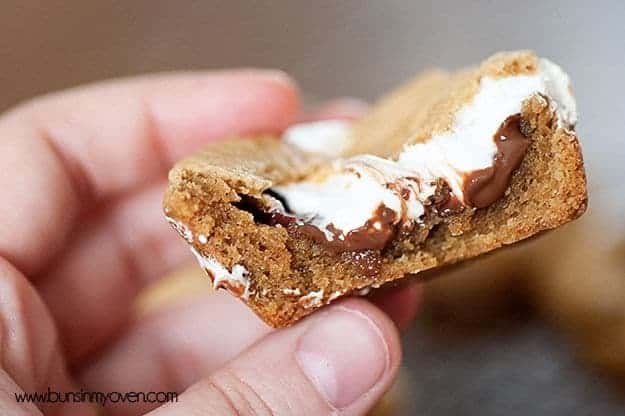 This recipe look familiar? That's because it's my favorite peanut butter cookie base and I also used it in these amazing s'mores cookie cups!