February 10, 2020
Chocolate Peanut Butter Candy Bars
CHOCOLATE PEANUT BUTTER CANDY BARS are the answer to all your dessert needs! Layers of crisp Ritz crackers, a gooey filling of butter, graham crackers, and sugar, and a chocolate peanut butter topping. It's hard to resist one of these candy bars!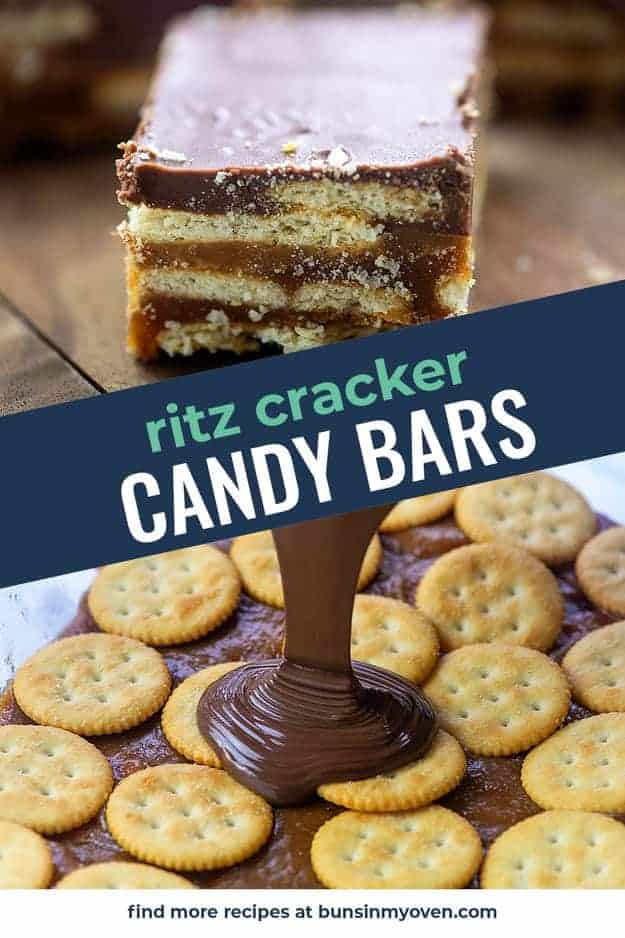 Homemade candy bars. Sounds dangerous, right?
I mean, I love a good candy bar and the only thing that keeps me from eating them is that I just convince myself to avert my eyes when we're in the checkout lane at the grocery store.
But here I am, showing you how to make these magical candy bars at home. In your own kitchen. Any time you wish.

Danger, my friends. 😉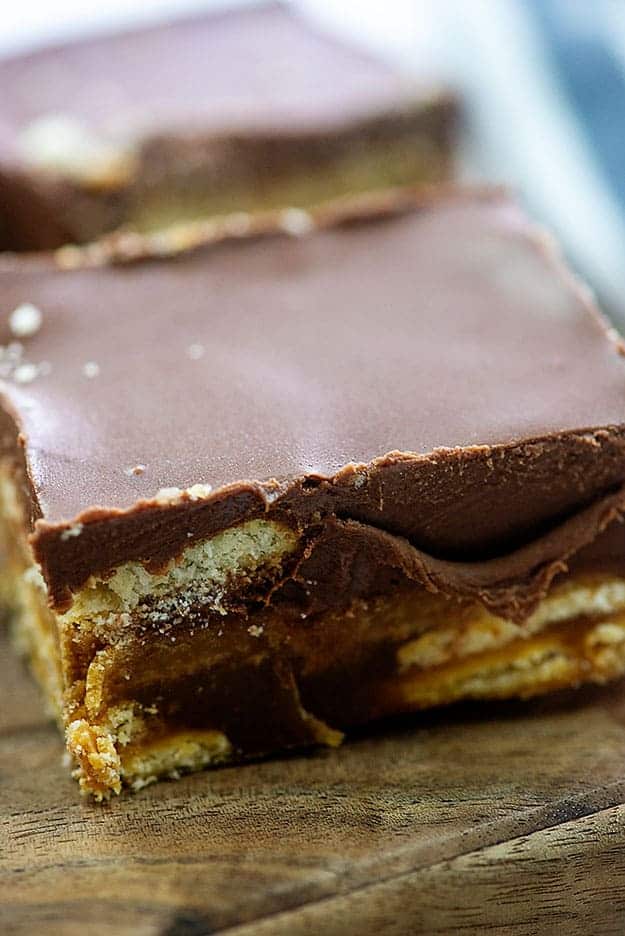 The thing is, homemade almost always equals healthier and homemade almost always equals better and homemade definitely always equals…well…me eating more than my fair share of whatever homemade treat it is. Just being honest here. Haha!
The layers of goodness going on in these homemade candy bars is just unreal. Let's do this!
How to make homemade candy bars: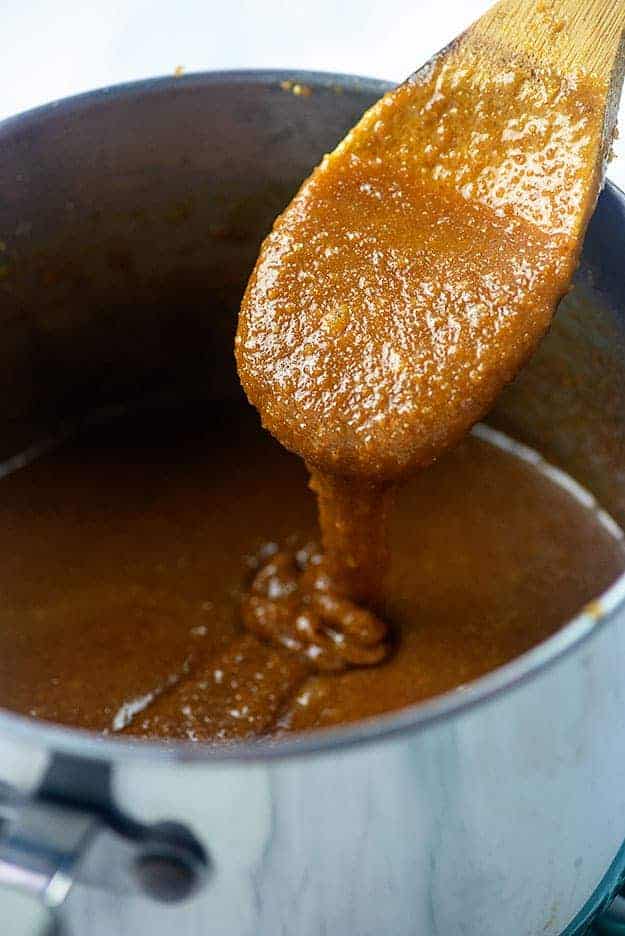 This recipe is super simple and you'll start by adding some graham cracker crumbs, white and brown sugar, butter, and milk to a sauce pan. Bring that mix to a boil and cook for about 5 minutes. This is going to make the Gooey Layer of Goodness. <— Official name.
Next, you'll grease a 9×13 pan and add a single layer of Ritz crackers along the bottom. Top those crackers with half of the Gooey Layer of Goodness.
Repeat your layers, ending with more Ritz crackers on top.
Add some chocolate chips and peanut butter to a bowl and zap it in the microwave until smooth and creamy.
Pour that goodness right over the top.
THAT'S IT, FRIENDS!
You have homemade candy bars!
You'll want to let these set up in the fridge for about an hour before you slice and serve. I cut them into squares, but if you really want that candy bar vibe, you can slice into long skinny bars.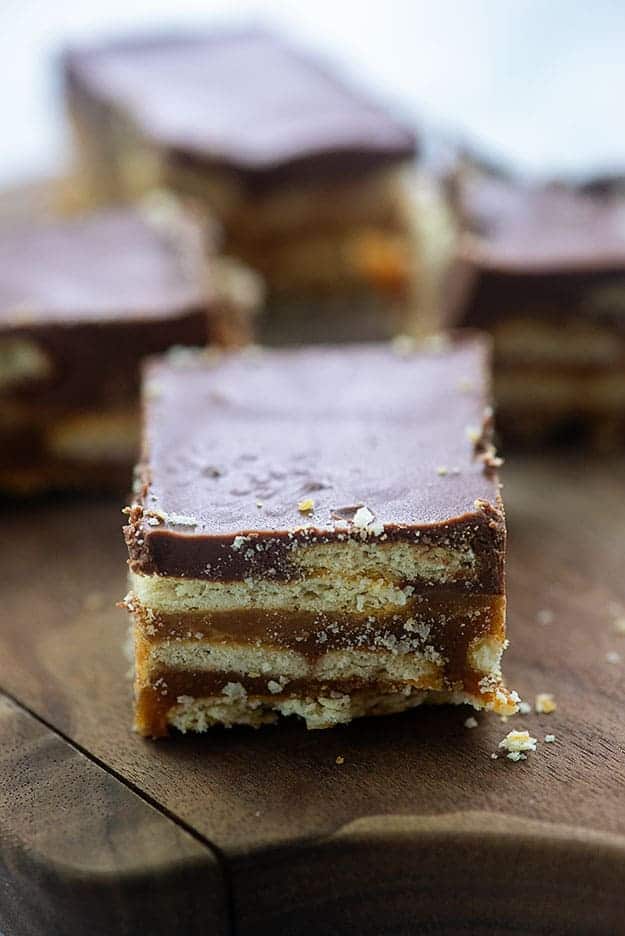 More treats you'll love:
Cheesecake Bites are the perfect poppable treat!
Craving fruit? My apple cobbler and blackberry cobbler are some of my favorites! Same goes for Snickers apple salad.
Of course, it's impossible to go wrong with homemade brownies or macadamia nut cookies!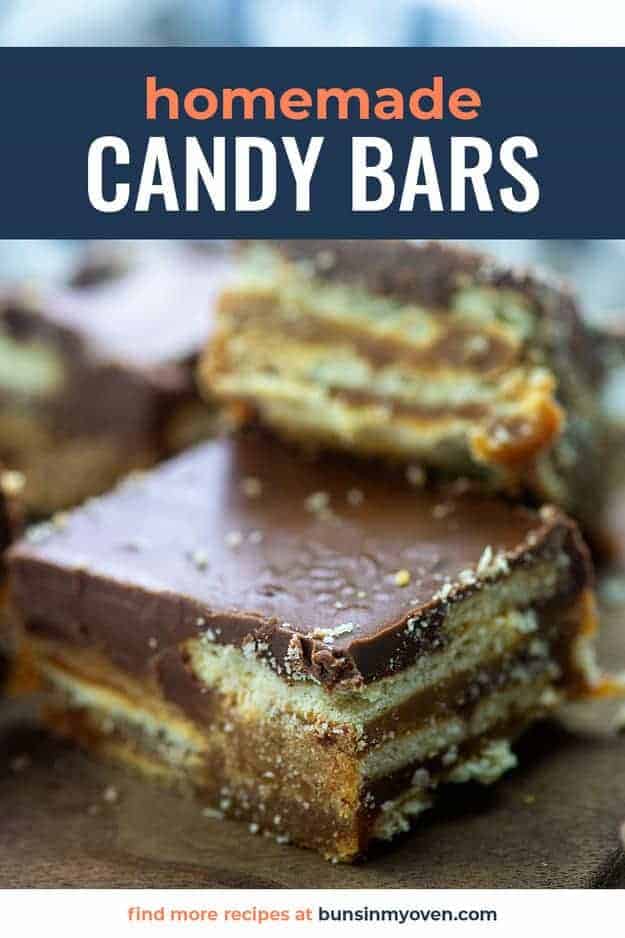 Chocolate Peanut Butter Candy Bars
Servings: 16 servings
Course: Dessert
Cuisine: American
Keyword: easy bar recipes, kid-friendly recipes, no bake dessert recipes
Calories: 417 kcal
Graham cracker crumbs, sugar, milk, and butter melt together on the stove to create the yummy, chewy, sticky, and gooey filling that binds this all together. It's spread over layers of ritz crackers and then topped off with melted chocolate and peanut butter.
Ingredients
1 1/2 cups graham cracker crumbs
1 cup white sugar
3/4 cup packed brown sugar
3/4 cup butter, cubed
1/3 cup milk
2 sleeves Ritz crackers, about 75 crackers
1 1/2 cups semi-sweet chocolate chips
1 1/4 cups peanut butter
Instructions
In a large saucepan, combine the cracker crumbs, sugars, butter, and milk. Bring to a boil, stirring constantly. Cook and stir for about 5 minutes more.

Grease a 9x13 pan and place a single layer of Ritz crackers along the bottom. Top with half of the graham cracker crumb mixture. Repeat layers once and then top with the remaining Ritz crackers.

In a microwave safe bowl, combine the chocolate chips and peanut butter. Microwave on low, stopping to stir occasionally. Do not over cook or the chocolate will burn. Pour over the crackers and refrigerate until firm. Cut into bars and enjoy!
Nutrition Facts
Chocolate Peanut Butter Candy Bars
Amount Per Serving (1 bar)
Calories 417 Calories from Fat 234
% Daily Value*
Fat 26g40%
Saturated Fat 11g69%
Cholesterol 24mg8%
Sodium 228mg10%
Potassium 263mg8%
Carbohydrates 41g14%
Fiber 2g8%
Sugar 32g36%
Protein 6g12%
Vitamin A 285IU6%
Calcium 42mg4%
Iron 1.8mg10%
* Percent Daily Values are based on a 2000 calorie diet.
Nutrition Disclaimer: All information presented on this site is intended for informational purposes only. I am not a certified nutritionist and any nutritional information shared on bunsinmyoven.com should only be used as a general guideline.
This post was originally published in March of 2010. It's been updated with new text and photos in February of 2020. Original photo below.