September 12, 2018
Cheesecake Bites
These mini cheesecakes are bite-sized and so much fun! You'll just need a muffin tin to make these little guys!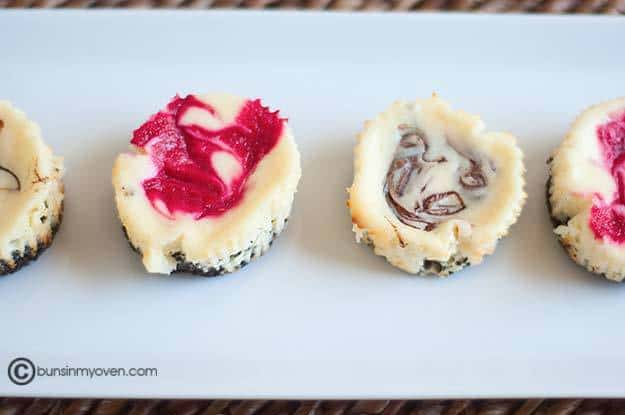 Cheesecake. Cheeeeeeeesecake. Cheeeeeeeeeeeesecaaaaaaaaake.
What? I like cheesecake, okay? I like to say it, I like to bake it, I like to smell it, I like to eat it.
But mini cheesecake. It is even better.
My dream cheesecake has a chocolate crust and raspberry topping. Unfortunately, raspberries are fruit and do you know what my husband thinks about fruit? Bad things, that's what.
The man will eat a banana every now and again, but that is the only fruit he likes.
He's so weird. I'm not sure I can stay married to a man that doesn't enjoy a good berry every now and again.
Enter this mini cheesecake recipe. I swirled some fresh raspberry puree into my portion of the mini cheesecake and I swirled in a bit of Nutella for my husband. We both cried tears of joy and decided that maybe our marriage would survive after all. I love a happy ending, don't you?
These mini cheesecakes are so fun!
They're pretty simple too and bake up much faster than a full sized cheesecake. It's  also a lot easier to sneak one of these in your mouth while hiding behind the refrigerator door so that your kids don't ask if they can have dessert for breakfast too! Not that I would ever do that or anything.
Cheesecake Bites
Servings: 24 servings
Course: Dessert
Cuisine: American
Keyword: easy dessert recipes, holiday recipes, party recipes
Calories: 255 kcal
These mini cheesecakes are bite-sized and so much fun! You'll just need a muffin tin to make these little guys!

Ingredients
For the crust:
2 cups Oreo crumbs just crush the cookies, filling and all, in a food processor or blender
4 tbsp butter melted
For the raspberry topping:
6 oz fresh raspberries
2 tbsp sugar
For the filling:
2 pounds cream cheese 4-8 oz packages, at room temperature
1 1/2 cups sugar
Pinch of salt
1 tsp vanilla extract
4 large eggs room temperature
Instructions
Preheat the oven to 325 degrees. Line a muffin tin with papers.

Combine the crust ingredients in a small bowl. Stir together with a fork until the Oreo crumbs are moist.

Spoon 1 tbsp of the crust into each paper liner. Press flat with the back of a spoon.

Bake for 5 minutes to set the crust. Transfer to a cooling rack.

To make the topping, add the raspberries and sugar to a blender or food processor and process until smooth. Press through a fine mesh sieve to remove the seeds. Set aside.

To make the filling, add the cream cheese to the bowl of your mixer. Beat the cream cheese until fluffy on medium speed.

Beat in the sugar until the mixture is smooth.

Mix in the salt and vanilla.

Add the eggs one at a time beating until each is fully incorporated.

To assemble, add 3 tablespoons of filling to each cupcake liner/crust. Dot a 1/2 teaspoon of raspberry filling (or Nutella!) on to the batter 3 times. You should have 3 separate dots of filling, 1/2 teaspoon each.

Use a toothpick to lightly swirl the filling in to the batter creating a pretty swirl.

Repeat with the remaining cupcakes.

Bake until the filling is set, about 22 minutes, rotating the pans half way through.

Cool to room temperature on a wire rack.

Transfer to the refrigerator and let chill at least 4 hours before serving.
Recipe Notes
Yield: between 24 and 30 cupcakes - I had enough filling for 30 cupcakes, but only enough crust for 24. That being said, I went heavy with the crust because I like lots!
slightly adapted from Annie's Eats
Nutrition Facts
Cheesecake Bites
Amount Per Serving
Calories 255 Calories from Fat 153
% Daily Value*
Fat 17g26%
Saturated Fat 9g56%
Cholesterol 77mg26%
Sodium 214mg9%
Potassium 93mg3%
Carbohydrates 22g7%
Sugar 17g19%
Protein 4g8%
Vitamin A 615IU12%
Vitamin C 1.9mg2%
Calcium 47mg5%
Iron 0.7mg4%
* Percent Daily Values are based on a 2000 calorie diet.
Nutrition Disclaimer: All information presented on this site is intended for informational purposes only. I am not a certified nutritionist and any nutritional information shared on bunsinmyoven.com should only be used as a general guideline.