This CHOCOLATE STRAWBERRY DUMP CAKE is made with just three ingredients! It's one of the easiest desserts you'll ever make and it's absolutely delicious. So much chocolate goodness!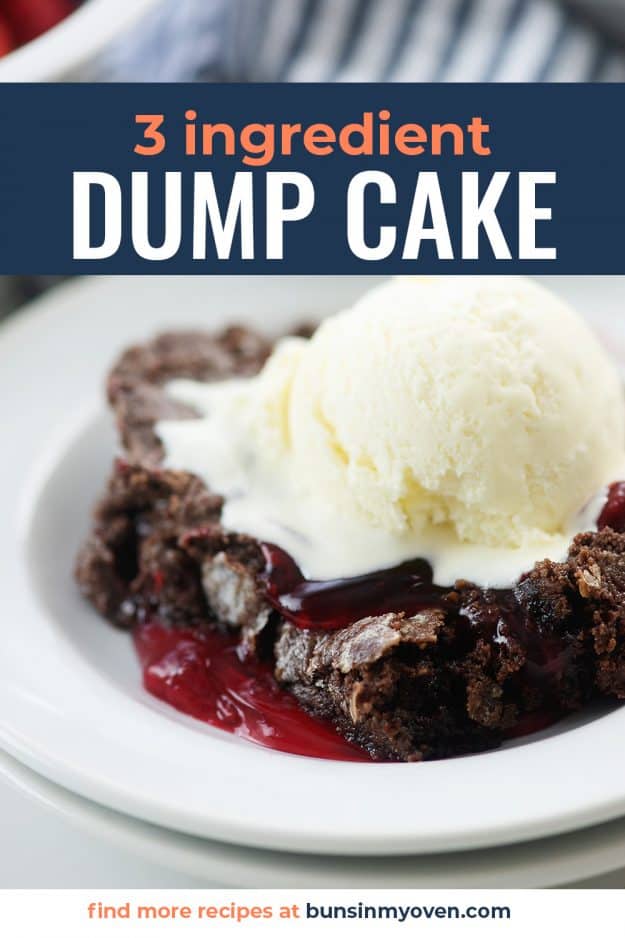 I always hesitate to share recipes like this with you guys for 2 reasons:
It's probably been done before in a million other places (I try not to Google, because it's depressing to see someone else thought of it before you!)
Someone somewhere is going to tell me I'm a horrible human being for using a box of cake mix and a can of fruit filling.
But you know what?
This dump cake is AMAZING.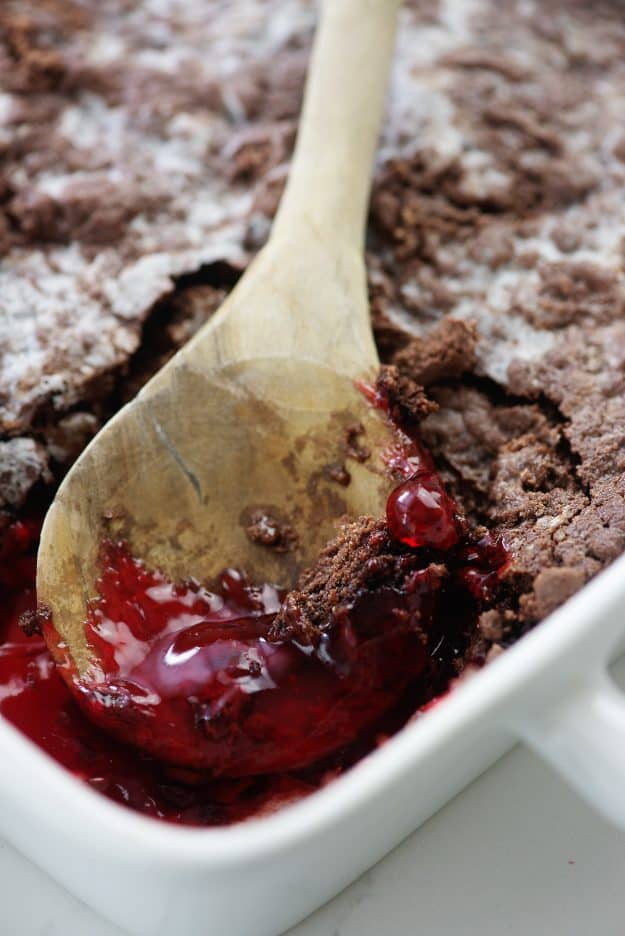 It was actually my sister-in-law's idea and I tell ya…that girl knows her desserts!
The chocolate cake topping is divine. The strawberry filling is everything you could hope for. The salted butter that bakes into the cake gives the topping this little hint of salt that pairs so amazingly with the sweet.
Also, hello, have you even considered that you can put a giant scoop of vanilla ice cream on top?
This. Is. Heaven.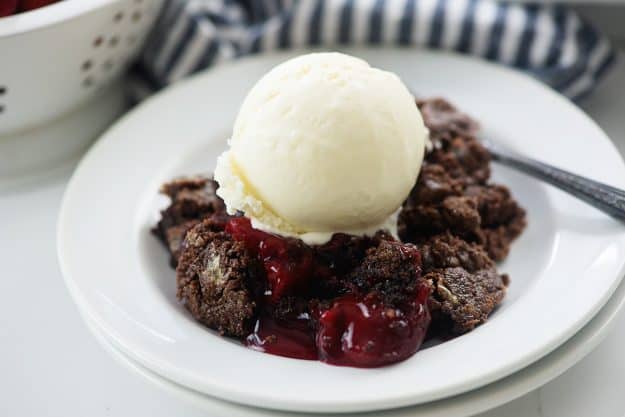 How to Make:
This is a three ingredient recipe that doesn't even involve stirring, so the 'how to' is quick and simple!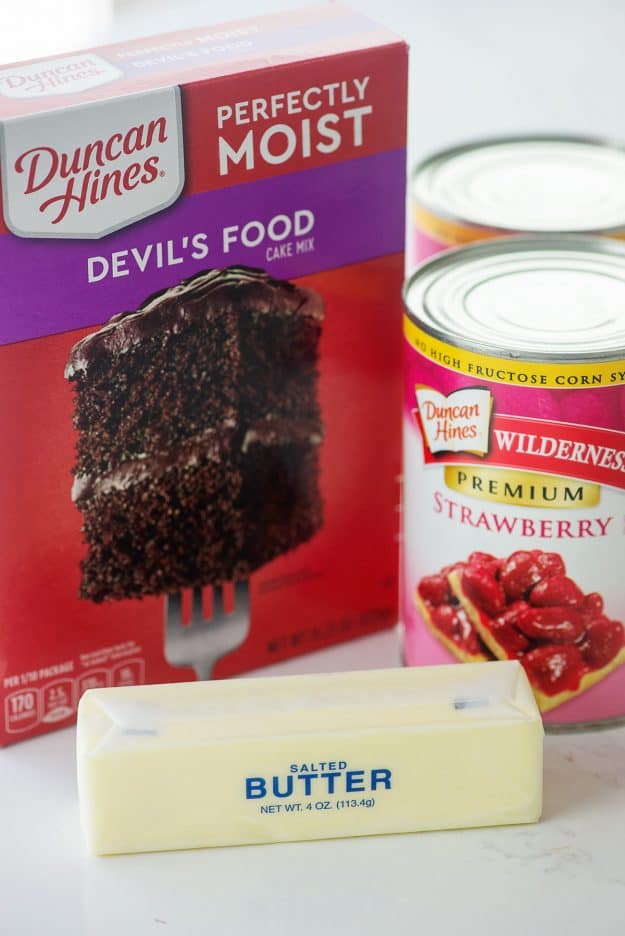 Pour two cans of strawberry pie filling into a baking dish.
Pour the dry cake mix over the top of the pie filling.
Cover the cake mix with thin slices of butter.
Bake until the filling is hot and gooey and the topping is set.
I told ya this was easy! 😉
Helpful Tips!
I used Devil Food's cake mix for this one. It's a darker chocolate. Use any variety of chocolate cake mix you prefer.
The cake mix goes on DRY! Don't add the eggs, oil, or water as called for on the box.
Swap out the strawberries for cherry pie filling!
It's going to feel like a lot of butter. Just have faith.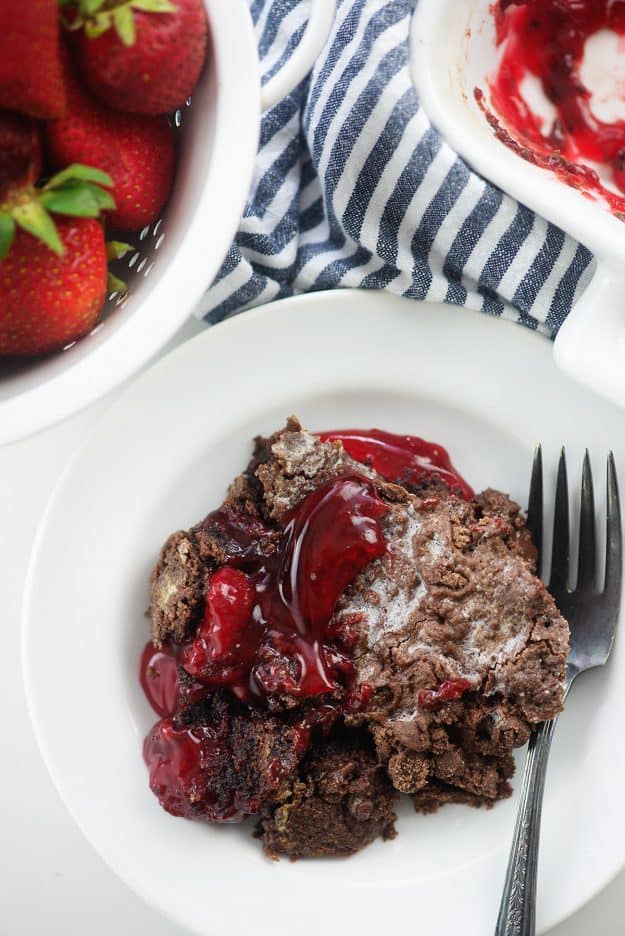 More easy desserts!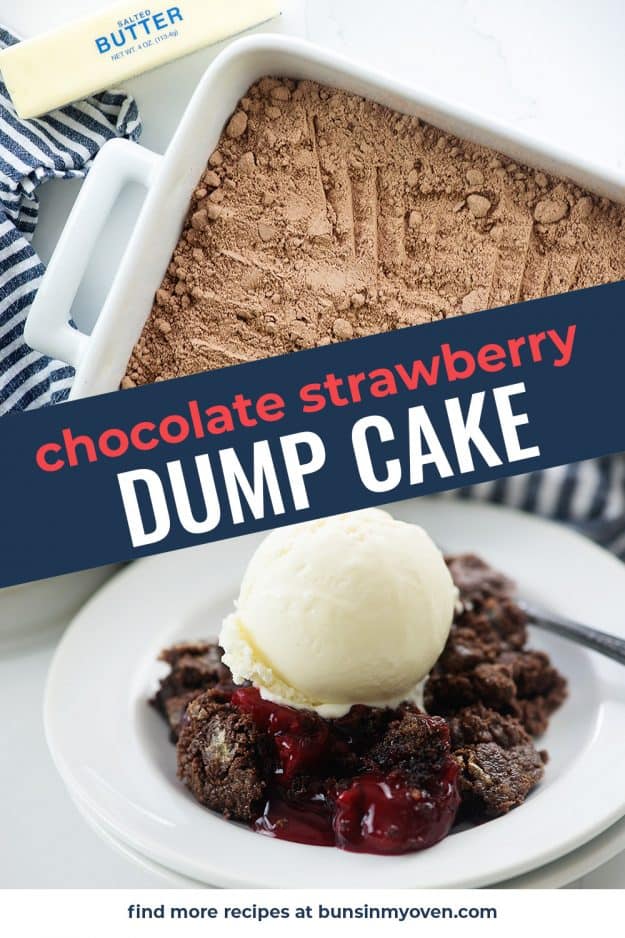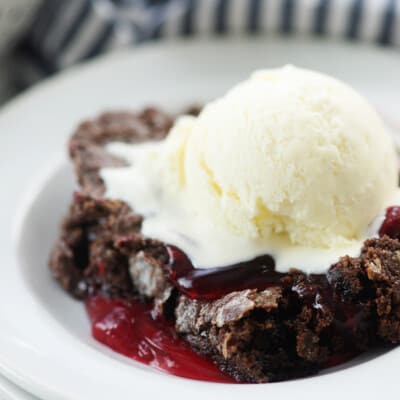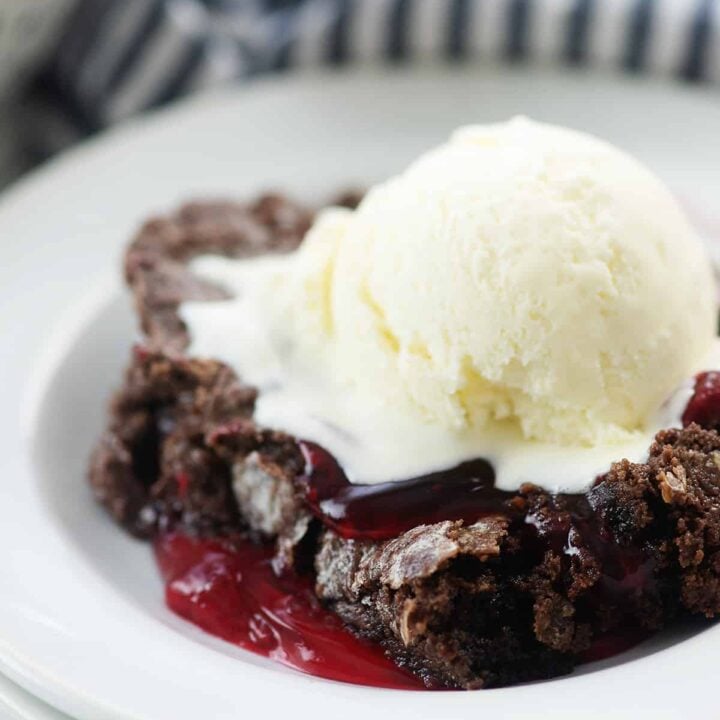 Chocolate Strawberry Dump Cake
Just three ingredients to make this simple dump cake! It's so rich and chocolaty and perfect served with a scoop of vanilla ice cream.
Prep5 minutes
Cook40 minutes
Total45 minutes
Ingredients
2 cans strawberry pie filling 21 ounces each
1 box Devil's Food cake mix 15 ounces
12 tablespoons salted butter
Instructions
Preheat oven to 350 degrees. Spray a 9×13 baking dish with nonstick spray.

Pour the pie filling into the baking dish.

Sprinkle the dry cake mix over the pie filling.

Slice the butter into thin pieces and arrange evenly over the top of the cake mix, being careful to cover most of the surface.

Bake for 40-45 minutes or until the topping is set and the filling is hot and bubbly.

Cool for at least 15 minutes before serving.
Tips & Notes:
You can use any variety of pie filling or cake mix that you prefer.
Nutrition Information:
Calories: 382kcal (19%)| Carbohydrates: 40g (13%)| Protein: 3g (6%)| Fat: 25g (38%)| Saturated Fat: 13g (81%)| Cholesterol: 45mg (15%)| Sodium: 595mg (26%)| Potassium: 183mg (5%)| Fiber: 1g (4%)| Sugar: 21g (23%)| Vitamin A: 525IU (11%)| Calcium: 86mg (9%)| Iron: 2mg (11%)