This BISQUICK PEACH COBBLER is a quick way to get dessert on the table. You can use fresh, frozen, or canned peaches in this dessert. Top it off with vanilla ice cream and dessert is served!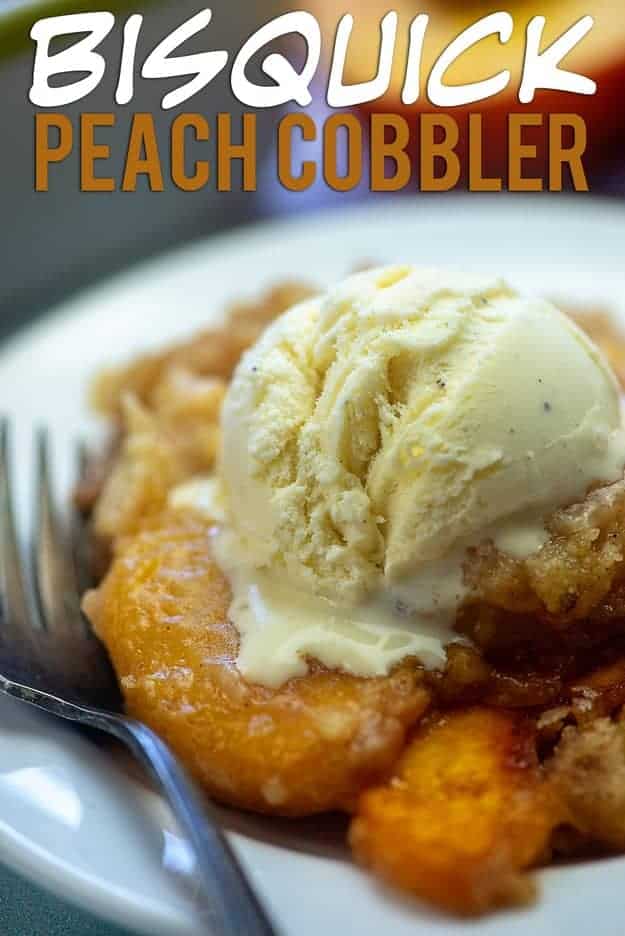 I've always loved fresh peaches. There is nothing more summer-y to me than walking into a farmer's market and getting a giant whiff of peaches.
If you can smell them before you can see them, you know the peaches are total perfection.
I'm happy to eat them as they are, with the sticky sweet juice running right down my arms, but sometimes I like to turn fresh peaches into cobbler.
Sometimes I make this Bisquick peach cobbler with fresh peaches and sometimes I make it with frozen. Both work well!
Be sure to give my blackberry cobbler, chocolate cobbler, and apple cobbler a try too! I also have a pumpkin cobbler that is divine!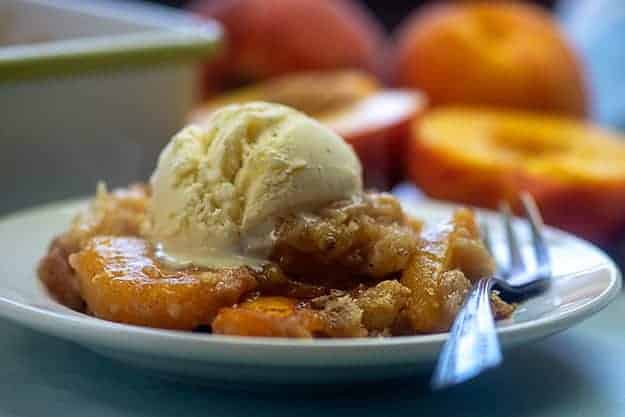 How to make this Bisquick peach cobbler recipe:
To start, you'll want to whip up the cobbler portion of this recipe.
You'll need Bisquick, sugar, milk, nutmeg, and melted butter. Totally easy – just stir it all together until combined and then pour that into a greased 9×9 baking dish.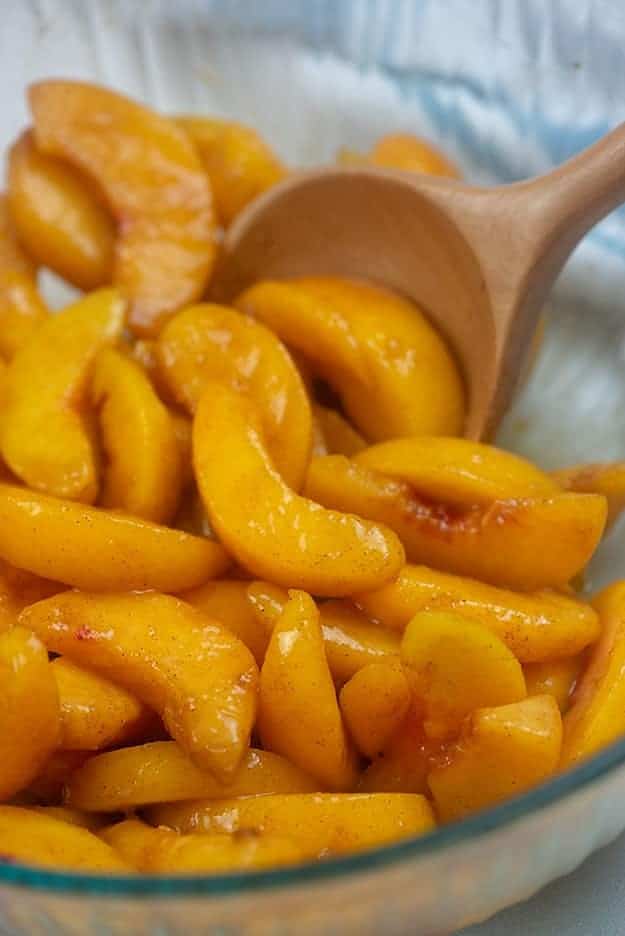 For the peach cobbler filling, you'll want 2 pounds of sliced peaches – fresh or frozen are fine, but if peaches are in season, fresh will be tastier!
Add a little brown sugar, cinnamon, and cornstarch to your peaches and give them a good stir.
It's impossible for me to resist eating at least one peach slice before it goes in the oven, but the problem is that once I eat one, I want to eat two. Once I eat two, I want to eat three. You can see how this might get dangerous. 😉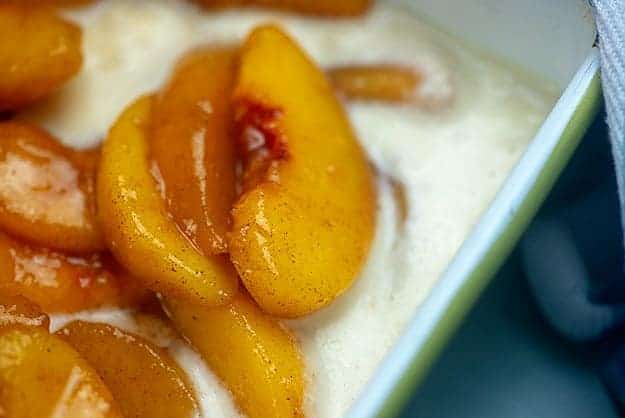 Pour your peaches into the baking dish with your Bisquick mixture and pop the whole thing in the oven.
This will bake up in about an hour.
We like to serve our Bisquick peach cobbler with vanilla ice cream. A little whipped cream would be nice instead, if you're into that sort of thing.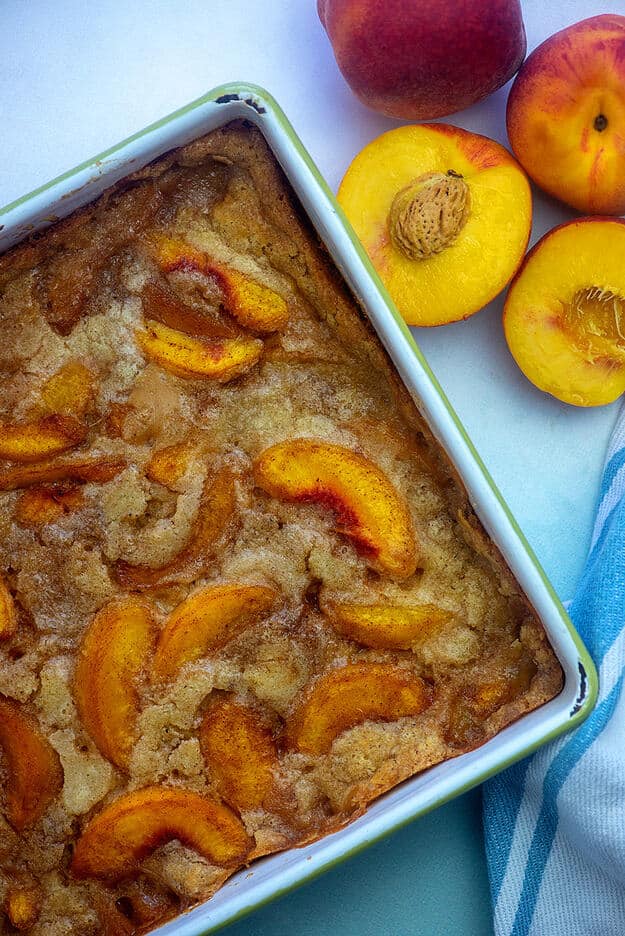 More summer desserts to try:
Lemon Bar Recipe: Tart, sweet, and easy to make!
Cherry Pie Bars: Who doesn't love cherry pie?
Triple Berry Trifle: As pretty as it is delicious!
Cake Shake: If you love milkshakes, you need this recipe!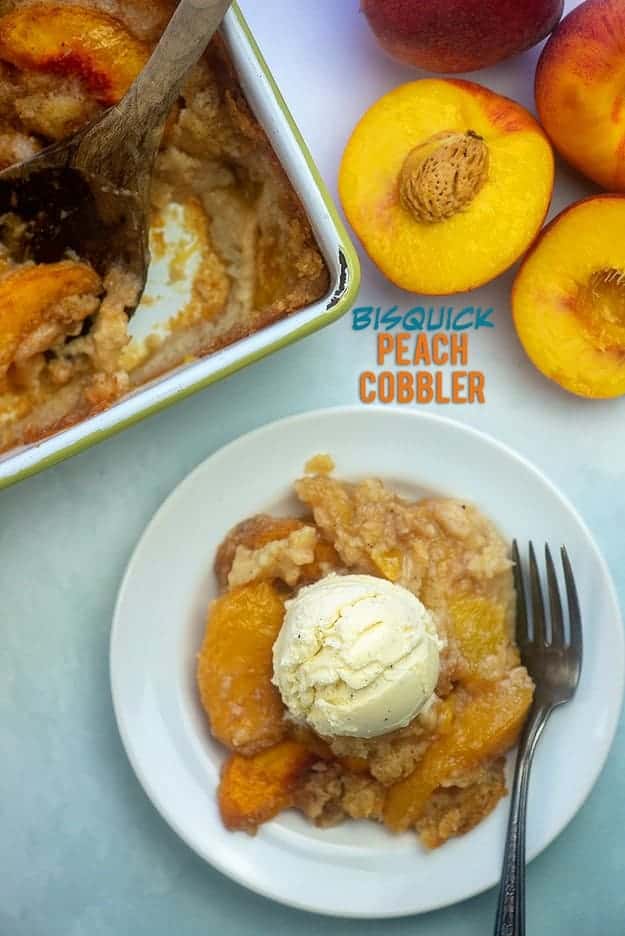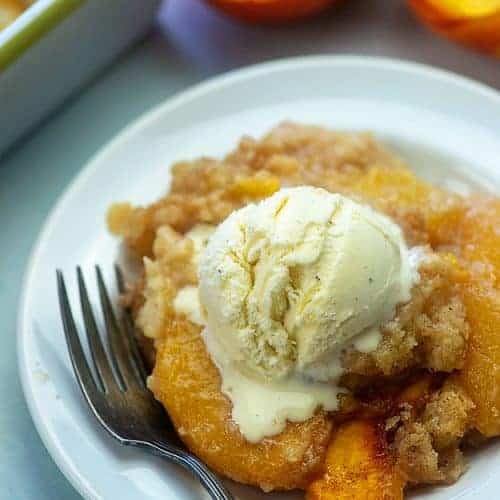 Bisquick Peach Cobbler
This peach cobbler is easy and versatile - you can start with fresh, frozen, or canned peaches depending on what you have on hand. The Bisquick cobbler is super simple to stir together and makes a great base for this recipe.
Prep10 minutes
Cook50 minutes
Ingredients
Peach Filling
2 pounds sliced peaches fresh or frozen and thawed
3 tablespoons brown sugar
2 teaspoons cornstarch
1 teaspoon cinnamon
Bisquick Topping
1 cup Bisquick
1 cup sugar
1 cup milk
½ cup melted butter
½ teaspoon nutmeg
Instructions
Preheat oven to 375 degrees. Spray a 9x9 baking dish with non-stick spray.

To make the peach filling, add the peaches, brown sugar, cornstarch, and cinnamon to a mixing bowl and stir to combine. If using canned peaches, drain the juice and taste for sweetness before adding additional sugar.

To make the cobbler, add the Bisquick, sugar, milk, melted butter, and nutmeg to a mixing bowl and stir well to combine.

Pour the Bisquick mixture into the prepared baking dish and arrange the peaches over the top.

Bake for 50-60 minutes or until golden brown and cooked through.

Serve warm or cold.
Tips & Notes:
If using frozen peaches, thaw them first. If using canned peaches, drain well and taste before adding additional sugar. They're often packed in syrup and may not need additional sugar added.
Nutrition Information:
Serving: 1| Calories: 461kcal (23%)| Carbohydrates: 69g (23%)| Protein: 4g (8%)| Fat: 20g (31%)| Saturated Fat: 11g (69%)| Cholesterol: 45mg (15%)| Sodium: 410mg (18%)| Potassium: 382mg (11%)| Fiber: 3g (13%)| Sugar: 56g (62%)| Vitamin A: 1030IU (21%)| Vitamin C: 10mg (12%)| Calcium: 104mg (10%)| Iron: 1mg (6%)