This milkshake recipe and blog post was sponsored by Mirum Shopper. All opinions are my own.
It's summer, you guys. Like fully and completely and I'm not even whining about the heat.
Mostly only because of the ice cream.
Is there anything better than a bowl of cold, creamy goodness to cool you down while the sun beats down on you and makes you question your will to live? Yes, actually. There is.
It's a milkshake. And hoo boy, do I ever have a delicious milkshake recipe for you.

I teamed up with Kroger to find all the goodies I needed to create the perfect milkshake. The base of your milkshake is the most important part. If you don't start with quality ingredients, you're not going to get the creamiest, tastiest milkshake possible and who wants a subpar milkshake, friends? No one does.
So, I hit up Kroger and snagged some Breyers Natural Vanilla Ice Cream. It's made with simple ingredients like fresh cream, sugar, milk, and vanilla beans.
Then I headed over to the milk section and grabbed some Promised Land milk. I went for the plain milk, but I think the Midnight Chocolate milk would make some dang good milkshakes too!
Promised Land milk is creamy and rich – it comes from pampered Jersey cows. <— Did you know Jersey cows don't actually come from New Jersey? They originally come from the Channel Island of Jersey off the coast of France. Less than 10% of the milk in the U.S. comes from Jersey cows. It's naturally higher in protein and calcium, too!
While I was at Kroger, I also hit up the bakery section and snagged a cake to mix up in my milkshake. I mean, a plain old vanilla shake is pretty divine, but when you go all crazy and throw a slice of cake in the blender? Heaven.
My kids and I sat out by the pool and slurped these shakes down in no time at all. It was the perfect ending to a hot summer day of fun in the sun!
Tell me how you plan to shake up your summer with a milkshake! You'll be entered to win a $25 Kroger gift card if you leave a comment below! Full rules here!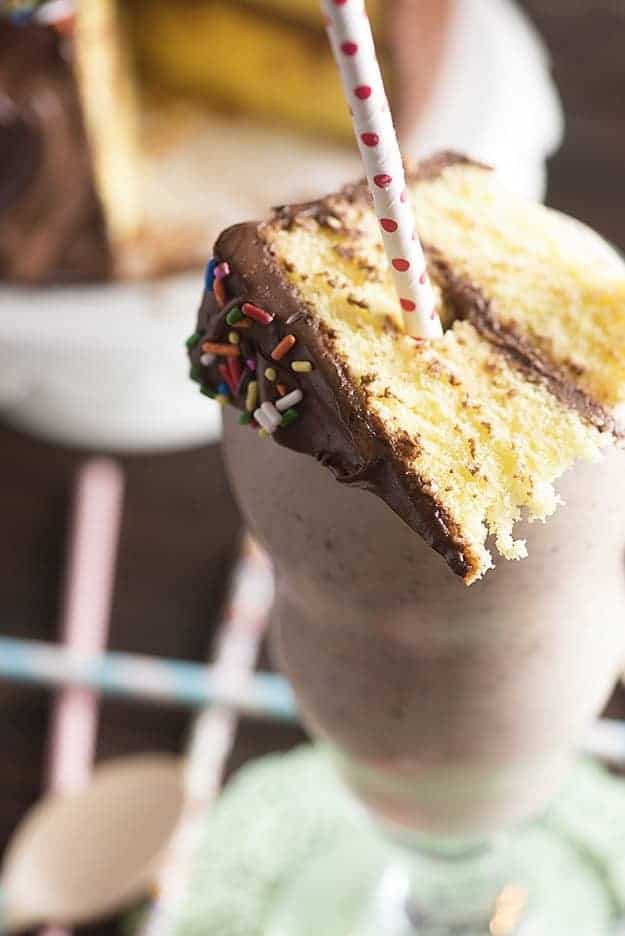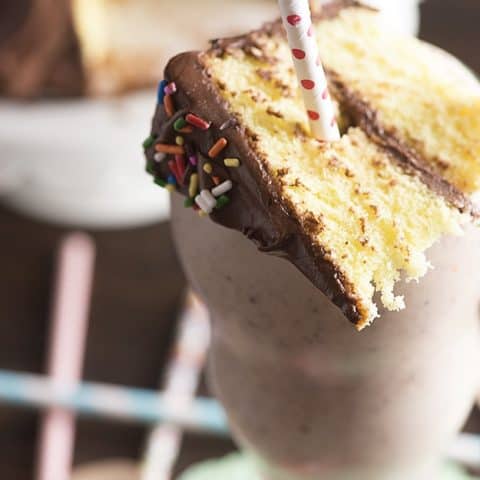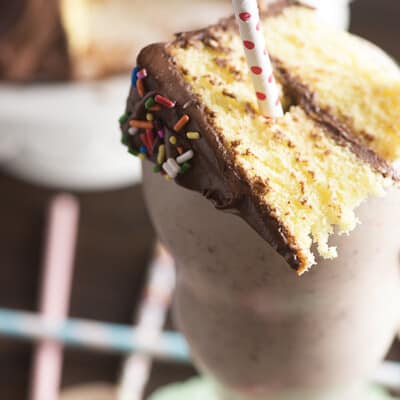 Cake Shake
Milkshakes are good, but cake shakes are better!
Prep5 minutes
Total5 minutes
Ingredients
2 cups vanilla ice cream
1/2 cup whole milk
2 thin slices cake
Instructions
Add vanilla ice cream and milk to a blender and blend until smooth and creamy.

Add one slice of cake to the blender and blend until incorporated.

Pour into a glass, top with the second slice of cake, and serve.
Nutrition Information:
Calories: 621kcal (31%)| Carbohydrates: 68g (23%)| Protein: 13g (26%)| Fat: 33g (51%)| Saturated Fat: 20g (125%)| Cholesterol: 128mg (43%)| Sodium: 264mg (11%)| Fiber: 2g (8%)| Sugar: 62g (69%)